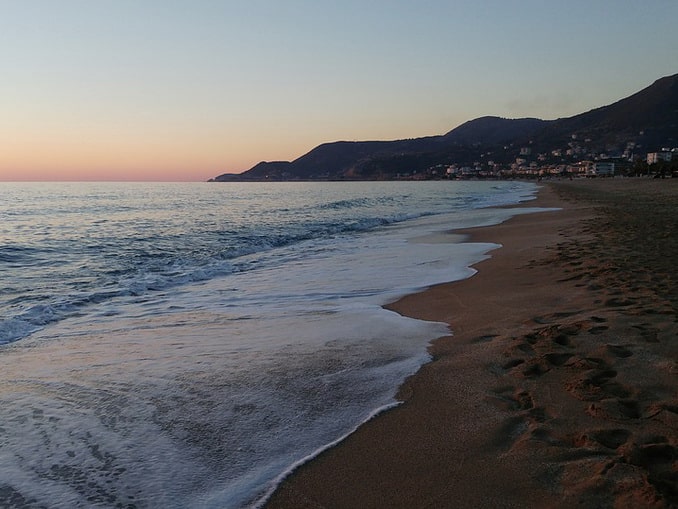 Alanya in November – is it worth going? Weather, water temperature, how to dress and is it possible to swim? Hotel prices 2022, what to do in Alanya at the end of autumn, where to go – in the material of good Time to Trip.
November is a curious month, controversial. On the one hand, with the help of cold weather and dank, sunless, dampness, it easily plunges even not very impressionable natures into depression. On the other hand, it causes a feeling of protest in these very natures and, moreover, in their sensitive colleagues. Desires not to let everything take its course and fight.
After all, somewhere at this very time the sun is shining! People bathe, squint their eyes at the glare on the water, wander foot by foot through the streets and shops.
In a word, do nothing. And if you will pay for it, then with money, not with frostbitten ears.
If you are out of childhood, you should know that the last paragraph describes a far from fabulous place. And, by the way, geographically relatively close to England or Germany.
Yes, that's right, in Alanya in November, everyone can enjoy the aftertaste of summer. Not particularly hot, but sunny.
And also: soft and tender. Just like a rich pie made by a skilled chef and that just left the oven. And definitely full of vitamins – at the end of autumn in Turkey, a lot of fruits ripen.
Note!
Many people know about it. But few of them are inclined to share this information.
Why – if it's better to go to Turkey in November yourself?! To get what someone is rushing for in the high season without hassle and not in the crowd. Relax on the beach, walk around the city, rent a car and explore the surroundings…
And buy there some useful things and products. After all, you can bring home from an Asian country not only souvenirs. But also local homemade cheeses, original Turkish sweets, excellent quality cosmetics …
Weather in Alanya in November
Recent years have been characterized by rare stability. And therefore, it will deserve praise, including from those who do not digest pressure drops and high humidity.
Usually at the beginning of November the air temperature in Alanya reaches +24-26 °C by noon. It is in the shade – in the sun the thermometer will readily rise above +30 °C.
Therefore, some holidaymakers report that it is hot and even stuffy. And it is not advised to appear in an open place between noon and five in the evening for fear of overheating.
Others at this time, on the contrary, remain on the beaches. And they are not too afraid to get burned, presumptuously believing that this is impossible in late autumn.
The nights are a bit colder: from +19 to +21 °C. Therefore, jackets and sweaters, even jeans instead of shorts will come in handy if you are going to wander along the seashore at dusk. Or set out to watch a stunning sunset on the beach. As the breeze shakes and the coolness even sneaks a little.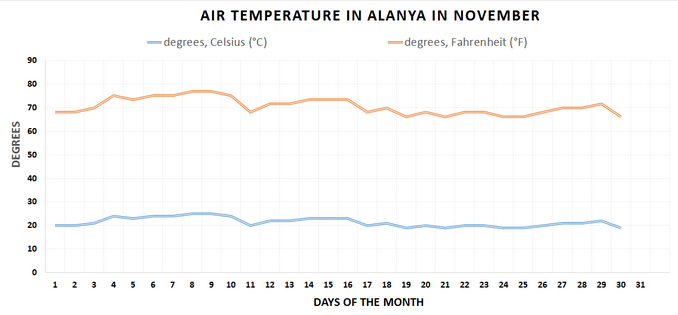 Further
The weather is the same throughout the first half of November in Alanya. There are occasional rainy days. However, pretty suitable for exploring the attractions.
For the most part, vacationers relax with might and main. Absorb solar energy along with vitamin D, even swim with reluctance.
And no wonder! Such nirvana rolls over everyone on the shores of this warm, sometimes a little exciting, but extremely pleasant sea.
In the middle of the month it is getting cooler. Just a couple of degrees: during the day will be something like +20-22 °C.
Thus, the climate prepares the minds of the locals for the coming winter. Physically, they are already ready for it – the Turks stop organizing swims in October.
Water temperature
Basically perfect for swimming. After all, the sea off the coast of Alanya is warmed up to +25 °C in early November. And it does not cool down below + 20-21 °C – at its end.
Someone will roll their eyes and tell that they are not used to swimming in such cool water. But many, not excluding children, as well as the elderly, who, due to various chronic illnesses, are forced to be wary of hypothermia, will gladly take up water procedures.
However, not all – most prefer to lie motionless on pebbles or sand, as well as on sun loungers. Soaking up the heat like lizards.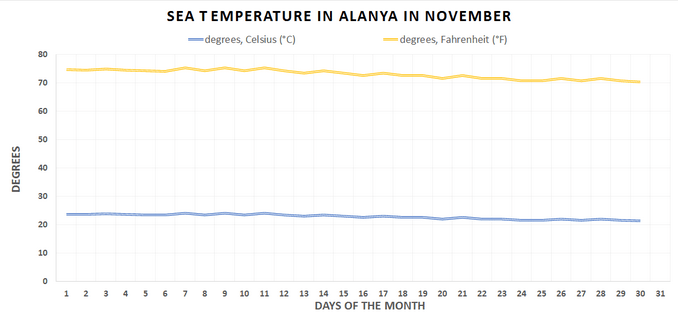 Prices 2022
The main phrase here is early booking. If you manage to do everything on time – you will have at your disposal spacious apartments a few minutes from the beach. If no – will overpay a substantial amount.
Or will be forced to move to Konakli, Avsallar (the Incekum beaches are a wonderful place, by the way), Mahmutlar.
Fans of independent trips sometimes save a lot on hotels – a room in an apart-hotel a 5-minute walk from Cleopatra Beach can be subscribed for as little as 20 €. Don't believe? But it's true – Cleopatra King Apart.
Everything is a couple of euros per day more expensive than Caligo Apart Hotel. Located across the street from the famous beach!
In Avsallar we recommend looking towards Elite Life 4 Avsallar. Apartments with an area of ​​55 m2, where in early November four (!) vacationers can be accommodated at once for 25 € per day.
Apartments Aygun Apart in Mahmutlar are similar in size and cost. The complex has an outdoor swimming pool, and the free public beach is less than half a kilometer away.
Things to do
Alas, try out the slides in the water parke Alanya in late autumn will not succeed – from November 1 to May 1, it goes on a winter break. A number of restaurants, entertainment venues and even hotels are also suspending their activities – the influx of tourists is significantly reduced.
However, all this is unlikely to affect you personally. For the number of working establishments more than covers the needs of vacationers. And there are still tours of the city. And for significantly less money than in summer.
Of the key attractions of Alanya, you should definitely see the 2-kilometer Cleopatra Beach. The sand on which the Roman, Mark Antony, who loves the Egyptian queen, allegedly brought from her homeland, from Egypt.
Damlatas cave is located right next to the beach. Small but cleverly lit and has some really impressive stalactites. In the form of a forest of spears hanging from the ceiling.
It is claimed that the air in Damlataş is especially beneficial for asthma sufferers, which is why there are even benches there. But the effect is likely to be noticeable only after repeated visits.
Right from the beach, the cable car will take you to the main attraction of the resort town – the fortress of Alanya. Ancient and impressively well preserved fortification.
Visitors in the reviews sing the praises of the views that open in all directions. And do not prevaricate – they are really delicious.
The recognizable symbol of the city is the Red Tower – an octagonal structure that guards the port. You should also visit the city archaeological museum, which is constantly replenished from the surrounding excavations.
And also take a couple of selfies against the backdrop of the snow-white lighthouse of Alanya. Incredibly photogenic structure, standing on the edge of a long pier.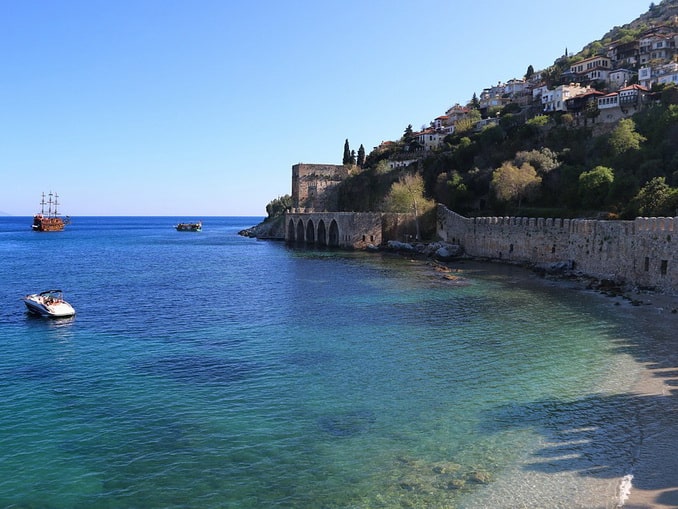 Where to go in the vicinity
Dim Cave, 11 km northeast of the city in the Taurus Mountains, is one of the largest caves in Turkey open to the public. But it's more difficult to get to the picturesque Köprülü canyon as part of the park of the same name. And not everyone will dare to overcome the extra 125 km on vacation.
However, connoisseurs of natural beauties of this kind can not strain! After all, the Sapadere Canyon, which is 40 km (along the highway) to the east, is also a very beautiful place. And well-equipped – footbridges with a fence will be appreciated by families with children and pensioners.
The ruins of the Roman city of Siedra, which rise on a seaside hill 20 km southeast, will undoubtedly attract lovers of antiquities. As well as the remains of the Greek policy of Side, 60 km northwest. Moreover, today there is a popular resort with a corresponding number of cafes and restaurants.
The very picturesque lagoon Delik Deniz, which is 65 km south of the resort, will gradually become more and more famous. And therefore we advise you to visit its shores in November – in order to enjoy the magnificent landscapes alone.
Getting to Delik Deniz is not easy – it can only be done by car. But it's worth it – assure a few (so far) reviews.
Long trips
We would also highlight the route that leads from Alanya to Cappadocia. Yes, getting by bus is long and dreary (but inexpensive). But as a reward, you will get a completely extraordinary experience. Against the background of which your graceful November vacation on the warm sea may well be lost.
We advise you not to bother with excursions to Cappadocia, if they are still carried at all during this period. Since it will still turn out "on top". And for some more time you will "voluntarily" get acquainted with the production and choose souvenirs at one of the "authentic" factories, located, as luck would have it, along the way of your movement.
© Goodtimefortrip.com