Best beach resorts in Italy where you can spend your holiday in 2023. Where are they located, how to get there, description, things to do? Weather, water temperature, when you can swim, best time to go, prices in hotels and on excursions. What are the top beach destinations in Italy for families, where is better to go on vacation with kids – in the review of good Time for Trip.
Italy is a multifaceted country! So much so that one shouldn't be surprised at its regular presence in the TOP-3 of world leaders in terms of the number of tourists received from abroad.
But until now, most of the foreigners settle in large cities, some of which are located at a certain distance from the sea. And in some incomprehensible way bypasses many Italian resort towns on the coast.
Mainly for the reason that they are little known. After all, if you ask the average American or Briton the question of where can they go for a beach holidays in Italy, then they will be able to name not so many places suitable for this.
First of all
most potential holiday-goers will probably think of the Ligurian coast, adjacent to the famous Cote d'Azur and proudly bearing the name of the Italian Riviera. Well known because of having huge sandy beaches Rimini, sprawls along the Adriatic Sea.
In recent years, has been constantly growing the popularity of Lido di Jesolo. The resort town that in addition to its spacious beaches has another significant advantage – it's very convenient to get to Venice from it.
People with good incomes usually spends their seaside holidays in Sardinia, where perhaps the top beach resorts in Italy are located. Very popular and therefore is extremely crowded during the season the town Viareggio in Tuscany.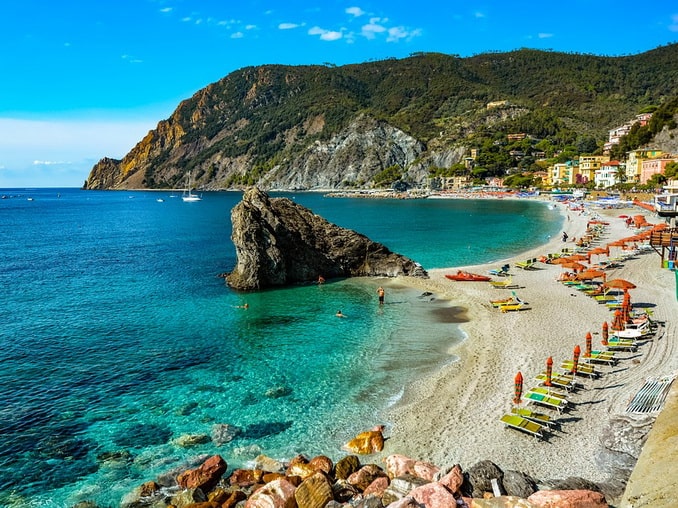 For more than a century, Taormina in Sicily has also been well known to refined vacationers. Not only because of the mild climate – the place is famous for literally postcard views.
What else? Alas, other seaside resorts in Italy are still more of a "product for local use". Since they are little known to the general public.
In our material, we'll try to tell you about the best beach towns in Italy where it would be worth relaxing on the sea shore. At the same time enjoying excursions and sightseeing.
Beach Vacation on the Adriatic Sea in Italy
Two resorts: Lido di Jesolo and Rimini are especially well known here. After all, they focus primarily on the mass tourist and advertise themselves as if in Italy there is nowhere to spend beach holidays.
Although, of course, this is understandable! Each of these towns has hundreds of hotels, and in the season they became a very lively and cheerful places.
Lido di Jesolo
This beach resort is located 30 km east of Venice. And almost certainly, it's the proximity to the place so beloved by travelers, and not the 15-kilometer sandy beach and developed infrastructure, that attracts vacationers. The largest promenade in Europe with a mass of shops, cafes and restaurants is the main attraction of Lido di Jesolo.
Although finding decent quality souvenirs and other things in Lido di Jesolo shops isn't an easy task – everything is crammed with cheap crafts, mostly made in China. But there are plenty of fish restaurants where they know how to cook traditional Italian seafood dishes.
The sea in Lido di Jesolo can be cloudy due to the sandy bottom, but the water is clear, the entry into the water is gentle and the depth increases gradually. What will undoubtedly please holidaymakers vacationing in Italy with small children.
Renting sun loungers and deck chairs in the season costs from 10-15 €/day per set. But often hotels allow you to use these amenities for free. That is, this service is included in the cost of living in advance, of course.
Which, we note, is usually not very high – the choice of inexpensive, but good hotels and apartments in Lido di Jesolo is very large!
Near the resort there is a large water park, where both children and adults will find entertainment to their liking. Tourists are also taken on excursions to the Dolomites (Cortina d'Ampezzo), pretty town Treviso, Veneto wineries – the region is famous for its excellent wines. A bottle or two of which (valpolicella, prosecco) you must bring home from Italy!

What to Do
If you wish, from Lido di Jesolo you can even go to visit Verona and Lake Garda. Naturally, excursions to Venice regularly depart from here.
The most influx of vacationers on this coast and peak prices in hotels are observed in August. Therefore, it makes sense to arrive a little earlier: in June or July.
Or later – there is also warm weather in early September in Venice and nearby. But closer to October it becomes cooler, and the beaches are emptying.
It's worth considering that the local climate isn't too dry, and the humidity is sometimes very high. Even at the peak of summer, fine days are regularly change with the rainy ones – in September, zealous bathers are also cooled by strong gusts of wind.
The air temperature in Lido di Jesolo already at the beginning of summer reaches +26-28 °C, and at its peak it regularly exceeds +30-32 °C. The Adriatic Sea by August warms up to +26-27 °C .
From Eraclea to Grado
Holidaymakers who don't accept crowds of their own kind, choose in Italy less busy beach destinations. For example, they go on vacation to Eraclea or Caorle, which are located east of Lido di Jesolo.
We especially recommend the latter: the old town has been preserved here. Hotels should be booked well in advance of the season – by the summer they are usually crowded.
We also advice taking a closer look at Lignano. Where independent tourists like to spend their beach holidays.
Noticeably further from Venice (145 km) is the town Grado. Enjoying special popularity among the Austrians since the time of Franz Josep – the emperor liked to rest by the sea here…
The old part of Grado is perfectly preserved, there are many SPA complexes and thalassotherapy centers. Still – you don't have to go far for mud and algae, scoop them directly from the lagoon!
Rimini
The most popular and visited by foreigners beach resort in Italy – and quite cheap – definitely deserves a separate detailed description. And, of course, it will receive a lot of our attention – in the near future.
Here we note that Rimini is a very old town and has a large amount of historical buildings. And besides, it is also an excellent starting point for multi-day excursion routes in Italy. Fortunately, many major cities can be reached from it in a few hours.
To Bologna, for example, only 120 km on the highway, to Florence – 170.
In abundance in Rimini and entertainment facilities. There is a theme park and a water park, the famous Mirabilandia works near Ravenna.
The weather in Rimini, however, is not always good. And it's best to go to it on the beach vacations in July and August. It's at this time that air temperatures regularly reach +30 ° C, and it doesn't rain very often.
Not everyone will like Rimini in June and September. Because it's sometimes excessively damp there and quite cool!
However, those who like to combine beach and sightseeing holidays will still be satisfied. Since on a rainy day you can always go on a sightseeing trip.
Sardinia
Italian beach resorts in Sardinia are considered the most expensive. We recommend that you pay attention to such places as Chia in the extreme south of the island and the resort Villasimius southeast of Cagliari.
The sandy beaches of the Costa Rei on the east coast north of Cagliari are also exceptionally good. For people with means, a vacation at the luxurious Forte Village, which is located in the vicinity of Santa Margherita di Pula, is perfect.
Exceptionally beautiful places are located in the northern part of Sardinia. For example, to the north of Olbia lies the famous resort coast of the Costa Smeralda or the "Emerald Coast".
There are more golf courses here than maybe in England, and yachts of millionaires moor at the piers. The cost of rooms in luxury hotels on Costa Smeralda easily overcomes the mark of a thousand or two euros per night.
Isolla Rossa, with its villas on the rocky slopes, vividly recalls the dwellings of millionaires on Lake Garda or Lago Maggiore. It will only pamper guests with a much warmer climate.
Stintino on the peninsula of the same name and Alghero are well known among holidaymakers. The latter is considered by many not only the best of the beach resorts in Sardinia, but also the most democratic in terms of prices.
Sicily
Local Taormina is well known – it has become a popular place for seaside pastime in the 19th century. Today, resort-goers are also attracted by the villages gravitating towards it on the east coast of the island.
However, it's preferable to settle in Taormina itself: here you'll find the old town with Roman monuments and excellent beaches. By the way, it's quite possible to find hotels with a price list sparing the feelings of vacationers.
The town Cefalu on the northern coast is territorially close to Palermo. The main city of all of Sicily, which has an impressive bouquet of must-seeing attractions.
San Vito Lo Capo, which is literally distinguished by a scenic non-European view, is located at a certain distance from the capital, in the province of Trapani. But, thanks to a three-kilometer sandy coast, it's considered the best beach resort in Sicily.
It's better to go here not in the peak summer months: in May it's warm enough in Sicily, but not yet prohibitively hot. Not bad on the island in September and even October.
But in the hottest months of the year, the air temperature on the island easily goes over +40 °C. Not surprising – there is less than 200 km from Sicily to Africa!
Calabria
The region is still relatively little known to the mass holiday-goers, which in no way detracts from its potential. On the contrary, the beaches of Calabria are a hidden, but no less beautiful pearl of Italy. In the future – hopefully not the very near future – doomed to popularity.
The relatively well-known city Tropea, considered the best seaside resort in southern Italy. The relaxed atmosphere of almost any Italian provincial town, combined with the well-preserved old buildings and seaside location, make it literally a tourist hit on the "Coast of the Gods".
We also mention the cozy town Pizzo in the province of Vibo Valentia, famous for its white sandy beaches. In the north of Calabria, you should pay attention to such resorts with pebble beaches as Praia a Mare, Diamante, Scalea.
Campania
Well-known at least in Europe are the local islands of Ischia and Capri, standing guard over the Gulf of Naples. Resting here on the seaside isn't cheap, but its quality is not in question.
By the way, in the case of Ischia, you can easily shift the dates. Having gone here for example in April or October – the island has a natural "central heating".
A slightly more budgetary vacation will be spent on the Amalfi Coast. As in the capital of the once powerful republic, located in a pronounced postcard, that is, extremely picturesque area, so in such towns as Atrani or Positano.
The peak season in Campania is July-August. But tourists, who don't accept the heat at +35, can come at a less hot time: in June or September.
Lazio
Active and not too fastidious residents of Rome in summer go on beach holidays to Lido di Ostia, closest to the capital of Italy the resort on the Tyrrhenian Sea. Which can be easily reached, for example, by commuter train.
A sedate tourist, disposed towards silence and peace, choose something far away and … more expensive. For example, Anzio or Nettuno.
Or even go to Terracina, where the ancient Roman nobility loved to relax. Today, a much more democratic public is also sunbathing and swimming here. Gradually, the flow of package tourists is also growing.
However, you shouldn't count on cheapness in the season! Price level – from 130-150 € for a double room.
Or at least from 90-100 € in "velvet" September. If you want to stay near the sea and expect good service and delicious breakfasts…
For our part, we recommend the 4-star Albergo Mediterraneo, which has everything stated above. And even their own pools.
Tuscany
Going to this area, a potential vacationer can choose between an economical and rather expensive seaside vacation. In the first case, he'll look at the sandy beaches of Tuscany in the democratic region of Maremma. In the second, he'll go straight to Viareggio.
From which, by the way, you can easily go to admire the attractions of Florence
Pay attention to the cozy Il Gabbiano Camping Village in a pine forest right on the seashore. From the coastal town of Albinia near the Orbetello lagoon, you can get to it by car in just 5 minutes!
When is the Best Time for Beach Holidays in Viareggio?
Liguria
Relatively democratic by Italian standards is a beach vacation spent in the vicinity of Savona. Pebble beaches, prices in hotels will satisfy families with an average income and several kids.
For foreigners who would like to see Genoa, we recommend paying attention to Camogli, one of the best beach resorts in Liguria. Far less filled with vacationers are the coastal towns Arenzano and Cogoleto.
The resort Rapallo is quite well-known – by the way, the local hotels are distinguished by moderate price appetites. The reviews praise the neighboring town of Santa Margarita. And those looking for long sandy shores are advised to go to Sestri Levante.
Towns such as Ventimiglia and Bordighera almost on the border with France, as well as San Remo and resorts in the Cinque Terre, are addressed to vacationers with solid means. After all, a room even in a three-star hotel will cost 150-180 € per night.
© Goodtimefortrip.com