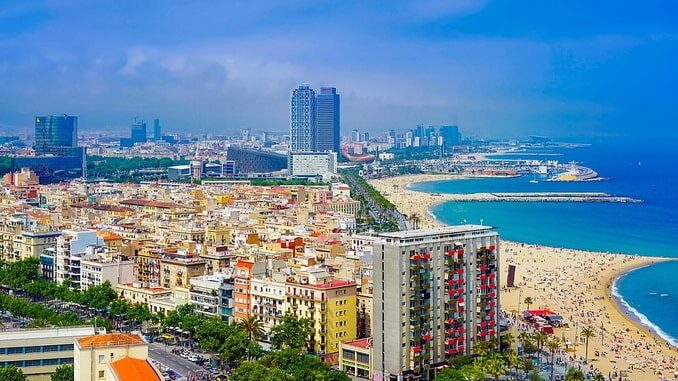 The best beaches in Barcelona 2023: where are they located, description, what to do? Where is it better to swim and sunbathe, which Barcelona beaches are better suited for young people and family holidays, are there territories for nudists and gays – in the material of good Time for Trip.
Barcelona is a clear favorite of the preferences of foreign tourists in Spain. Year after year, the capital of Catalonia is leading in the number of accepted vacationers and isn't going to give up its position.
That doesn't surprise anyone – this famous city has a lot of trump cards that simply have nothing to beat other big cities and even entire regions of Spain. After all, in addition to Gaudi's masterpieces and other architectural attractions, Barcelona has a lot of excellent sandy beaches. That is, in the period from May to September, it can offer tourists to relax not only with their soul, but also with their body!
In 2023, only 5 best Barcelona beaches confirmed their right to the Blue Flag – thinkspain.com/spain-s-blue-flagged-beaches-for-2023. However, the rest available ones in the future have a chance to decorate themselves again with this emblem of the highest quality!
What Beach to Choose in Barcelona
A walk along the embankment and a visit one of the city top beaches for most tourists is a mandatory part of the program during their stay in the capital of Catalonia. Naturally, there is a reason – the combination of sightseeing and educational tourism with swimming and tanning turns a vacation into a memorable – in the best sense – pleasure.
It's worth noting that the Barcelona beaches, as in principle the ones in Spain, are free. That doesn't prevent them from being well equipped: during the season you will find showers and toilets on them, as well as rescuers.
So in fact, you just have to decide whether you are going to soak up the sand, not particularly disturbed by anyone, or are you set up for active recreation? For example, would you like to take part in some kind of beach sports?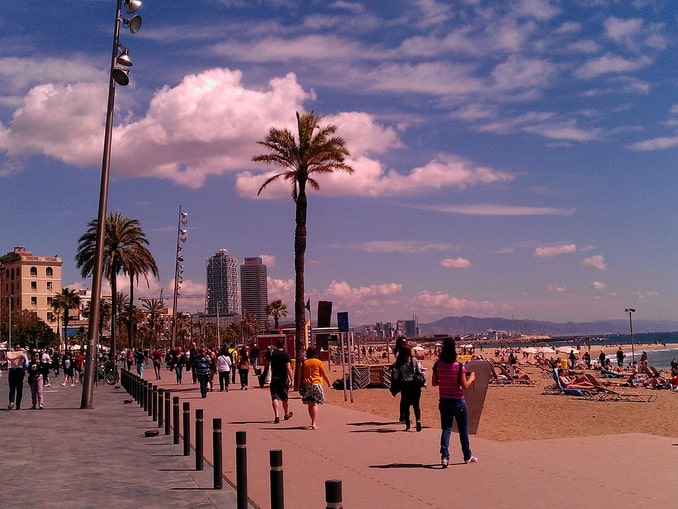 Barceloneta Beach
Tops our list primarily out of respect for age. Because according to other criteria: in particular, in terms of cleanliness and tranquility, the number of people it loses to its neighbors.
Even if you come on vacation to Barcelona in May, you are unlikely to find solitude on this beach – there is always someone sunbathing, spending time with friends, playing sports. In summer, it's difficult to find a free place here at all, and the loud offer of a beach massage will easily annoy even a balanced person.
But along the Barceloneta stretches a beautiful clean embankment, where you can ride a bike or skateboard, take a walking promenade, sit in a cafe with a cup of coffee or a glass of sangria. In the evening, the nightlife begins to boil in local clubs.
On the beach itself there are fitness equipment and a place to play beach volleyball, a playground. There are showers, changing cabins, toilets (alas, sometimes the second ones turn into the third ones).
Unfortunately, due to the large flow of people, the Barceloneta is often dirty. The sea can't boast of special cleanliness either.
Sant Miquel
A small, but much more well-groomed beach in comparison with Barcelonetta, is located just south of the latter. EVery popular among tourists due to the fact that it's easily accessible, for example, from the Rambla Boulevard (20 minutes on foot).
Sant Miquel beach got its name from the church of Sant Miquel del Port, dating from the middle of the 18th century. Very cozy and almost homely place, but, of course, not ranked by anyone among the main attractions of Barcelona. By the way, you will almost certainly pass by it if you go to the coast from the Barceloneta metro station.
Platja de Sant Miquel, unlike its neighbor, is regularly awarded the "Blue Flag". And, despite the fact that it enjoys almost the same popularity, manages to keep clean.
In reviews, it's also called one of the best beaches of Barcelona for kids. No wonder – here they can quite build castles on the shore, while their parents splash in the sea. Which also very transparent even during the peak months of the summer season!
Sant Sebastia
Considered the cleanest beach in Barcelona, it's located just south of Sant Miquel, actually in the center of the Catalan capital. As a result, there are always a lot of vacationers here, although the contingent varies from those visited Barceloneta – not only tourists, but also locals like to spend time on Sant Sebastia.
The beach has a length of just over a kilometer, which allows it to accommodate everyone. It tquipped with all necessary infrastructure, as well as a playground fo children.
Like Sant Miquel, Sant Sebastia, thanks to its cleanliness and high-quality service, confirms its right to the "Blue Flag" from year to year. And deserved almost no negativity in the reviews.
By the way, part of Sant Sebastia is given to nudists
There is a diving center. The lower station of the cable car is also located nearby, where you can top the Montjuic Hill from the coast. The well-known landmark of the area is the Hotel W Barcelona in the shape of a sail.
Somorrostro
Easily recognizable thanks to the statue of the "Golden Fish", the symbol of the 1992 Olympic Games, Somorrostro is located just north of Barcelonetta. Actually, once it was part of it.
The reviews of vacationers are mixed. Someone claims that this is an "ideal place" for a holiday by the sea. But in others you may come across the opinion that there are more stones in the water here than on "colleagues". So the entrance to the sea isn't too convenient. Also in the reviews complained about garbage, both on the shore and in the water – especially in the season.
But the embankment stretching along this part of the Barcelona coast, on the contrary, is praised. For it's pleasant to walk along it, as well as to ride on roller skates or a bicycle.
The best nightclubs of Barcelona: Pacha, Opium Mar, Shoko are located here. As well as the city casino, where you can always leave some of the money.
Nova Icària
To the north of Barcelonetta and Somorrostro, just behind the Olympic Port of Barcelona, where many yachts are moored, there is an excellent Nova Icaria beach. Literally an ideal place for a family holidays, that's covered with soft, clean sand.
Nova Icària is small, about half a kilometer long, but well maintained. Has a playground and several volleyball fields. There are many restaurants and cafes on the embankment, even fast food establishments like McDonald's.
Surprisingly, there are no changing rooms and toilets on this beach, but there is a shower.
Comfortable and smooth entry into the water, sandy bottom with almost no stones favorably distinguish this seaside place. Reviews sometimes complain about garbage, but in fact Nova Icària is regularly (and very well) cleaned.
Bogatell
A regular owner of the "Blue Flag", the longest and best equipped beach in Barcelona, Bogatell will certainly attract the attention of those who are ready to move away from the city center for a comfortable holiday at sea.
There are not only volleyball courts and tennis tables, but also basketball boards with baskets, as well as a space for playing football. Therefore, this part of the Barcelona coast in the Poblenou area is very popular and is never empty.
There are rescue posts, toilets and showers. But for unknown reasons no changing booths.
The seabed near Bogatel beach is sandy, there are almost no stones. As a result it's convenient for all age categories of vacationers to enter in the water and swim here.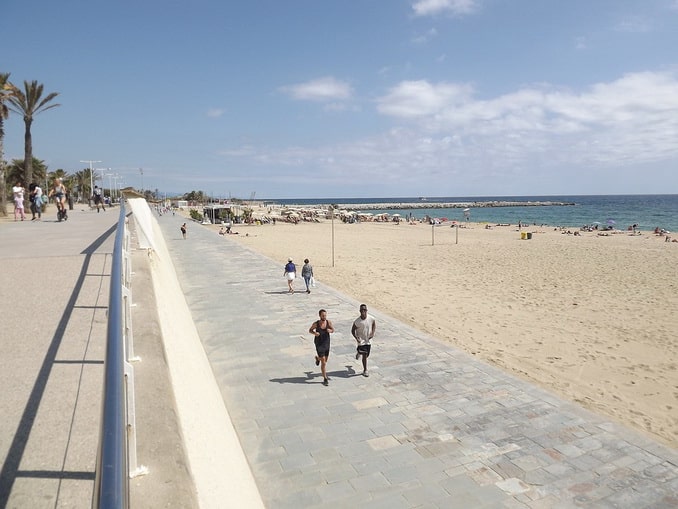 Mar Bella
Remote from the city center, but not a bad place for seaside vacationing. Unless, of course, you are confused by the fact that it is officially allowed to be completely undressed at Mar Bella. Also, this beach is dearly loved by gays.
There is the necessary entertainment infrastructure in the form of volleyball courts and tennis tables. There are basketball and children's playgrounds, a place for skateboarding.
Entering the water is convenient, but the depth increases a little more sharply than on the other beaches of Barcelona located to the south.
There are several cafes and restaurants nearby, people enjoys being here during the high-season and just in every weekend. But in general, MarBella is a calm seaside location that regularly receives a "Blue Flag" of quality.
Nova Mar Bella
If you aren't a nudist, and wouldn't like to sunbathe next to fully undressed people, then you can get to another beautiful beach in the outskirts of Barcelona, Nova Mar Bella. For the purity of sand and water, the existing infrastructure it annually receives the Blue Flag.
There are few tourists – on Nova Mar Bella mostly rest those locals who aren't inclined to noisy pastime. There are sports and children's playgrounds on the coast, anyone can play volleyball.
Entering the water is not too smooth, small kids need to be constantly monitored.
Llevant
The most remote from the city center sandy beach in Barcelona. It's small, well suited for a relaxing holiday by the sea. Including for those who would like to do it together with a pet – in the Llevanta is provided dedicated area for visitors with dogs.
There are opportunities for activities like playing volleyball or ping-pong, but there are no playgrounds. Water activities are also available during the season. It's rightly noted in the reviews that it is good to meet the dawn on Llevant – there is usually no one around.
Most of the necessary infrastructure (showers and toilets) is present during the season. The entrance to the water is quite gentle, without stones.
Zona de Banys Fòrum
The bathing area of the Banys Fòrum is very different from other beaches of the Catalan capital. It's a swimming pool closed from the sea waves, with a ladder and handrails for entering the water. People with disabilities, among others, can swim here.
There is no sand, you can sunbathe right on the wooden flooring. There are individual showers and toilets in the Banys Fòrum.
Even in the season there aren't too many vacationers here. So if you will be on holiday in Barcelona in September, but would like to avoid the tourist crowds, this place is just created for you!
© Goodtimefortrip.com