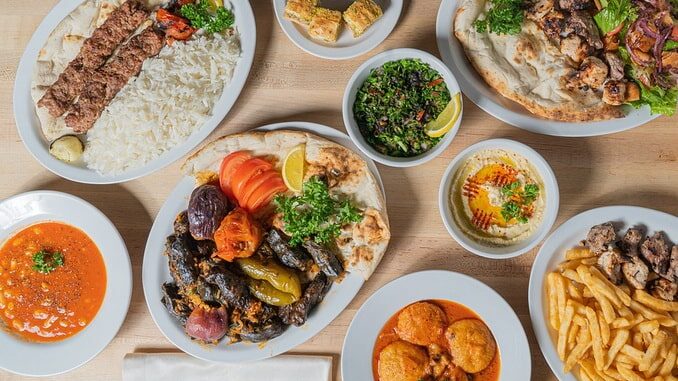 Best turkish foods to try in 2023. What is customary to eat for breakfast and lunch, best snacks, desserts and sweets in Istanbul and Cappadocia, Bodrum and Antalya. The main dishes of the national Turkish cuisine, popular street food – in the review by good Time for Trip.
As you know, people go to Turkey first of all to rest! Relax on the beaches and swim in the sea, enjoy sightseeing, get charged with adrenaline and impressions during active entertainment. Whether it's a hot air balloon flight over blooming spring Cappadocia, paragliding in Oludeniz or diving in Side.
But in addition, Turkey is also a real paradise for a gourmet. Not an estesta of haute cuisine, of course, but a person who loves to eat delicious food.
Spicy thick soups and juicy kebabs, combining dozens of flavors of vegetable stews, sweets melting in the mouth – the national dishes of Turkey can evoke any emotions except indifference.
And yes – here you need to be able to stop yourself. Not only for those who came to rest on ultra all inclusive, but for everyone else.
Even tourists who have just arrived for 2-3 days to visit Istanbul should make a vow in advance. Otherwise, you are guaranteed to gain extra weight, addicted to balik ekmek, simits and baklava.
In our article we will tell you what dishes every tourist should try in Turkey.
As someone who is used to fast food and doesn't see much point in spending time and money in cafes and restaurants. So is the one who likes to eat. And he comes, for example, to Istanbul, blooming in April, awakening a brutal appetite by its very appearance!
National Dishes of Turkey
The local cuisine has been developing for several centuries. And it has absorbed the best recipes of Arab and Caucasian, as well as partly Greek and Balkan peoples. The influence of Western European cuisine in Turkey is poorly traced. Which should undoubtedly please fans of everything original.
The sweet tooth will hurry up and say that in Turkey you first need to try desserts. Like, they are so unusual and delicious, what's the point of exchanging for the first and second?!
But we will immediately pull ourselves together. Then we will buy baklava and Turkish delight as a gift from Turkey – it's better do at the bazaar than at the mall. And only after that we will act according to the plan!
Turkish Breakfast
In principle, everything is quite standard here – as everywhere else, it is customary to have a hearty breakfast in this country. So go to the cafe and order the kahvaltı on duty, that is, breakfast.
Usually fresh pastries are included in the morning menu. As well as scrambled eggs, soft cheeses and sausages, olives, vegetables and fruits, jams and honey, hummus. All this is usually enough to eat.
But if not, ask to cook for you
Menemen
This is a traditional Turkish dish, which is essentially a vegetable omelet. Sweet red and green peppers, tomatoes, and sometimes onions, are chopped or even grated, and then fried in a frying pan. Then pre-beaten eggs and spices are sent there as well.
Depending on the recipe, Turkish soft cheese and dried sausage Sujuk can be added to the omelet, which makes the menemen very satisfying. It is served to the table with fresh bread or pita bread.
By the way, about
Baking
Its most famous representative is the simit bagel with sesame seeds. It is loved by both tourists and seagulls hovering over the Bosphorus)))
In fact, it is a gastronomic symbol of Istanbul! But simit is also extremely popular in other parts of Turkey. It is used both without additives and with butter, jam, chocolate or nut paste.
Lavash, a flatbread made of yeast-free dough, is also widespread and is used as an alternative to bread. But its colleague, pide, shaped in the form of a boat, is usually supplied with a filling of meat and vegetables.
Be sure to try such a Turkish dish as lahmacun, in a sense it is a local analogue of Italian pizza. It is a pita bread spread with tomato sauce and stuffed with minced meat, cheese and chopped vegetables.
Gözleme, which has already become a traditional fast food dish in Turkey, is ubiquitous. Of course, because they are so easy to cook: a rolled flatbread is stuffed with a variety of fillings. From meat, cheese, potatoes and vegetables, spinach – the composition depends on the specific cook.
And for a snack, don't forget to try börek pies made of puff pastry and with sesame seeds. The filling can be very diverse, such pies are prepared only in the oven.
Well, we continue. And not from the first courses, but from
Meze
This is how cold or hot snacks are called in Turkey, which are usually served before the main course. Sometimes they can be seen not only in restaurants, but also on the buffet in hotels. Few people eat meze just like that, because it is served on the table with a basket of fresh bread or tortillas.
The most famous Turkish snack is hummus. It is a puree of chickpeas with olive oil, garlic, spices, sesame paste tahini. Sometimes hummus is made not from chickpeas, but from beans.
Popular cold meze are also cheeses and olives, slices of lemon and melon, meat balls and dried sausage, eggplant salad, yoghurts, dolma. Seafood is often served as hot – the same shrimp in batter.
Meatballs, köfte, are widely distributed as snacks also. It seems to be quite uncomplicated and at first glance not too original dish?!
But it all depends on how they are prepared and served. It is not without reason that a voluminous study on traveltriangle.com/blog/ regarding top Turkish foods placed kofte in 2nd place in its own rating. Which sufficiently testifies to the role of this dish.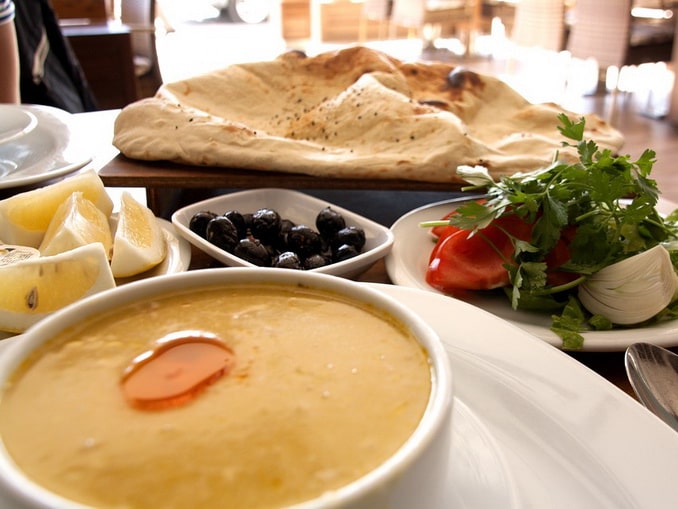 Turkish Soups
Here they are called çorba or çorbası. And usually local soups have a dense consistency and are very nutritious.
Mercimek çorbası is one of the best Turkish foods you should to try! It's a thick lentil soup with tomato paste and spices, prepared on the basis of chicken or meat broth and is served to the table with croutons.
In the northern regions of the country, its variety, Ezogelin çorba, is popular.
According to a legend that looks very plausible, this dish was invented by a married woman named Ezo. Who tried to woo her mother-in-law in this way.
The recipe of ezogelin çhorbasi is quite simple: the soup is made from red lentils, bulgur, rice. As well as tomato paste and mashed tomatoes, garlic and onions, hot pepper.
It is quickly prepared, but it has an excellent taste, the Turkish tarkhan çhorbasi. It is made on the basis of yogurt and a pre-cooked vegetable mixture. And therefore it is literally the perfect food for some vegetarians.
Main Courses
The most popular hot dishes in Turkey are made from lamb or chicken. Beef is poorly distributed, pork is not cooked here for religious reasons.
Fish is cooked here mainly in the coastal regions. And the main city of Turkey is no exception, in Istanbul you can try just an exceptional ekmek balik.
There is no reason for vegetarians to be upset either – Turkey has enough national dishes made from vegetables, chickpeas and beans, bulgur and rice.
Kebab
is the uncrowned king of the national Turkish cuisine. There are numerous variations of this dish. Equally, kebabs cooked, say, in Cappadocia and Antalya may not taste too similar.
Döner kebab is meat with seasonings, vegetables and lettuce leaves, which is wrapped in pita bread or pita. And shish kebab, for example, is a classic meat kebab, perfectly combined with tomatoes and cucumbers, greens.
As fast food, adana kebab is often used, which is baked in a barbecue on skewers along with sweet and hot peppers.
Tourists visiting Cappadocia should definitely try out the local testi kebab, a real gastronomic symbol of the region. It is a meat that, together with vegetables, is stewed in a closed clay pot. Served with a side dish of rice.
Sounds uncomplicated, agree. But in fact – you'll lick your fingers!
It is often used instead of a snack, but in Turkey it can also be a classic dolma as an independent dish. It consists of rolls of grape leaves stuffed with minced meat, vegetables, rice, spices and even nuts.
As a side dish to meat in the restaurant, it is worth ordering imam baildi. Halves of stewed eggplant stuffed with tomatoes, onions and spices perfectly set off the taste of the main dish!
Desserts
Baklava is the most famous and popular sweet originally from Turkey. We also recommend you to try such a national dessert as kadayıf, which is the thinnest dough stuffed with nuts and honey.
The dessert pişmaniye looks aesthetically pleasing and tastes like cotton candy. That's just not every cafe can cook it!
If you have a sweet tooth, then you should definitely try, and then bring Turkish delight, nougat and halva from Turkey. Just buy these treats not at the supermarket, but at the market!
Lovers of warm desserts and tiramisu should definitely try künefe pie! It is made from sweet syrup and cream cheese.
Well, it is quite a natural step to finish the meal with a portion of dondurma. Not quite a classic ice cream, but rather a relative of the Italian gelato.
After all, Turkish dondurma is made only from cream and sugar, mastic and mashed orchid root. And it melts very reluctantly, which should please the ladies visiting Turkey in the summer.
Street Foods in Turkey
Balik ekmek is the champion in popularity of street snacks that any tourist should try. It is very common in Istanbul and other major cities of Turkey, for some reason it is less common in resorts.
It is a grilled fish – most often mackerel – put together with vegetables in a crispy baguette or wrapped in pita bread.
The best balik ekmek in Turkey can be found not in the European part of Istanbul. Tripadvisor users, on the contrary, advise, together with local residents, to stand in a rather long queue in the Karakey quarter to try the street work of culinary art Balik Durum Mehmet Usta.
And in Istanbul in October and later, chestnuts are fried everywhere. Which, of course, will not surprise anyone – the eve of All Saints' Day is the usual time for this.
They are also made from these nuts and a treat with which you can easily please a child. Kestane Sekeri or candied chestnuts is an original Turkish dessert that was invented in Bursa.
In the section "Baking" we have already mentioned pide and lahmachun, gözleme. Original and very tasty dishes of Turkish national cuisine, which you (hopefully) will be happy to prefer to an international product a la McDonald's!
Well, for an appetizer, one more dish. Unusual enough for you to try it out.
Kumpir
So in Turkey is called pre-baked in the peel, and then stuffed potatoes. The abundance of variations on the theme of the filling allows this dish to find fans in different strata of society. After all, virtually everything can be used as such: both meat and fish, both vegetables and cheeses.
© Goodtimefortrip.com