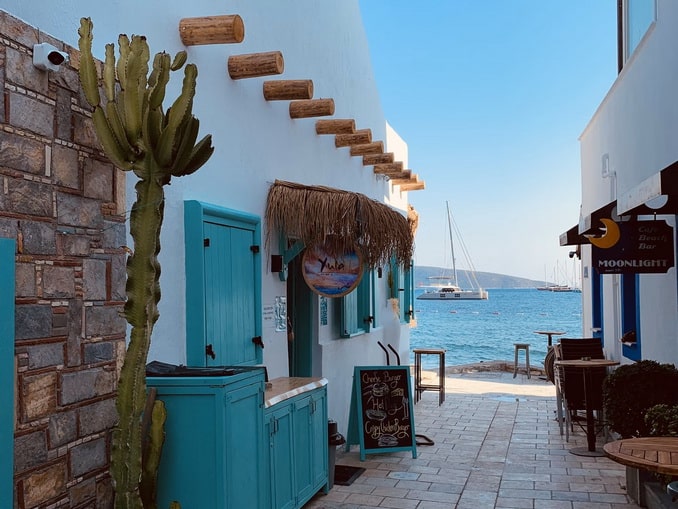 Bodrum in October – is it worth to go? Weather, water temperature, how to dress, hotel prices 2022. What to do in Bodrum in the middle of autumn, where you can go outside the city – in the review of good Time to Trip.
As in most other Mediterranean resorts – not only in Turkey – in early October beach activity in Bodrum freezes. Tourists disperse to their countries, hotels dismiss part of the staff and stack sun loungers in piles.
Leisure establishments are curtailing their activities also. And even some restaurants are closed until spring.
Judging by the realities of many years, this approach, if not fully justified, is explainable. After all, temperatures are falling compared to summer, the sun heats worse, and the sea in Bodrum in (usually late) October cools down to not quite comfortable values. Even for the Scandinavians – not to mention the more heat-loving British and Germans!
Or not? After all, assurances are heard from any TV that global warming has already affected all countries and territories?
We figured out the issue. And here's what turned out!
Weather in Bodrum in October
A person who does not strive for a chocolate tan and generally does not tolerate heat will consider it quite good. The daily air temperature changes slightly, remaining stable for almost the entire month.
For example, + 24-26 °C was invariably recorded by thermometers in Bodrum at the beginning of October 2021 and even in its middle. And only towards the end of the month the bars dropped to +20-22 °C. As if reluctantly!
Nights are much colder – around +17-20 °C
That, against the backdrop of low rainfall and low humidity, will not cause problems for most holidaymakers.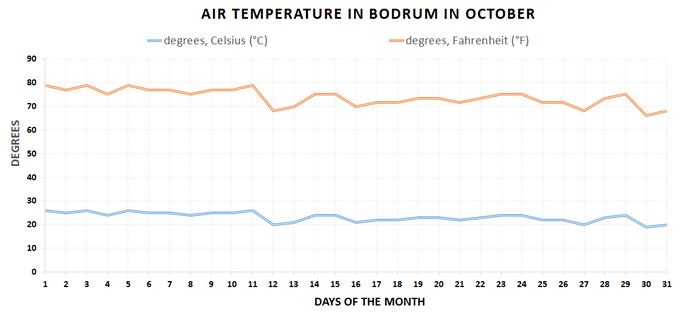 How to Dress
A light jacket, sweater will not be superfluous in the suitcase of a vacationer. Since walking along the embankments in the evening you will want to put something on a T-shirt.
There is no reason to dress warmer. As well as taking up space in the luggage with solid autumn clothes, it is better to leave room for things that should be brought from Turkey.
The worst thing that has happened in Bodrum in the middle of autumn in recent years is nightly cooling down to + 15-16 °C.
Rains are rare (3-4 days per month), there is a lot of sun. Some may even find it offensive. But if you have been in Alanya in October, or at least imagine the weather there, you will admit that the Bodrum climate is much less hot.
No wonder the ancient Greeks founded a huge colony here, and not further south. And were extremely pleased with their choice!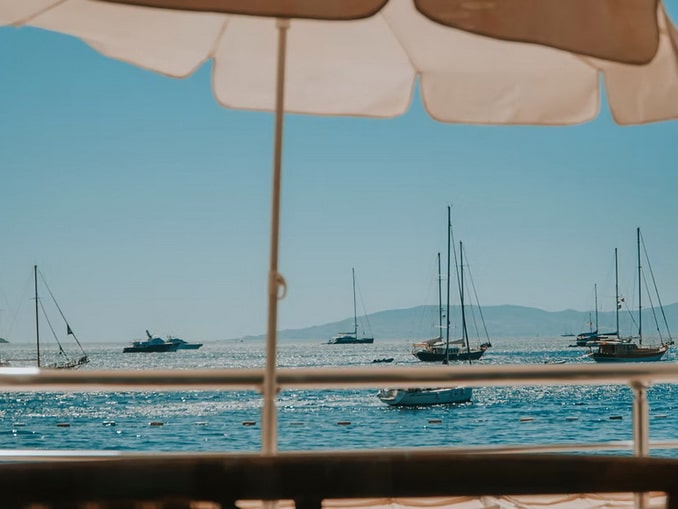 Water Temperature
To those who accustomed to the climatic conditions of Northern Europe, the sea in October Bodrum will seem not only tolerable – it will not cause any trounles. In fact, the open water area is warmed up to + 23-25 ​​°C, what is there to complain about?! Especially if you are used to and willingly bathe at temperatures exceeding +20 °C.
Spoiled by Thailand, Egypt, Dubai, vacationers may find such water cool. For it is indeed slightly invigorating and refreshing.
There is no particular need to choose a time for swimming. One has only to adhere to a simple rule: in the period from 12 to 16 hours of the day don't stay in an open place.
And, moreover, do not sunbathe in this time. Because sun isn't just warm here in the middle of autumn, in fact it's furious. And even covered with clouds can provide a painful burn.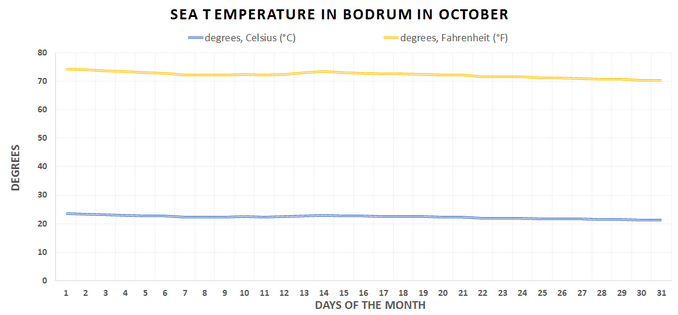 Prices 2022
In mid-autumn, you can count on a significant discount both in hotels, renting cars or ordering excursions. Since, according to local concepts, the season has already ended, and those who come at this time are a little crazy people.
The cost of renting a small car like Renault Clio per day with a minimum deposit starts from 20-22 €
As for the hotel, finding an inexpensive option is not difficult. For example, Asmin Hotel Bodrum will host a couple of guests for less than 50 €. Meals are included in the price, and it's the center of the city.
Pay attention to the another small hotel, Toloman Hotel & Apartments. For a similar amount, it is ready to accommodate and feed tourists. But, true, only in the morning!
Things to Do
Although Bodrum is considered a youth resort, there are no active entertainments as such, with the exception of discos and nightclubs. Therefore, tourists who are not inclined to dance all night long tune in for a measured rest and diligently inspect the available sights.
Like the castle of St. Peter, the legacy of the Knights Hospitaller, who once sailed here from the island of Rhodes. The museum of underwater archeology inside the ancient fortress is also worth seeing.
You should definitely pay a visit to the ruins of the fortifications of ancient Halicarnassus. On whose walls the first impulse of the army of Alexander the Great once crashed. They say that this greatest ancient commander was so angry that after a successful assault he ordered to destroy everything.
As a result, the walls of the fortress were extremely poorly preserved. The gates of Myndos are in a slightly better condition.
Probably worth seeing that is left of the legendary Mausoleum of Halicarnassus. Especially if you first read the history and read something about the "Seven wonders" of the ancient world.
There is also a big size ancient amphitheater in the city. Once upon a time almost 15 thousand spectators could watch the performances in the arena at the same time.
The amphitheater is located in the north of the city. And from its steps offers a great view of the bay.
Symbol
Another popular observation point is the famous windmills of Bodrum. Not as old as the sights already mentioned – they arose in the 17th century.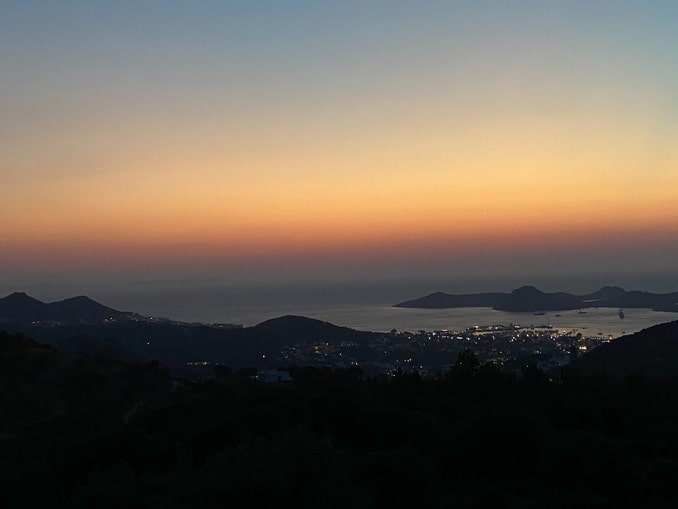 But they settled in such a place that you should definitely visit. Indeed, from the hill on the three-fingered peninsula, a wonderful view of the city port and the neighboring resort area, Gumbet, opens up.
Keep in mind, if you climb up, it can be windy in Bodrum in mid-late October. And put on some jacket over a T-shirt.
Where to Go
Travelers who do not want to stay in one place for a long time can be recommended to go to Dalyan. Whose Iztuzu beach is cosidered as one of the most beautyful in Turkey.
Remain very popular, even in the middle of autumn, boat trips – on the same Orak Island. Fortunately, they are inexpensive – you can take part for just 25 €.
Also you can get to Pamukkale and (or) Ephesus. The easiest way, of course, is by car! Since it is not very convenient to go by public transport to Denizli or Selçuk from Bodrum.
Travel time to Pamukkale and Hierapolis by highway will be about 4 hours – it's difficult to cover a distance of 270 km faster. The distance to Ephesus, is smaller, about 180 km.
Both places are among the key attractions of Turkey!
Pamukkale is considered almost the "Eighth Wonder of the World" due to the snow-white travertine pools with thermal waters.
And Ephesus is a large ancient polis just south of Izmir. Where several architectural monuments older than the Roman Colosseum have been preserved.
© Goodtimefortrip.com