Budapest in September 2023 – is it worth going on vacations? Weather, what to wear, prices in hotels and on excursions. What to do in Budapest in early September and closer to October, where to go in Hungary – found out good Time for Trip.
An experienced person, that is, who has managed to see at least a little of the world, knows that September is probably the best time to travel. In most places, with the exception of the northernmost, it is still a warm month.
But at the same time, it differs in much lower prices compared to summer. And, that's more excellently, in September you won't have to crowd in huge queues. Or for a long finding for a good angle for pictures, looking out from behind the backs of other tourists.
In some cases, this is especially important – the same Budapest in September looks just the perfect place for a series of bright and juicy shots. However, for a measured cognitive rest, too – especially since walking tours prices at this time are experiencing a downward trend.
After all, as mentioned casually in some reviews, at the beginning of autumn, the capital of Hungary sees not so many tourists. And allows you to find, if not solitude, then peace.
To heal nerves and recharge with energy, the lack of which long before winter (in the absence of positive impressions) can create serious problems.
Do you want to know the details? Let's share it now!
Weather in Budapest in September
Wonderfully suitable for sightseeing activities – on days so warm and full of light (lasting from 13'20 to 11'45 hours) you want to get up early and go to bed late.
So, in principle, you will have time to see the most interesting places in Budapest in 2-3 days. Well, and probably make a trip to the famous attractions in the neighborhood!
At the beginning of September 2023, in Budapest was warm, but not hot. Only a couple of times during the day the air temperature left the range of +22-24 °C, reaching the level of +28 °C. At night it was noticeably colder – the atmosphere cooled down to +13-15 °C, although it was usually still a little warmer – +16-18 °C.
But in mid-September, the weather in Budapest presented an unpleasant surprise. And even during the day, the air stopped warming up above +18 °C, at night it was not worth appearing on the streets without throwing jackets or sweatshirts over your shoulders. Since after sunset the temperature quickly dropped to +10-14 °C.
Near the water, the coolness was felt especially clearly! And this nuance should be taken into account by those who are going to take a romantic cruise on the Danube in the autumn evenings.
Usually in Budapest in September it's a little warmer. Until about the final week of the month, the daytime air temperature drops below +20-22 °C only for a short period. And not plunges into pessimism (+15-17 °C) until early October.
Precipitations and Winds
At the same time, rains fall rarely, no more than 2-3 times a month. And the average number of clear days doesn't fall below 15-17.
The winds are weak. And, although a windbreaker or sweatshirt won't be an extra thing in your suitcase, in order to get very cold in September Budapest, you need to try hard.
What to Wear
As mentioned above, at the beginning of autumn in the capital of Hungary, you can move around in summer clothes! In the first half of September in Budapest, people wear short-sleeved shirts and tops, shorts and breeches, sundresses and skirts.
Although, when it comes to promenades along the Danube early in the morning or in the evening, generally at night, water tours to Esztergom, – a light jacket and windbreaker will obviously not be superfluous.
Experienced tourists recommend bringing comfortable shoes with them. Which is suitable both for long walks on the flat part of the city (Pest), and will delight your feet while exploring the hilly Buda, independently climbing Gellért or János Hill. And, in principle, it will be useful in case of trips outside the Hungarian capital.
It's better to leave raincoats and rubber boots at home. But sunglasses and a cap, as well as sunscreen, should be taken with you. Because at times the sun in Budapest even in autumn burns as if it's forgotten that summer has already ended.
Prices 2023
In principle, the capital of Hungary can't be called a very expensive for a tourist city. In particular, in September, hotel prices here are much lower than those in Paris or Barcelona, Rome or even Prague.
So, just for 100 € or a little less per day, you can rent a room in a good hotel or a separate apartment for 2-5 people.
Such as, for example, as Toldi Apartman, located at a short walking distance from the Fisherman's Bastion. And just one block from the metro station! There is an excellent bakery nearby, as well as Lidl and Spar chain stores, where you can buy everything you need for a meal.
Perfectly locked and can accommodate up to 5 people OlivApartment, a flat of 50 m2. According to the totality of qualities, it has earned a rating of 9.4 on the Booking. And is rarely empty even at such a non-peak time as the beginning of autumn.
Looks like a wonderful and very inexpensive option for a short stay in Budapest a small cozy Convenient apartment in the heart of downtown. After all, they are located in the center of Pest.
Pedestrian Vaci shopping street can be reached from here in a couple of minutes. Within a short walk there are also such sights of Budapest as the Vörösmarty square, the Central Market, the Chain Bridge.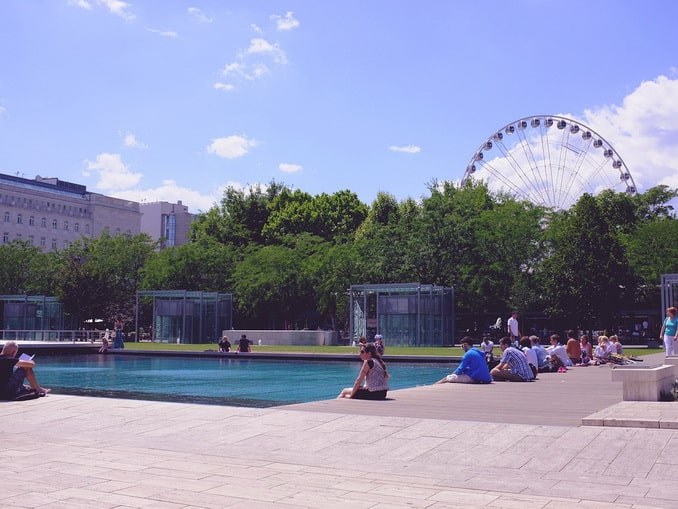 Cruises along Danube with a welcome glass of sparkling wine cost from 11 € per person, voyage along the river in the company of an audio guide will unload your wallet for 19+ €. A walk around the Parliament will cost 25 €, for 30-32 € will be held an introductory tour to the iconic places of the Hungarian capital.
What to Do
It's widely believed on the Web that Budapest can be viewed in 2, maximum, 3 days. If we take into account only the main attractions, this may be the case.
Although in fact, we doubt very much that in such a short time you will be able to visit all the "necessary" churches and museums, to capture in memory the panorama of the Danube from the terrace of the Fisherman's Bastion, to sail by boat along the city embankments and visit the Hungarian Parliament building.
Moreover, these are not all things you should do in this glorious city. After all, there are also Varoshliget Park and the original Vaidahunyad Castle, an excellent and large Zoo that kids will definitely like. And it's so nice to walk through the streets of Budapest on golden September days!
Along the way, we would recommend not to lose sight of additional features.
It's necessary to devote several hours of time to visiting one of the thermal baths of Budapest. Not obligatory the most famous: Szechenyi or Gellert Baths, there are enough other similar, but a bit cheaper such establishments in the city.
Gourmets an just food lovers will certainly not miss the opportunity to try the most interesting dishes of Hungarian cuisine. Well, shopaholics will certainly try to find something, if not original, then inexpensive in shopping malls and markets in Budapest!
Where to Visit
Again, at the beginning of autumn, one shouldn't miss a great opportunity to get to the interesting sights of Hungary located outside Budapest. For example, to visit the charming town of Szentendre and the castle in Visegrad, where Count Dracula was once kept for several years. Maybe take a ride along the bend of the Danube to Esztergom, whose symbol is the huge Basilica of St. Adalbert.
Once in Hungary, it's extremely unwise not to go to the coast of Lake Balaton. Especially in September, when the grape harvest season begins here. Spa treatments at the thermal lake Heviz aren't just memorable, but also a pronounced wellness event.
Connoisseurs of beautiful architectural forms should definitely spend a day exploring the town of Keszthely. And those who love medieval fortresses should definitely visit the Sümeg Castle.
The Abbey of Pannonhalma, located near the beautiful Baroque town of Dior, is a UNESCO protected site. Miskolctapolca's cave baths deserved, at least, pan-European fame.
Definitely deserves a trip to the small but beautiful town Eger, where the mighty medieval fortress has been preserved. Ecotourists are addressed to hiking and cycling routes in the Bükk National Park. Closer to October, it's dressing in incredibly bright crimson-gold "clothes".
© Goodtimefortrip.com