Cappadocia in September and October – is it worth going? Weather, how to dress, reviews of tourists, prices 2023 for tickets and hotels. What to do in Cappadocia in the fall, how to get there from Istanbul or Antalya on your own – found out good Time for Trip.
Turkish Cappadocia today has ceased to be an exclusively summer tourist destination. If quite recently the vast majority of those who visited the region only briefly broke away from a beach holiday in Kemer or Bodrum, now a trip to the "Land of Beautiful Horses" has become a self-sufficient affair.
The trend was especially developed during the pandemic – tourists squeezed by quarantine cordons lost their former freedom to move around the world. And, as expected, poured into open Turkey. This time went much further than the usual Bodrum or Antalya beaches.
Many have discovered the enduring value of Istanbul. Where, curiously, even in September the weather is very sunny and warm .
Others have seen from personal experience how unusual, original, great and primitively beautiful Cappadocia is. Clearly deserving much more than a couple of days offered by most sightseeing tours!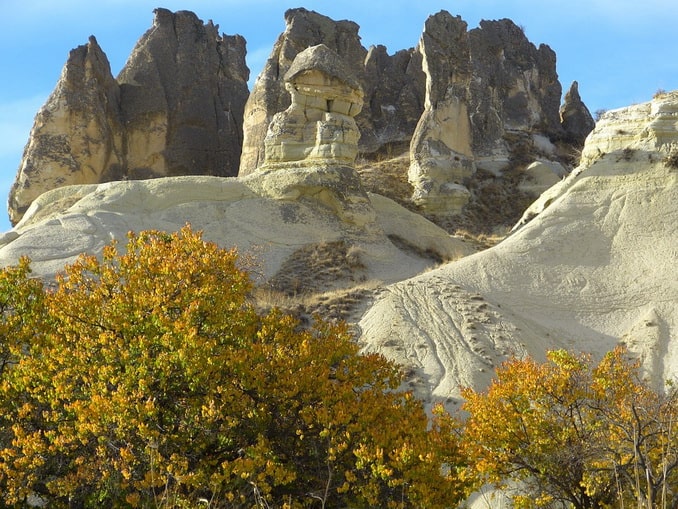 Along the way, tourists took into account that organizing an independent trip to Göreme from Europe, even by car, is no super task. In addition, there are more impressions plus photographs at the output. As well as valuable things brought from Turkey.
On such a vacation will be spent less money  – per family. Which is important in a period when incomes, if not reduced, then not grow much.
Played a role and almost year-round direction – balloons in Cappadocia fly even in winter. As for walks through the valleys, they do not depend on the season at all.
However, for a visit here it is better to choose a milder time. Not too hot, but not discouraging travelers with sudden snowfall and severe night frosts.
In terms of weather, September in Cappadocia looks almost optimal. Yes, and in October – even at the end of the month – you will be able to float through the valleys in a shirt and a jacket. Do not think about overheating and take a very modest supply of water with you.
Wander aimlessly, enjoying the clear day and incredible scenery. All the while light and without the mind-numbing thought of having to get back in time for an all-inclusive meal… isn't that a really perfect vacation?
Still in doubt? Because swimming and lying on the beach is somehow more pleasant? Then you should go in the September Bodrum … or Marmaris, Oludeniz, Kemer and others like them.
But we continue to bend our line!
Weather in Cappadocia in September
Not fundamentally different from its own summer version – except that the peak temperatures are lower. It often happens up to + 28-30 °C, but in most cases it is still + 24-28 °C.
On some days, failures to the level of +20 °C and below occur. This is during the day – at night, the thermometers do not dare to stick their noses above +18 °C.
The chance of precipitation is low. But, unlike August, they still exist – winter is on the nose, it's time and honor to know. The statistical norm is 1-2 rainy days per month. All the rest are mostly sunny.
Winds in September Cappadocia blow even weaker than in summer.
Therefore, the probability of canceling a balloon flight due to bad weather is low!
By the way, don't forget about the desirability of dressing warmly. After all, ballooning usually begins in the early morning, after dark. And it is still much colder at altitude than on the ground.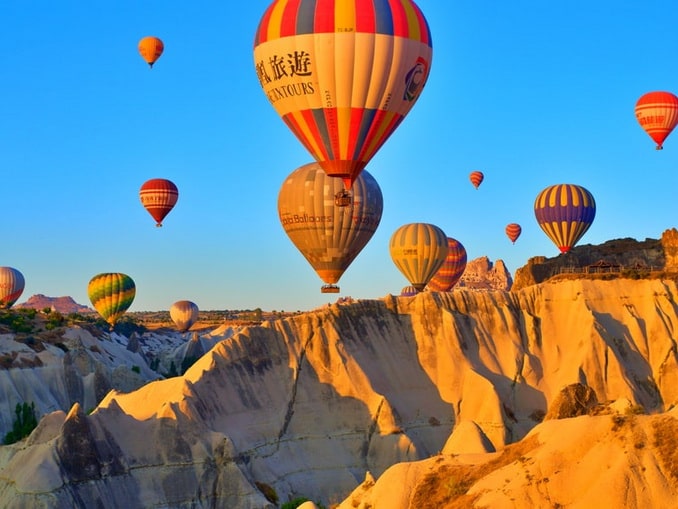 Cappadocia in October
It continues to put pressure on the psyche of northern Europeans, already ready for winter and a large number of cloudy days, with an abundance of light and heat.
It is sometimes difficult to rebuild – after all, you sometimes fly out of the realm of snow or, at least, bad weather. And you arrive in a country over which the sky is serenely blue, and the trees are just beginning to change into a golden outfit.
The air is warmed up to +18-24 °C, the birds are singing, people in sweaters are looked at as if they were crazy. That is, during the day – in the evenings, the locals also warm up here – temperatures in the region of + 10-14 °C hint at the need for this quite transparently.
Reviews of tourists who visited Cappadocia in early October are invariably favorable. As one, they admire the distances, panoramic views, abundance of sun and warmth, because they walk a lot.
They complain about fatigue, regret that they can't stay longer, admit that 3 or even 4 days is not enough. There are literally no complaints about the climate.
Closer to November, Cappadocia sees a turning point in weather moods. It becomes noticeably colder (however, not always), the sky frowns more often. The winds – that's smart – look at this trend condescendingly.
And in no way aggravate the situation, allowing tourists to do what they love without interference. You probably guessed which one: rode a balloon over the local landscapes – completed the minimum program.
How to Dress
We rejoice in the warm weather, but do not forget about the greatly reduced daylight hours compared to summer. And after the sun goes down here… warm clothes won't hurt.
Unless, of course, you have enough strength and desire to get out of the hotel room after sunset. Moreover, there is nothing to see in Göreme, apart from the Open-Air Museum.
Of course, not counting the balls floating overhead…
On September 1, the sun rises over Cappadocia at 6.12 am and sets at a quarter past seven. By the end of the month, the sun will be a little "tired. It will doze until 6.38 am and go to bed at twenty minutes to 7.
By the end of October, sunrise will move to the beginning of the eighth. And sunset will take place even before dinner – at 5.45 pm.
Do not forget about comfortable shoes – walking on rocky paths and exploring caves urgently require non-slip soles and a heel that does not slap on the heel. Sunscreen will also come in handy.
Indeed, during the daytime promenades, you will receive sunbathing almost constantly. And it is very easy to burn here even in the middle of autumn!
Prices 2023
Booking hotels costs 2-3 months before arrival. For all the most delicious – read, inexpensive – understands the flight. If you are late – for 3-4 nights you will overpay a hundred euros. This is at least.
Of the inexpensive and high-quality hotels that offer, among other things, very popular cave rooms, we will mention Elite Cave Suites. A standard double room here in early September will cost ~45 € per night. Breakfasts are traditionally included, but you will have to take care of lunches and dinners yourself.
Grand Elite Cave Suites does not spare the feelings of tourist wallets so much – here a day costs from 55 €. The room, on the other hand, will be more spacious, and a pool with a view is a bonus. Given that autumn here is very warm and sometimes sultry – a very nice option!
It is worth considering the offer of Cappadocia Caves Hotel (from 50 €). Located in the very center of Goreme, and, apparently, due to the combination of qualities, it has earned a rating of 9.4 from Booking.
Things to Do
We counted four "mandatory" events in Cappadocia. These are: flying on a balloon, visiting the Open-Air Museum in Göreme, taking a selfie against the backdrop of "fairy chimneys" in the Love Valley and exploring the labyrinths of one of the underground cities.
Of course, literally anyone wants to make their own adjustments to such an unsaturated program. For example, having laid out 40-50 € for the "red", "blue or green" routes and completely removed from the organizational part.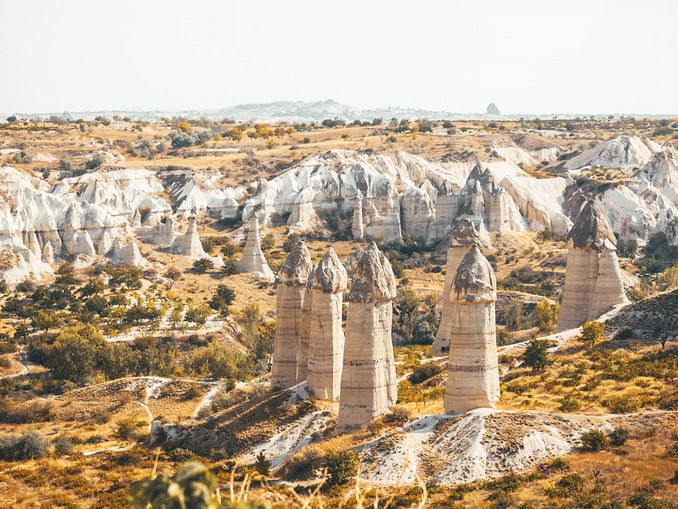 Someone himself is not his own to ride cross-country on ATVs. And others will want to take part in a horse ride or even take a camel ride. Yes, this is not Egypt, but the "ships of the desert" carry tourists through the Cappadocian landscapes!
Hiking in other valleys in the vicinity of Goreme also looks like a natural step. On a self-developed route – when compiling it, you only need to take into account the time of sunrise and sunset. And also do not forget about the lunch break – local lamb testi kebab – you will lick your fingers.
It is definitely worth paying a visit to Uchisar, climbing to the top of the castle there. There, by the way, it is better to go by dolmush. But back, down the hill, it is quite possible to walk.
How to Get There
Organizing a trip on your own under normal conditions will require a small amount of effort. After all, you can get to Cappadocia from conditional London in less than 10 hours. By plane, of course – traveling to Turkey by car will take days.
Equally, you can include a visit to the region in the program, if the main point in it is a visit to Istanbul. And from Antalya to get to Cappadocia, if not a couple of empty ones, then not too tiring. At your service: fast plane, car and bus!
© Goodtimefortrip.com