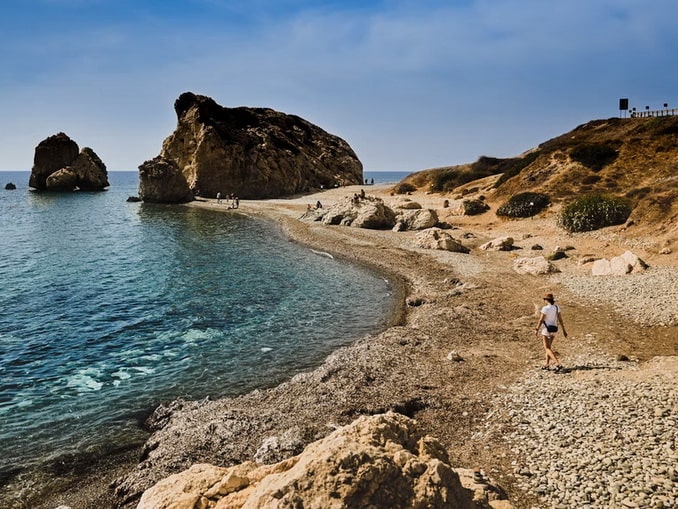 Cyprus in November 2023 – is it worth visiting? Weather, sea temperature, what to wear, is it possible to swim? Prices in hotels, on car rental and excursions, what to do in Cyprus in early and late November, – in the material of good Time for Trip.
The demand for travel to Cyprus during the off-peak season is very limited usually. In any case, from those tourists who are mainly focused on a beach holiday! That is, in other words, from the vast majority of people.
This is understandable – after all, no one knows if it will be possible to swim in Cyprus in November. Still, it's not too clear: will the weather allow you to bask in the sun and enjoy excursions?!
However, risk-averse travelers, as well as those who like to discover new destinations at completely unexpected times of the year, are happy to fly to Cyprus in early November.
And even later! For a vacation on the "Island of Aphrodite" at the end of autumn is not only inexpensive, but also has a good chance of becoming an ornament of the year.
Why? Everything is simple: quite warm weather and a minimal number of tourists create excellent conditions for holidays in the resorts of Cyprus. And in 2023, which is still not completely behind the exhausting coronavirus pandemic, this is especially important – do you agree?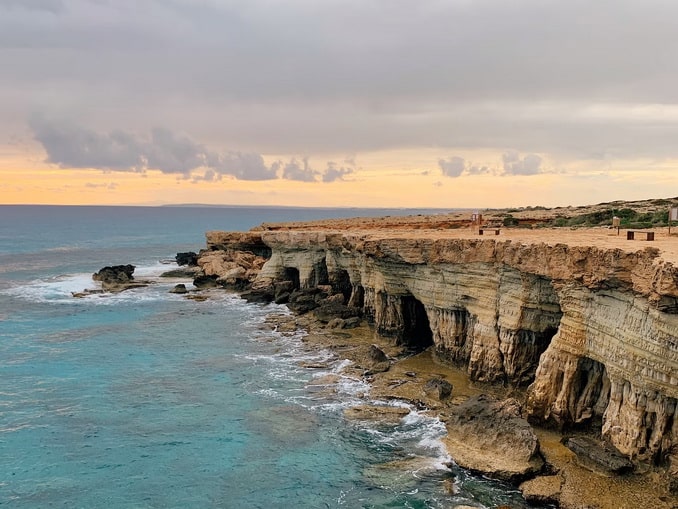 Weather in Cyprus in November
As in general in the south of Europe at this time, it's not stable. Although initially it is worth tuning in for the best.
Almost certainly at the beginning of the month, Cyprus will please with warm weather. And the air temperature will often reach + 24-26 °C.
Whether this will continue for a long time – so that you can comfortably celebrate All Saints' Day and bask in the sun for another week – or everything will be limited to an extremely short period, no one can predict. Especially meteorologists.
But let's take it for granted – there will be warm days. Definitely not the only one!
So you can't only keep warm, but even tan. Along the way, getting a portion of vitamin D, which is so lacking in northerners. That is, strengthening your immunity before winter!
However, at nights in Cyprus in the first half of November it's noticeably colder: up to + 12-15 °C. And tourists should prepare for this by packing a certain amount of warm clothes in their suitcase.
Closer to winter, the atmosphere does not warm up above + 20-22 °C even during the day. But this, as we understand it, causes frank surprise among many Americans and Europeans!
Because in New York and Paris in November it's much colder . We are not talking about London and Berlin.
All sorts of official weather forecast sites regularly scare with rain. But the statistics are not on their side – there will be only 2-3 rainy days through November. And the volume of precipitation will probably make any resident of the UK laugh – up to 30-35 mm per month!
Sometimes
however, in Cyprus at the end of November it's quite cool. And not only in Troodos Mountains or in west Paphos. But also in Larnaca, Ayia Napa and even Protaras.
And, also, quite windy and chilly
At these moments, you want to zip up jacket. And, looking at the sea through the prism of glass in a hotel room, think – why did I come here at this time?
But then the weather seems to come to its senses and stop torturing you. As if deciding for itself that winter is still far away.
And then the sun shines again, the sky is amazing with deep turquoise, and you are happy to go on a trip to Akamas National Park or Cape Greco, to Paphos or even Famagusta…
This time Cypriots themselves… are freezing and dressing warmly enough. Because they aren't accustomed to the cold level of +20 °C.
Sea Temperature
If you are not a frequenter of tropical resorts then you will like the November sea in Cyprus. In any case, its characteristics can be called very worthy!
After all, the sea water at the beginning of the month is warmed up to + 22-23 °C. And only by the very end it cools down to + 18-20 °C.
Which not only doesn't exclude, but even provokes bathing! Of course, in a strong wind at such a temperature, the sea may not want to dip in – you will freeze on the way out. But when it's relative calm – why not?
Imagine a picture: you are with a cocktail on a lounger, the sun is shining, it is +25 °C on the street, there are no other tourists. And in our case, this is by no means a fantasy!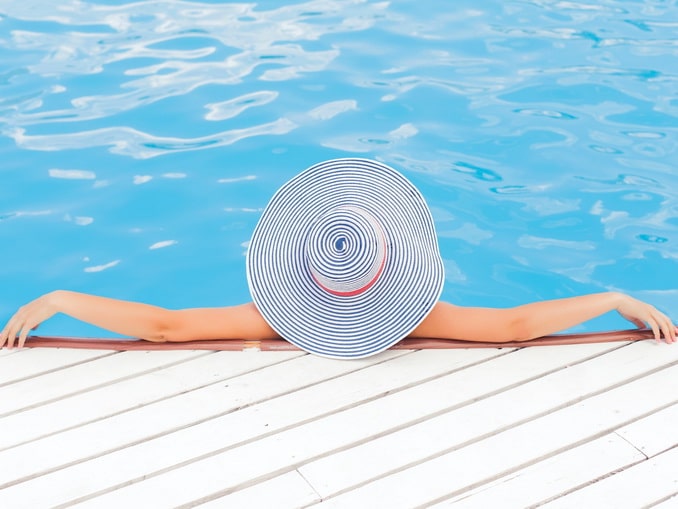 Prices 2023
Hotels, for example, in the popular beach resort of Protaras, cost from 40 € per night. Check out Coralli Spa Resort with spacious rooms and two leisure pools. Or Konnos Bay Gardens Hotel in a very picturesque place near Protaras.
For a very attractive amount, you can also rent a separate villa. For example, Katerina Luxury Villas will become a home for a company of 4 people for a week for 515 €.
To the sea about 600 meters. There is a private pool, the total area of ​​the house – 110 m2!
What to Do in Cyprus in November
There is no reason to count on the water park in the described period of time! They closed back in October and are peacefully dozing in anticipation of the new season. Which here, by the way, starts very early – in March!
Therefore, at the end of autumn it is worth taking matters into your own hands. First rent a car in Cyprus and then drive around the mountain paths of the island.
Moreover, you will have few competitors. And you won't have to complain about the busy traffic!
With what you need to see in Cyprus in principle, we get acquainted in a separate article. Within the framework of this material, we will just list the most outstanding sights.
Naturally, it is worth visiting Paphos and its Archaeological Park. Take a look at the Blue Lagoon in Akamas Park and spend a few hours exploring its other beauties.
Don't forget the authentic fishing village of Latchi. From where boats usually start, carrying tourists to the lagoon.
Then, on the way to Limassol, be sure to turn to the Rock of Aphrodite – where at this time you can even find bathing people – and the ruins of the ancient Greek policy of Kourion.
In Limassol itself and Nicosia, theoretically, you can not stop by. As well as in Larnaca. Which, apart from diving opportunities – who have not heard of the Zenobia ferry – is rather poor in entertainment.
Troodos and
In return, we recommend making one or even several trips to villages and monasteries located within the Troodos mountain range in the central part of the island.
Kykkos is known more than others. By the way, the monastery was founded by the Byzantine emperor. Popular – in the high season – the villages of Pedoulas and Medulas, Platres, Trooditissa Monastery.
Once in Ayia Napa, it's hard not to see the layered limestone cliffs of Cape Greco. And maybe swim in the incredible turquoise color and clear water!
However, people willingly come here from other resorts of Cyprus. For the place is one of the most beautiful on the island.
If you are from the breed of non-lazy travelers, it makes sense to take a ride to the northern, Turkish, part of Cyprus. It is even more correct to do this together with a tour – given the time of the visit, it will probably turn out to be individual.
First, along the way, you will inspect Famagusta, standing right on the border. Then – if you have time – will visit the deserted Carpathian Peninsula. And you will crown your visit with Kyrenia smelling of oranges and preserving the Venetian flavor. A real garden city on the north coast!
© Goodtimefortrip.com