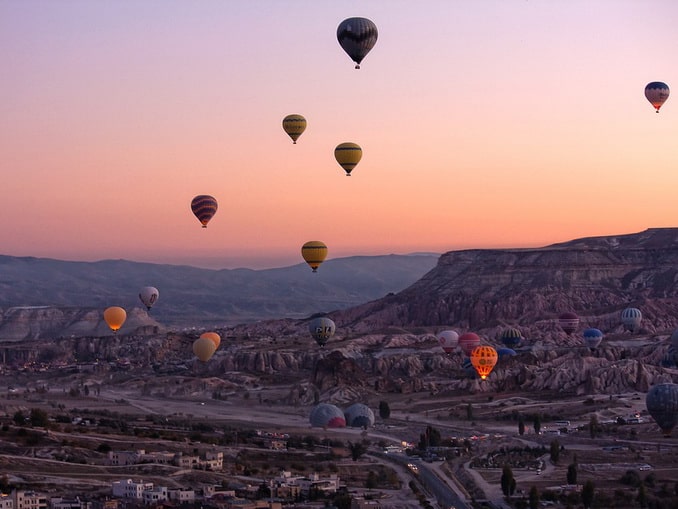 How to get from Istanbul to Cappadocia in 2023 on your own? And what to choose: plane, bus or car? How many time you spent to reach Cappadocia, distance from Istanbul, actual ticket prices. How much does it cost to rent a car, gasoline prices in Turkey – found out good Time for Trip.
If you've ever heard of Cappadocia, you've almost certainly been there. Well, or are going to do it in the foreseeable future.
No wonder – Turkish region with unique landscapes, underground cities and cave churches that existed at the dawn of Christianity causes indifference to few people. And when it comes to balloon flights, even those who have previously maintained a neutral position lose their calm.
At the same time, a significant part of travelers still visits the famous Cappadocian valleys with an organized tour. But the number of those who plan the trip on their own is gradually growing!
For they know ​​how much will lose in terms of impressions. And money – travel agencies don't do charity.
However, there is nothing particularly difficult in taking and going on your own, along an individually designed route. And you can easily get to Cappadocia from the same Istanbul.
Sometimes it takes a matter of hours. But more often – if you go by car – half a day or more. Moreover, in the latter case, you will not so much get tired as take vivid impressions and literally recharge your batteries.
Distance and Time
About 700 km are to be driven along the highway. If you start the countdown not from the central districts of Istanbul, but from, for example, Sabiha Gokcen Airport.
Located on the Asian side of the great city. And as if a specially intended for march in the direction of Goreme.
Experienced travelers, who have just arrived from London or Amsterdam in the Sabiha airport, usually stay nearby for the night. To start their trip to Cappadocia the next day  in a car rented right next to the terminal.
You can spend time, for example, in the spacious rooms of the ISG Sabiha Gökçen Airport Hotel. Very convenient from the point of view of transit passengers!
Roads in Turkey in 2023 are in a very good condition. And travelers spoiled by European highways are unlikely to find a reason for indignation.
Again – there is no significant traffic. And the risk in independent movement in an Asian country is practically absent.
Because the local people are very friendly. And the road infrastructure in the form of gas stations, cafes and motels is present in the required quantity.
It is important! Because on the way you have to spend at least 7-8 hours. Even if you go to Cappadocia in March and later, when the roads are completely cleared of snow.
Of course, this is not too much even for a single driver. If there is someone to change it – and even more so!
To Cappadocia by Car
As evidenced by the few so far reviews, autotourists from Europe are more and more frequent guests in Turkey. And no wonder – trials and overcomings while traveling around this country are completely atypical things.
The local rules are actually no different from those that operate in Germany or France. And the highway, as mentioned above, is good!
The policemen are rare. By the way, they don't try to intimidate you with all their might – on the contrary, you can count on politeness and correctness.
The locals is always ready to help. Sometimes, of course, and at the same time earn a little.
But this is not a rule – there are plenty of examples of absolutely disinterested help. As well as truly hospitality.
What can you bring from Turkey as a gift
Therefore, in principle, getting to Cappadocia from the shores of the Bosphorus is a trivial task. If you are an experienced autotraveller, of course!
Literally any vehicle can be rented directly at the airport. As a baby Renault Clio and a van for a big company like Fiat Doblo.
Prices are not too high – going to conquer Cappadocia in early September, you will pay from 25-27 € per day … And a month later, even less – from 18-20 €.
Fans of climbing far from well-trodden paths and roads with decent coverage should pay attention to a car with decent clearance. Although, of course, in Cappadocia you need to walk a lot.
Gasoline and diesel fuel in Turkey are cheaper than in the Europe – about 1.2 € per liter
Where to Stay
The main tourist center of Cappadocia is Göreme. There are plenty of hotels and guest houses!
Naturally, those that call itselves cave hotels are in special demand. This does not promise any oppression in the rights of tourists: the rooms are equipped with all modern amenities and heating.
You can also stay in a hotel located in an ordinary stone house – it's even cheaper.
We advise you to pay attention to Hanzade Suites. Which sometimes makes offers that are hard to refuse!
Also, take a look at the traditionally not overpriced Elite Cave Suites. All its rooms have an area of ​​25 m2, and breakfast is included in the price. In addition, hotels staff is very friendly!
Pay attention to the Grand Elite Cave Suites. Offering guests not only home comfort, but also the opportunity to swim in the vast pool!
In early spring and summer, the price tag of this hotel, however, cannot be called low…
Best Time to Go
We remember that May in Cappadocia is quite hot in terms of tourists and prices. And, of course, the period from June to September counted as real high season.
Without overpaying, you can see caves, "fairy chimneys" and underground cities in winter. Not at Christmas, of course, and not on New Year's Eve. And later, for example, at the end of January.
It is quite calm and quiet here even in early to mid-spring. Although nature is already blooming in April. And the sun at noon warms almost like its summer version.
By Plane
Göreme does not have its own airport – fortunately! Otherwise, it cannot avoid a conflict with air-balloons.
Therefore, air travelers get to the region through the air harbor of Kayseri. Where regularly – 10 times a day – planes of Pegasus and Aztek Airways fly from Istanbul airport Sabiha.
In the air you have to spend 1-1.5 hours. One-way flights will cost from 20 € (with luggage).
It is difficult to get from Kayseri Airport to Goreme by public transport – first you need to get to the cities bus station. Therefore, taxis and all kinds of transfers help out. Often such a service provide the hotel where you are going to stay – for a fee.
By Bus
The popular international carrier Flixbus now operates in Turkey. A one-way ticket from Istanbul to Goreme for an adult will cost ~15 €. You can view the schedule and book tickets on the official website of the company.
In this case, the road will take from 10 to 12 hours. And, judging by the available reviews, the bus trip along the designated route is pretty exhausting.
In any case, few people would like to repeat this experience. Especially if the jorney is scheduled for the night!
Although buses will bring you directly to the place, in Goreme. And not to Nevsehir, from which you will still need to go by minibus!
© Goodtimefortrip.com
Unusual Experience