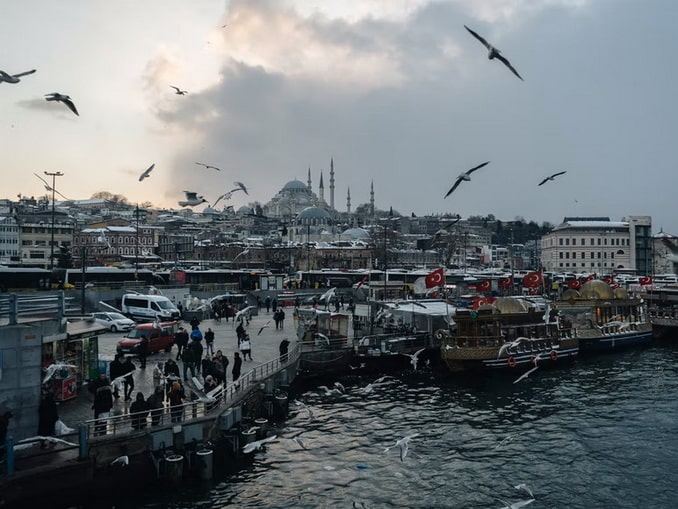 Istanbul in winter: is it worth going? Typical weather, how cold it can be, how to dress? Prices 2022/2023 in hotels, how much cost excursions and car rental? What to do in Istanbul during the winter, where to go in the vicinity and further – found out good Time for Trip.
In the very recent past, Istanbul was a seasonal destination that attracted tourists far from year-round.
It was believed that it was necessary to go here, to the shores of the Bosphorus, in the summer. Perhaps also in the spring – preferably late. And in the fall – preferably early.
Was winter Istanbul popular? Alas, very few tourists came here at that time.
As most of them preferred to spend the winter in warm tropical countries. To which Turkey still cannot be attributed with all its merits.
A minority, by the way, not much inferior to the majority, went on trips around Europe. Since there was something to celebrate Christmas or New Year in Paris or Prague, Rome or Barcelona …
Of course, the basic preferences of travelers have not changed much even today! But someone is always looking for new vivid impressions, isn't it?
Therefore, a city like Istanbul in winter is gradually becoming in demand. And tourists who visit it at a seemingly inopportune time are surprised to find that the metropolis on the border of East and West has enough attractions to become a real diamond of the low season.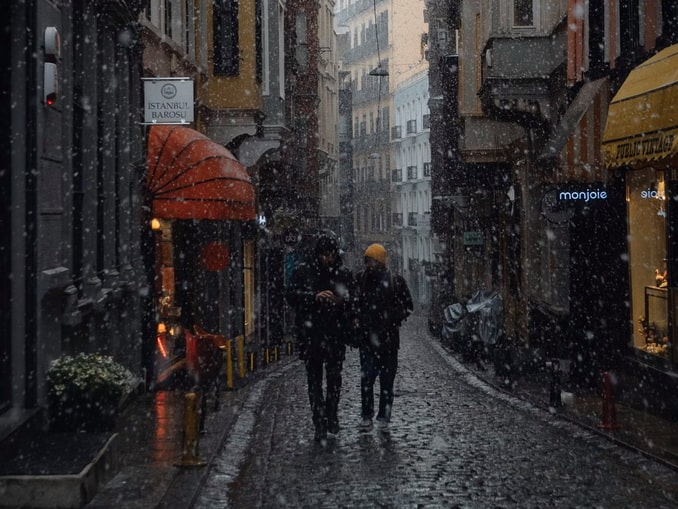 For he is great, beautiful, multifaceted. In terms of weather and prices, any of the European capitals can give odds. And, among other things, it is located literally at the intersection of all Turkish roads.
Would you like to see virgin natural landscapes, bathed in silence in winter time? No problem – you just go from Istanbul to Cappadocia! Or, for example, to Pamukkale – the local travertine pools do not freeze in the coldest years.
Are you drawn to warmth during the colder months? And would you like to renounce the New York cold and London fogs for a while? In this case, the route is corrected in a minute!
And you go from Istanbul to Antalya. Or even Alanya!
Where not only people wait out cool times, but also some migratory birds. Too lazy to fly to Africa…
Weather in Istanbul in Winter
Differs inconstant – in the truest sense of the word – character. Since the sharp winds from the Bosphorus often and with pleasure spoil the statistically very attractive picture.
For example, the air temperature in Istanbul in early December, and sometimes even at its end, can reach an impressive +15-17 °C. But you will not meet citizens walking in light jackets – everyone is entirely in winter clothes and with scarves around their necks.
Usually, the thermometer in the middle of the day tends to somewhat more moderate values: +10-14 °C. And at night the atmosphere cools down to +6-8 °C.
There is a lot of rain. According to long-term data, the beginning of winter in Istanbul is a rainy and dank time. Urgently requiring special care when choosing clothes.
Not only if you decide to sit like an idol on the edge of the Bosphorus or go to the Princes' Islands. But even during ordinary walks along Istiklal – after all, it blows at this time, it seems, literally everywhere!
Despite this, the chance to capture a radiant landscape in memory or on a smartphone camera is not microscopic. Since clear days happen – state weather forecasters say that there are at least 6-8 of them per month.
January
In the second month of winter, at New Year, the weather in Istanbul begins to tighten the screws. Basically, however, in terms of air temperatures – they drop to +6-8°C.
However, it reserves the right to shock everyone with a sudden heat. Up to + 12-14 °С – this was the case at the beginning of January 2022.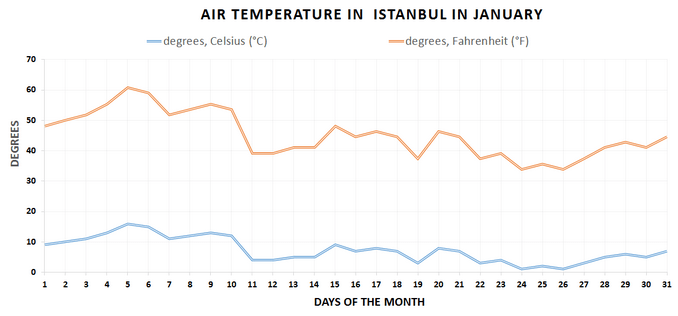 To then suddenly plunge into pure pessimism, literally to zero marks.
Frosts, meanwhile, are rare even at night. Although the snow falls. And does not always melt cheerfully in the first few hours.
In terms of precipitation, January in Istanbul can outperform December. But there seem to be more clear days and sunshine.
Either because of the lengthening of daylight hours, or the calendar itself inspires a positive attitude. And even a thick-skinned tourist begins to feel that spring is just around the corner.
February
More positive and clear. And the atmosphere usually warms up to slightly higher values.
In 2021, the final month of winter in Istanbul generally began with almost spring temperatures – it reached +14-16 °С. Then, of course, there was a slight sobering up almost to zero. But the immediate prospects are almost certain – on some days you will be able to strip down to your shirt.
It rains less often in Istanbul in February, but the sharpness of the windy "blade" is still beyond doubt. And if you insist on a T-shirt and a light pullover, then it's still better to put on a padded jacket on top. In any case, reviews strongly advise not to neglect this.
And also stock up on scarves and even gloves. We don't insist on hats – many today take care of their hair more than head.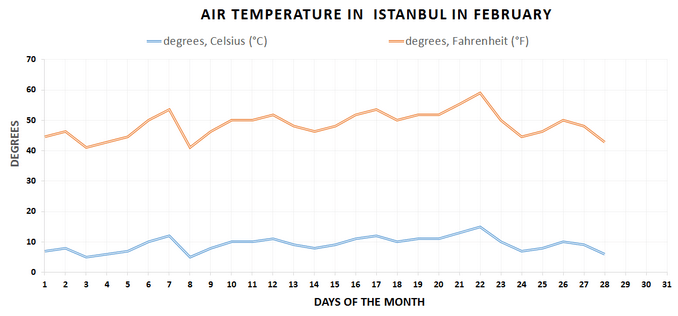 Prices 2022/2023
Within the framework of this material, we will not touch on a brief but special period called the New Year holidays in Istanbul. For during this time interval everyone is desperately trying to make money. And do it in a proven way – by raising prices.
The rest of the time, prices fall to a very pleasant, that is, low level. As if they realize that in winter months Istanbul is not the most popular place on the planet .
In general, in December, in the second half of January and February, you can find a very decent hotel or apartment in Istanbul for a fee of less than 50 € per night. Even in popular centrally located areas like Fatih or Beyoglu.
Pay attention to RUZ Hotels, where the rooms are incredibly quiet and comfortable, despite the proximity to the busy Istiklal Street.
Has every chance to please even the discerning traveler Basileus Hotel in the Fatih area. Moreover, it is located within a 10-minute walk to the main attractions of Istanbul.
More than sane money for a family suite for four takes Han Suite Hotel, located half a kilometer from the Blue Mosque. The reviews sing the praises of an amazing location on a quiet street, note the courtesy of the staff and the cleanliness of the rooms.
Things to Do
We admit honestly that do not have specific recommendations on what exactly you should do in Istanbul during the winter. And where can they come from: the Bosphorus does not freeze, there are no ski slopes here, and in general snow entertainment is somehow not in use?!
Therefore, you should probably be guided by the usual considerations and a list of famous Istanbul sights. And for starters, it may be useful to be impressed by the scale of the city on a tour of its old center.
Then it is quite possible to walk around the city and on your own. To assess, for example, the size of the cathedral, that is, today's Hagia Sophia Mosque. See the park and the premises of the Sultan's Topkapi Palace, go to the largest mosque in the country, Sultanhamet.
Enjoy for a long time – in good weather, of course – the view of Istanbul's rooftops from the famous panoramic platform at Suleymaniye. And be sure to visit the famous mosque. Which is literally a monument to the great love of the powerful Sultan and his European wife Roksolana.
Of course, you should also take a ride along the Bosphorus. Indeed, in winter, pleasure boats and boats still cruise along it. But such excursions cost much less than in summer – from 20-22 € (30 € – with music and dinner) per person.
As stated in the mass of reviews, in Istanbul it is necessary to visit one or more of the Byzantine period cisterns, that is, underground reservoirs. And then get to the Chora Monastery with its beautiful frescoes.
Most try to personally find out if the Dolmabahce Palace deserves a visit. And how good is the winter view from the embankment near the Ortakoy Mosque?
From suburban trips near Istanbul, we especially recommend the thermal baths in the resort of Yalova. Moreover, inexpensive one-day excursions are carried there. And you do not have to work out the route yourself.
It is quite possible to take a ride in Edirne to admire the mosque there, the best work of the great Sinan. And to get to the ruins of Troy – in winter there will be very few sightseers.
Definitely good – that is, just an incredibly exciting thing – is an independent trip from Istanbul to Cappadocia. We assure you that there is nothing complicated in its organization, even if you decide to rent a car.
Fairy chimneys, snow-covered valleys and amazing cave churches look no worse in winter than in summer. Or maybe just better – everything is shrouded in a magical, even a little fabulous aura!
Silence, calmness, freedom… The very one that cannot be felt today in ordinary life.
© Goodtimefortrip.com