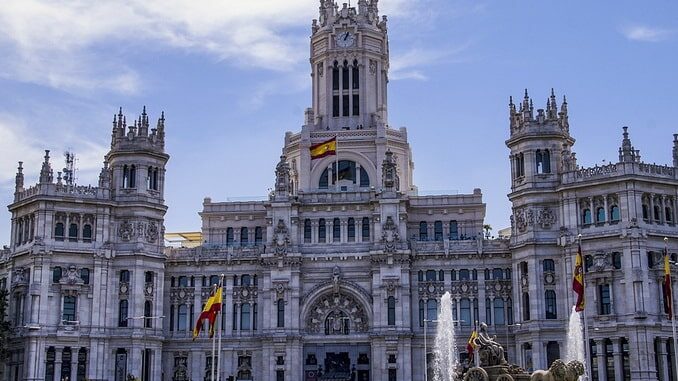 Madrid in June – is it worth visiting? Weather, how to dress, prices 2023 in hotels and on excursions. What to do in Madrid at the beginning of June and close to July, where to go – explored good Time for Trip.
There is a reasonable opinion that Madrid is one of the sunniest places in Spain. Among the major cities – for sure!
And if you come here in autumn, winter or even in the middle of spring, you can still try to refute this statement, then in June Madrid will appear before you as an impeccable sultry handsome man. And at least at the end of the month, you will already be thinking not so much about walking the streets as about looking for shade.
So is it worth going to Madrid in June – a tourist who has already left the youth age will reasonably ask? Wouldn't it be better to move such a trip to a less hot time because of the excessively hot weather?
In fact, we can't answer this question unequivocally. But we are sure that if you miss the moment to visit the Spanish capital in early summer, then you will not have a better opportunity until about mid-September. Because the metropolis will simply melt in the rays of the merciless sun!
So… you should weight the pros and cons. And don't miss the right moment!
Weather in Madrid in June
It can hardly be called magnificent from the point of view of sightseeing and educational tourism. Since in most cases, by noon, the heat is set at +30 °C (86 °F), or even higher.
At the start of June 2022, the air temperature in Madrid reached +27-28 °C (80,6-82,4 °F). But even before the end of the first decade of the month, nature decided that the residents of the capital and numerous tourists deserve more.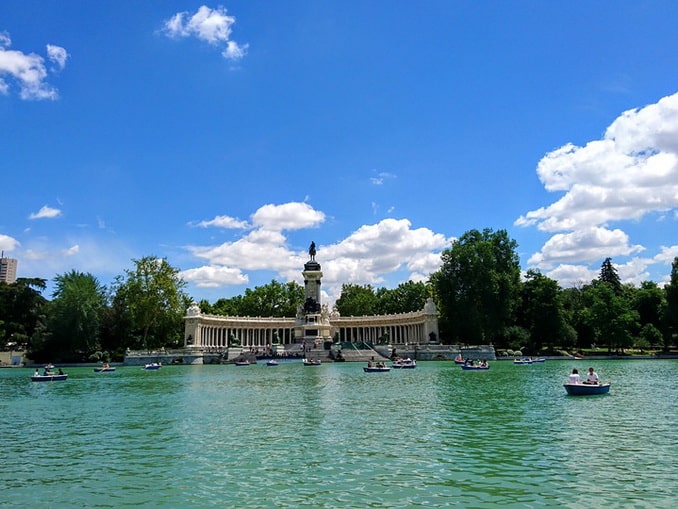 As a result, the sun began to heat the atmosphere to +32-35 °C (89,6-95 °F). And by the beginning of the third decade, temperatures of +37-39 °C (98,6-102,2 °F) were also recorded in the region in a couple of cases.
But the end of June was held in Madrid under the sign of a slight cooling to +23-26 °C (73,4-78,8 °F). Which, against the background of the incredible heat in the middle of the month, looked literally like a life-giving sip of water.
The temperature of the air at night walked in wide ranges. It could be from +15-16 °C (59,60,8) to even +28 °C (82,4 °F).
Not every June Madrid sees a similar picture. But in general, you should be prepared for temperature swings and certain weather instability.
Since the air can warm up to almost +40 °C (104 °F) during the day. Or, on the contrary, it keeps cool, more characteristic of early spring – sometimes the atmosphere doesn't warm up higher +20 °C (68 °F)!
Precipitation
June is considered one of the driest months of the year in Madrid. And although guidebooks cautiously note that it can rain for even 2-3 days, tourists rarely witness even one.
Clear days make up the vast majority, and the duration of sunshine reaches 15 hours a day. The sun rises above the horizon at about the same time – before 6 am. And it comes in about 21 hours.
What to Wear
The above information suggests quite obvious conclusions. In short, they boil down to an axiom like "take with you fewer things, bring back from Spain a maximum of gifts and souvenirs ".
You just have to remember to bring more clothes and accessories that can provide protection from the scorching sun. That is, of course, not only sunglasses – put in the suitcase also shirts made of natural fabrics with long sleeves.
Wide linen trousers will also come in handy, since walking everywhere in shorts is also fraught with sunburn. Naturally, a variety of panama hats and caps are in demand everywhere, as well as sunscreens.
Is it worth taking bathing accessories with you? If you don't plan to leave Madrid further than the suburbs, there is no need. But tourists who want to visit Barcelona in June, not to mention the beaches of Cantabria and Asturias, they will surely come in handy!
Prices 2023
If you choose from not particularly expensive, but high-quality housing options, then Slow Suites Luchana in the Chambery area will inevitably be in the Top 5 of the best. After all, for 130 (non-refundable) – 155 € per day, you will get at your disposal an apartment of 40 m2, located not very far from the city center.
The LaNave Guest House is located next to the Sabatini Gardens, that is, in fact, next to the Royal Palace. Where for 100 € you will be given a modest room, but with a private bathroom. And in addition, they will feed you breakfast!
Do you think it's expensive? Alas, these are modern realities – even hostels in the center of Madrid in early summer cost an impressive 70 or more euros per night (for two guests) – Hostal Meyra. However, for this money you will also have a personal bathroom and toilet.
City tours don't cost much. For a 3-hour bike tour of Madrid in the company of a guide, you will pay about $ 30-35. From $ 50-55 per person, participation in a day trip to Segovia and Toledo costs.
What to Do
Before we go on to list what is worth seeing in Madrid at the beginning, middle and end of June, we emphasize once again that you should be moderate in your desires. Develop routes that are not too saturated – the intense heat quickly exhausts and deprives you of strength – and take a large amount of drinking water with you.
Definitely you should pay a visit to the paintings in the Prado. And, perhaps, to take a swing at coming to all three museums of the "Golden Triangle of Arts".
This case will require spending about 2 or even 3 days of time, but it's definitely worth it. As based on the number of artistic masterpieces that you will be able to see. And for a more mundane reason – the purchase of a Paseo del Arte Ticket will allow you to save on entrance tickets.
Recall that the Prado is visited free of charge by citizens 0-17 years old, regardless of citizenship. Also, everyone who comes to the museum in the period from 18 to 20 hours from Monday to Saturday and from 17 to 19 – on Sundays can enter for free!
Are other major museums in Madrid worth a visit? At the start of summer – undoubtedly. After all, it is a real pleasure to admire beautiful works of art while wandering through cool air-conditioned halls.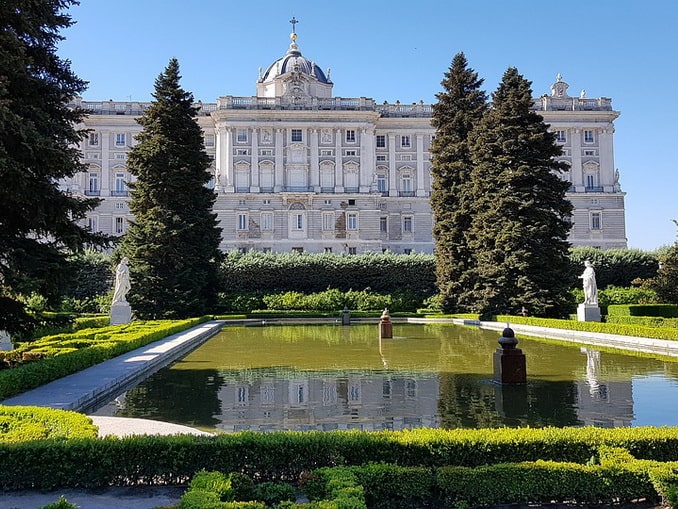 We will also advise you to devote a lot of time to the capital's
Parks
Stroll along the shady paths of the Parque del Buen Retiro, which is located in a pleasant neighborhood with the Prado Boulevard. Visit the Royal Botanic Garden. And feel like a person of "blue blood", relaxing in the green labyrinths of Jardines de Sabatini. A garden adjacent to another landmark of Madrid from the category of must-see, the Royal Palace.
Almost certainly, even in summer, you will not miss the open spaces of the famous Plaza Mayor and Puerta del Sol squares. And in the evening, reward yourself for your diligence by going to the Corral de la Morería restaurant. In which visitors are given wonderful performances by flamenco performers.
By the way, at the end of May-beginning of June, Madrid annually hosts a festival of this incendiary and most Spanish of all dances. Don't miss the opportunity to witness a truly unforgettable event!
Where to Go
First of all, you probably want to visit El Escorial. One of those world-famous architectural complexes that are rightfully considered the pinnacles of human genius!
But besides him, there is something to see in the vicinity of Madrid!
Let's mention the summer residence of the Spanish monarchs, Aranjuez. Surrounded by a shady and full of ponds park.
We will also invite you to travel to Segovia. The decoration of which is not only the Roman aqueduct and the grand cathedral. But also the Alcazar, the palace of Queen Isabella, whose providence allowed Columbus to (rediscover) America. As well as the country residence of Philip V, La Granja, full of greenery and coolness!
© Goodtimefortrip.com