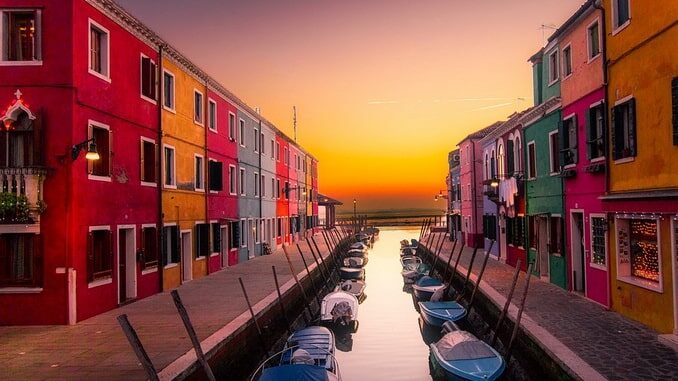 What to visit in Burano: the main attractions of the Venetian island. Description, route, photo, prices 2023. How to get to Burano from Venice and when it is better to go – in the practical material of good Time for Trip.
Burano is a small but famous island in Venice. It is considered one of the most authentic and specific attractions of the "City on the water", loved by tourists. Both Italians and foreigners have heard about the colorful houses of Burano and come with pleasure to admire this riot of colors.
Because such a bacchanal of color is rare. Either people are embarrassed to paint their homes in such bright colors, or municipalities directly prohibit it, honoring conservative gray, brown and similar colors for good.
On Burano, the attitude to color is different, houses with childishly bright walls are a local established tradition. That is, today there is already a rule: if you live in a pink or blue house, no one will allow you to make it green, yellow or red.
If you want to use cheap paint, please! But you can't change the original color!
This has its own logic. In the case of mass insanity of Burano residents who wanted to repaint their homes in some practical, dim color, the island will lose its tourist attractiveness at once. And it is unknown what he will live on)
(Quite) Important
Tourism is the main artery feeding the almost magical Venetian island and its several thousand inhabitants. Travelers willingly wander around the island, taking pictures on the streets, embankments and humpback bridges.
Naturally, they also buy souvenirs – anyone must bring home something from Italy, right? They waste money in cafes and restaurants – fast food on Burano, with the exception of local brands, as if there is no. Leisurely strolling and guided tours – as if time is not running out.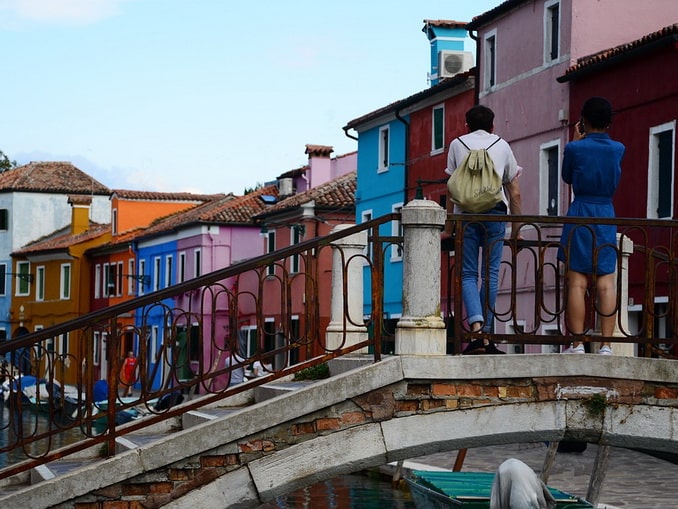 Life on the central channel of the island, by the way, doesn't stop even after dark. Restaurants are open, shops sell running, though not always high-quality goods – Chinese fakes have already flooded Venice itself!
Top-3 Attractions of Burano
In addition to the various houses mentioned above, which have to be constantly renewed and tinted, there is actually nothing to see in Burano!
Guidebooks mention only St. Martin's Cathedral, decorated with the work of the famous Venetian painter Giovanni Batista Tiepolo. And the noticeably leaning bell tower of the cathedral, which will decorate any tourist photo.
It is inappropriate to draw parallels with the famous Leaning Tower of Pisa. In Tuscany, the foundation was calculated incorrectly, and in the Venetian Lagoon, because of the shaky ground, everything can give a roll.
No wonder at first the houses on Burano were built from weightless reeds. And only then, emboldened, they began to build brick walls.
On the main square of the island, Piazza Galuppi, it is worth exploring the lace museum, Museo del Merletto (5 € for an adult ticket, museomerletto.visitmuve.it). It's just very doubtful that a significant number of tourists are interested in it. After all, people are visiting Burano for something else!
To walk along the canals, meditate on incredibly atmospheric bridges. Explore the back streets of the city, where the distance between the walls is no more than a meter.
And then try some traditional Italian dish on the central embankment. In the evenings, it is colorfully lit and looks exactly like a Christmas market – maybe the best time to visit Burano is winter?
Relax
You can spend several hours carefree and extremely relaxed on this Venetian island. And when it gets dark and the moon, round as a cheese head, shines over the lagoon, the most romantic moments come. People are disappearing somewhere, the streets are emptying, lonely figures are gliding along the canals.
Burano falls asleep… Somehow immediately and finally.
And only in some places groups of late tourists are moving to the pier. They still have to get to Venice!
Which will take at least an hour of time – you will have to transfer to Murano on the way! By the way, take a picture of the vaporetto schedule in advance – it can help out a lot.
Lace
napkins and tablecloths- a real symbol of the island of Burano. Whose true value today, alas, is called into question!
Because evil tongues claim that lace for sale is woven in China and Taiwan, and only sold in island shops. Perhaps so – tourists are not taken here to lace productions, demonstrating cheerful old ladies who have been needlework all their lives.
Unlike, by the way, Murano – they will show you how to blow glass there. And even offer to do it yourself.
On Burano, however, you can also find shops where you can buy real Murano glass.
The tradition of weaving lace was brought to Burano… from Cyprus. It is said that the great Leonardo da Vinci himself bought a lace cover for the Milan Cathedral in the village of Lefkara in 1481.
It is not known how Buran craftsmen could see it, but already in the XVI century, Burano wove their own incomparable lace with might and main. Briskly sold throughout Europe.
How to Get
From Venice, you can swim directly to Burano only from the Fondamente Nove vaporetto stop: choose route No. 12 during the daytime and N at night. The vast majority of tourists, however, do things differently.
At Santa Lucia Station – if you come to Venice by train – or Piazzale Roma – in the case of a bus – they take the direct vaporetto No. 3, which goes to Murano. And already there, but only at the Faro stop they change to the route number 12.
Please note that the transfer takes place on Faro. And the first stop on Murano vaporetto No. 3 makes at the pier Colonna. Where the largest crowd of tourists comes ashore in a hurry to see works of art made of glass.
At 12-13 o'clock in the afternoon, not even in the highest tourist season on Faro, you can observe a huge queue of those who want to get into the world of multicolored plaster.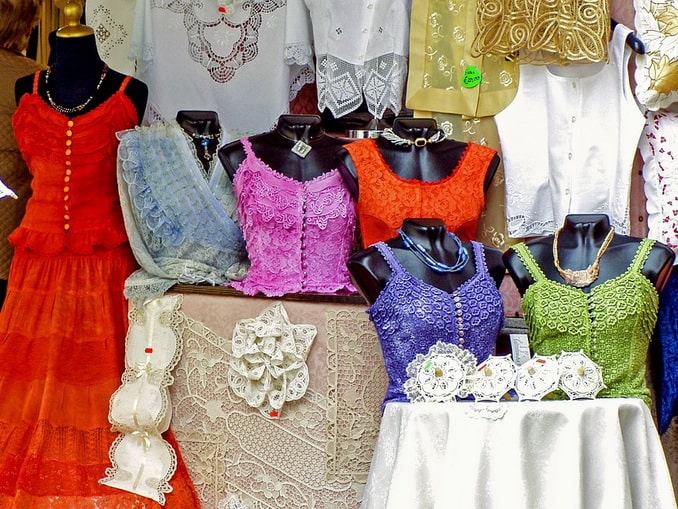 Different Ways
Autotravelers get to Burano with TWO transfers. Leaving the car at the Tronchetto parking lot, they first get on the vaporetto No. 2 and drive a couple of stops to Santa Lucia.
How to get to the island in a different way? For example, directly from Marco Polo Airport?
The vaporetto with the letter B goes to Fondamente Nove. Next – you know!
Knowledgeable tourists leave the vaporetto before reaching Burano, they leave a stop earlier, on the island of Mazzorbo. And they go to the kingdom of color through the bridge – it's not for long!
Note that it is most reasonable to combine a visit to Burano with a visit to Murano and Torcello. Starting in the morning, you will finish only closer to the night you will finish.
Keep in mind that Torcello is completely dying out by 5 pm. And there is no way to leave it for last.
Where to Stay
If you decide to stay on Burano for the night, you can congratulate yourself, you are an aesthete. Because only 10 percent of tourists decide on such a focus. True romantics who can afford not to run in pursuit of the sights.
The local serene atmosphere permeates and envelops – one evening and you feel better than after a massage and spa. And you don't even pay attention to the price list.
We recommend a pacification session in inexpensive (by local standards – from 120-140 € per night in May), but tastefully decorated Casa Nova apartments. Right from the windows of which you will see cute colorful houses and even a falling bell tower.
For a very modest price on Burano, you can rent a whole small house with a view of the lagoon. Staying just for a day at TIFFANY GOLD, you are guaranteed to immerse yourself in a real fairy tale! No wonder the reviews call the house "ideal".
© Goodtimefortrip.com