Where to visit from Paris for 1 day by public transport or car? Routes, how to get there, distance and travel time, prices 2023. What top places near Paris need to visit primarily, is it worth going to Normandy and Brittany, Picardy and Alsace, the Loire Valley? As well as how much guided tours cost – in the review by good Time for Trip.
Paris is an unique place that an inquisitive traveler can hardly get bored of. After all, the city that once proudly bore the title of "capital of the world" has so many interesting places!
Therefore, it is quite natural that even on his fourth or fifth visit to the capital of France, a tourist will easily find something to do. Of course, this does not mean that it is necessary to concentrate eclusively on the sights in Paris itself.
Especially if you are staying for more than two or three days or even a week. That is, you have time and opportunities for non-standard actions.
After all, there are a lot of interesting places near Paris that are definitely worth a day trip. Not only that! If you don't limit yourself only to the surroundings, but take into consideration more distant sights, then you will be able to make a very extensive list.
At the same time, there is often a choice – it is not difficult to find the appropriate excursion to the same Versailles or Mont Saint-Michel. But it's still more interesting to go somewhere from Paris on your own (95 percent of all trips in France start from its capital).
At least because you can plan a route of any degree of saturation. During which you will be able to visit not only Disneyland, the most famous castles of France, major cities, but also some little-known, charming places.
And you will not be bound by any time frame. If you want, you will stay overnight on the route, if get bored – will return to the capital!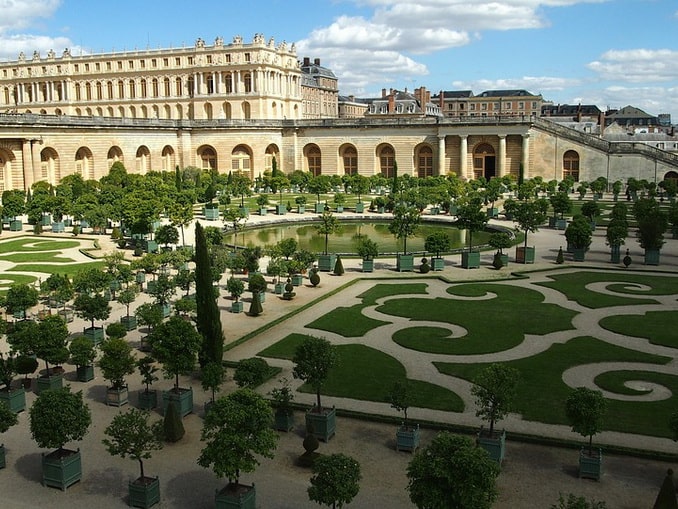 Day Trips from Paris
The information below is mainly aimed at independent travelers. Since it is based on personal observations and the experience of traveling from Paris to France by the authors of the material. Although those who plan to explore the country as part of excursion groups, we hope they will learn a lot of interesting things in our article.
Versailles
Of course, anyone coming to Paris plans to visit the magnificent Versailles residence, palaces and parks, which has long become a household name. In fact, not even paying attention to the fact that they are located in the vicinity of the city!
Apart from the actual tour of the palaces and the park, you will almost certainly want to commemorate the visit by purchasing a souvenir. Which is understandable – almost every tourist tries to bring back from France a tangible reminder of a great trip!
Getting to Versailles is not difficult – the former royal estate is connected to the city by the RER-C line. You need to get off at the Versailles-Rive Gauche station. If this trip of yours is not the only one in Paris, it makes sense to purchase a Navigo public transport pass.
A trip by a rented car is hardly justified, because due to traffic jams, it has every chance to last longer. And you will have to pay for parking.
It's worth bearing in mind that despite all the talk, the Versailles Residence is closed to the public on Mondays! And it's better to study the opening hours and ticket prices on the official website – https://en.chateauversailles.fr/plan-your-visit/tickets-and-prices.
Excursions to Versailles from Paris accompanied by a licensed guide cost from 50-55 € per person. The price includes not only round-trip delivery and a story, but also entrance tickets.
Disneyland
The largest theme park in Europe near Paris is in demand at any time of the year, not only by families with children, but also by adult visitors. Therefore, it is most reasonable to go here not in the most seasonal months – you will not walk in a crowd and get much more pleasure.
A visit to Disneyland should definitely be on the list of things to do in Paris in March. Well, or, for example, in April, when the weather clearly favors a long stay in the fresh air.
In the summer months and early autumn, it will also be very comfortable here. But the number of visitors at this time grows significantly.
Disneyland is located 30 kilometers east of Paris, it is easy to get to it on your own – just use the services of the suburban railway (RER-A). You need to get off at the Marne-la-Vallée – Chessy station, from which you will walk to the park gates in a couple of minutes.
You can also get to Disneyland directly from London – the Eurostar express train from St. Pancras Station transits through Paris Gare du Nord in less than 3 hours. Yes, even from the airport terminals of the largest Parisian air hub, Charles de Gaulle is connected to Marne-la-Vallée – Chessy by a direct branch of high-speed TGV trains.
It is better to stock up on entrance tickets a few days (weeks) before the visit. To save some money, buy them online and not on the official Disneyland website!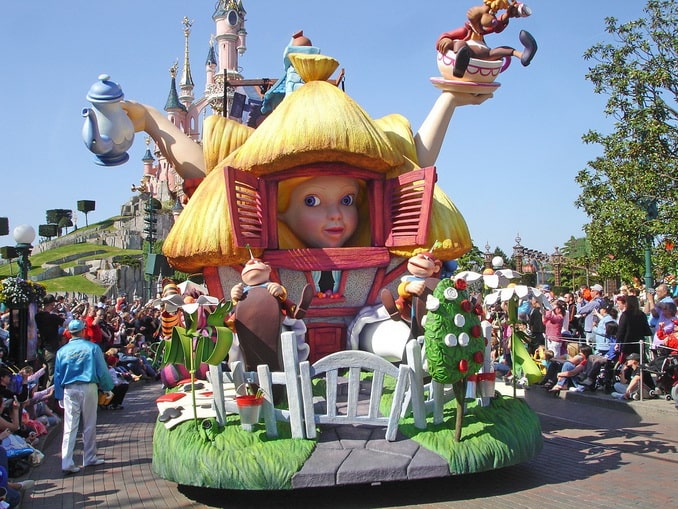 Fontainebleau
The palace, whose name literally translates from French as "beautiful fountain", is located near Paris, about 50 southeast. And occupies a special position in the list of royal residences of France.
First of all, because it was actually a dacha, a hunting estate for many French monarchs. Starting with Francis I, who started the global reconstruction of Fontainebleau and invited the best architects for this. And not ending with the first emperor of France, Napoleon I.
In general, you should definitely go to Fontainebleau from Paris. Moreover, it is not difficult to get to the palace by public transport.
Trains to Fontainebleau depart from the Gare de Lyon. You need to get off at the Fontainebleau-Avon station, there change to bus No. 1, which takes you to the castle.
Remember that Fontainebleau Castle is closed on Mondays. Study the opening hours and ticket prices on the official website https://www.chateaudefontainebleau.fr/en/billetterie/.
You can also visit the palace for free using the Paris Pass card. Buying its 2-day version will cost 60 €.
Chantilly
The former estate of the Dukes of Montmorency and the Princes of Conde is one of the most beautiful castles in France. And it can introduce you to the basic principles of native French architecture: elegant and at the same time magnificent.
But they come here not only for this – one of the largest art galleries in France is located in Chantilly's chambers. So if you have already visited the halls of the Louvre, viewed the paintings in Orsay, visited other famous museums in Paris – go to the suburbs.
In the case of Chantilly, the trip won't take long. You go to the Northern Railway Station, buy a ticket and go by train to nature.
From Chantilly Railway Station, the estate can be reached by bus No. 15, taxi, bicycle or on foot. It will take about 25 minutes to walk, but on a fine day such a walk will be a joy.
By the way, at one time at the Northern Railway Station it was possible to buy a complex ticket for travel and a visit to the palace with a park. It cost only 25 €, for children under 12 years old you need to pay 1 €.
Whether there is such an opportunity today, we will not tell you. On the official website, you can find information only about tickets to the palace, the park and events related to the estate.
Vaux-le-Vicomte
Chateau de Vaux-le-Vicomte near Paris is a classic French country estate. Having become a kind of standard in the XVII century and a model for numerous imitations, it is considered the forerunner of the Palace of Versailles.
The castle is built in the style of mature French Baroque, there is a regular, French park around it.
The Château de Vaux-le-Vicomte is located in the town of Mancy and it is not easy to get to it. For example, we did not dare to go on an independent trip.
You can get to the Château de Vaux-le-Vicomte by yourself, for example, from the Gare de Lyon in Paris. Trains run very often, you will have to spend only half an hour on the road. The rest of the road to the estate, however, can only be overcome by taxi.
If you start from the Gare de l'est and get off at the Verneuil l'Etang station, you can save money. Since the shuttle Chateaubu will take you to the park gate.
Compiegne
This city in Picardy has left a noticeable mark on the history of France. After all, it was here that the French kings met their foreign brides from abroad. And in the Compiegne Palace they often rested, escaping from the bustle of Paris.
The interiors of the residence are perfectly preserved. Walking through the halls, you can easily immerse yourself in the "Brilliant Age".
Compiegne is located, not near Paris, about 80 km northeast. Trains to depart from the North Station.
But in this case, we recommend going on a trip by car. Because at the other end of the vast Compiegne forest stands the castle of Pierrefonds.
Romantic reconstruction of the medieval citadel. A real castle, as they were described in beautiful fairy tales, a worthy residence for Cinderella and her prince.
Thoiry
A safari park in this tiny place west of Paris will probably win the hearts of animal-loving adults and, for sure, their children. Since it is very pleasant to arrange historical and artistic excursions and walks.
Since Thoiry is an open-air zoo, a small wildlife reserve. A place where animals are allowed to roam free. And people, on the contrary, are forbidden to leave their own vehicles during the tour and even open windows in them.
The road winds strongly through 100 hectares of almost wild nature, so drivers should not be completely distracted from driving. In Thoiry animals in a much more suitable habitat than cramped cages and aviaries. Elephants and rhinos, zebras and antelopes, bison roam the groves and lawns here. You can see ostriches and even bears.
There is also a private castle in Thoiry! Extremely old and belonging to the 13th generation of the La Panouse count family. You can visit it absolutely for free with a ticket to the safari park.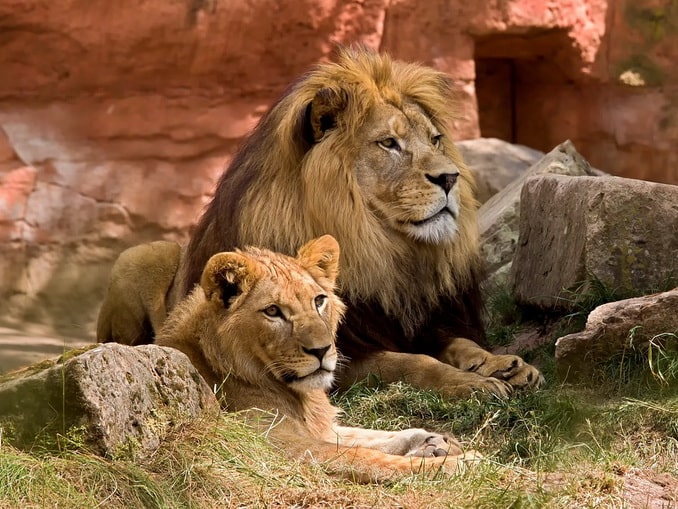 You can get to Thoiry only by car. The trip time from Versailles, by the way, is only 20 minutes.
For more information regarding the visit, see here (in French only) – https://www.thoiry.net/acces.
By the way, Tuari should be included in the composite route for those who go to
Giverny
The local Museum of Impressionism, located in the estate of the great Claude Monet, is a kind of alternative to the Parisian Orsay. However, before you get into it in the season, you have to stand in line.
Claude Monet, the founder of Impressionism as a separate trend in painting, actually lived and worked in Giverny all his adult life. Drawing inspiration from the nature around him. Today the painting collection, gardens themselves and the famous ponds with water lilies make an indelible impression on visitors.
The museum in Giverny is open from the end of March to the beginning of November. So if you are planning to visit Paris in April, take advantage of the convenient moment to get to this landmark in Normandy.
The easiest way to get Giverny is again by car – https://www.mdig.fr/en/plan-your-visit/opening-times-and-access-2/.
Long Trips from Paris
We tend to recommend only 3 possible routes. Although, of course, there may be many more. That's just not all of them will last 1 day – you need to take much more time to inspect the same Strasbourg or Lyon.
Rouen
The city has an incredibly beautiful Gothic cathedral and stunningly well-preserved old half-timbered houses. And also the place of the massacre of the national heroine, Joan of Arc. The "Virgin of France" was burned in the Old Square of the city, and before that she was kept in a fortress tower. Survived to this day.
Trains to Rouen depart from Paris, from the Gare Saint-Lazare, more than 21 times a day. Travel time is less than 2 hours. One-way tickets cost about 10 €…
Mont-Saint-Michel and Saint-Malo
You can visit both of these certainly interesting places in Normandy and Brittany in 1 day. Although the distance from Paris to the same Mont-Saint-Michel is more than 300 km!
Moreover, it's absolutely not necessary to rent a car or take a tour (by the way, not so cheap) for this! Since the distance between the famous abbey and the "City of filibusters", Saint-Malo, is only 55 km. And the route is served by the regular bus No. 17 from Pontorson.
It is quite easy to get to Mont-Saint-Michel from Paris.
First, take the high-speed TGV at the Montparnasse station, in 2.5 hours disembarks in the city of Rennes. There, take the bus to Le Mont-St Michel. A combined train-bus ticket can be purchased directly at the Montparnasse.
Also goes to Mont-Saint-Michel from the French capital a direct route company Flixbus – https://www.flixbus.com/bus-routes/bus-paris-le-mont-saint-michel. Travel time is about 5 hours, with the schedule and ticket prices get acquainted here:
Those who want to move on, and not back, take bus No. 6 and go to Pontorson. And there they change to No. 17 to Saint-Malo.
It will be possible to return back on the same day by a direct TGV express train.
Loire Valley Chateaux
It is most convenient to start exploring the region from the city of Blois, to which fast trains from Paris regularly run. They depart from Austerlitz station, a distance of 180 km is covered in less than 2 hours.
If you go by car, then it is logical to put Chambord Castle at the first number in the list. And to continue or even end the trip by visiting Chenonceau.
Although in fact it is wrong. After all, the castles in the Loire Valley are enough for a couple of weeks of stressful trips. And it depends only on your imagination how many of them you will have time to inspect!
© Goodtimefortrip.com