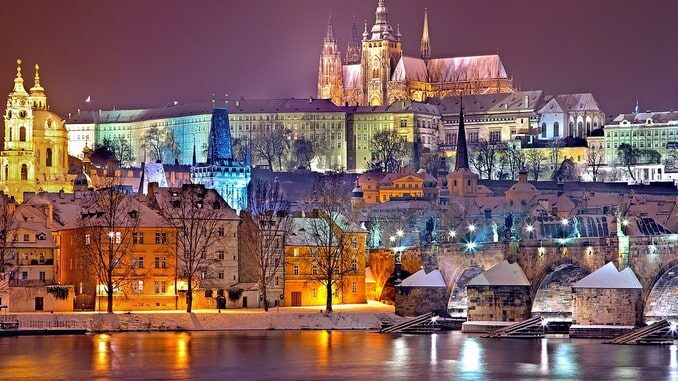 New Year in Prague 2024 – is it worth going? Weather, what to wear, hotel and tours prices. What to do in Prague on New Year's Eve and after the holiday, do the metro and shops work, are Czech castles open in winter and in the beginning of January especially – found out good Time for Trip.
We doubt that anyone will seriously challenge the fact that celebrating the New Year in Prague is like a winning lottery ticket. After all, the capital of the Czech Republic looks literally enchantingly beautiful at this time.
Just imagine the streets dusted with snow, joyful colorful walls, the rosy glow of rooftops, steeples and towers with high hats – incredibly sharp on a clear, frosty day or emerging as if from a misty veil.
The air is filled with the anticipation of the holiday, everywhere there is hustle and excited liveliness. As twilight sets in, the lighting comes on, which looks especially magical against the old, sometimes smoky facades. Who, seeing such beauty, would dare to doubt that everything will be fine in the New Year?
Yes, there will certainly be a lot of tourists. Naturally, prices also soar during this period. As they know – meeting New Year in Prague is an incredibly sought-after event.
This price behavior is a bit upsetting, but it still doesn't seem too important. Because, as hinted above, you can consider this event something epochal. Or at least setting the right, successful direction for the coming year!
New Year Weather in Prague
Lately, it takes effort to feel the atmosphere for which tourists come here at this time. Because not always in early January there are near-zero temperatures in the Czech capital – global warming is at play.
In particular, Prague welcomed the New Year 2023 with temperatures of something around +10 °C. However, during the days, there was bright sunshine on the streets, and tourists could go on long walking tours around the city without fear of freezing or getting wet feet.
Similar weather continued throughout the first week of January. Although closer to its end, the atmosphere didn't warm up above +5-7°C even in the middle of the day. However, at night, you didn't have to worry about the cold, as it only dropped to +3-4°C.
Light snowfall occurred some days after the New Year's coming, and the rest of the time, Prague enjoyed warmth and mostly clear or slightly cloudy weather.
Clearly, New Year doesn't always arrive in Prague with a such attitude. In 2021, for example, the holiday took place in near-freezing or even below-zero temperatures. However, at that time, residents of the Czech capital and the rest of the world had other concerns, as the planet was in the midst of the COVID-19 pandemic.
The daylight hours in early January in Prague are quite short. As the sun rises at 8 AM and sets at 4 PM.
However this won't prevent anyone from experiencing the Christmas and New Year spirit that pervades Prague. As night falls, the city lights up, becoming an illustration from some fairy tale.

What to Wear
It's important to note that in most cases, the humidity in Prague on New Year's Eve and throughout January ranges from 75-85%. This means that any cold feels even more biting than you might expect from looking at a street thermometer.
Therefore, when traveling to the Czech Republic at this time, we recommend bringing a sufficient amount of not just warm but also multi-layer clothing. Thermal underwear will come in handy for long walks in the fresh air or trips to famous Czech castles.
Keep in mind that Prague is situated on hills, so you will often have to climb upstairs. Therefore, clothing should also be lightweight.
Pay attention to your footwear – it's best if it's waterproof and has a thick sole. This way, you can avoid getting your feet wet in case of heavy rain or snowfall.
Transport
On New Year's Eve, public transport will operate late into the night, so you can return to your hotel after celebrating in the center of Prague.
The Prague metro will run until 2 AM, with trains arriving every 10 minutes or less throughout the night. Trams adhere to the regular schedule until 10 PM, after which night routes run at intervals of up to 20 minutes.
On January 1, all public transport in Prague resumes its regular schedule. However, most shops and restaurants remain closed. The first will remain closed, and most of the latter will open only in the evening.
Again, keep in mind that many popular restaurants and cafes in Prague are booked well in advance of New Year's, so hoping for a free table when you walk in off the street is pointless.
Stores Open Hours
Shopping in Prague is fully accessible to tourists except on December 24th, 25th, 31st, and January 1st. Even large chains like Bila, Tesco, and Kaufland will be closed on Christmas Day (December 25th) and immediately after New Year's Day (January 1st).
On December 24th, Christmas Eve, stores in Prague usually only operate until midday (1-2 p.m.). However, they resume regular hours from December 26th. Some stores have shortened hours (closing at 5-6 p.m.) on December 31st.
Prices
They draw inspiration from the same place as people do. Elevated spirits inspire not only tourists who eagerly anticipate it but also mercantile travel agencies that get a literal second wind in December.
So on New Year's day and several days after, Prague can be quite expensive. Not excessively so – it's not Paris, after all. But it's enough that you might consider shortening your visit or feel a burning desire to come here at a different time.
A couple of travelers will pay around 150 € per day for accommodation at the Atos Hotel. It is located in the center of the Mala Strana district, about a 10-minute walk from Prague Castle. You'll be staying in a beautiful 19th-century building, and guests have praised the local breakfast.
The Belvedere Hotel is located noticeably further from the main attractions. However, there's a tram stop nearby, so you can reach the center of Prague in 10-15 minutes. By the way, note that for a night in a locale double room during the New Year holidays, you'll need to pay less than 140 €.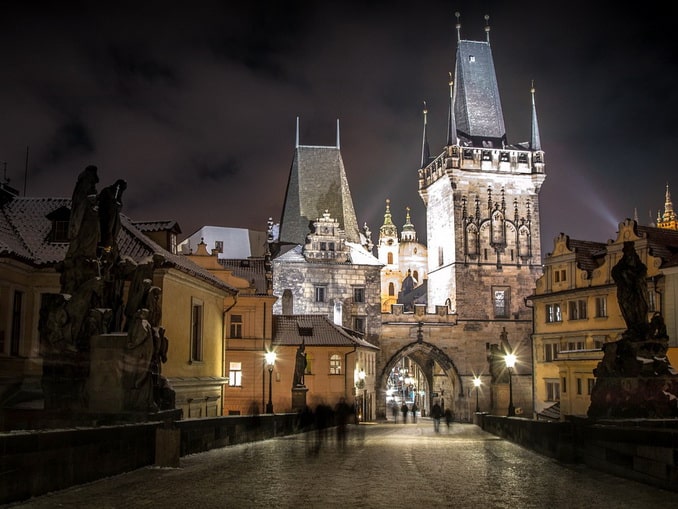 Short sightseeing tours in Prague will cost around 20 € per person. If you want a more detailed tour of any of the attractions (such as Prague Castle) with a guide, you'll need to pay between 35-40 €.
What to Do in Prague on New Years Day
The main Christmas market in Prague is located in the Old Town Square. It operates for just over a month, from early December to January 6.
They set up the country's main New Year tree here and then organize colorful and vibrant performances. Tourists are enticed by souvenir shops with bright colors and the aromas of traditional sweets, hot snacks, and mulled wine.
To ensure that tourists don't miss New Year's, they also set up a Christmas market right in Prague Castle.
At the Havel Market near the Mustek metro station, there is an open free ice rink. You only have to pay for skate rental – after all, you won't be bringing a pair in your suitcase, will you?
The official holiday fireworks in Prague are set off at 6 PM on January 1, and it's truly a grand event!
And it's customary to listen to the New Year chimes near the Town Hall in the Old Town Square, which literally swells in size with the abundance of visitors speaking a hundred languages.
What other attractions would delight the refined taste of foreign travelers? See the list of most famous sights in Prague here.
Czech Castles and Ski Resorts
don't necessarily close for winter; some just go into a sort of hibernation. However, after Catholic Christmas, some do open their doors to visitors.
For example,
Karlstejn Castle, just outside Prague, is open from 10 a.m. to 3 p.m. until January 8th, after which it closes for almost a month
Kokorin Castle opens on Saturdays and Sundays in the first half of the day and recommends coordinating your visit with the administration
Konopiste is completely closed in winter and awaits spring.
Tourists visiting the Czech Republic in winter should definitely consider the opportunity to get to the ski resorts. The most famous and best-equipped ones are located in the Krkonose Mountains, namely Spindleruv Mlyn and Harrachov.
Residents of Prague often come here for a weekend of skiing and snowboarding. Which is not surprising, as the distance from the Czech capital to the Krkonose resorts is less than 150 km by road!
Even closer to Prague is Karlovy Vary, highly popular Czech spa resort. Most travelers come here only in the summer or autumn, but celebrating the New Year in Karlovy Vary will fill you with incredibly vibrant positive emotions!
In the pleasant vicinity of the resort lies the well-preserved Loket Castle. Nearby is located the charming town Cheb.
© Goodtimefortrip.com