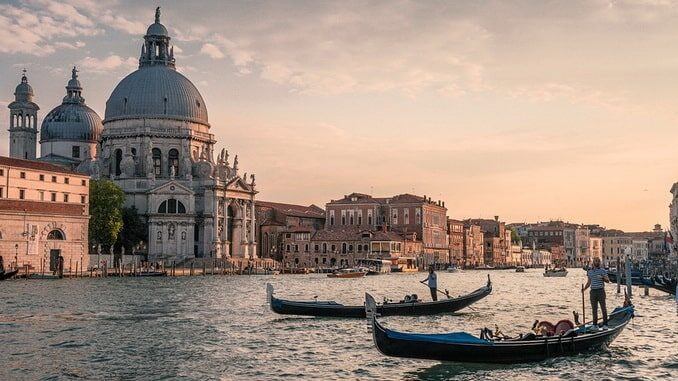 Venice in June 2023 – is it worth visiting? Weather, water temperature, prices in hotels and excursions. What to do in Venice in early June and later, where to go – in a detailed review of good Time for Trip.
Like all such cities, real magnets of tourist interest, Venice naturally comes alive with the arrival of the high season. Even, perhaps, it is completely overflowing!
In order not to become an integral part of the full-flowing human river, you will have to carefully plan routes and choose the time to see the main attractions of "The City of Canals".
The prices are also rising. For everything – from air tickets and hotel rooms to sightseeing tours. Which, of course, can't please travelers – who wants to pay more?!
Therefore, having assessed everything sensibly and completely unemotionally, not everyone wants to spend June in Venice. Although, undoubtedly, this month has advantages. Which – in someone's eyes – will block all possible shortcomings and inconveniences.
Would like to know more? Now let's tell!!
Weather in Venice in June
It has a warm – in the most literal sense – and sometimes even a sultry character. The number of rainy days in comparison with May falls slightly. Which makes it possible to spend time in comparatively strict accordance with the developed plans.
In June 2022, Venice only saw temperatures below +25 degrees Celsius a couple of times. Moreover, the atmosphere regularly heated up to +30 °C.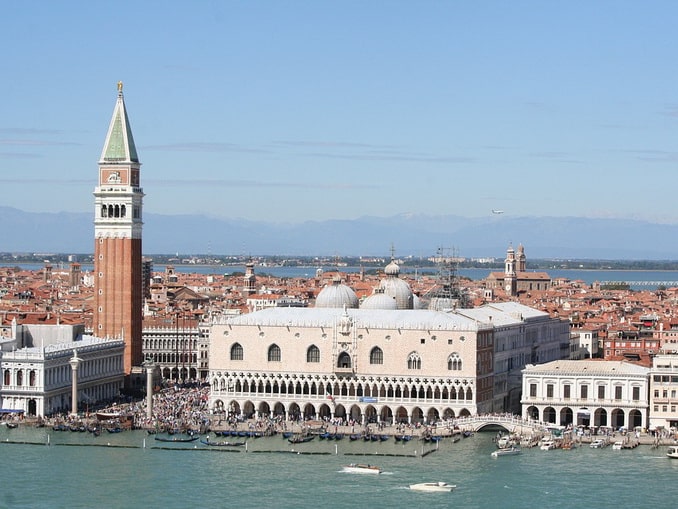 Which, on the one hand, made the tourists who arrived in the city become proud of their own foresight. But at the same time, it made them wary of prolonged exposure to the open sun.
The refreshing breezes from the lagoon and the coolness coming from the water made it a little easier to perceive. But as soon as you were in a sunny place, they stopped helping.
In the evenings, air temperatures dropped to a much better for city tours range of + 18-22 °C. And the thoroughly empty streets, embankments, islands seemed to provoke – "stay with us until dawn".
By the way, the duration of daylight hours in Venice in early June reaches almost 15.5 hours. And by the end of the month it even increases by 10-12 minutes. The sun rises above the horizon at about 5.20 am and sets shortly before 9 pm!
The number of rainy days is reduced to 4-5 per month. The average monthly rainfall ranges from 80-90 mm, which is quite a bit for Veneto region. For example, in May in Venice it is much more damp and it rains up to 110-120 mm.
However, this doesn't mean that you should not put a raincoat or even an umbrella in your luggage. Because by doing so, you can't pay too much attention to the forecast of meteorologists.
Approximately similar weather is staying in Venice during June every year. Although usually air temperatures behave themselves more modestly, preferring to live in the corridor of + 24-28 °C.
Water Temperature
The good news for beach lovers is that near Venice in June you can already swim. Even on a weekday, the strip of sandy beaches on the side of the Lido island facing the Adriatic Sea is not empty.
Hotels in the popular resort of Lido di Jesolo are beginning to fill up. Also vacationers are gradually arriving in Caorle, Bibione and other seaside towns.
There is a simple explanation for this – the sea around Venice at the very beginning of June warms up to + 21-22 °C. That is, up to the temperature at which bathing begins to pleasantly refresh! By the end of the month, the water area warms up even to + 24-25 °C.
So if you don't mind spending a few hours or even days at sea, then in summer you can easily combine it with a visit to Venice. So just don't forget to take with you the things you need for such a vacation! After all, swimwear and sunscreen are usually not put in a suitcase by those who are going to see the Doge's Palace and sail on a gondola along the Grand Canal?!
Prices 2023
At the beginning of summer you can rent separate apartments in Venice for quite reasonable money: 130-150 € per day. Of course, they won't be located in the very center of the city, but not in the outskirts of Giudecca either – you can get to the San Marco area in 15-20 minutes at a slow pace.
We recommend you check out the modestly furnished and clean Ca' Berto Apartments near Santa Lucia Station. First of all, they have very convenient location – starting from here, you can equally easily visit Burano and Murano, as well as see the main sights of Venice.
Equally, if you choose this place as a base, you will be able to organize a rich sightseeing program outside the city. In particular, you will quickly and effortlessly get by train to Verona or Vicenza, Treviso. Someone may decide to visit Milan in a day!
For a slightly larger amount – but for four people – you can rent the CA'Perdon apartment, situated in the San Polo area. The very same, where there are also such interesting attractions of Venice as the Santa Maria Gloriosa dei Frari and The Scuola Grande di San Rocco.
Once settled here, you can walk to the Rialto Bridge in less than 5 minutes. And about 15 minutes after leaving the door, you can take pictures against the backdrop of pigeons and the famous bell tower in Piazza San Marco.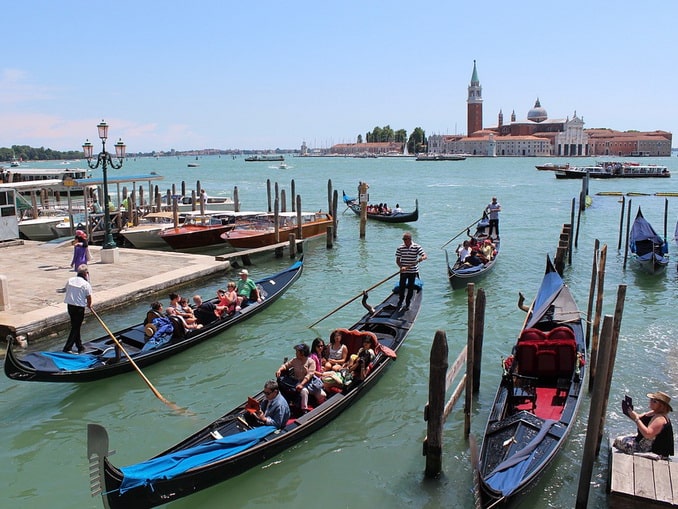 The cost of excursions in Venice doesn't depend much on the time of year. Although, of course, in the summer you should not count on a cut-price. Which is often given here, say, in December.
One way or another, but for a fee of 25 €, you will be given a very entertaining 5-hour tour in Murano and Burano. And for about 35-40 € you will ride on a real gondola, accompanying with commentaries on a historical topic.
What to Do
In terms of purely tourist opportunities, Venice in June is an exceptionally wide field of activity. After all, you can visit and see all the places that deserve it.
That is, to fully explore the central districts of Venice. To visit such islands as Giudecca and Lido, which rarely see tourists. Of course – to pay a lot of attention to Murano, Burano, Torcello.
Often it is in June, but in 2023, alas, on May 28, an incredibly colorful and positive event, known as Vogalonga, takes place in Venice. Representing something like a regatta, where there is no need to come first.
During Vogalonga, hundreds of different rowing boats start from the piers on San Marco and rush to sail the Venetian Lagoon. Thus, in a clear way, signaling that another summer has come to the "City on the Water", a time of happiness and complete contentment with life.
Where to Go
It is absolutely necessary – in our opinion, of course – to carve out a day or even two to visit other interesting places near Venice.
Like Villa Pisani in the commune of Stra, mentioned above beautiful town Treviso. Or constantly – and unfairly – deprived of tourist attention Padua.
In just 1.5 hours you will reach Ferrara in Emilia-Romagna. Whose main attraction is the perfectly preserved feudal castle of the Dukes d'Este.
Mountain lovers even in the summer may want to get to Cortina d'Ampezzo, the most beautiful resort in the heart of the Dolomites. And citizens who miss beautiful views will surely go to visit Lake Garda. In our opinion, the most picturesque in Europe, if not in the whole world!
© Goodtimefortrip.com