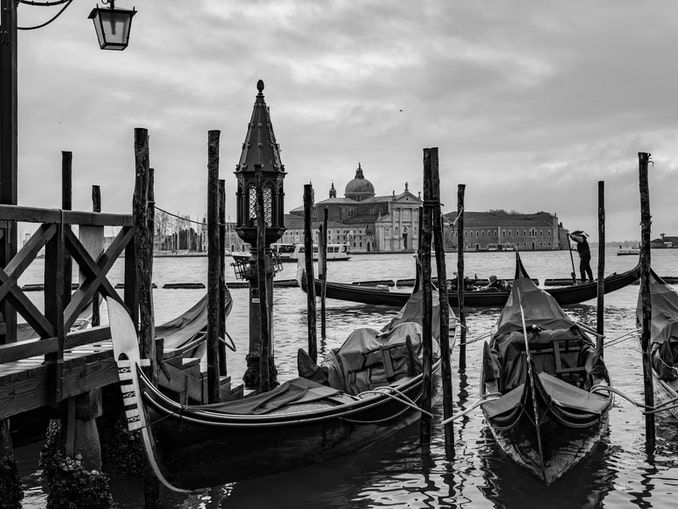 Venice in February 2024 – is it worth visiting? Weather, air temperature, what to wear, hotel and excursions prices. What you need to know about the carnival in Venice, what to see in the "City of Canals" in the beginning of February and on the threshold of spring, where to go in the vicinity – in an article of good Time for Trip.
It would not be an exaggeration to say that Venice is in demand by tourists at any time of the year! In the warm season – more, in winter obviously – less!
And therefore, walking here in silence, admiring the panoramic views, and not colliding with other travelers, will only work out in the dead of night. And even then, if you're lucky: the sky will turn out to be cloudless, and the full moon will pour out its blessing on the channels frozen as if in a photo frame.
During the day, the capital of romantics is usually flooded with people – naturally not local residents. And if late November in Venice, as well as the beginning of winter, are considered relatively calm times, on New Year's Eve and closer to the Carnival, there are noticeably more idlers.
The ambiguity and capriciousness of the climate, coupled with the traditionally high humidity, now do not scare people away. After all, it's for this case that woolen socks and thick cardigans are provided!
Therefore, obviously, prices in hotels in Venice in February soar at local peaks. Because annual festival traditionally attracts tourists from all over the world.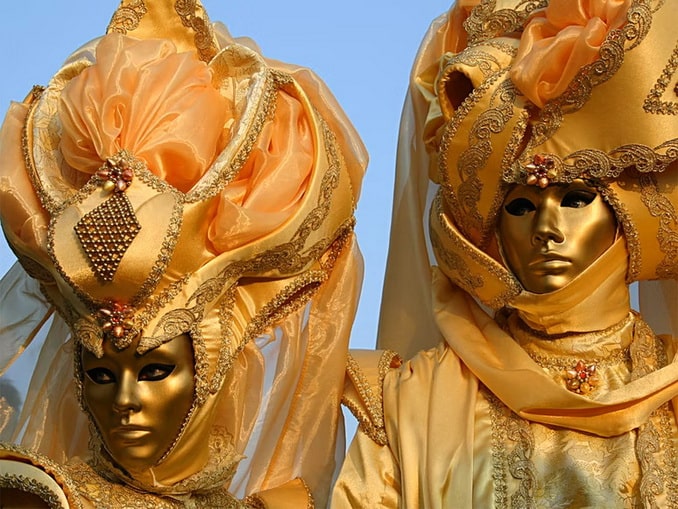 Weather in Venice in February
You know – it isn't so bad! The only disappointment is the smaller number of sunny days compared to January. But it gets noticeably warmer. And with a developed imagination, it begins to seem – spring, it's just around the corner.
The usual air temperature in Venice in early February is +4-10 °C (39.2-50 °F). Frosts are not typical, that is, they are simply rare. And the water in the lagoon does not even think of freezing – why would it?
So the thought of skating on the Grand Canal, or at least high fur boots, decisively discard! In any case, until the next winter in Venice – what if it turns out to be a record cold?!
Sometimes it happens. But so infrequent that it is even an honor to be a witness of the ice crust on the canals!
By the end of February, the weather in Venice to take the next step towards warmth
And the city, if it does not flourish, then, as it were, thaws. On thermometers, by the middle of the day, something like + 11-14 ° C (51.4-57.2 °F) will show off.
By the way, in 2023, February in Venice turned out to be just that: quite warm and hinting at the imminent arrival of spring. And the air temperature during the day for the whole month strove not only to rise to +10 ° C (50 °F), but also to step over this mark.
It gets cold at night. And so much so that you want to fasten all the buttons and zippers, pull on gloves and scarves. After all, even + 2-4 ° C (35.6-39.2 °F) in conditions of high humidity penetrates to the bones.
Precipitation
Statistics assures that in February in Venice it can be very rainy and even windy. These circumstances make prudent tourists be on their guard. And stock up on warm winter and, in addition, waterproof clothing.
It is worth remembering that proximity to a mass of water can turn even a walk along the embankment into a test. We are not talking about a trip on the windswept vaporetto boats.
Heard something about glassed-in salons? They are full at any time of the year. And to admire beauties of the unique city in the lagoon is much more correct on the open deck.
Carnival in Venice
And yet, despite the climate, the local February is in demand among the tourist fraternity. Basically, of course, wealthy: the creation or purchase of a costume for a carnival will require significant sums. Not to mention hotels that inflate the cost of accommodation to indecent.
What is the Venice Carnival? First of all, a time-honored way to thoroughly replenish the city treasury. In the second – a colorful costume show, rooted in the history.
It seems that at first it was an ordinary folk festival, quite understandable before Lent. Then it acquired traditions – what are the famous masks worth? Which, by the way, were the first to adopt local prostitutes …
It is better to read more about the Venice Carnival and the planned events on the official website: www.carnevale.venezia.it/en/.
It should be borne in mind that the main festivities are held on weekends. On weekdays in February, the "City of Canals" will not remind you that it's a holiday on the street! Quite gray, and it may seem that even dull. In any case, not in a festival way bright and colorful!
Prices 2024
On average, a double room in a Venice hotel in February costs from 140-170 euros per night. Judging by Booking, such amount asks for accommodation in the central areas of Venice: San Marco, San Polo (it's better not to settle here – too noisy), Cannaregio, Dorsoduro.
If you're lucky, you can book an apartment. And in this case, the price will be slightly lower. For example, this is how much the Economy Santa Croce Apartment in the Santa Croce area costs. Or the Biennale 1215 in the Castello district, a little far from the center – three people can fit here.
Actually have no flaws a little more expensive The Arch in San Polo. But, sorry, Frari is two steps away! The apartment, by the way, if desired, accommodates four.
Offers of hotels in the continental Mestre, which is usually identified with Venice, start from more modest amounts. But on the other hand, you will have to travel by train or bus back and forth every day.
What to Do in Venice in February
We don't really want to repeat. Yes, and lazy, to be honest. Since we wrote about what you can see in Venice in 2-3 days earlier and in detail. Therefore, we will give some recommendations that will allow you to get the best experience and save some money.
During the weekend of February, La Serenissima experiences an incredible influx of tourists. And it's not even about foreigners and Chinese – the Italians themselves come here to have a fun weekend.
The area of ​​San Marco is particularly overcrowded. Therefore, plan your routes carefully! Or use the services of a guide who knows the route around the main tourist crowds.
For a visit to winter Venice, it is worth carving out not 1-3 days, but 4-5. At least in order to see not only the main sights, but also a little more. Again, the February weather will gladly make adjustments to your plans, organizing freezing rain with heavy gusts of wind.
It is better to buy a vaporetto pass. Thus, you will untie your hands and be able to easily adjust plans without thinking about additional expenses. Plus, in the glazed rooms of the boat you can warm up. And the convenience in the form of a free (!) toilet will certainly come in handy.
Where to Go Out
Definitely do not forget about trips to nearby cities. Since winter in Italy does not involve snow-covered roads. Especially iron ones!
There are many reasons to visit Verona. And even settle there for 1 or 2 nights! Not because the (fictitious) Juliet lived there, and the city itself personifies eternal love. It's just a miracle how well preserved it is and is able to charm anyone without Shakespeare.
The train journey to Verona will take just over an hour if you take the direct route. And not round, with a stop in Padua.
Even closer to Venice is the beautiful Vicenza, which can be reached by rail in just 45 minutes. The reward is the opportunity to see the town, where the incomparable Andrea Palladio realized his remarkable architectural talent in practice. As well as visit the Palladian villas in the vicinity of Vicenza.
Very close to the "City on the Water" is its smaller version, pretty Treviso (35 minutes). Whose key sights are difficult to describe – they just need to be seen!
Should you go to see Milan in February? With this, it is probably better to wait. For the famous Italian sales that time are close to finish!
© Goodtimefortrip.com