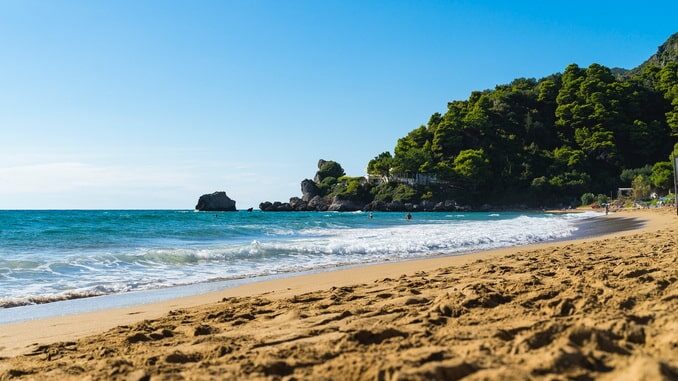 Best beaches in Corfu – where to spend your vacation on the seashore in the island in 2023? Paleokastritsa and Glyfada, Agios Gordios and Porto Timoni.  Where they are located, how to get to the other good beach resorts of Corfu on your own – in the material by good Time for Trip.
Corfu is not yet one of the most popular seaside holiday destinations in Greece. The reason for this is obvious: the lack of attention from the media and the remote location.
Someone will say that the climate of the island is slightly cool. But we will argue with this – it is already possible even in May to swim in Corfu. And from June to September this activity becomes the main one for tourists.
Moreover, there are plenty of places for bathing here – the number of beaches in Corfu awarded The Blue Flag is THREE dozen!
Naturally, there are a lot of other places of seaside recreation on the island that haven't yet been awarded an honorary title. But in terms of the quality of water and the coast, they are in no way inferior to their well-known counterparts – except that their tourist infrastructure is a bit less developed.
Most Beautiful Corfu Beaches
Almost certainly Paleokastritsa will be the first place you will be able to find on the Internet by making a corresponding inquiry. And rightly so – the cape and the bay of the same name on the west coast of Corfu abound with beaches that should be called magnificent. And nothing else!
Arriving here you can choose one of six beaches, one better than the other!
Agios Spyridonas is probably the most picturesque and visited among the beaches of Paleokastritsa and, accordingly, Corfu. It is covered with sand in half with pebbles, entry into the water is completely sandy. However, large stones come across in the water and this is worth taking into account when swimming.
The reviews rightly note that the sea near Agios Spyridonas warms up slowly. And therefore, if you come to Corfu in June, the water here can be quite cool. But there will be much fewer tourists – at the peak of the season, Agios Spyridonas is literally crowded with those who want to freshen up.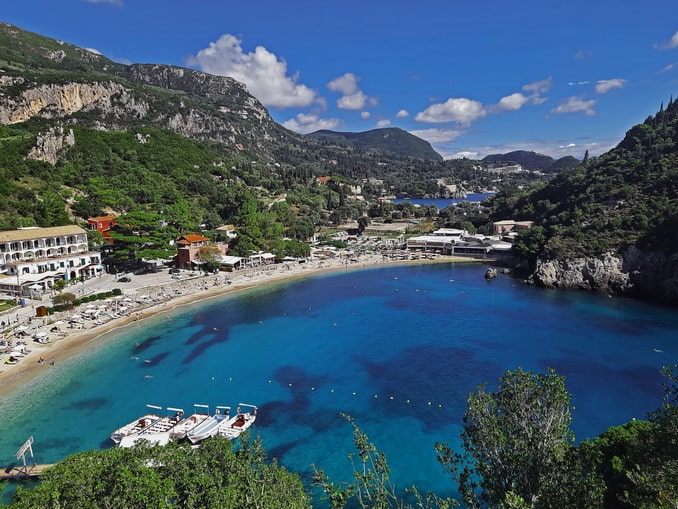 There are also
Other Beaches in Paleokastritsa
For example, Agia Triada, which is well suited for both swimming and water activities. The size of this Corfu beach is quite small. But it is located next to the village of Paleokastritsa and even in the high season it can boast of a sea as clean as a tear.
Pay attention to the beaches of Alipa, Agios Petros, Ambelaki and Platakia also. In close proximity to Paleokastritsa, there is actually a wild pebbly Kastelli beach. The only way to get to it is by boat!
Note that in addition to a purely seaside holiday, you will find some attractions in this part of Corfu. For example are definitely worth a seeing the ruins of the Angelokastro Fortress, a great vantage point. Visit the Paleokastritsa Monastery, one of the oldest in Corfu, dating to 1225 – it is very well maintained and also offers wonderful views of the sea and rocks.
From the capital of the island Kerkyra you can get to Paleokastritsa by public transport. Green Bus runs regularly from 8 am to 4 pm, the ticket costs 2.5 €, the trip lasts about half an hour. You can also come there by taxi or as part of an organized tour.
Note that during the season this area in Corfu is in high demand. Therefore, we recommend that you book room or apartment well in advance of your holiday.
Sidari
It's an another popular and promoted place in Corfu, full of sandy beaches. And if Paleokastritsa is located on the western coast of the island, then the village of Sidari occupies a vast bay in the north.
There is an extensive beach right in the village, equipped with everything you need. And a few small ones hiding in secluded surrounding bays. The most famous is the one that looks at the Canal d'Amour.
According to legend, a couple in love who sailed through this strait into the sea, holding hands, will never part. Nearby there is also an attraction that tickles your nerves more – a girl who sailed under an arch in the rocks and guessed at the same time the name of her lover will soon marry him.
And she will live with this person happily ever after, in complete harmony and contentment. Otherwise, it's not worth the effort, isn't it?!
The main beach of Sidari is one of the best in Corfu for families with children. The depths of the sea there are small, the entry into the water is gentle. There are many water activities, you can ride a jet ski or paragliding, near the village there is a diving school.
There is also Sidari Water park. Not full of overly steep slides, but well suited for vacationers with small children.
You can get to Sidari from Kerkyra by KTEL bus. If you want to get to the village directly from the airport, bypassing the island capital, you should rent a car or order a taxi.
It is best to book a hotel room well in advance of the holiday season.

Μirtiotissa
A wonderful beach, one of the best and most beautiful not only in Corfu, but in general in Greece. However, you should take into account that most of Mirtiotissa is given to nudists, and vacationers dressed in bathing suits may feel uncomfortable.
The beach is small, hidden in the rocks, covered with soft pleasant sand. It has a convenient sandy entry into the sea and the very minimum of entertainment. However, there is a beach bar on Μirtiotissa during the season, and along the road to it you will also meet a restaurant.
You can only get there by car or moped – car rental prices in Corfu aren't so high. The distance from the capital is about 15 km, you can overcome it along mountain serpentines in 30 minutes.
If Mirtiotissa is crowded only in the summer season, then the neighboring
Glyfada
even in spring and autumn sees many vacationers. Mainly because it is located on the shore of a large bay
Glyfada is a beautiful sandy beach flanked by hills covered with pine and olive groves. It has a well-developed infrastructure, you can rent sun loungers and umbrellas, there is also a beach volley area.
A notable advantage of this resort is the excellent Aqualand Corfu Water Park. Nearby there is also a golf course, as well as a horse-riding club.
Glyfada can be quickly reached by Green Bus from Kerkyra. But if you don't want to part with the sea for a long time and are going to meditate in the evenings, looking at the sunsets, then it is better to stay right in the village.
Agios Georgios
It belongs to the best sandy beaches in Corfu, is distinguished by a gigantic size (more than 2 km) and location in a secluded bay, usually not crowded with vacationers.
Agios Georgios is suitable for families with children, entry into the sea is quite smooth, the real depth starts at 15-20 meters from the shore. The water is very clear even at the peak of the season, you can also go snorkelling.
Take into consideration, that the sea here is cooler than in the north of Corfu.
There is almost no entertainment in Agios Georgios, the reviews also note the lack of other infrastructure. In particular, there are no changing rooms and showers.
But along the coast there are cafes where you can taste traditional Greek cuisine. There are also small shops.
You can get there from Kerkyra by KTEL regular bus, a one-way ticket costs 3 €, the distance is about 35 km.

Porto Timoni
This is a very beautiful, although relatively inaccessible place on the west coast. Despite this, the number of those who consider Porto Timoni the best beach in Corfu is quite big and only grows every new year.
Today, however, one can't count on solitude on this beautiful, picturesque beach – there are almost always a lot of holidaymakers here. The sea, however, still remains clean.
Going here, you should take a sun umbrella with you, because here is no shadow. The north beach is colder and windier, and the south is almost always calm. For those who don't want to climb mountains, there is an option to get to the beach by catamaran or boat.
You can't get to Porto Timoni by public transport. Therefore, those who want to certainly capture the local landscape in memory (in their own and in the smartphone's one) will have to rent a car.
Although even if you get here by car, you will have to overcome a solid section of the road on foot. First down the rocky path, and then up – soberly assess your strengths and carefully consider what exactly you can take with you.
Barbati
Beautiful, clean, but pebbly (with fairly large stones) beach on the east coast of Corfu. It is located in an incredibly picturesque place, in a bay framed by high cliffs.
When entering the water, it quickly becomes deep – this should be taken into account by those who go on vacation to Corfu with small children. But here you will find a shadow – it is provided by an olive grove growing nearby.
There are a couple of places in Barbati to have lunch or dinner. Also, everything is in order with the beach infrastructure: there are sun loungers with umbrellas, showers and toilets.
Despite the proximity to Kerkyra, on weekdays there are not as many vacationers on Barbati beach as one might expect, given its size and equipment. But on weekends and holidays, everything is literally in full swing here.
Barbati is a good place for youth recreation, there are clubs nearby where you can have fun and noisy time.
From the capital of Corfu, you can get here in half an hour by car, there is a parking place near the beach.
Bataria
Scenic beauty beach on the north coast of Corfu. It's very cozy and clean, but covers with a large pebbles – when going here, you should buy rubber shoes for swimming. Also, strictly instructed your kids on how to behave in order to avoid cuts and injuries.
Bataria is a frankly small beach, and during the season there are a lot of holidaymakers on the shore. The place has sun loungers and umbrellas, changing cabins are present, but there is no shower and toilet.
There are a car parking and a restaurant with a beautiful view from the terrace upstairs.
Nearby is one of the famous attractions of Corfu, the Byzantine castle of Kassiopi. In the village of the same name there are many options to stay.
Marathias
A wide clean sandy beach in the south of Corfu with a convenient entry into the sea. Located 40 km from Kerkyra, you can get here by car or scooter.
Not all tourists know about Marathias, so even in the middle of summer, you can comfortably stay here near the edge of the surf. The depth near the coast is shallow, so Marathias is suitable for both children and people over 50 years old.
The infrastructure is poorly developed, but you can rent a couple of sun loungers with an umbrella for a very reasonable amount – 6 € per day. There are several changing cabins and showers, a toilet can be found in a local tavern.
Paradise
Another wonderful beach on the island Corfu is Paradise, which is located in a very isolated place. As a result it can only be reached by sea. If you sail on a rented boat, remember that you can't land on the shore here.
Tourists appreciate Paradise Beach for its fine sand, easy access to the sea and incredibly clear water. Facilities in the form of sun loungers and umbrellas are present, but not all along the beach.
If you decide to climb the local rocks, wear comfortable shoes, trousers, and take gloves with you.
© Goodtimefortrip.com