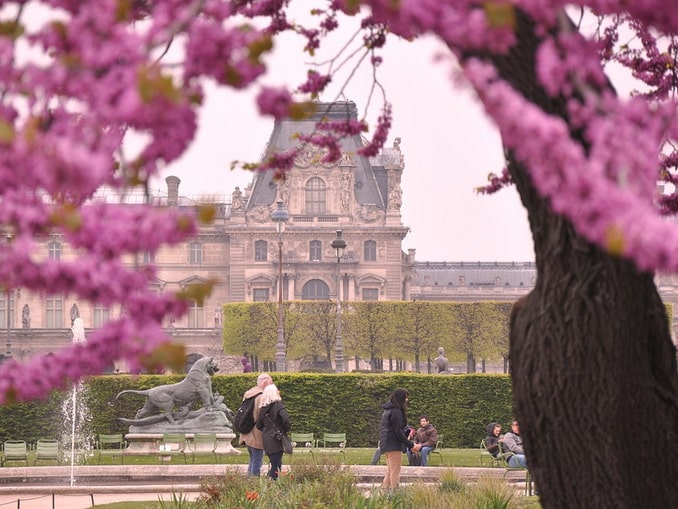 Paris in April – is it worth going? Weather, how to dress, prices 2023 in hotels and on excursions. What to do in Paris in the middle of spring, what to see and where to go – found out writers of good Time for Trip.
You are unlikely to argue with the statement that Paris makes a lasting impression on people. Both positive – this happens to the majority – and negative.
In the latter case, however, the reason is an incorrect calculation or overly high expectations with a very limited budget (the capital of France is not a city for the economical). Well, or the wrong time of the trip!
To be sure not to make a mistake, we recommend choosing the right one – April in Paris, in our humble opinion, is the best option.
Not only because it is on it that every year the celebration of Easter falls. But also because nature begins its rapid flowering in the capital of France, usually not earlier than the designated time.
And immersed in a cloud of cherry blossoms and plums, apple trees and chestnuts, April Paris is a bewitching sight. Making you completely forget about all the shortcomings and experience an enduring sense of joy.
However, let's get down to the facts…
Weather in Paris in April
Of course, you should not expect something equal to what is happening in the middle of spring in Barcelona. Nevertheless, it is located 800 km to the south, and even on the shores of the Mediterranean Sea, which moderates the climate.
But you don't have to wrap yourself in winter clothes even in the evenings. The warmest thing you have to put on your shoulders is a spring coat. But you will only be happy about this – where else to show off in fashionable clothes, if not in the French capital blooming like a flower?
In the wake of joyful anticipation of the trip, you will certainly not be afraid of the fact that the average air temperature in Paris in early April does not exceed +12-15 °C. As well as the fact that walking at night throughout the month you can get very cold. Especially if decide to do it on the banks of the Seine!
This will not frighten an experienced traveler – there are many museums in Paris that deserve be called "excellent" (and where you can warm up). Yes, and cafes with restaurants here work just not at every turn.
Let us emphasize that in the first days of April 2022, Paris was initially taken aback by very modest positive temperatures of the order of +5-9 °C. But already in the second decade, the sun came to his senses and began to warm the atmosphere during the day to +20 °C.
After sunset, it was shining on the streets, however, it still became not hot – no higher than +11 °C

Precipitation
But the warm weather lasted until the onset of May. So the only thing left for tourists was to arrange their day correctly in order to have time to see at least top sights of Paris during the trip.
A pleasant feature of the April weather in the capital of France is a small amount of rain. So from this side you should not expect restrictions.
Sunny days, however, still do not go in a harmonious sequence, regularly interspersed with cloudy ones. But this does not affect the good mood at all.
After all, as already emphasized above, Paris blooms and smells throughout April. Lives in anticipation of summer and a new busy season!
How to Dress
Above we have already mentioned the coat. And not by chance!
Because these are exactly the clothes that will warm you on a cool evening or invigorating morning. And at the same time, it will not let you sweat, as soon as you guess to unbutton the buttons.
Just in case, take a jacket or pullover with you, they may well come in handy. If not on the street, then in a poorly heated hotel room.
Raincoats and rubber boots are probably wiser to leave at home. But a light windbreaker worn over a sweater on some days will be the right choice.
Be sure to bring high-soled shoes or sneakers with you. Such shoes will allow you not to pay attention to any vagaries of the April weather.
And greatly diversify the "diet". For example, it is very appropriaten in April to get out of Paris to look at the famous French castles. Located in a very green, but at the same time almost rural, completely unpaved area…
Prices 2023
If you want to stay in a good but inexpensive places and preferably not on the very outskirts, you need to start searching at the beginning of winter. Because otherwise, all available hotel options in Paris at the beginning of April – however, at the end too – will be taken apart.
You should count on the bar from 140 € – otherwise you will be accommodated already in the vicinity. Or you will go for a not particularly good deal, agreeing to a compromise option in a far from the best hotel.
We draw your attention to a tiny but cozy apartment Premium studio 2 minutes walk from Champs-Elysees in the 8th arrondissement of Paris. Considered today already one of the most prestigious.
Much more spacious, but cost about the same Appartement Gérard in the 13th arrondissement. Judging by the reviews of dissatisfied guests, there have not yet been there – they praise both the functionality and the good location.
Further from the center, that is, actually already on the outskirts, in Montrouge, is the Paris Homestay of Happyness. However, on the other hand, you can save about 100 € in four days.

Excursions
Do you think it's not worth it? But we are of a different opinion – for a hundred coins, you can take part in a wonderful tour of the center of Paris. After which you will probably have much fewer questions from the category of "who lived here" or "what kind of house is this"?
Somewhat more expensive, from about €130 per person, is a day trip from Paris to Mont-Saint-Michel. And we highly recommend her!
Not only because you have to see the unique landmark of France. But also because in April Normandy is flooded with foam of blossoming apple and pear orchards. And it looks truly amazing!
Of course, there are more budget entertainments in the French capital. In particular, for only 16-18 € you can participate in an hour-long cruise on the Seine. A walk and acquaintance with Montmartre in the company of a knowledgeable local guide will cost around 25 € per person.
Things to Do
It is very doubtful that you will not find entertainment for any day of those 4-5 or even a week that you come to see Paris. Most likely, on the contrary, you will have to constantly be tormented by doubts: to choose this or that.
Even if you come to the French capital for the second or third time in your life, you will almost certainly not deny yourself the pleasure of visiting the Louvre. Or, in a dense crowd of the same suffering, climb 250 meters up to look at Paris bathed in the light of a newborn spring from the Eiffel Tower.
There will also be walks along the island of Cité, where Notre Dame de Paris, which is recovering from the fire, still rises. As well as exploring the Latin Quarter, long promenades through such an exquisitely old Marais quarter.
As mentioned above, it is worth allocating time for a country trip. Most most tourists will be limited to visiting the Palace of Versailles or Disneyland.
But you take the chance and broaden your horizons. Visit, for example, the Fontainebleau park near Paris, which blooms in April. Or go a little further – for example, to the Chantilly Palace.
We advise art connoisseurs to definitely visit the estate Giverny of Claude Monet in Normandy in the spring. Incredibly colorful and yet not overcrowded with tourists!
© Goodtimefortrip.com
Unusual Experience