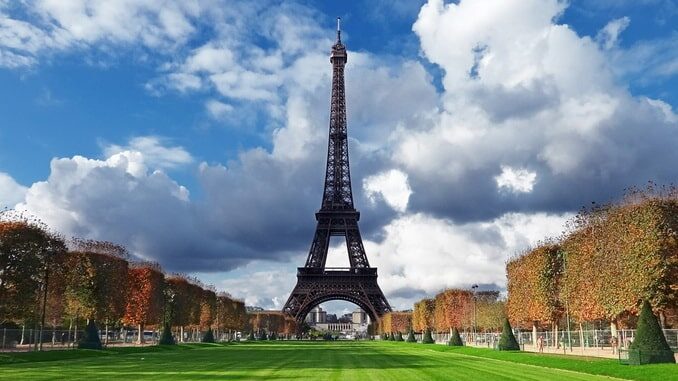 What to visit in France outside Paris – the TOP attractions of European country you need to see. Description, where are they located, how to get there on your own, convenient routes of trips. What to do in France first and why – in the review of good Time for Trip.
Arriving in France, a tourist first want to visit Paris. Aspires to explore the Louvre and see Mona Lisa, climb the observation decks of the Eiffel Tower.
The next in the mandatory program is an excursion to Versailles. And maybe a visit to Disneyland.
Then follows a day of shopping in Paris – do you need to buy in France something to remember a visit?!
This is the list of main activities that comes to the mind of about every first foreigner when it explore the matter what would be worth visiting in France. Because ignoring Paris, one of the main centers of a European civilization, is really unwise.
You can also be more sophisticated. Develop a much more intense route and go somewhere else. Usually travelers in France go to some interesting places near Paris, taking one of the capital's train stations as a starting point.
Moreover, the distances the largest country in Europe with the development of a high-speed railway network can hardly be considered large.
Therefore, having settled in Paris, you can even get to Nice in just a few hours. What can we say about the attrcations of France less remote from the capital?
In a very short time you can get to Picardy, Normandy and Rouen, the Loire Valley. The list can easily include such places as Aquitaine and Bordeaux, Lyon, Toulouse, the Cote d'Azur…
However, let's try to figure out what exactly you should pay attention to first. And what interesting places in France to visit outside of Paris – because there are so many of them?!
We analyzed how difficult it is to organize such a trip on your own. That is, without buying an expensive tour and reconciliation with the imposed often far from optimal excursion program.
What to Do in France Outside Paris
Please note that there is a certain subjectivity in our review – as the main ones we have chosen those main sights of France that are of interest to us personally. Although we tried not to lose common sense.
Mont-Saint-Michel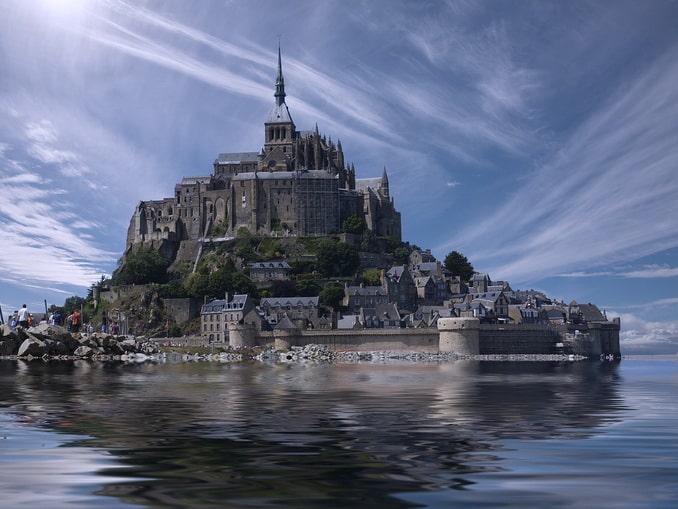 The small rocky island in Normandy is a must-see in France and one of the most beautiful places in the world. This opinion is shared by approximately everyone of those tens of millions of tourists who annually come to the motherland of Molière and Hugo.
No wonder – the medieval Benedictine monastery, which adorns the mountain of the Archangel Michael is a real monument of architecture. And just an amazingly beautiful place.
It was built in the harsh era of the Middle Ages. And it is a little surprising that it was the monks, not seniors, who were the first to appreciate the natural advantages of the rock. But what is – is!
The monastery of Mont-Saint-Michel was able to retain all the originality of Romanesque architecture. And therefore today it is one of the key attractions of France outside of Paris. To a large extent, its convenient location contributes – a trip from the capital here can easily fit in 1 day.
Mont-Saint-Michel by the way, can be called the island, with some stretch. Since it's connected to the mainland by a narrow strip of land, which is used as a bridge.
Until the reconstruction of 1879, this connecting thread disappeared under water during high tides. In Normandy, they are the largest in Europe, and can reach a height of 16 meters!
Interestingly, it is often the tides that are the main attraction for tourists. It is worth declaring some of them especially high and that's it – it becomes impossible to pass over the bridge!
The next "Tide of the Century", however, is expected no earlier than March 3, 2033. So there is still time to prepare.
Etretat
The small seaside commune of Etretat in the same Normandy on the shore of the English Channel is one of the most beautiful places in France. That is why it is a popular tourist attraction.
Natural coastal cliffs in Etretat, as if carved by nature in stone, are incredibly picturesque. By the way, the first impressionists loved to draw them.
The same Claude Monet and Gustave Courbet came to this shore to capture this nature miracle. Thus starting the fame of Etretat.
Brittany
Those who appreciate simplicity and know a lot about unobtrusive beauty tend to explore the westernmost region of France. In terms of simplicity and naturalness, Brittany is a real treasure for the traveler.
Starting with its severe and outwardly absolutely inhospitable port of Saint-Malo, and by no means ending with such a pretty and today chosen by holiday-goers town as Dinant.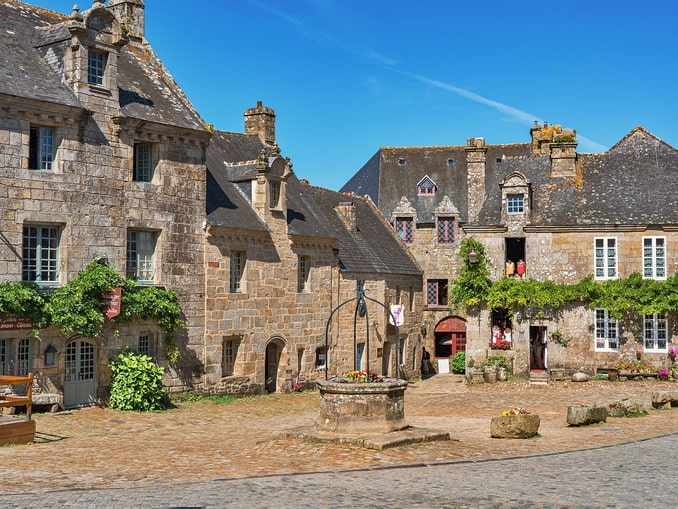 In Brittany there is also Rennes and Quimper, the amazing villages of Moncontour and Locronan. As well as 2-3 dozen well-preserved medieval castles.
This is in addition to old houses and churches. As well as breathtaking views of the English Channel and the Bay of Biscay.
Getting to Brittany from Paris is not difficult, despite the distance of more than 300 kilometers. This is because the fast TGV train from Gare Montparnasse reaches Rennes, the capital of the region, in less than 2 hours.
Loire Valley
In the need to visit the area where dozens of the most beautiful castles in France are compactly located, it is unlikely that anyone will have to be convinced on purpose. And although most travelers will be satisfied with an excursion to Chambord, created with the personal participation of Leonardo da Vinci, and Chenonceau, we advise you not to retreat so easily.
After all, the Val de Loire region was included in the UNESCO World Heritage List for a reason. And still abounds with a mass of beautiful royal and aristocratic residences.
The lion's number of routes through the castles of the Loire Valley begin in Blois. If only because the city itself has a royal residence of impressive size and enormous architectural and historical significance.
You can start exploring this region of France with Tours. Fortunately, this settlement is rarely mentioned in excursion routes. Although definitely worth a visit!
To tirelessly wander among such touching half-timbered houses, and then visit the grandiose Gothic cathedral of the 12th century – isn't that what everyone comes to France for?
To Blois, as well as to Tours, there is a fast TGV train from Paris Gare de l'Est. Overcoming a distance of more than 200 kilometers in 1 hour and 45 minutes.
Strasbourg
There is an opinion that in this city in France you need to visit at least to admire the beauty of the half-timbered houses that live in the historic quarter Petite France. And you can't argue with that!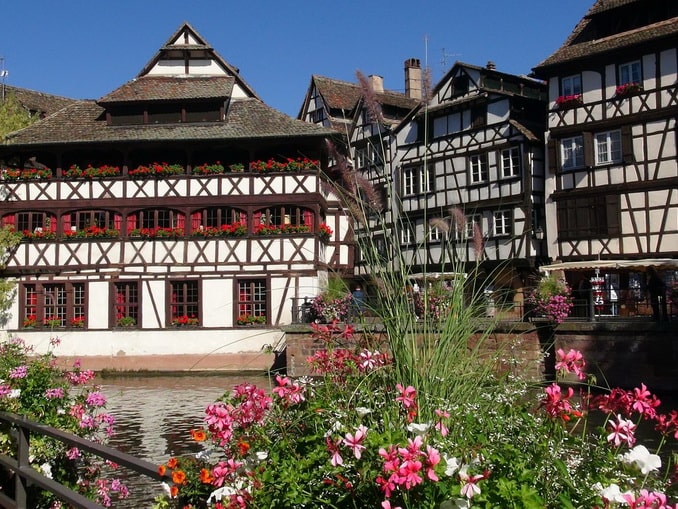 Moreover, the fast non-stop TGV train covers about 450 km of distance separating Paris and the capital of Alsace in a modest 1 hour and 50 minutes.
Without exception, guidebooks add the amazing Strasbourg Cathedral to the list of top attractions of the city and France as a whole. Because it is a unique Gothic masterpiece that has delighted many generations of travelers.
After all, it can be called a symphony in stone even by a person far from poetic comparisons.
If this is your first time in Strasbourg and you only have a few hours, go around it with a guide. Who usually knows exactly what to watch and in what order.
And then… come back to this city again. Moreover, it is not difficult to get to Strasbourg from Paris!
Lyon
The culinary capital and second largest city in France is not visited by too many foreign travelers. Seeing little point in leaving 400 kilometers from Paris just to try sausages and onion soups in the famous bouchons. For why pay 50 € for lunch, if in fast food you can get the "same" for half the price?
But stereotypes need to be broken from time to time. This is what you should do when you go to Lyon for a couple of days.
As it's beautiful there, and you will definitely like the old city. And the stunning view from the Fourvière Hill alone can justify such a trip.
Getting from the France capital to Lyon is easy. If you still have money left in your wallet after visiting the interesting places in Paris and near in order to pay for travel on the TGV express. This train flying 400 km distance in a couple of hours.
Bordeaux
The center of the main wine-growing region of France is interesting both in itself and as a base for organizing a trip to Aquitaine. A seaside region famous for its beaches, dunes and oysters.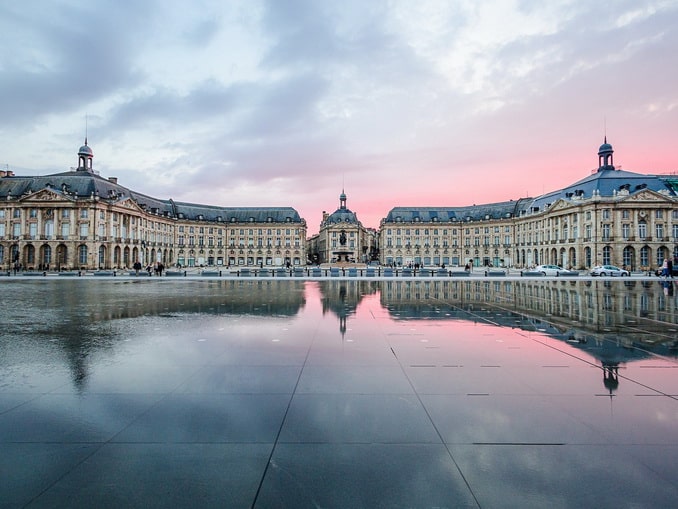 In Bordeaux it is worth seeing Place de la Bourse and Saint-Adre Cathedral, the famous medieval gates: Cayo and Saint-Eloi. It was through the latter, for example, that pilgrims left, rushing to the Galician Santiago de Compostela along the "Way of St. James."
Be sure to visit Saint-Emilion, a small town producing excellent red wines. And along the way, firmly stuck in the Middle Ages. In Saint-Emilion, buildings of the 13th century have been preserved, – in a decent, by the way, condition!
You can get to Bordeaux from Paris by fast train in 2 hours. But, if you like rail travel, and don't see any particular reason to overpay for speed, then you can also get there by car.
Moreover, the latter one will give much greater freedom of movement. And will allow you to visit in France such a beautiful historic area as
Perigord
This region enjoys with the love of a few, only well-experienced tourists. After all, excellent wines and the best foie gras in the country are produced here.
It is great that it is located at a fast march distance from Bordeaux – only 2 hours by car.
The amazing Cathedral of Saint-Front in Perigueux inspired Paul Abadi to create the Sacré-Coeur Basilica in Paris. And the houses in the style of "columbage" in Bergerac are the very, "real France". The signs of which are no longer easy to find in the French capital today.
As well in Perigord there are powerful and well-preserved feudal fortresses like Castelnaud or Beynac. The rocky village of La Roque-Gageac, regularly participating in various ratings of the "most beautiful" in the country, is also located here.
The iconic place of Perigord is the incredible Lascaux Cave. Thanks to the preserved paintings of prehistoric people, it is one of the main attractions of France.
Very close to Perigord, in Occitania, is an amazing cozy town on the rock – Rocamadour. It became the epicenter of religious pilgrimage as early as the XII century.
Carcassonne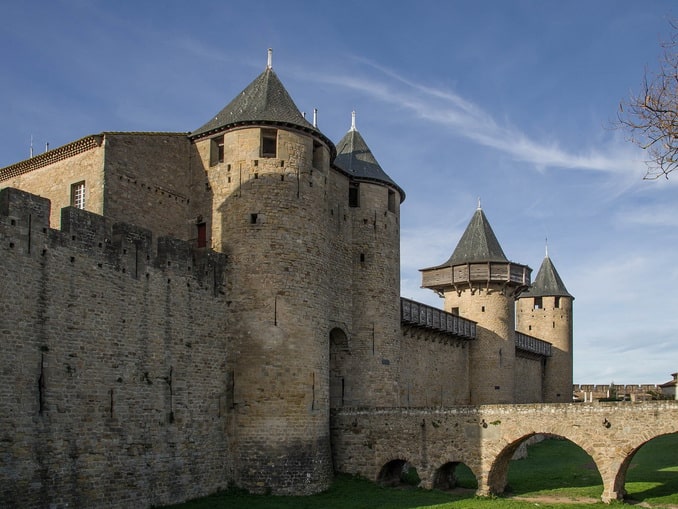 This fortified city can hardly be left out of the story about the remarkable places in France. Although you will have to work hard to get to Carcassonne, for example, from Paris.
After all, it is located in Languedoc, south of Toulouse. And to this day it is not connected to Paris by a direct railway line. So the easiest way to get here is by car, laying down a full day long to overcome almost 800 km.
Is it worth making such sacrifices to see Carcassonne with your own eyes? It seems to us that "Yes".
Moreover, when traveling independently by car to these part of France, you can include in the route such interesting towns as
Nimes and Arles
The first one is worth a visit for one reason only – to supply the local colony with water, the ancient Romans here outdid themselves. Having created an amazing engineering structure, the Pont du Gard aqueduct, only to throw a conduit from mountain springs through the tiny river Gard.
The fine calculations made during the construction of the cyclopean structure with a total height of 49 meters are still impressive today. After all, there were no computers and laser levels at the disposal of Roman engineers!
However, the Pont du Gard is located just north of Nimes, and you still need to get to it. But in Nimes itself, it is definitely worth seeing the "Square House" and the Fountain Gardens.
Arles where the magnificent Vincent van Gogh lived for about a year is located 20 km southeast of Nimes. Impressed by the colors and aromas of the French south, the artist created some of his best works here.
Avignon
Not so few people know about this city on the Rhone, which was the seat of the Holy See for almost 70 years. Many of whom have heard about the Papal Palace, an incredible, just a giant attraction of France and Avignon.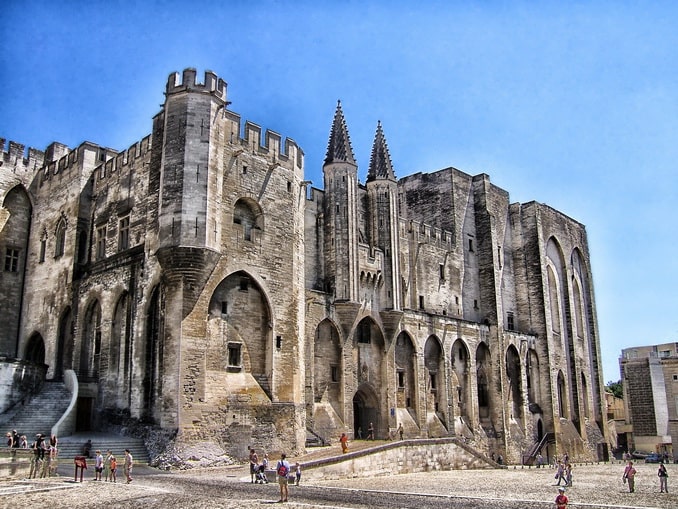 But still few people get here. Even despite the fact that such a maneuver will clearly distinguish them from the mass of travelers.
Note that it was in Avignon that the famous poet Petrarch and his Laura, apologists for sublime eternal love, sung in many exquisite sonnets, once lived. And it was in the local church of St. Clara that they got married.
Unfortunately, this temple has not been preserved to our days. But the city is still enveloped in some kind of romantic aura.
You can get to Avignon and Nimes directly from Paris. The already mentioned TGV fast trains stop in these cities on their way to Nice.
Verdon Gorge
If literally everyone knows about Provence and the Cote d'Azur, then only a few have heard about the Gorges du Verdon. Of course, in vain, because this is an incredibly beautiful place.
According to many of those who saw it live, in general, "the most beautiful" in France!
To appreciate the scale of the Verdon Gorge and enjoy the scenery, you don't even need to go hiking. For near the highway winding along the tops of the rocks, several viewing platforms are equipped.
But it would be better, of course, to stay near the Verdon Gorge for couple of days!
Especially vivid impressions await those who dare to sail through the Verdon Gorge in a canoe or kayak. Not because it's dangerous, not at all – even a short cruise along the turquoise river flowing in the canyon among the overhanging multi-meter cliffs is remembered for a lifetime.
Cote d'Azur
Writing a short story about the French Riviera today is even funny. For it is a separate vast world, a country full of its own attractions and temptations. Each of which is worthy of a separate voluminous narrative.
Is it for nothing that the capital of the Cote d'Azur, Nice, is the only French city that has escaped vassalage from Paris?
Although today it is connected to the French capital by a high-speed rail link. And its airport receives direct flights from most capitals of Europe and the world.
Is there much to see on the Cote d'Azur? In fact, you need to spend a week at any of the local resorts. At the end of which you will have to repeatedly persuade yourself to leave the place of rest in order to go to another in the neighborhood.
After all, the local atmosphere literally sucks into the atmosphere of bliss. It covers the mind with fog and gives the arms and legs such a pleasant relaxation that they want to move as little as possible!
© Goodtimefortrip.com