Turkey in October: is it worth going? Weather, sea temperature, is it possible to swim? Hotel prices 2023, how much costs excursions and car rental? What to do in Turkey in October, where is better to go on a seaside holidays – found out good Time for Trip.
Turkey is literally the promised land for beach tourists. Those who have been here once certainly strive to repeat the trip. If you don't put such traveling on stream at all, turning them into an annual tradition!
There is, perhaps, only one serious obstacle – there is regularly excessively hot in the summer in an Asian country. Even in Istanbul already in June sometimes it's difficult to breathe!
Indeed, in July and August, the street thermometers willingly floats over +40 ° C. And surroundings seems to melt – if not in reality, then in the eyes of foreigners.
All this happens against the backdrop of a blue cloudless sky, not inclined to shed even a tear of rain. That's why it's hard to take.
Especially when you consider that the humidity in the same south of Turkey, for some reason that is not entirely clear, constantly strives to climb into the range of 85-90%. Thus, turning resorts like Alanya or Antalya into a kind of sauna branch.
This suits, of course, not everyone. And therefore, those who do not want to "steam" every day choose a different option. Shifting vacation dates and going to rest in Turkey in October. Indeed, is it logical?
As in an Asian country at this time it is still warm – almost everywhere. Even in completely non-seaside places – in Cappadocia in early October, for instance, you can walk in a shirt and shorts. If you want, of course…
Opportunities
In the Turkish resorts in the middle of autumn, you can still swim and sunbathe. Not everywhere, however, – in October, the sea temperature in Turkey does not always provoke water procedures. But in the south and even the east of the country – in the same Bodrum – there are no special problems with this.
And yes, – most importantly – there will be very few vacationers around. And the prices will be pleasantly different from their summer version. Since the month we are talking about is actually considered off-season here.
So your holidays in October Turkey promise to be a pleasant event in every sense.
However, let's look at the facts. And we will start quite traditionally:
Weather in Turkey in October
The Asian country is too large to provide all its parts with an equally pleasant and warm climate. And therefore, it would be wrong to say that conditions conducive to swimming reign on its Black Sea coast in the middle of autumn.
Quite chilly in Kilyos, a popular seaside holiday destination from Istanbul. During the day, the air temperature barely reaches +20 ° C. The water near the coast is warmed up well, if up to + 18-19.
Approximately the same number is observed on thermometers by residents of the towns of Shile and Agva, famous resorts on the Black Sea coast.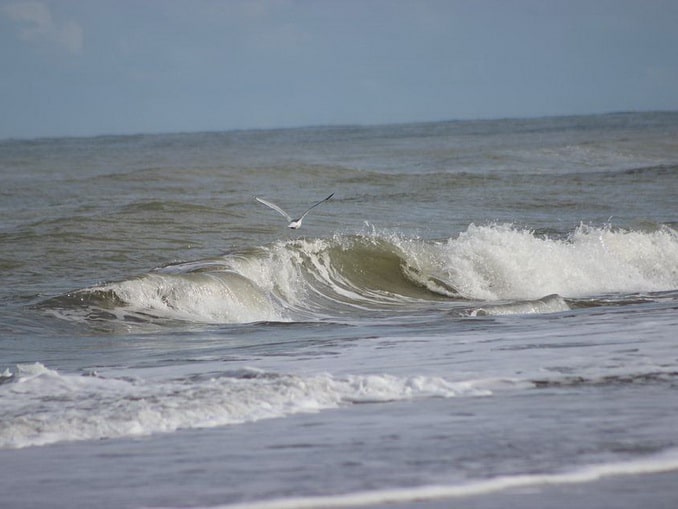 Istanbul
Equally, Istanbul itself does not look like an excessively sultry place even in early October. Therefore, it is a very popular destination at this time of the year. As well full of very interesting attractions.
Although you can still count on a discount. After all, in comparison with summer prices in hotels are falling significantly.
And for about 100 – 110 € per night (breakfast included) you can stay at the literally luxurious World Heritage Center Hotel in the heart of the city.
There are enough cheaper hotels – Just Inn Hotel will shelter travelers for a much more modest fee. At the same time, judging by the reviews, you have little chance of being disappointed.
Not too hot, but pleasant weather stands in October in the far suburbs of Istanbul on the Sea of ​​Marmara, in the resorts of Armutlu, Mudanya, Erdek, Şarköy in Trakya. Which you can easily get by rented car.
For there is usually no more than +22 °C during the day. But only +15-16 °C after sunset.
Turkish resorts located to the south, starting with Kuşadası, have much greater prospects in terms of beach holidays during this period of the year.
Aegean Sea
This coast is traditionally chosen by those who cannot stand excessively hot weather. And most of them are Turks themselves.
After all, it is not for nothing that they say that Didim and Bodrum, Datca and Marmaris, Fethiye, Oludeniz or Kas are much more popular among the inhabitants of Turkey than the Antalya Riviera itself.
And this is understandable, even in the off-season!
After all, the air temperature on the Aegean coast of Turkey in early October in the afternoon reaches a maximum of + 28-30 °C. And by the end of the first decade of the month, a slight cooling follows: up to + 24-26 °C.
Do you think it will only get worse? And in fast mode – you don't have time to look back, but everything is covered in snow?
Nothing of the kind – the statistics of recent years show that the air warms up to + 25 °C for a long time. And the situation practically does not change until the beginning of November.
The nights are colder. But not so much that you start shivering chilly, trying to keep warm in a lacy blouse. In most cases, it will not be lower than +18-20 °C. In some years, the atmosphere cools down to a maximum of +21-22 °C.
Precipitation
The reviews report rare and not heavy rains. And meteorologists confirm these data – statistical 30 mm per month fit into 2-3 rainy days.
In the rest, the sun shines brightly! The probability of a fine day at these latitudes in mid-autumn is no less than 75-80%.
The sea temperature in Bodrum and Marmaris in October never exceeds + 24-25 °C. But it is usually inhabited even lower, at levels of +22-23 °C.
It allows swimming for literally all age groups. And regardless of the time of day – only small children need to be kept away from water in the morning.
Prices 2023
In our opinion, self-organization of the trip is the most correct choice. For in this case, you can move away from a purely beach holiday and plan a real big adventure.
After all, for example, the distance from Istanbul to Bodrum by car can be overcome in just 7-8 hours. And who would refuse to see one of the most beautiful cities in the world as a prelude to the main "dish", a vacation at sea?
Hotels in the region are not particularly cheap. And, worse, they are in no hurry to offer all inclusive to non-package tourists.
From inexpensive, but high-quality objects, pay attention to Costa Bodrum City. With a pool and "very good breakfasts". As well as the three-star Asmin Hotel Bodrum, whose regular price list will appeal even to budget-conscious citizens.
In Kuşadası we can recommend Sezgin Boutique Hotel. Whose price tags and service completely atone for not the closest proximity to the coast.
Things to Do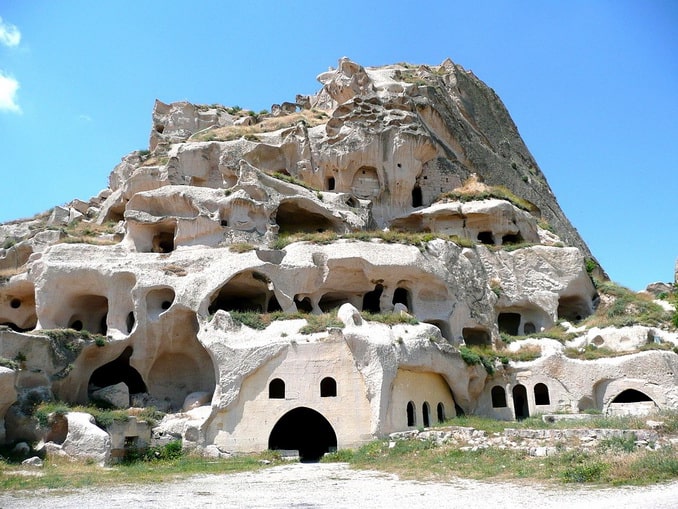 Regional water parks are small. But even in this format they promise a lot of fun for the kids. And yes, they are still open in October.
Equally, you can go on a boat trip on a yacht and fly on a parachute behind a boat. Trained citizens may want to embark on the Lycian Way. And the inquisitive ones want to go on a bus tour as to look at Cappadocia and fly on balloons – real pleasure at any time of the year.
Equally, you can go to Greece for a few hours. Unless, of course, such islands as Kos near Bodrum, or Rhodes near Marmaris are attractive places from your point of view.
Travelers who rent a car prudently find it easier to organize an entertainment program. And, at the same time, harder! Because there are too many opportunities in front of them.
From visiting the ruins of Ephesus near Selcuk to visiting Pamukkale or Cappadocia. Which at this time of the year is incredibly quiet and beautiful.
The Butterfly Valley near Fethiye, Blue Lagoon in Oludeniz, Turtle Beach in Dalyan – there are actually a lot of options for a boring leisure time!
Turkish Riviera
Well, if people come here in the summer months, not really thinking about the heat, then in early October, holidays in Antalya is simply good for health.
The air in the coastal region during the day warms up to +27-29 °C. At the beginning of the month it can be even higher than +32 °C. Closer to November, it becomes colder.
But even +21-23 °C many vacationers from Europe will consider it a real gift – somewhere in Norway or Sweden at this time it is already snowing.
At night, the atmosphere cools down to +18-22 ° C. Which clearly does not require the presence of any especially warm clothes in your luggage – the jacket in which you went on vacation will be enough.
The voids in the suitcase, by the way, will certainly be filled upon returning home. After all, you can bring many interesting things from Turkey!
Rain in the middle of autumn on the Antalya Riviera is moderate. In many cases, so much so that you will not witness even one, the smallest rain. And the humidity stays in the range unthinkable in summer – 60-70%.
Strong winds at this time practically do not bother. But the water temperature could be lower. As refreshing yourself in the sea, heated to + 27-28 ° C, is problematic!
Closer to November, the local water area cools down to +23-24 ° C. That is, the values ​​with which the sea in Marmaris meets October.
Prices
Stay at a very pleasant level for economical travelers. In any case, you can easily find a decent hotel in the same Kemer or Antalya for only 50 €.
We advise you to pay special attention to the incredibly cozy, albeit not too cheap, Hotel Villa Monte in the town of Cirali. Spend just a few days here and – we guarantee – you will feel refreshed!
Again, you can always save money by staying in October in Alanya, perhaps the most inexpensive of the resorts in southern Turkey. Don't believe? Just check out the current prices at Cleopatra King Apart, which are located next to the famous beach.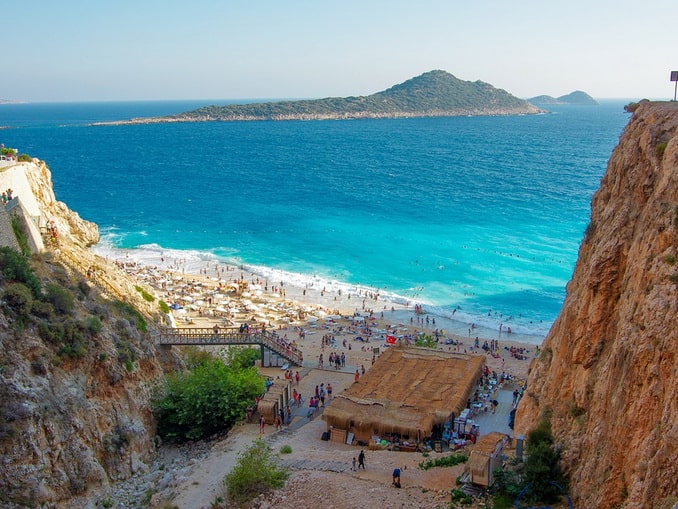 What to Do
Even standard and at the same time not particularly expensive sightseeing tours in the vicinity of Antalya are carried out much more than in Bodrum. However, the sights here are somehow more numerous.
Several ancient cities preserved in the form of ruins: Perge, Aspendos, Side. An impressive mountain Tahtali, on top of which you can freeze. And Chimera-Yanartash, similar to a multi-tiered gas stove.
Only these places will be enough for you to oversaturate your 10-day vacation with impressions.
Rafting on mountain rivers is also popular – especially in the Koprulu National Park. And in the middle of autumn, buses actively carry vacationers to the island of Kekova, and to the town of Demre. Where some buildings of ancient Myra, the church of St. Nicholas, plus the Lycian tombs, have been preserved.
Disturbs consciousness active tourists and the already mentioned Lycian Way. It stretches from here along the coast to Fethiye. And endows all those who are not too lazy with wonderful views.
As for long-distance routes, three options are most common. The first, one-day, includes a study tour to Pamukkale and Hierapolis. The other two are longer.
An excursion from Antalya to Istanbul is usually designed for a couple of days – to save time it is better to fly there by plane. A trip to Cappadocia is also should be planned for the same or even longer period.
© Goodtimefortrip.com