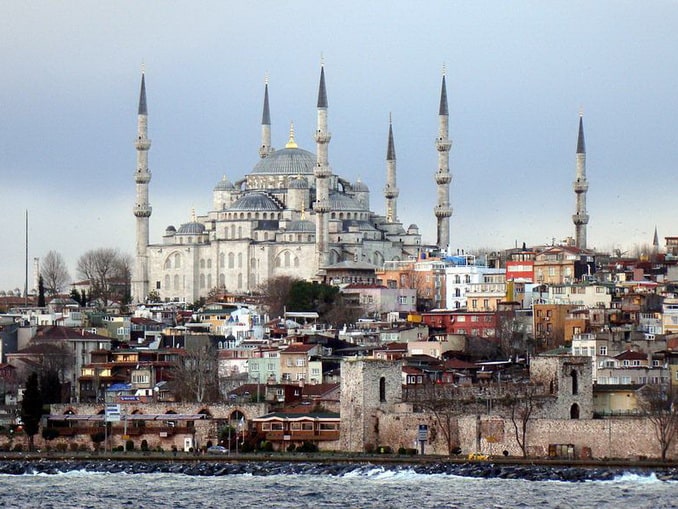 Istanbul in February – is it worth going? Weather, how to dress, prices 2023 in hotels and on excursions. What to see in Istanbul at the end of winter and where to go – found out good Time for Trip.
Without a doubt, Istanbul is the most interesting city in Turkey in the cultural and historical sense. However, even despite this, it still cannot be called an immensely popular independent direction.
After all, most tourists arriving in the country are primarily interested in its resorts. And pay attention to the brilliant capital of the Byzantine and the Ottoman Empire, only then. For example, when they get tired of staying in a well-fed, but after a week becoming a little boring resort reservation.
The trend changes a lot in the low season. And in February Istanbul turns into the most visited tourist destination in Turkey – when the weather does not allow swimming and sunbathing, attention inevitably rushes to the famous sights.
However, it is quite easy to get to Istanbul from Antalya by car or – even more so – by bus today. So you can combine business with pleasure – after all, on the Turkish Riviera even in winter is pretty warm and sunny!
We recommend you pay close attention to Istanbul at the end of winter and for another reason – because of the small number of tourists. That will allow to explore the main sights of ancient Constantinople in a short time and not in a crowd.
And if for some reason you do not have enough impressions from visiting the city's attractions, you can always go to the surroundings of Istanbul. Take a trip to the Princes' Islands and the Belgrade Forest, Yalova or Edirne.
If you want – by public transport. But at this time, both car rental and a guided bus tour will not ruin anyone.
Even in February, Cappadocia beckons. Although very rare tourists arrive to admire the wonderful in its snowy beauty region. And why? The car from Istanbul will get to Goreme in 7, maximum 8 hours!
However, let's take it in order. And we will start traditionally:
Weather in Istanbul in February
From the point of view of local residents and initially negative tourists: damp, dank and cold. But most arriving travelers will find positive in the air temperatures of about +8-10 °C and strong winds from the Bosphorus.
And even a certain promise of an early spring! In any case, such weather in the central part of Europe is typical for March. And in Scandinavia, this is generally seen only at the beginning of April.
Stability, however, is not worth waiting for!
In early February 2022, the air temperature in Istanbul, for example, ranged from +6 to +12 °C during the day. And in the third decade of the month, on other days, the columns of street thermometers even reached +15 °C.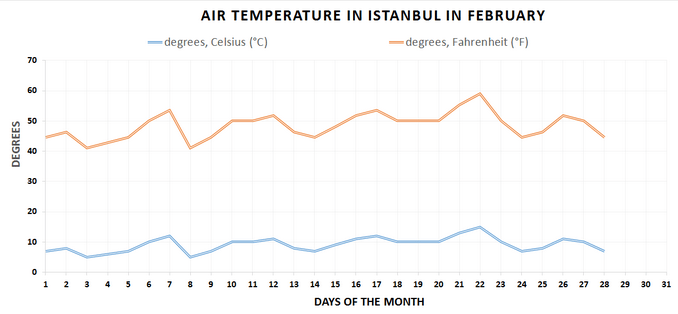 It was colder at night. But it never came to freezing, as in 2021.
Traditionally, the daytime temperature since mid-February fluctuates in Istanbul around +10 °C. It happens more: usually up to +12-15 °C and less: up to +2-5 °C.
The latter occurs infrequently – on the threshold of spring, thermometers here reluctantly fall to zero even at night. Frosts are outright nonsense. And, if they happen, they cause collapse not even on the streets, but in the minds of citizens.
It doesn't rain too often compared to January. But it's disgusting – high humidity and strong wind contribute to it.
Sometimes it also snows. Due to the indicated temperatures, it melts quickly on sidewalks, and resists the sun a little longer on lawns.
By the way, in February Istanbul sees more sunlight than many European cities. Statistically, that is, speculatively, you can count on 8-10 clear days per month!
Although usually overcast and rather gloomy weather prevails. Which, however, is unlikely to prevent a "properly" dressed person from seeing Istanbul in detail.
After all, a plus is not a minus. And there are cafes here, not to mention snack bars and street ones – in abundance!
How to Dress
Most travel guides reasonably advise citizens visiting Istanbul at the end of February to focus on demi-season clothing. But at the same time, to be safe, taking with you a light down jacket and warm boots.
Travelers who plan to go further, and in winter, for example, intend to go to Cappadocia, will take such things with them for sure. If they don't go in them at all!
But someone may be lulled by sweet stories about the subtropical climate and joyfully green palm trees..
To avoid getting into trouble we recommend you exercise great caution. Because that time the cold winter winds on the shores of the Bosphorus literally dominate.
And they strive to pierce literally anyone who has not bothered to stock up on a scarf, gloves and a hat. Jackets with hoods will also be in demand – do not hesitate!
When going on the road, do not forget to leave a place in your suitcase for things that you will bring home from Turkey. Although usually souvenirs and gifts from an Asian country are not too voluminous…
Prices 2023
Of course, choose a hotel according to your own taste. But get in mind you will have to pay from 100-120 € for a room in the city center.
Sometimes even more – for 150 € per day (with breakfast), two travelers will settle in the sophisticated Celine Hotel – Ottoman Mansion in the Fatih district.
If you're lucky, for a slightly lower price, you can grab a room in the 5-star Clarion Hotel Golden Horn in the Beyoglu district. That is in demand due to its proximity to the busy Istiklal Street, Galata Tower and Dolmabahce Palace.
Of the hotels with a relatively low price, we recommend 4* The Byzantium Suites Hotel & Spa in Sultanahmet. Some of its rooms offer a gorgeous view of the Bosphorus, the main attractions are within 10 minutes on foot.
What to Do
Romantic couples and newlyweds will especially like the idea of traveling to Istanbul in mid-February. After all, Valentine's Day is widely celebrated all over the world . And the great city, of course, will not stay away from a notable event.
However, the festive mood does not catch the eye. But tables in restaurants – especially those that have a good view – are booked ahead of time.
The same applies to places on boats cruising water walks along the Bosphorus. After all, to admire such a city together on such a significant date – is it memorable?!
It is mandatory to prepare a schedule for visiting Istanbul attractions. Not only the main ones like Hagia Sophia, Blue Mosque, Topkapi Palace or Galata Tower. But also those that not every tourist will get to in the season.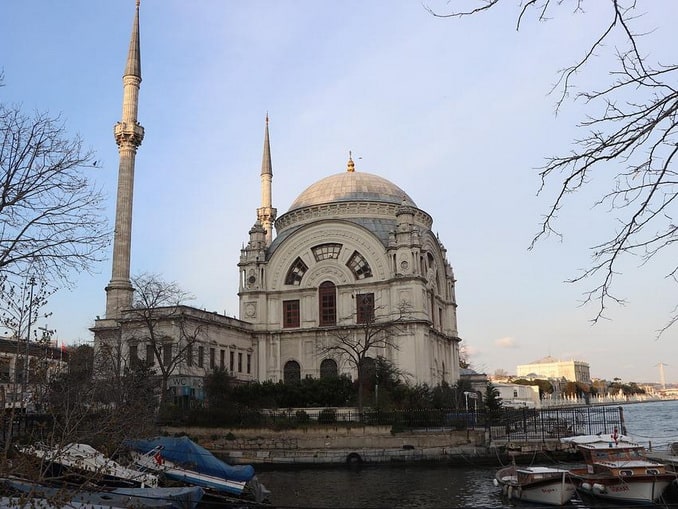 We recommend you to take a look at the Basilica Cistern and the Suleymaniye Mosque, Dolmabahce Palace. At least from the Bosphorus to explore the Rumeli fortress, visit the authentic Uskudar district in the Asian part of the city. See the frescoes of the monastery of Hora at the far end of the Fatih district.
Active travelers may want to discover some "secret" places. Like Little Hagia Sophia and the Church of St. Anthony of Padua, the Cisterns of Philoxenus and Theodosia, the summer sultan's palace of Beylerbeyi…
Where to Go
As we have already noticed above, even in February, you can diversify the travel program with trips to the nearest and not very neighborhoods. Especially if you have a driver's license and don't mind renting a car. The pleasure that costs actually ridiculous money today – from 20 € per day!
A trip to winter Cappadocia looks especially interesting from all points of view. You can get to it by highway in just 7 hours!
However, such an act is possible if you have 2-3 additional days of time. And also not too tiny amount of money for hotels and excursions. Not to mention flying in a hot air balloon.
Less impressive, but also promises a lot of fin, a boat trip to the Princes' Islands. An interesting option is a day trip to the Yalova resort. Where you will be offered to fill your lungs with therapeutic mountain air, soak in thermal baths, visit the sauna and hammam.
By renting a car, you can explore the surrounding areas on your own.
Take a ride, for example, to the ruins of Troy – they are about 340 km away. Or go even further – to Selchuk.
Few people know, but it is this city that you need to focus on in order to see the largest ancient Greek city in Asia Minor – Ephesus.
© Goodtimefortrip.com