What to buy in Hungary as a gift or souvenir? Sweets and alcohol, ceramics, toys and porcelain, interior items. What products are worth bringing home from Hungary and Budapest, from which amount tourist can take a VAT refund in 2023 – explored good Time for Trip.
Everyone usually want to remember about travel for a long time – in fact, many of them are undertaken exclusively for memories. And we can responsibly state that photos and videos do not cope with the role of "reminders" too well – it's quite better to entrust this matter to something more tangible.
And in principle, not so important whether it will be ordinary fridge magnets or more elegant souvenirs – from Hungary you can bring home a bunch of interesting things. In the literal sense original ones, peculiar exclusively to this small but interesting European country.
Moreover, having got into the taste and thoroughly engaged in shopping in Budapest, you will not notice how you exceed the baggage allowance. Which, of course, is not very desirable for those tourists who travel by plane.
To prevent this from happening, we recommend that you study in advance the topic "what gifts or souvenirs should you buy in Hungary and bring home".
Then make a list of things that attract you more. And besides, will fit in your suitcase, won't leading to a preponderance.
Note
Let's say right away – it will not be easy, because the hands themselves reach for the wallet, it is only necessary to pass by the souvenir shop. The huge desire of buying something in Budapest also rises when you just go to the Central Market or visit the Ecseri Flea Market.
Again, rarely anyone comes back empty-handed, having got out to visit Szentendre. As well as those who spend their vacation on the Lake Balaton, go to the city Eger or the famous Tokai wine region. Which nestled in the spurs of the Carpathian Mountains in the very north-east of the Hungary.
But enough words – let's get down to business!
Gifts and Souvenirs You Can Buy in Budapest
As to our mind, everything will depend on who is buying and for whom.
Women will probably want to bring from Budapest porcelain or cosmetics, buy embroidery and lace for interior decoration or clothing. Kids will be crazy about local marzipan products and wonderful souvenir dolls dressed in national costumes. Well, men won't invent anything at all and will visit one of the liquor store in Budapest.
Actually, we'll start with him. For it is difficult to come up with a more "Hungarian" souvenir than Tokay wine.
Alcohol
The Tokaj wine region in the north-east of the country is known far beyond Hungary. For it is here that unique grape varieties grow, which are used to make dessert Tokay wines. Is it any wonder that most travelers want to personally taste and then bring Hungary one or more bottles of this original drink?!
Tokay wines have a very optimistic golden color and sweet taste. But not because of the addition of sugar – it's just that Tokay wine is made from raisin grapes.
Two types of Tokay are especially popular:
The simplest, Tokaji Szamorodni, is made from the most raisin grapes. Its strength is 12%, the wine can be both dry and sweet
Tokaji Aszu is made from grapes of the same variety, which are harvested in several queues. The earliest harvest goes to the base wine, while the November one is used for fermentation
Grapes harvested at the end of autumn are measured with baskets. Then it is crushed, poured with wine of the first harvest, extract and barreled for ageing. That can last from 18 months to 10 years!
Bottles with such Tokay indicate how many baskets (puttonyos) of grapes were spent on it. The strength of the wine is from 14% and above.
Also
In addition to dessert wines, dry white ones are also produced in Tokay. The most famous type is Furmint.
For the sake of order, we note that the Tokay region is included in the UNESCO World Heritage List. Which proves its exclusivity better than any words.
Also, we advise you to find and buy in Budapest another alcohol beverage – Egri Bikaver or Bull's Blood. This legendary Hungarian red wine is produced under Eger, and is also considered a symbol of the country.
In addition to the aforementioned drinks, you can also buy in Hungary stronger alcohol with a pronounced national flavor. For example, fruit tincture palinka (40-70%), which is made from grapes (Tokay), plums and cherries, quinces, pears, apples, apricots (Kechkemet).
Another excellent gift from Hungary can be the herbal liqueur Unicum, produced since the end of the XVIII century according to a secret recipe. Its name was supposedly invented by the Holy Roman Emperor Joseph II, who, after tasting the liquor, exclaimed "This is unique"!
Dolls
in Hungary can be bought in a variety of sizes: both very large and very small. But the main thing you should pay attention to: are they dressed in national costumes and are they handmade?
It's obvious that the latter are more expensive. But they will certainly become an interior decoration or a wonderful gift bringing from Hungary for a person dear to you.
For kids plays you can buy a little bit simpler toy. And so that the child does not get upset, invest some money into a wooden doll room with all the furniture.
They look simply amazing. And clearly can't be compared with standard plastic toys that can be found in any large kid's store in any major city in the world.
Marzipan
A delicacy that today already belongs to the number of national symbols and is widespread everywhere in Hungary. Unlikely that you will not try it, buy it as a gift, or bring it home in a variety of forms. Tourists with kids will almost certainly do all of the above!
The popularity of marzipan is evidenced at least by the fact that there are as many as 4 museums dedicated to this sweetness in the country! In Szentendre, Eger, Keszthely and, of course, Budapest.
Marzipan in Hungary can be bought in the usual factory packaging of candy format in the form of simple cakes of round or other shape. You can also taste this delicacy made of sugar and almonds in a more impressive (to all) manner by spending on a large cake.
Some tourists emotionally buy models of historical buildings or just houses made of marzipan. But we doubt that such things will arrive intact if you put them in an aircraft hold…
Paprika
This spice is necessarily present in the list of things that are recommended to bring home from Hungary. Although it's not completely clear why – not everyone likes food seasoned with pepper, after all?
But if you are a fan of it, then, of course, you will buy a lot of bags, tubes, jars with paprika in Budapest or any other city in the country.
After all, red capsicum is a key ingredient of Hungarian cuisine. Which is present in a huge variety of meat and fish dishes.
Even if it's not for culinary purposes, it's worth buying a bunch of red pepper pods. As such an accessory will perfectly decorate the kitchen, giving it a special flavor and charm.
Paprika, which you will buy in Hungary, is also grown here – in the south of the country, on plantations near Szeged.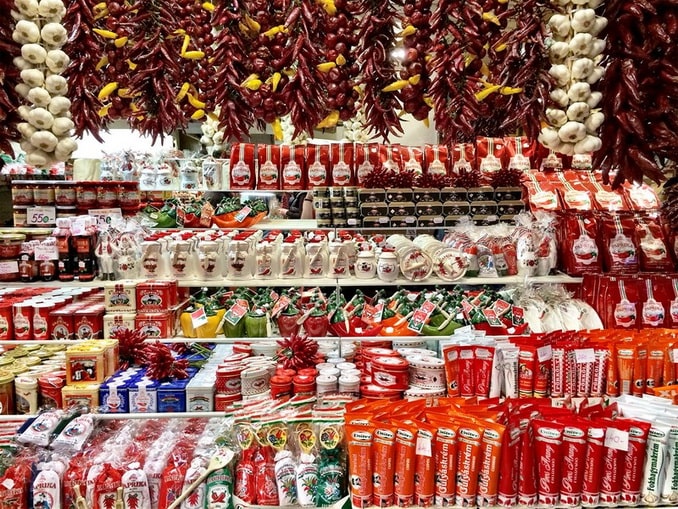 Salami
Fans of meat dishes will definitely be pleased with branded smoked sausage from Hungary. The local "winter salami", a distinctive feature of which is the shell in white mold, is a wonderful gift for gourmets.
Its most famous variety is Pick salami, that is produced at the company of the same name in the city of Szeged. And, of course, in addition to cape and other seasonings, it also contains local red pepper.
"Winter salami" in 2014 was recognized as one of the hungarikums, that is, an original and original product originally from Hungary. But apparently, outside the country you can buy it even cheaper – in the same Germany, for example.
Porcelain
Hungary is also famous for its porcelain – the one produced at the manufactory in the village of Herend was once supplied to the royal and imperial courts in Europe. In some museums around the world, particularly successful examples of this tableware are exhibited, striking with attention to detail, conciseness and beauty. It's not surprising that the Herend porcelain was even called the "white gold" of Hungary at one time.
Perhaps, every housewife would like to get a service produced by such a famous factory. After all, delicate and elegant, hand-painted jewelry will perfectly decorate the dining table and attract attention during any reception or meeting.
Even if you think that you can't bring such a bulky and fragile souvenir from a trip to Hungary, buy something less global. For example, a porcelain figurine or a couple of coffee cups.
Note that stylish porcelain dishes in Hungary are made not only in Herend. It is well known for the quality of the manufactory in the village of Hollóháza, operating since the end of the XVIII century. The Zsolnay factory in Peche is also famous far beyond the borders of the country.
Lace and Embroidery
Hungarian or Halas lace is considered a national treasure. Although they first appeared on sale relatively recently, at the beginning of the XX century, they are not inferior in quality and fineness to their more famous competitors: Flemish and Venetian lace.
Hungarian lace is produced in the workshops of the city of Kiskunhalas. And this is done in such small quantities that the price for it remains consistently high.
So if you can buy a napkin or tablecloth, a fan, then these items will certainly become a decoration of your home.
If Halash lace is an expensive souvenir and therefore not accessible to everyone, then garments and kitchen accessories decorated with Kalocsai embroidery embroidery are sold at fairly affordable prices. But they carry exactly the same message – these are things that are distinguished by a pronounced Hungarian flavor!
Pottery of Nádudvar
If the Herend or Hollóháza porcelain brings brightness and light to your home, then the products come from Nádudvar in the east of Hungary – a special style. After all, the pottery produced there, due to the special composition of the clay after firing, acquires a beautiful and deep black color.
The objects themselves: vases and jugs, plates and caskets look as if they were made not in a pottery workshop, but in a forge. And the patterns on the anthracite surface were as if not applied with a brush, but stamped with a skillful hand.
VAT Refund
Shoppers who are not residents of EU countries can receive a VAT refund on goods buying in Hungary. The base rate is 27%, for products – 18%. The minimum purchase amount for one check is 74 001 forint (291 $) – globalblue.com/shoppers/how-to-shop-tax-free/destinations/hungary.
© Goodtimefortrip.com