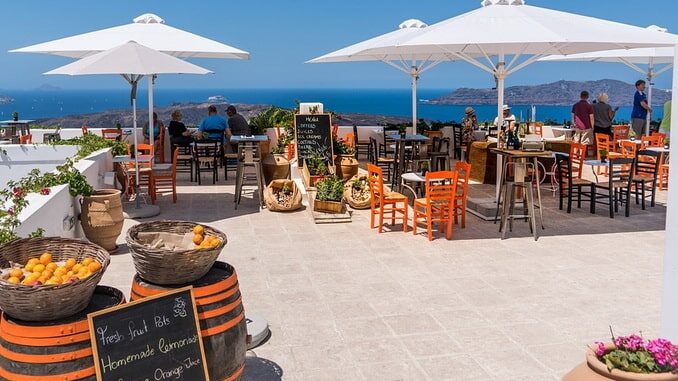 What to eat in Cyprus in 2023 – the most popular dishes of national cuisine. Recipes and ingredients for soups, appetizers, main courses and desserts. What to try in Cyprus at breakfast, lunch or dinner, what fast food is cooked in Larnaca and Paphos, Ayia Napa and Limassol, Nicosia – found out good Time for Trip.
Unlikely that you will argue with the statement that delicious food is one of the indispensable attributes of a good holiday. Even people who hardly consider themselves gourmets like have a tasty meal. After all, this process brings pleasure – isn't it the first thing that citizens strive for, intending to reward themselves a little for their hard work efforts?
Moreover, often for the sake of interesting and original dishes of national cuisine, many today go on trips. And we are unlikely to cheat if say that while relaxing in any of the resorts of Cyprus, you may well experience a real gastronomic delight.
In the case, of course, if you are not an advocate of a diet. Well, or can suspend it for the duration of the vacation.
Because people in Cyprus love to eat. As well as long gatherings at the table in sincere company, such pastime is considered an integral part of the island culture.
In our opus, we will tell you what tasty dishes you need to try in Cyprus. Accompanying this with a brief description of foods and photos that will help you not to confuse when ordering!
National Dishes of Cyprus
Cypriot cuisine is not too diverse, but quite original, hearty and tasty. Thick soups, juicy meat and vegetable dishes, legendary mezes, original home cheeses and desserts – it's hard to resist it all. Variety of sauces and seasonings make the dishes of the national cuisine of Cyprus even more interesting.
Although, of course, first you should find out what they are made of!
Meze
Perhaps the number 1 dish in the national cuisine of Cyprus. It is a set of snacks that warm up the appetite well. Someone can even eat up without waiting for the arrival of soups and the main course.
You don't need to invent anything, just like flipping through the menu – order a meze at any restaurant in Cyprus and you will almost certainly not be mistaken. After all, you will be brought a few plates with various cold and hot dishes. Of the snacks in the meze, olives and cheeses, pates, fresh vegetables and salads are most often present.
In many taverns, you can choose the type of popular snack.
Meat meze, for example, completes of a small portions of cutlets, kebabs, smoked sausages. And the fish one is a rich set of seafood: from shrimp in batter to crab julienne. As for a classic mezes, they consist of vegetables, cheeses, pates and sauces.
Suvla
You should definitely try this dish in Cyprus. Unless, of course, you are a vegan and can afford to eat meat.
In fact, suvla is a Cypriot barbecue. It differs from souvlaki only in the size of the pieces of meat on the skewer.
Barbecue in Cyprus is made from pork, lamb or chicken. The piquant taste is obtained by marinade based on wine or yogurt, which is poured over the dish during the cooking process. The meat is roasted over coals until an appetizing golden brown appears.
Unlike traditional recipes, suvla meat is not marinated in advance, so it is a little drier than a classic barbecue. Before serving the dish, it must be watered with lemon juice.
An excellent side dish for suvla will be vegetables and herbs, as well as grilled goat or sheep cheese, halloumi.
Kleftiko
One of the main meat dishes in Cyprus, you must definitely try this. Most often it is cooked by baking in a special clay oven.
Kleftiko is a tender lamb with potatoes, cooked in a special pot, the dish languishes in it for at least 3 hours. During this time, the potatoes are soaked through with meat juice, and the lamb absorbs the aromas of spices.
Moussaka
This dish comes from Greece, but it is worth trying in Cyprus. It is unlikely that you will feel special originality, although there are dozens of moussaka recipes.
At the same time, minced meat, eggplant and other vegetables, bechamel sauce always remain the constant ingredients. All the components are stacked on a baking sheet in layers: first eggplant and tomatoes fried with spices and garlic, then minced meat with onions, potatoes and mushrooms, grated cheese and bechamel sauce.
There are also vegetarian versions of moussaka. Which will undoubtedly please convinced vegans.
Sheftalia
This dish represents juicy Cypriot cutlets in the form of sausages. They are prepared from minced pork or lamb, always in a natural casing.
Most often, sheftalia is grilled, but sometimes sausages are baked in the oven or cooked in a pan. It is supposed to be served with a slice of lemon, as its sourness helps to better reveal the taste of the dish.
Fresh vegetables, various sauces and french fries perfectly harmonize with sheftalia. Therefore, it can be considered almost fast food with a national flavor – be sure to try these ruddy cutlets in Cyprus!
Gyros
Usually this is not a restaurant dish, but a sort of fast food popular in Cyprus. By which, however, a rare tourist passes – after tasting only 1 gyros, you will forget about the feeling of hunger for a long time.
Gyros is a yeast-free pita bread with a variety of fillings. It can be almost anything: pork, lamb or skewers chicken, french fries, vegetables, local sauces. Unless fish is added to this dish yet.
In general, if you are looking for something to eat quickly and inexpensively in Cyprus, gyros will be a great solution.
Halloumi
Traditional Cypriot pickled cheese is both an independent snack and often serves as an addition to other dishes of the national cuisine of Cyprus. Halloumi has been known since the middle of the 16th century, it is made from sheep and goat milk.
Halloumi is a visiting card of the Mediterranean island and the name is officially registered as a trademark. So you may well bring it from Cyprus as an original souvenir.
Halloumi in Cyprus is often added to vegetable salads. And in the summer they eat steamed with watermelon – this is a popular combination among local residents.
Incredibly good is fried halloumi. This dish is definitely worth a try in Cyprus for everyone, especially for vegetarians. Grilled halloumi is often added to burgers and is also used to make the popular lountza smoked pork sandwiches.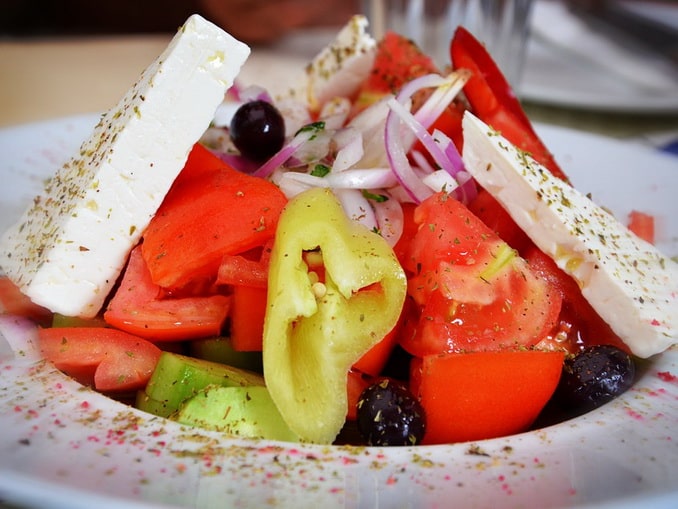 Aphelia
This dish can only be tasted in Cyprus! If you can easily find almost any item from the menu of restaurants in Paphos and Limassol in Athens or Thessaloniki, then aphelia is popular exclusively in "The Island of Aphrodite".
It is small pieces of pork marinated in dry red wine with fragrant spices. After that, the meat is fried until golden brown, and then again poured with marinade. And simmer until fully cooked.
Afelia is served on the table in company with bulgur or another traditional dish from Cyprus – mukentra. The latter is often used exclusively as a side dish, although it can be quite independent.
Mukentra is prepared from just three ingredients: bulgur, lentils and onions. But in combination with different sauces, it can literally play with variations in taste. We especially recommend trying it in Cyprus for vegetarians!
Xtapodi Krasato
One of the most unusual seafood dishes served in Cyprus is octopus stewed in red or white wine. Properly cooked xtapodi krasato literally melts in your mouth, and you won't have to complain about the stiffness.
The octopus is served with a light side dish in the form of potatoes or salads, grilled vegetables or halloumi. Often – with a glass of the best local wine, white commandaria.
Sudzukos
This is a dessert, an oriental delicacy popular in Cyprus. It is sausages made from grape syrup, nuts and honey. Depending on the recipe, cinnamon and mastic resin is added to suzukos.
Suzukos is sprinkled with powdered sugar and coconut flakes, almond petals, served with tea or coffee.
Sauces and Pastes
These additions to the main dishes in Cyprus are hard not to try – after all, they are usually served at the very beginning of the meal.
The most famous is slightly sour tzatziki, which is a thick yogurt with the addition of cucumber, garlic, spices and lemon juice.
Slightly less common is the creamy pink taramasalata – smoked cod roe puree with lemon juice, garlic and olive oil. Sometimes boiled potatoes and bread soaked in milk are also used as additives.
taramasalata is served as an appetizer along with olives, fresh bread or pita bread.
Literally a storehouse of vitamins and health is tahini paste. It is made from ground sesame seeds, to which lemon juice and olive oil are added to give a fluid consistency.
© Goodtimefortrip.com