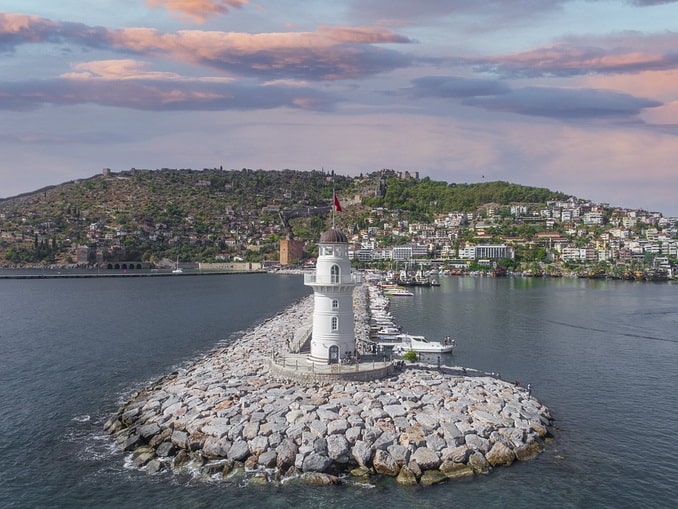 Alanya in October – is it time to go?! Weather, water temperature, how to dress and whether you can swim, hotel prices in 2022. What you can do in Alanya in the middle of autumn, where to go in the vicinity and beyond – good Time for Trip found out.
It's time for travelers to get used to good things again! First of all, to the ability to travel at any convenient time and the widespread easing of restrictions.
Agree, it intoxicates and inspires. So much that the question of relevance and choosing the optimal time for rest somehow fades into the background!
A sea of rich colors, a clear blue sky, a bright sun … Palm trees, or at least cypresses, motionless, as if guarding all this splendor on the shore…
Yes, you can see it all. And without much effort!
Where? Also not a mystery – in Alanya in October. In a period in which this Turkish resort is absolutely not crowded and surprisingly inexpensive.
Despite the fact that it is incredibly good. And enjoys moderate heat throughout the month!
Do you want proof? We have them! But let's start traditionally: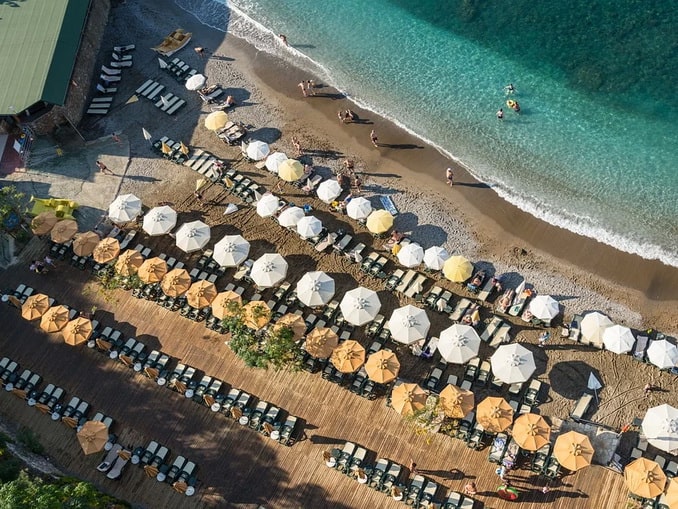 Weather in Alanya in October
If you describe it in two words – the season continues. With a significant, however, amendment – stable temperatures from +30 °C and above should not be expected.
This will cause regret, of course, a not so many people. Since the atmosphere, which regularly heats up to at least +25 °C with an almost complete absence of rain, will suit literally all categories of holidaymakers.
In early October, in Alanya, the daytime air temperature settles in a narrow corridor of + 26-28 °C. And not particularly eager to leave it even after sunset.
At night, of course, a little colder. But mostly because the sun is no longer scorching.
In any case, the air will remain heated to + 22-24 °C. Therefore, a very small proportion of vacationers will wish to throw the lightest blouse on their shoulders. Unless it gets cold, sitting on the seashore, listening to the rustle of the waves and the melody of the wind.
During the day, we recommend not to stay on the beach between noon and 4 pm. Since the sun sometimes bakes incredibly. And even a thick layer of sunscreen is not able to protect against heat stroke.
Those, who prefer to walk around the city and explore the surroundings (don't forget about Koprulu Canyon rafting) are unlikely to encounter sunburn. But we still advise you to remember that in October in the south Turkey the sun bakes very much.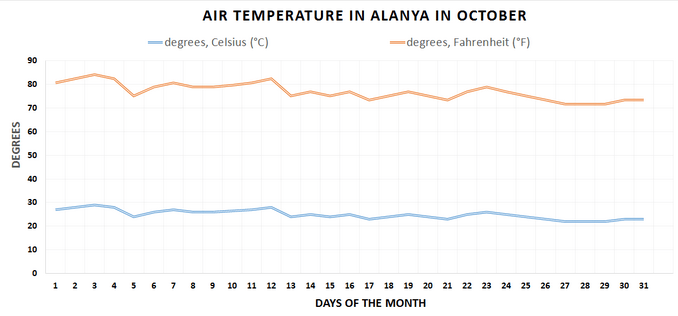 In the evenings it is worth walking a lot. Moreover, city tours, unlike many water activities, are also conducted in the off-season. And, by the way, not forgetting reduce the price …
Near November
Trough the third decade, you can expect daytime temperatures to drop into the +20-24 corridor. In a typical way for these latitudes: it hit the "bottom" and immediately bounced back.
In any case, Alanya often meets November on a positive note. With an azure sky and still warming sun, meeting those who, as part of their moral preparation for a harsh winter, decided to get out to Turkey in late autumn.
The norm of precipitation is insignificant – about 30-40 mm per month. And most of the rain falls in Alanya at the end of October. By the way, in the form of showers. Probably in order not to spoil the existing excellent reputation of the area.
Water Temperature
In our opinion, it is even redundant – how do you order to cool heated skin if the water area is warmed up to + 27-28 °C? But most holidaymakers are in a positive shock from such realities. And they do not get tired of swimming, as if wanting to develop muscle memory for the next season.
By mid-October, the sea off the coast of Alanya cools down to +25 °C. And by November it's even up to +24. What makes swimming in open water the lot of not every first.
Do not agree? But go and see what percentage of those lying on the beach regularly go for a dip.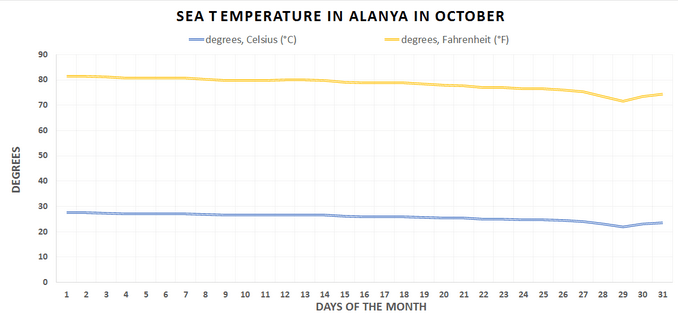 Prices 2022
The cost of hotels in Alanya is traditionally not too high. In any case, even objects located close to the sea are not prohibitive!
What can you say, for example, about Cleopatra King Apart, where a family (2+1) can stay for a week for 220 €?
Or its cheaper counterpart Bayram Apart Hotel. Where for an economy class apartment of 25 m2 you will be charged about 160 € per week.
In Avsallar, for 250 € per week, you can even rent new housing. With an area of ​​60 m2 and with a huge swimming pool in the yard – New apartment in Siberland Olive Garden.
In general, the trip is justified even from a financial point of view. As if you really intend to spend a week on the warm sea. So if you want to go to Cappadocia in October, you can easily include such a trip in your itinerary.
By the way, you can do it yourself! After all, you can get from Alanya to Cappadocia both by plane and by bus or car.
For those who are not ready to plan, there are also organized excursion routes.
Things to Do
From the point of view of those who came for 5-7 days, there are enough sights in Alanya. And in October, you can absolutely not bother with visiting near and far neighborhoods.
Like Dim Cave, the ruins of the ancient Roman city of Siedra, the beautiful Sapadera Canyon and the ancient part of the resort Side. Remembering many stories, starting from the era of the colonization of Pamphylia by the Greeks.
We are no longer talking about the amphitheater in Aspendos, considered by many to be among the main "Wonders of the world" in Turkey. Before him, however, about 100 km on the highway – most likely you will have to rent a car.
We also mention the exquisitely beautiful, but already almost indecently distant Köprülü National Park. However, the distance to it is 125 km. And it's almost like going to Antalya! To look at which a very small part of the tourists who have chosen Alanya goes.
The travertine terraces of Pamukkale are almost 370 km away. And this is a trip for the whole day: by bus or car at least 5-6 hours one way.
As for the inspection of Istanbul, only a few decide to take this step. After all, even in the case of an airplane and with a minimum program of cultural events, the trip will take 2 days.
What to See in Alanya
In the heat – and in October it will be – it is more correct to devote time to seaside recreation. Especially if you come with small children, for whom all these cities, ruins and natural beauties are not worth even one sand castle.
In the evenings, beach leisure can be diluted with walks along the walls of the fabulously illuminated Alanya fortress. Visually, the most powerful of those that have survived in Turkey since the Seljuks.
The powerful Red Tower guarding the port and the cable car leading from Cleopatra Beach to the very top of the fortress are rightly considered among the main tourist attractions of the resort. Inevitably attracts attention and the city archaeological museum.
The local museum of Kemal Ataturk, the founder of the Turkish Republic, is popular. We will not even assume that, due to the free entry, it is already interesting to see the preserved historical interiors, typical for pre-resort Alanya.
There is also a water park in the city, but it is only suitable for children and undemanding adults. Those with requests go to Water Planet, a huge establishment with a hotel 30 km northwest, on the road to Side.
Unfortunately, reviews about this place vary: some visitors are satisfied – others are oppressed. But if you do not have to queue for the slides – in October they are unlikely to be – the impressions will be good.
© Goodtimefortrip.com