Cappadocia in December – is it worth going? Weather, how to dress, hotel prices 2022/2023. What you can do in Cappadocia at Christmas and a little earlier, do the balls fly around the New Year's Day, how to get there – in the review of good Time for Trip.
Cappadocia is one of the main attractions of Turkey, any guidebook will tell you about it. Accordingly, a rare tourist will miss the chance to visit the most interesting area in the very center of the Anatolian Peninsula. Moreover, getting here from Istanbul or the Turkish Riviera is not too difficult.
By the way, Cappadocia has no clear boundaries. But almost anyone who is interested in the issue knows that any routes leads from Göreme. For this village is the "Rome" of the region, its center!
It is generally accepted that trips to Cappadocia are best made between April and October. After all, the area is located in a mountainous region and has a pronounced continental climate. And this means that winters here are quite cool and sometimes even frosty!
Perhaps you should postpone your acquaintance with the region until spring or summer? Absolutely not necessary! Because, like in many other tourist places, life is in full swing here even in cold weather.
Tourists, of course, are less than in summer. And some entertainment is not available for technical reasons.
But balloons fly over Cappadocia even in December. Moreover, the cost of this entertainment in comparison with the high season falls very noticeably.
Nothing forbids hiking in winter – after all, it is most convenient to explore Cappadocia this way. Of course, this should be done with caution – it is most reasonable in the company of a guide.
Because in other local valleys and for the whole day you will not meet another person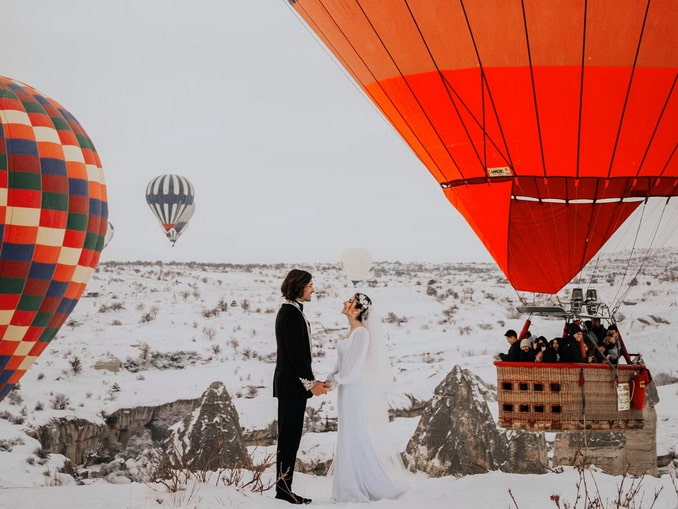 Weather in Cappadocia in December
Actually has little to do with the expectations of many travelers. Expecting to meet something rather harsh and heavily snowed.
That is, in most cases there is really little sun – cloudy days prevail. But severe frosts with snowdrifts knee-deep and above are not about Cappadocia in early December. Yes, even at Christmas there is rarely a permanent snow cover here ..
It is clear that the weather in the continental Turkey in early winter pretty cold – even in Istanbul in December more warmer. But by European standards, the winter months here are not extreme.
Daily air temperatures in Cappadocia, both at the beginning and at the end of December, rarely leave the territory over zero. Mostly from +5 to +10 °C, dips to zero occur irregularly and do not last long.
Snowfalls happen. And – which is bad – they are weakly predictable. However, the snow melts quickly here.
So if you were able to not only see, but also capture on your smartphone camera whitewashed Cappadocian valleys – rejoice.
Is it worth to seriously count on flying on a balloon? We would say YES!
For the winds usually increase in Cappadocia after the New Year's Day. Together with a seriously falling average air temperature.
The nights in December are colder here. And in some years – much more. Closer to the New Year, frosts down to -10-12 ° C are sometimes recorded.
Didn't expect that? But don't be sad – in extreme cases, a rented car will help you out!
In the cold months of the year it is almost a mandatory addition to traveling around the region. Moreover, the roads here are frankly good, and knee-deep snow, as we found out above, is nonsense.
You can rent a car at Kayseri Airport for only 18-22 € per day!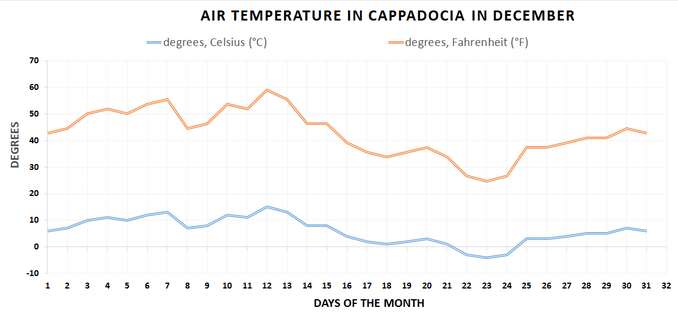 How to Dress
Standard warm clothing designed for the Central European winter is the smartest choice for visiting Cappadocia at the start of winter. Those who like to walk a lot can grab additional cardigans and sweaters, comfortable trekking shoes with thick soles.
Travelers who have firmly decided to go flying in a balloon basket should be especially careful when choosing clothes. Be sure to bring hats and gloves, scarves, put on a thicker jacket and maybe a vest!
We assure you that such precautions will not be superfluous even if the weather forecast promises not so cold weather. Because you can freeze to the bones at the height even in summer!
Prices 2022
If we exclude the dates before Christmas, the prices for hotels in Göreme in December cannot be called high. On average, a double room will cost 40 € per night. That is, money that even poor travelers can afford to spend.
Of the inexpensive, but excellent in terms of "price-quality" combination, we single out Kookaburra Pension. Offering its guests not only rooms in traditional Turkish style, but also full-fledged breakfasts.
The price list at Göreme Cave Rooms looks very nice. Guests praise the excellent location in the center of Göreme and the views from the rooftop terrace.
Rooms are also moderately priced in Elite Cave Suites. Among which are both full heating and substantial breakfasts. The views from its rooftop terrace alone can make you decide.
Pay attention to the Grand Cappadocia Hotel. Whose rooms are spacious (from 30 m2), and the staff – friendliness and willingness to help.
Note that all the designated hotels offers a transfer service from Kayseri Airport!
Things to Do
Balloon flights were mentioned above – it's a sin not to take advantage of this opportunity at a quite reasonable price. You can also participate in an organized tour on one of the existing routes: Green, Blue or Red tour of Cappadocia.
Just take the trouble to designate and fix the final amount even before it starts. Since at the end it may turn out to be a lilltle larger than declared – this is Turkey!
Independent hiking in Cappadocia in December should be done very carefully. Since there are rather big chances to get lost and overcooled – at this time the sun sets early, just after 17 hours.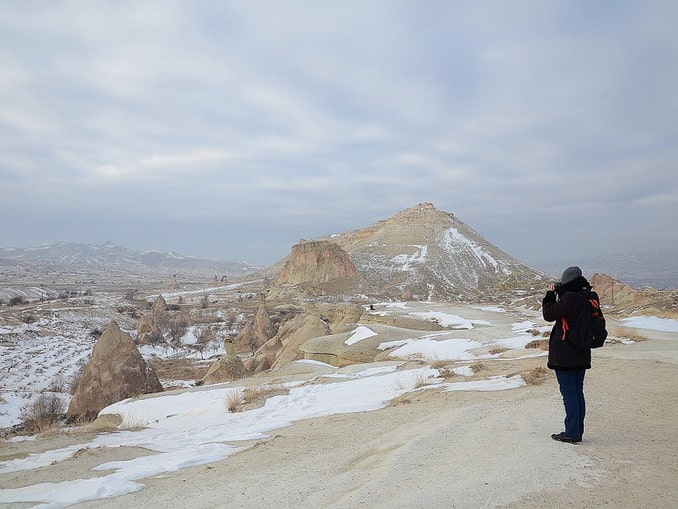 Again, some trails threaten with unforeseen falls in the summer. And those covered with a layer of snow or ice … Keep in mind that wolves enter some valleys in winter. Naturally, not with the intention of making a courtesy call.
A visit to the Open Air Museum in Göreme will definitely be an interesting experience and does not promise much trouble. As it is located at a distance of about a kilometer from the unofficial capital of the region.
Almost everyone, of course, wants to visit the underground city of Derinkuyu. In winter, open from 8 a.m. to 5 p.m. except Mondays.
Kaymakli dungeons also operate in a similar mode during the off-season. Note, that Kaymakli is located even a little closer to Göreme.
How to Get to Cappadocia
The route from Istanbul via Kayseri Airport is especially popular – these air hubs are connected daily by several regular flights. The flight on average lasts only an hour and fifteen, then you have to find a way to get to Göreme itself.
We talked about car rental above. A working, but expensive option is a taxi ride or a hotel transfer. Travel time – up to 1.5 hours. Using public transport we do not recommend – you spend too much time and efforts.
You can get to Cappadocia from Istanbul by car – the distance is about 700 km.
You can also get to Cappadocia from Ankara, from where there are direct bus routes to the village. Traveling from the bus station of the capital of Turkey with a transfer in Nevsehir takes about 4-5 hours. It will take about another hour to get to the bus station by public transport from Ankara Esenboga Airport.
And there, as you probably know, in 7 hours you can get even from London. And more faster if you travel from Berlin or Amsterdam.
© Goodtimefortrip.com