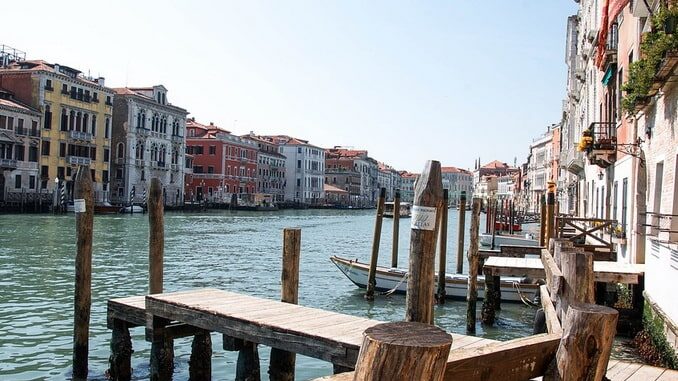 Venice in April – is it worth going? Weather, how to dress, prices 2023, reviews. What to do in Venice in the middle of spring, where you can go in Veneto and beyond – in a detailed review by good Time for Trip.
The great literary classic wrote – "Who has not seen Venice in April is hardly familiar with all the untold charm of this magical city". A century and a half has passed, but this statement hasn't lost its relevance!
However, it is impossible to say that many people are able to be guided by them today. For in April, Venice can only see a real tourist invasion for 2-3 days, at Easter. And the rest of the time, even if it's not deserted, it doesn't seem to be flooded with loitering personalities.
Of course, you need to use it. And not only because of a great opportunity to walk along the embankments without watching the back of the citizens in front of you all the time.
But also due to the fact that even in early April, the weather in Venice, as a rule, doesn't annoy travelers. Although, it would seem, immediately after the cool March, this could be expected.
But no, on the contrary! Moreover, from our point of view, it also looks preferable compared to the weather typical for Venice in May.
Both in terms of precipitation falling on the head (there are obviously fewer of them) and the number of people interested in visiting such a beautiful place.
And, of course, prices in local hotels! In the middle of spring their owners are just beginning to figure out what kind of profit to expect in the coming season.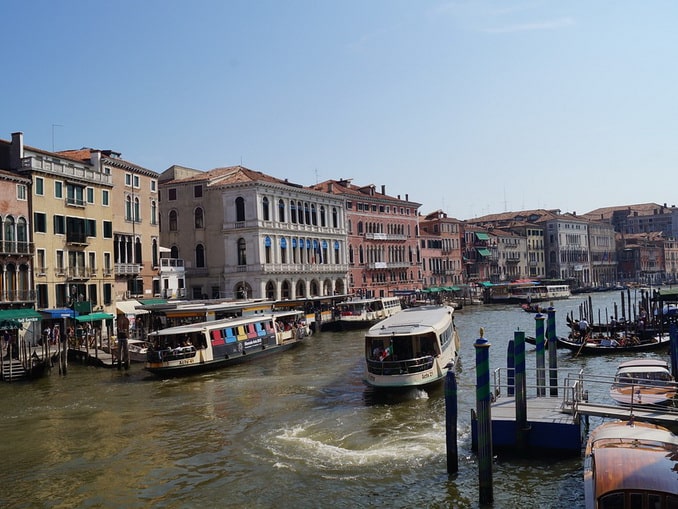 Weather in Venice in April
It is distinguished by an abundance of fairly warm days and therefore deserves exceptionally laudatory reviews. In any case, from the side of active travelers who like to walk a lot.
Natures who prefer to contemplate, frozen on some bench on the embankment, may be dissatisfied – the epithet "cool" is more suitable for the range of +13-15 degrees Celsius. But most of the people still won't find reasons for discontent.
In April 2022, the air temperature in Venice during the day initially hesitated in the range of +10-15 °C. And only at night moved to the area of + 5-8 °C.
In the second half of the month, the atmosphere began to warm up during the day even to +18-19 °C. Although there were days when the thermometers didn't show more than +14-15 °C.
At the end of April, a kind of turnover occurred in Venice – nature seemed to turn its face to people, and the sun began to regularly heat the air to +20 °C and above.
With some variations such a picture is repeated in Venice in the middle of spring every year. The air temperature may be lower or higher, but there is still a clear promise of the imminent arrival of warm times in the atmosphere.
The sun is shining so brightly, as if it missed you over the winter and is glad to see all that beauty below again. The sky is gently turning blue, vaporetto boats are busily scurrying along the green and surprisingly not dirty waters of the lagoon, fresh but gentle breezes are blowing from the sea.
Precipitation
Rains are not too rare, but in any case they are not hopeless. Showers tend to end quickly. And their power, unlike autumn, does not drive you into depression – on the contrary, you feel that nature seems to wash away the fatigue that has accumulated over the winter.
The average monthly precipitation is about 90 mm, which is noticeably less than the May figures. The number of rainy days is 5-6 per month.
How to Dress
If you read reviews on the Internet about a trip to Venice in the middle of April, you will be surprised to find that some tourists dress in quite summer things. As they can't wait to change into light sundresses and mini-skirts!
And, most interestingly, they don't complain about their own indiscretion. On the contrary, emphasize that the weather has treated such escapades indulgently.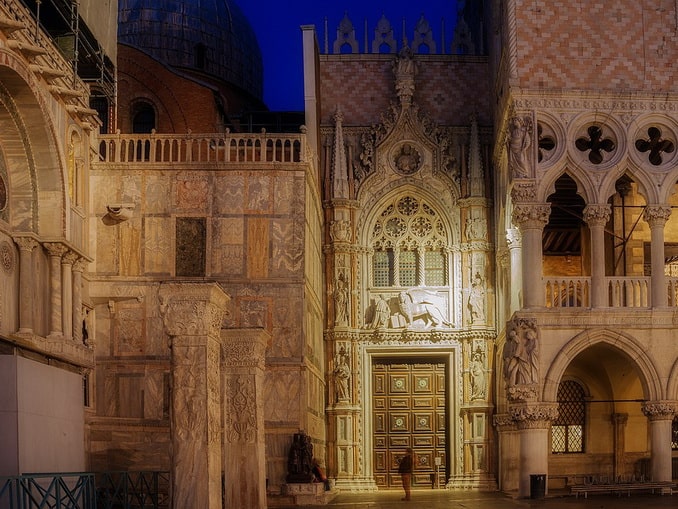 Didn't try to freeze you at the first opportunity. Even the fresh winds blowing over the lagoon lose their former – if you have been in Venice in December, you should understand what we are talking about – winter sharpness.
At the same time, don't forget to put warmer things in your suitcase. After all, in April Venice just seems to be created for romantic walks through the medieval city under the moon and similar entertainments. Which – let's repeat that there can be only + 5 °C at night – are unlikely to inspire those who will dress only in a light jacket.
Gumboots and…
Equally, bring umbrellas and even raincoats with you. Those who come to the "City of Canals" by car may well even bring rubber boots.
And then feel like real "kings". Especially against the background of other tourists, shod in disposable plastic a wellingtons for 15 € pair.
We assure you that for this money you can buy much nicer things in Italy and bring them home as a souvenir. For example, the same Murano glass products – simple ladies' jewelry, rings, earrings, beads and bracelets cost about that much.
You can also have a snack in a cafe for 10-15 €. Not the most delicious original Italian food, of course, – most likely, ordinary pizza or pasta. But this will be enough to continue walking again until the legs go on strike.
Prices 2023
Those who have already been to Venice before and know how to save money will not be too shocked. For example, on accommodation. As subject to early booking for April, you can find a very good option for two for 120-150 € per day.
And in Venice itself, not in Mestre!
After all, hotel rooms and apartments in the Cannaregio, Castello, and even Dorsoduro districts are 15-25 percents cheaper than those in San Marco. Greatly inflating the price due to the proximity to the famous basilica and the same palace.
At the same time, everyone somehow forgets that seeing attractions of Venice once again, walking through it on foot, is the dream of any sane person? It's not a pity to pay extra for such an opportunity, wouldn't it?!
By the way, lovers of silence and solitude should pay attention to apartments in Giudecca. A big and incredibly atmospheric island, which tourists usually wander into only by mistake.
Our friends who stayed in Venice last April did so, finding a cozy and very clean Nice & Cozy apartment. With an area of 50 m2, its own kitchen and in pleasant proximity to the vaporetto stop. Using which, you will be wandering around St. Mark's Square in 15 minutes!
However, if you lucky with a discount, you will be able to stay much closer to the center. Moreover, the owners of the Yellow House with 2 bedrooms for an amount in the region of 160-180 € / night allow four tourists to stay!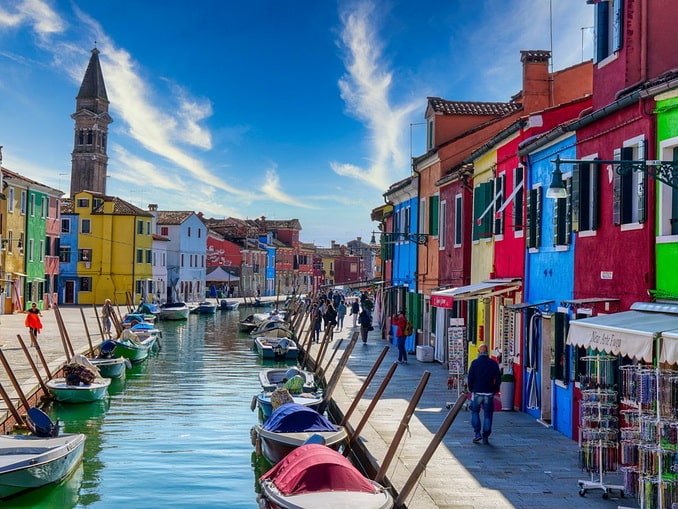 Excursions
A high-quality individual tour, introduces tourists to the main attractions (Doge's Palace & St. Mark's Basilica), including from the inside, costs more than 80 €. But it's usually sold out for the next dates.
Against its background, a group walking through the center (Hidden Venice: Unusual Walking Tour), for participation in which they charge only 25-30 €, looks almost like a gift. Moreover, the latest reviews about it are very good!
What to Do
There will definitely be no shortage of opportunities! So leave the very idea of coming in April to Venice for just a couple of days – it's not enough to get the "right" impressions.
Because you will be constantly "hanging" in a place. Trying to keep forever in mind the piercing beauty, as if just painted on a blank canvas.
In general, so! St Mark's Square, the same Basilica, the Doge's Palace and Santa Maria-della-Salute as a cherry – it's all on the first day. San Giorgio Maggiore and the Academy Gallery, Frari Basilica – on the second.
Trips to the island of Torcello and Burano, to the glassblowers on the island of Murano (most correctly – in this order!) diversify third day of your vacation.
By the way, buy a vaporetto pass for 3 days or even for a week. Because this way you will save a significant amount of the money! Young people necessarily need to arrange a Rolling Venice for themselves.
So that on the fourth day you could just walk along the narrow streets and admire the sun glare in the canals for a long time. Well, or – if you are young and active – plan a tour of Verona: to see the Juliet House, the Amphitheater and other not too obvious attractions.
It would be nice to leave time for a trip to Treviso and even the Dolomites – in the middle of spring they also make an exceptionally vivid impression. Lovers of beautiful natural views may plan a visit to Lake Garda.
© Goodtimefortrip.com