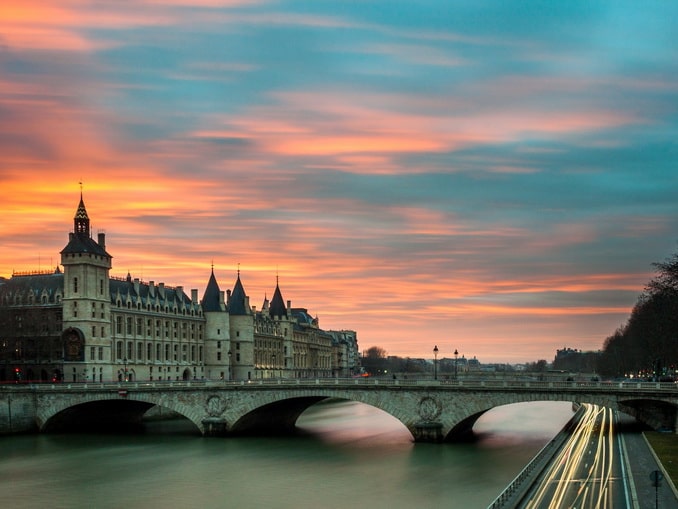 Paris in March – is it worth going? Weather, air temperature, prices in hotels and excursions 2023, what clothes to take with you. What to do in Paris in early spring, what sights to see, where to go in the vicinity and beyond – studied good Time for Trip.
Let's still figure it out, is spring the time of pragmatists or romantics? Especially its starting phase, which in relation to Europe is generally unclear what it refers to.
Either it gravitates towards winter and far from always successfully tries to free itself from snow captivity. Or is it already gradually rushing towards the light, reaching out for warmth and renewal?
In many ways, of course, it depends on perception. A reasonable person will certainly notice that the weather at this time of the year is unstable – whatever that means. But a more determined citizen will claim that he feels a special aroma and movement in the atmosphere.
And, of course, he will be right. Especially when it comes to March in Paris!
A city, that is extremely popular among tourists and travelers of all stripes, incomes and age categories. But far from always justifying their (often greatly inflated) expectations.
Especially when it comes to such an ambiguous month in this climatic zone as March. It is in every sense a transitional period.
But also promising a lot – the opportunities that open up in early spring before a person visiting Paris  literally open up! You won't get bored – that's for sure.
Weather in Paris in March
At first, it cannot be recognized as warm and sunny. And at night, it drops to +2-4 °C. Even zero are possible, that has the most beneficial effect on the attendance of popular museums in Paris.
For example, the air temperature in Paris at the beginning of March 2022 during the day fluctuated between +5-12 °C. Although at the end of the first decade of the month it pleased the townspeople and visitors with a brief rise to the level of +15 °C.
In the middle of the month, the weather tried not to miss what had been achieved. And starting from the third decade of March, Paris began to warm up.
So at the end of the month the city watched until +18-21 °C. And actually plunged into the foam of blooming gardens.
However, by the beginning of April there was an unexpected drop in the range to +10 °C. Either the Arctic cyclone came at the wrong time, as always, or nature simply decided that it was enough to spoil the Parisian population…
Naturally, this does not happen every year. But the main thing to understand is that the Parisian climate in early spring is not stable.
Read Also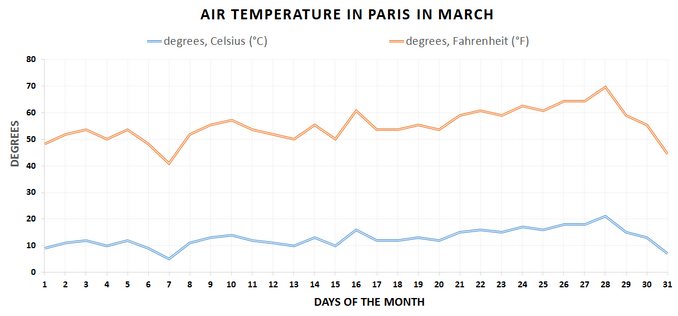 And always ready to surprise you. Within reasonable limits, of course!
Therefore, you have the right to count, for example, on the fact that on Women's Equality Day, that is, March 8, the weather in Paris will not freeze you. And even more – it will allow moving around the city for a long time and without harm to health.
Starting from the middle of the month, you should gradually start forgetting about warm clothes!
Note!
That at night throughout the month, strong cold snaps are possible. Frosts usually do not reach, but the air temperature after sunset willingly rolls down to winter values.
Humidity is sometimes quite high. But in most cases, it tries not to exceed 70%.
As for the rains, they are sometimes quite stormy, as if they intend to wash the city after the winter. The average rainfall (about 40 mm) is not too high. And the expected number of nasty days typically does not exceed 5-6 per month.
Maybe Interesting
How to Dress
Apparently it's different! Even if you expect to bring home a lot of gifts from France and deliberately leave an empty space in your suitcase, do not overdo it.
Because if you take insufficient warm clothes, you can significantly spoil travel experience. Especially in the modern era, when calls for energy savings are heard everywhere in Europe.
In general, we advise you to take into account all the advantages that a light but warm quilted jacket and boots with thick soles provide. Don't forget about hoody and sweaters, just in case, take scarves or neckerchiefs with you.
Children may also need light hats – especially if the plans include a cruise along the Seine or a day-trip to Mont-Saint -Michel.
Many reviews also report the practical value of the umbrella taken. Although someone may prefer to wear a weightless bright raincoat. To leave hands free – you will have to take a lot of pictures!
Prices 2023
During this period, they can still please citizens who know how much hotels in Paris cost at the peak of the season. All others, of course, have the right to talk about the high cost.
Since for the amount of 100 € per day you can find a room far from the center. And if it is, for example, the 10th district, you should know that you are in luck!
Try to book a cozy and far from Charming apartment near Moulin Rouge – recently renovated and equipped with all the necessary equipment even for a demanding tourist. And if it doesn't work out – someone has already gotten ahead of you – pay attention to not so spacious options. Which, however, may also be already occupied.
One way or another, we advise you to pay attention to the studio in the Moulin RougeMontmartre neighborhood. It seems to be located in a rather emigrant area, but meanwhile it's praised in the reviews.
The Sacré-Coeur Basilica is a couple of hundred meters away. Yes, and walking to the famous cabaret Moulin Rouge will not tire – you will have to walk about a kilometer.
The small Studio calme et éclairé proche de Nation in Mésnilmontant looks like a fallback in case you can't find something better. Although this flet, perhaps, has the only minus – the 20th arrondissement is clearly not the heart of Paris.
Excursions
When ordering tours of Paris in March, you shouldn't count on a reduction of price. The maximum that can be saved is 3-5 € per person.
Popular activities include a variety of cruises on the Seine. Indeed, from the board of the river boat you will see almost all the most interesting things that are in Paris. And – for little money: an hour walk will cost 16-18 € per person!
But for a tour around the city center in the company of a experienced guide, you will have to pay from 40-45 €. However, someone will consider this amount not too big a price to pay for the opportunity to hear the story of an erudite person, connected and often full of curious little-known facts.
What to Do
Most will probably prefer not to reinvent the wheel and plan to visit the main attractions of Paris never seen before. And in some places, quite possibly, tourists will want to go again.
As it's no secret, that the collections of the Louvre and the Musée d'Orsay will have something that will surprise you for the second or even third time. And the panoramas that open from the platforms of the Eiffel Tower usually give so much joy that it is simply unreasonable not to try to get a new portion of them.
However, you can also try a modern alternative – climb the Montparnasse Tower.
We advise you to visit one or two other art museums in Paris in March. In order to make a deep immersion into the world of beauty precisely at a time when feelings are especially aggravated.
Champs Elysees and the Arc de Triomphe, the Tuileries and Place de la Concorde, the Luxembourg Gardens, the Latin Quarter, the Pantheon and the Sorbonne, Les Invalides? All this can be partially or completely examined during walks around the capital of France waking up after winter.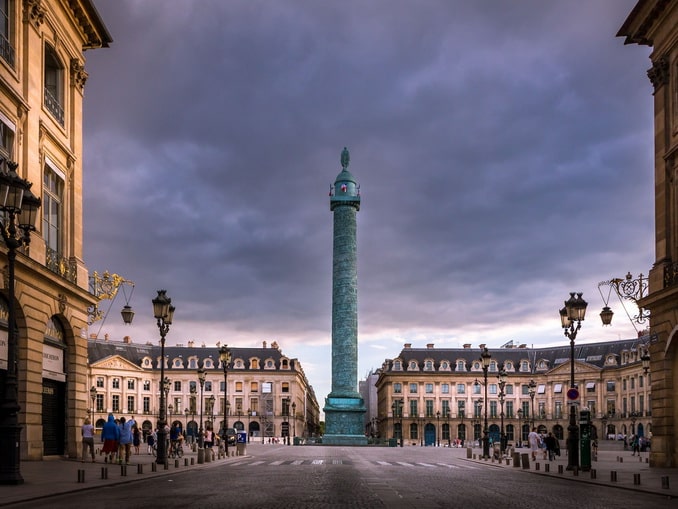 Equally, we advise you to set aside a day or two for sightseeing around Paris. Or go even further – in just a few hours you can reach Amsterdam or London!
Where to Go
A trip from Paris to Normandy – to visit Mont-Saint-Michel or Rouen – is a must have in terms of any inquisitive travel. Moreover, the beginning of spring on the coast of La Manche is a time of strong tides. So you will have a great chance to observe the majestic natural phenomenon.
The Giverny Museum of Impressionisms is still closed at this time of the year. But nothing will stop you from seeing the collections of the Chantilly Palace. Visit the Compiegne residence of the French kings, get to the literally fabulous castle of Pierrefonds.
Or head south. For example, in the valley of the Loire River, where most of the famous French chateaus live.
Spring comes to these parts a little earlier than to Paris. And therefore, you are unlikely to freeze if you decide to spend the whole day in the parks beginning to turn green.
Someone will decide that March is the time to go to Nice. Although even on a fast train from Paris to the capital of the Cote d'Azur, you can get at least 6 hours.
However, the contemplation of the brightest turquoise of the Mediterranean Sea and the French subtropics beginning to prepare for the high season is worth such an investment of time and effort. Especially if consider that you will find yourself in the regions that many historical figures deliberately visited in early spring.
© Goodtimefortrip.com