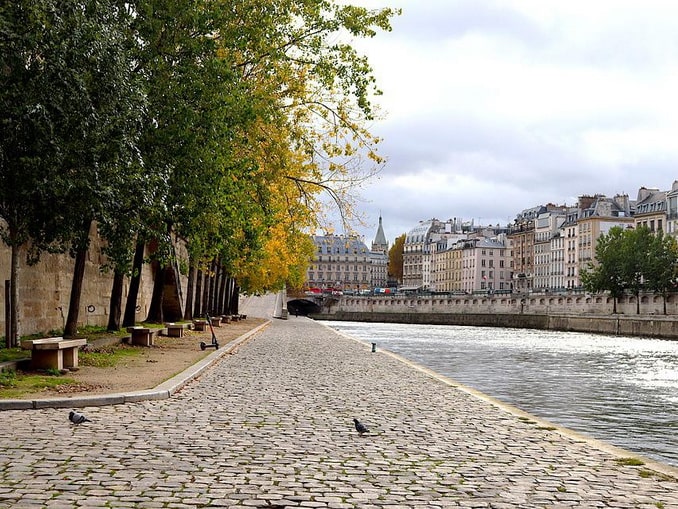 Paris in October: is it worth going and what to prepare for? Weather, how to dress, prices for hotels and excursions in 2022, how many tourists are there? Where is it better to stay, what to see in Paris in the middle of autumn, where to go in the neighborhood and not only – found out good Time to Trip.
October is perhaps the best month of the year to visit major European cities. Paris is no exception!
After all, the largest and most active part of tourists has already calmed down until the next season. The smaller one slowly assesses the likelihood of a trip to Paris for Christmas.
The number of those wishing to go not to the sea in the middle of autumn, following the outgoing summer, is vanishingly small. And this fact, of course, should be used.
Moreover, in October Paris is not just beautiful, but without exaggeration – adorable! It is painted in juicy shades of gold and purple, wounding impressionable travellers to the very heart.
Along the way, allowing them to get something that is difficult to experience in the French capital at the height of the season. Namely: appeasement and every minute pleasure from the very fact of existence. And being in the midst of such beauty.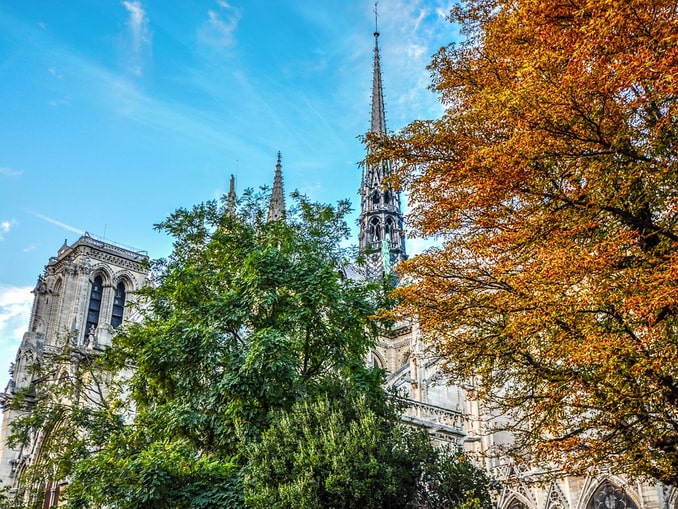 Weather in Paris in October
Exceptionally well suited for sightseeing tourism. As visits to museums and other interesting places, as well as long walks along the Champs Elysees and Montmartre, the Marais and the Ile de la Cité.
Popular and trips to the suburbs. Especially since there are plenty of places where you can go from Paris even for a day!
At the same time, we must emphasize that the middle of autumn in this point of France is not too sunny, there are enough cloudy days! But on the other hand, the precipitation keeps itself in hand, don't annoy the guests.
Without frightening the already few travelers with excessive dampness and forcing them to constantly keep an umbrella or a raincoat on hand.
Statistically, Paris in the beginning of October, as well as in the epilogue of September, is considered a rather dry place. Rains are rare – the norm of precipitation for the whole month does not exceed 40-50 mm. And the total number of days when the firmament decides to water the Parisian streets does not exceed 2-3 per month.
Daytime air temperatures in the first half of the month gravitate towards the commendable range of +18-20 °C. And in other years, thermometers can occasionally show even higher. For example, in mid-October 2021, the air in Paris warmed up to + 21-22 ° C.
The nights are colder. But not so much that you want to think about a hasty departure: up to +12-15 °C
Closer to November, however, the capital's thermometers panic. Even in the daytime without showing above +15 ° C.
When the sun sets off to illuminate the opposite hemisphere, they hint that winter is just around the corner. In any case, people with imagination will easily understand what's what when they see something around + 7-8 ° C.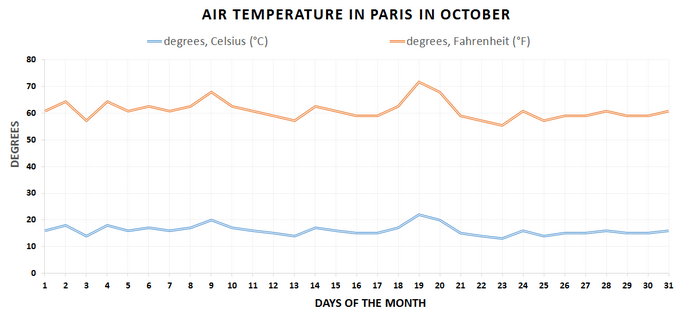 How to dress
As you might guess, such weather motivates, allowing you to carry out almost everything planned. And if you believe that Paris can be explored in 3-4 days, your dreams will definitely come true.
At the same time, we advise to take with you not only a change of underwear and frankly summer clothes. A demi-season jacket and sweaters have every chance of coming in handy – especially if you love walking near the water in the evenings. Or planned a boat trip along the Seine.
Raincoats and rubber boots are obviously superfluous accessories. But shoes more practical than sandals should obviously be put in a suitcase!
Frosts even at the end of October are an unheard of phenomenon. Able to shock cleaner than an exhibition of cutting-edge art. Basically, of course, the townspeople themselves – many of the American and European tourists in the middle of autumn are mentally prepared for an early snowfall.
Prices 2022
Do you feel strong enough to organize a trip to Paris on your own? Then you should prepare for the following expenses.
Hotels and transport
From 80-100 € cost a day of accommodation in good, but, alas, located far from the center apartments or guest houses. Usually without breakfast, but there are exceptions!
Like Toit pour Vous Chambre d'hôtes in the 18th arrondissement (Montmartre). Offering guests cozy rooms with windows overlooking the courtyard (but quiet) and serving breakfast. Payment after booking, however, is non-refundable.
Note that in Paris it makes sense to choose housing in certain areas. To avoid unnecessary noise and the sight of obviously suspicious personalities right at the exit from the hotel.
The cost of travel in Paris public transport can be minimized by purchasing a Navigo card. A very handy tool for those who are going to use the city metro and RER trains more than once.
Unlimited trips within 3 urban and 2 suburban areas for a week will cost 22.8 €. Plus, you should pay for the card itself 5 €. There are no discounts for children.
Navigo has an annoying feature as it's used on a weekly basis: from 00:00 Monday to 23:59 Sunday and is sold through Thursday. On Friday, the card for the next week goes on sale!
Food
You have to pay sane money for nutrition only when buying products (cheese, fruits and vegetables, croissants, wine or cider) in supermarkets. And, accordingly, cooking on their own. If, of course, the size and equipment of your room or apartment will allow to do this.
Breakfast in a cafe costs 10-12 € per person, a hearty lunch – 15-17 €. A quick snack in fast food – 8-10 €.
A cup of coffee – 3 €, a bottle of water – from 1.5-2 €
Dinner for two by candlelight and ordering a bottle of good Burgundy wine will easily unload your wallet for 70 or more €.
Tours
For an hour-long water cruise on the Seine, you need to pay from 15-16 €. About 17-20 € will have to be paid for an entrance ticket to popular museums. Like the Louvre, Orsay or the Pompidou Center.
Sightseeing walks and trips around the city and beyond are much more expensive. In general, a 3-4-hour tour will cost at least 150-160 €.
Things to do
The only place you definitely won't get to in Paris in 2022 is Notre-Dame. As you know, the famous cathedral burned down and is now being restored.
But you can see the royal Sainte-Chapelle with exquisite stained glass windows. Visit the castle-fortress of Conciergeri and a lot of exquisite metropolitan churches. Take a look at the Pantheon and Les Invalides.
And also – it is more than logical – to cast a glance at the metropolis from the site of the Eiffel Tower. Well, or from an observation platform on the roof of the Montparnasse skyscraper.
We also recommend paying attention to the temporary exhibitions held in the best Parisian museums. Perhaps something like this will be held in the Luxembourg Palace in the fall of 2022. But if not, you can always wander around the Luxembourg Gardens. Especially beautiful in October.
We advise you to give a couple of hours of time to the private Jacquemart-André Museum, usually in the deep shadow cast by the Louvre and Orsay.. Because in addition to the paintings you will see well-preserved interiors from the times of the "brilliant age".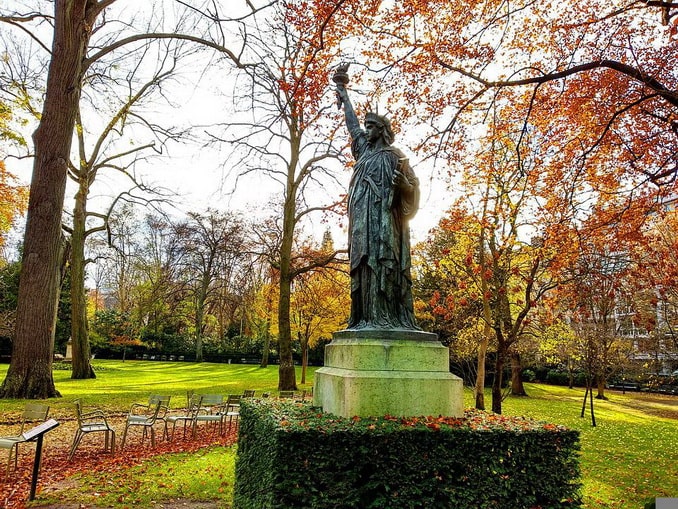 Where to go
We highly recommend taking a trip out of the city. Since the parks and gardens of royal and other residences definitely evoke strong emotions at this time.
Any guidebook will call you to Versailles, Chantilly or Fontainebleau. But in Malmaison – only a few.
It is worth going to Rouen. Admire both the famous cathedral and the beautifully preserved half-timbered houses.
Many want to go to the Normandy island of Mont Saint-Michel. Moreover, in the middle of autumn there aren't too many travellers here!
An experienced traveler will design a trip and more authentic. For example, with a stop in Brittany and a visit to the interesting city of Saint-Malo.
The Loire Valley is also a very popular destination, for the local castles are rightfully among the most interesting sights of France. And they just ooze history.
You can visit famous chateaus like Chambord, Chenonceau, the royal residence in Blois. But it is better to choose one of the unknowns.
© Goodtimefortrip.com