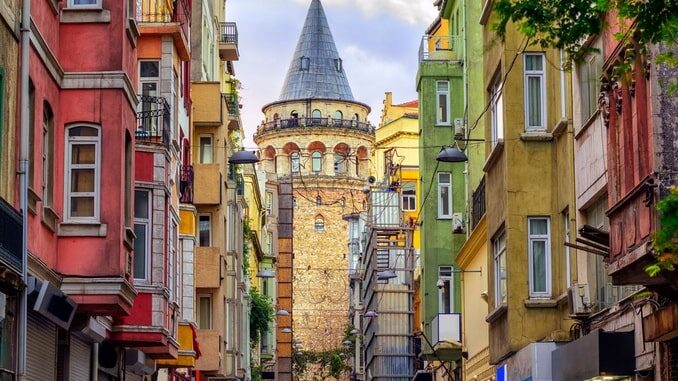 Turkey in September 2023 – where is it better and warmer? Weather in Antalya and Kemer, Marmaris and Bodrum, Istanbul and Cappadocia, sea temperature, hotels and excursions prices. Best places for vacationing in Turkey in September with swimming or sightseeing purposes – found out  good Time for Trip.
Before the pandemic Turkey was one of the most popular beach destinations in the world. And has every chance to remain it today. Once the country even pretended on more: with a noticeably lower cost of sea holidays compared to the European ones, offering comparable service and tourist infrastructure.
Now, the situation has changed a little, and prices in Turkey have grown. However, fortunately, not so much that the country has lost its attractiveness for travelers.
Especially when the hot summer months are over and you don't need to look for a saving shade all the time so as not to get baked in the sun. That is why European and American tourists are willing to go on holidays in the sea resorts of Turkey in September. They are equally excited for vivid emotions to visit Istanbul and Cappadocia, other interesting places of the Asian country.
Best Ways
They can be understood! Especially when you consider that with independent planning, and not buying a tour, you will be able to combine the first and second within the same trip. As part of an organised tour – for example, you won't need more than 1 day to visit main attractions in Antalya, – or during a self-made multi-day travelling.
We especially strongly recommend planning and implementing the latter – in the same Cappadocia in September it's not just pretty warm and clear, but also very beautiful. Places like Pamukkale, at the end of autumn, gradually begin to get used to life without tourists. And only Istanbul at the beginning and end of September is boiling as if the season doesn't even think of stopping…
However, let's go in order!
Best Places in Turkey in September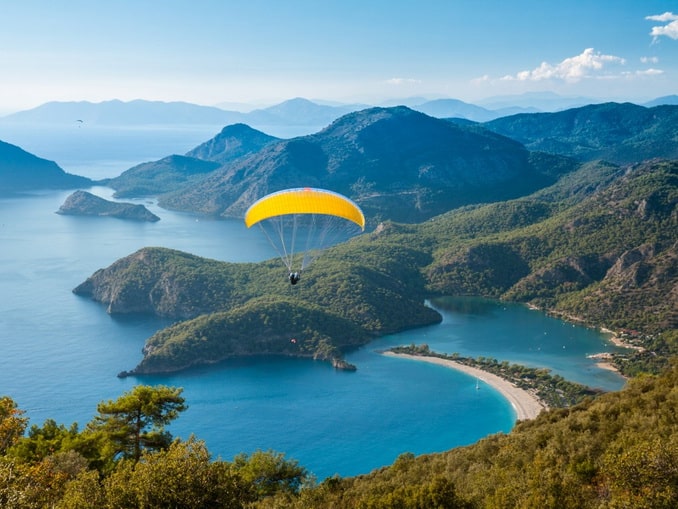 There is no single-valued answer to this question in nature – everyone chooses based on their own preferences.
Lovers of moderate heat, but warm sea, in September is going on vacation in Bodrum or Oludeniz. Those who can fry on the beach at +35 °С will undoubtedly go to Antalya or Side.
Those who want to see historical sights are unlikely to be satisfied with the ancient ruins of Perge and Aspendos – instead they will go to explore Istanbul. Well, tourists who aren't themselves from the beauties of nature will certainly want to fly and walk around Cappadocia.
But we will start with the most logical:
Bodrum
in September looks a bit like its own August version, but is characterized by much lower air temperatures. That is, in this month, those vacationers who don't accept sultry weather will feel good themselves in Bodrum.
The air temperature, as in Antalya, tends to +28-30 °C range, although in the evenings it drops down to around +22-24 °C. Giving tourists the long-awaited coolness, and with it a feeling of real happiness. Encouraging a lot of walking around the city and beaches, and sitting for hours on the seashore.
But by the end of September in Bodrum it becomes noticeably colder, on some days the weather transparently hints that it's a real autumn in the yard. And if during the day it's often about +23-25 °C, then at night the thermometers often show no higher than +17 °C.
But no less! Therefore, in this case, you don't need to take with you too many warm clothes. On the contrary, we would advise you to concentrate more on evaluating the available space in order to bring more gifts from Turkey.
Only those who are not going to spend all their vacation time on the beach should stock up on some autumn clothes. For to be able to go somewhere inland…
It shouldn't surprise you – September is one of the best months to travel to Cappadocia!
Keep in Mind
As for the rains, they behave almost imperceptibly at the start of autumn in Bodrum and the Aegean coast of Turkey in general. The average rainfall usually doesn't exceed 25 mm per month. Which in non-meteorological language means 2-3 days of light rains, lasting 1-2 hours.
In some years, the second half of September in Bodrum throws a surprise to the holiday-makers. In the form of not summer rains and rather cool weather. But statistics stubbornly convince – such excesses are rare at this point of the planet.
Things to Do and Prices
Entertainment in Bodrum and the surrounding area is an order of magnitude less than in Antalya. In fact, you can only count on a tour around St. Peter's Castle, a visit to the ruins of the Halicarnassus Mausoleum and views from the hill with the windmills.
But at the same time from Bodrum it's much more convenient to get to Pamukkale and the ruins of Ephesus. Also you can go relatively easily and quickly to Istanbul.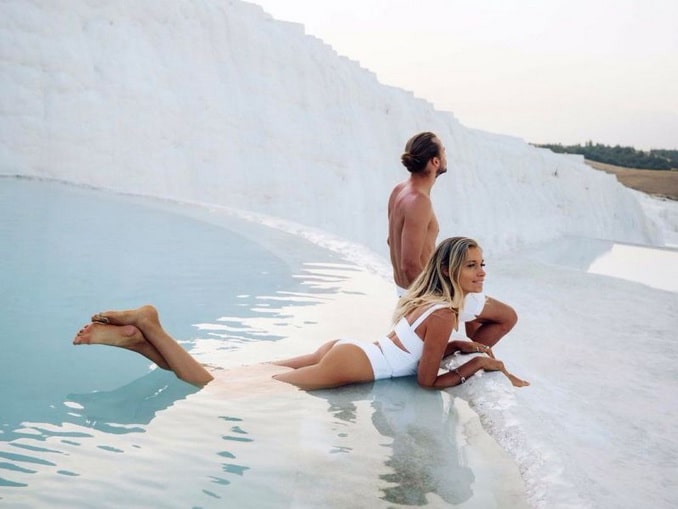 All of the above, concerning the weather and distances, as well as entertainment with non-fundamental amendments, can also be applied to resorts such as Marmaris and Fethiye.
Hotels, if booked 3-4 months before the trip, cost from 50-60 € for two people per night. If you miss the moment, you will choose from the remaining ones at a price from 90-100 € per day.
Perfectly located relative to the beach and the city center and in principle not too expensive Ilya Apart 2. Fresh reviews praise not only cleanliness and silence, but also fast Internet, as well as the presence of a terrace with wonderful views of the sea.
Recently renovated and located in the heart of the resort By Muhtar Bodrum. Not yet acquired a sufficient number of reviews and therefore holding a very nice (quite modest) price list.
Antalya and Alanya
At first, it looks pretty much like its own summer version. In any case, in the first half of September, the air in Antalya steadily warms up to +28-32 °C by noon. And at night it doesn't hurry to cool down to temperatures less than +22 ° C.
The sea is warmed up to +26-27 °C, the humidity in most cases is at the optimal level (up to 75%). So, in principle, you don't have to complain often about a shirt sticking to your back or a swimsuit that doesn't dry at all after another swim.
If you have been vacationing in this Turkish resort in the summer, then in September you will be able to compare impressions. We are almost sure that they will be much more enthusiastic!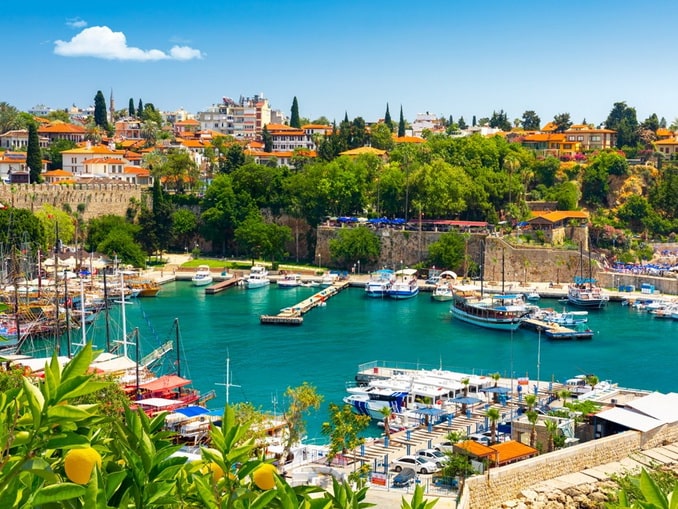 In the second half of the month, you should prepare for a slight cold snap. During the day, the thermometer columns move in the range of +25-28 °C, at night it can be about +18 °C.
That is, in fact, excellent conditions are being created both for excursions around the city and country trips. Will be very pleasant and evening gatherings on the terraces of restaurants – in a soothing cool atmosphere, you will taste the hearty dishes of the national cuisine of Turkey with much more pleasure.
Approximately the same, that is, moderately hot or just warm, the weather is in September in Belek and Side. In Alanya it may even be a little hotter.
But in Kemer, on the contrary, the climate is always a little cooler and wetter – the sun goes to rest early, since the resort is limited by high mountains from the west. And the humidity there is usually higher for the same reason!
What to Do and Prices 2023
The amount of entertainment in Antalya and near in early September is great! There are water and amusement parks for kids, a big aquarium in Antalya, yacht cruises along the coast and excursions. Both in the vicinity: to Demre and Kekova, to the canyons, and further: to Pamukkale and to the "Turkish Maldives".
As well in early autumn you can easily get from Antalya to Cappadocia and even Istanbul. Both as part of an organized 1 or 2-day tour, and independently!
All of the above about Antalya applies to nearby resorts. And also to the noticeably to the south, but cheaper Alanya.
If you don't use the services of travel agencies, then you will have to spend about 70-100 €.
For around 90 € per day you can rent a spacious room in a good hotel or even a separate apartment for a couple of people. They will be located, most likely, at some distance from the sea – Adam Apart Hotel – but this is where their disadvantages are exhausted.
If you want to stay in the center of the old town, Kaleici, which is not the most natural choice in hot September, then pay at the lower border. It's worth paying attention to the modern and comfortable The Easy Rooms Verandah. Whose rooms are small, but quiet. And the location of this hotel is just gorgeous!
Choosing something in the Lara suburb, bordered by beautiful sandy beaches, will not necessarily lead to a lot of spending. In particular, you can rent spacious Cozy Apartments for more than a modest 50 € per day.
Istanbul
We warmly advise you to include main Turkish metropolis in your list of must-visit places in Turkey in September. Though resorts on the Black Sea and even the closed Marmara one at this time of the year are not particularly pampering vacationers.
And if air temperatures often tend to summer values above +28-30 °C, then the water area gradually cools down. Closer to October, the local weather actually prohibiting swimming for those who like the sea temperatures above +22.
As for the weather in Istanbul in September, it's sometimes excessively hot – during the first two decades of the month, the air temperature regularly rises +26-30 °C. In some years, it can be higher, which turns excursions around the city center into an endurance test!
So, don't forget to take with you in trip sunscreen, long-brimmed hats. An other things that are just as useful in the hot season.
On September nights, thermometers in Istanbul also don't fall below +20 °C – at least in the first half of the month. Although after sunset it gets chilly on the shores of the Bosphorus – at this time you will want to throw a jacket or a light jacket over your shoulders.
By the end of September, you can expect a significant cooling – the temperature may not rise above +20-22 degrees Celsius during the day. Rains are rare here in early autumn – there are 3-4 days of inclement weather at most.
By the way, the water temperature in the Marmara and Black Seas in September allows almost any citizen to swim. Since the water is warmed from +23-24 °C at first to +20 °C closer to October.
Trips and Prices
So we advise you to set aside 1 or 2 days for a trip from Istanbul to the sea. For example, to Kilyos, a Black Sea resort near the city, or to the Princes' Islands. Someone leaves for the weekend to Shile or Agva, popular seaside towns about 70-80 kilometers to the northeast.
As for the prices in hotels, for 70-80 € per day a couple of travelers will be able to get together in the central district Fatih. For example, in such a 3-star hotel as the Grand Rosa Hotel, from where you can walk to the Blue Mosque and the Topkapi Complex in just a few minutes.
Cappadocia
Another tourist destination in Turkey, whose attendance is growing at an incredible pace. So, of course, if you want to save at least a little some of money and not go everywhere in a crowd, it's better to explore Cappadocia at the end of September.
Since it will still be warm and sunny there at this time – by noon the air temperatures reach +20-24 degrees Celsius. Nights are much colder (up to +10-12 °C), but you are unlikely to visit the local cave towns and walk through the valleys after sunset.
The probability of precipitation, as in other regions of Turkey in September, is low in Cappadocia. The statistical norm is 1-2 rainy days per month. All the others are mostly sunny.
The winds at the beginning of autumn even moderate their ardor somewhat in comparison with the summer months. Therefore, it's unlikely that your balloon flight will be canceled for this reason.
Due to the high popularity of the region in almost any month of the year, booking a hotel in Göreme or Nevsehir costs 3-4 months before the visit. From inexpensive and high-quality hotels we recommend Olivia Cave. Whose large double room with an area of about 35 m2 in early September will cost 50-60 € per night.
Definitely need to consider the offer of Royal Stone Houses. A hotel that isn't located in the very center of Göreme. But it's quite inexpensive and in terms of the sum of qualities has earned a rating of 9.3 in the Booking system.
© Goodtimefortrip.com