Cyprus in September: time to relax, or you are late? Weather and water temperature, hotel prices and excursions 2022. What you can do in Cyprus in early autumn and what to see, whether it is worth renting a car – in a detailed review of good Time to Trip.
Cyprus is a small island in the eastern part of the Mediterranean Sea. Thanks to its mild climate, as well as the abundance of excellent beaches, it has managed to establish itself as a prominent resort destination.
As well – inexpensive! And, thanks to the presence of a considerable number of attractions and authentic villages that have perfectly preserved the centuries-old way of life, it is also interesting. So much so that even in winter travelers go to Cyprus.
However, we are not talking about that here. So let's discuss a much more burning topic – how hot is in Cyprus in the beginning of September? And what will you lose if move your resting to the final part of the first month of autumn?
If you didn't know, in the summer in Cyprus sometimes there is literally nothing to breathe. And in August, the air temperature on the "Island of Aphrodite" may exceed + 50 ° C.
That will seem tolerable to a very small part of potential holidaymakers. And it does not suit the local vegetation at all. Showing very little desire to turn green, let alone bloom in the midst of the season.
However, these are all words. Let's go to the numbers!
Weather in Cyprus in September
Able to get an ovation. True, so far only with local residents! Since the holidaymakers who came to rest in Cyprus in the first decade of September are not able to fully experience all its charm.
Since the air, out of habit, is calcined to + 32-34 ° C before noon. And at first we are not talking about any "velvet" time with mild weather at all.
Rain falls at the very minimum, in most cases they can not wait at all. And the sun is scorching like it's been resting all summer. But now set to catch up.
Clouds begin to loom in the sky usually not earlier than in October. Which on a Mediterranean island is also very pleasant – because it is fresh!
Humidity in September is in a healthy range and rarely exceeds 65%. Thanks to that hot weather is tolerated relatively easily. In any case, those who have no reason to complain about their heart and blood vessels.
Subconsciously, of course, you are waiting for a little more coolness – after all, it is autumn in the yard, and not the middle of summer. However, for those who easily endure such heat and sometimes presumptuously ask for more, Cyprus in at least the first half of September looks attractive.
Toward the end of the month, on the island gets a little colder. Daytime air temperatures drop to moderate + 25-27 ° C, at night you may even wake up with a desire to wander outdoors for a long time. Why not: at +22-24 ° C and under a full moon?
In 2021, the air temperature in Cyprus only after September 25 began to descend into the indicated range. Prior to that, it regularly climbed to levels above +27-28 ° C.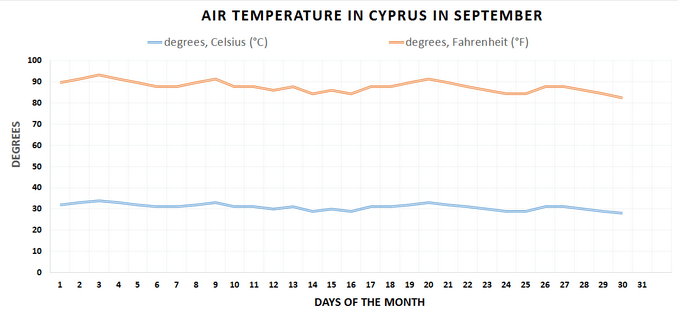 Water temperature
In early autumn, the sea off the coast of Cyprus is usually warmed up to + 26-28 ° C. That is, it starts to refresh a little – in summer the local water area with a temperature of +30 and above does not cope well with this function.
Traditionally on the west coast: in Ayia Napa and Protaras, the water is a degree or two warmer than in Paphos and even Larnaca.
By the end of September, the sea in Cyprus cools down to + 24-25 ° C almost everywhere. And willingly takes into its arms the next wave of holidaymakers. Worked after the summer vacation for a month. And again going to rest from exorbitant efforts.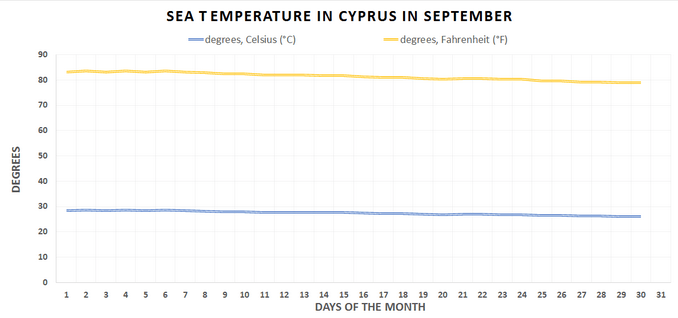 Prices 2022
Hotel prices aren't particularly dependent on which of the resorts in Cyprus you decide to stay. However, in Paphos or Protaras, accommodation costs a little more than in Larnaca or Limassol.
In Ayia Napa you can subscribe to very good Myriama Apartments or River View Boutique Apts. For about 50-55 € for two per day including all taxes and fees.
Very nice price, right? Especially when compared with European realities!
Paphos? In full accordance with the name is not inclined to waste time on trifles.
Although here for a similar amount you will find a decent option – Crystallo Apartments. Located, which is nice, close to the Archaeological Park. Of course, it is better to book this studio 2-3 months before the intended trip.
In the case of Larnaca, you will have to overpay about 100 euros for a weekly stay at Marina's Rooms Xrisopolitissa Larnaca. However, there you will find a deluxe room and breakfast.
In Limassol, we advise you to pay attention to the spacious Artemis Boutique Apartment 1. Which are located across the road from the beach!
Meals in a cafe in Cyprus will cost approximately the same amount as anywhere in Italy. Pizza for 6-10 €, main hot dish – for 10 €, a cup of coffee – for 2.5-3 €. A glass of local wine will be offered for 3-4 €, small desserts are sold for 4-7 € per serving.
Car rental in Cyprus is a pleasure worth from 20 € per day. Anyway, on the brink of high season!
For the specified amount, you will be offered a small Honda Fit car with low fuel consumption. A slightly larger auto costs from 28-30 € per day.
Things to do
If you are on vacation with children, we recommend spending a day at the water park. Because those in Cyprus are still working in September!
The largest, Fasouri Watermania, is located in Limassol. There are noteworthy establishments in Ayia Napa and Paphos. The cost of entertainment is about 40 € / a ticket for an adult visitor.
Tourists who are not going to rent a car are advised to pay attention to individual excursions. Usually not template and with a very interesting format for presenting information.
For those who expect to explore Cyprus on their own by car, their hands are untied.
What to see
It is worth taking a closer look at the authentic villages and ancient monasteries in the mountainous part of Cyprus. It is well known the monastery of Kykkos, at one time treated kindly by the attention of the Byzantine emperors.
Worthy of visiting are mountain villages: Pedoulas and Mutulas, Latchi, Kakopetria, Platres. In the first of them, the ancient church of Michael the Archangel attracts attention. It dates back to the end of the 15th century and, due to its uniqueness, is included in the UNESCO World Heritage List.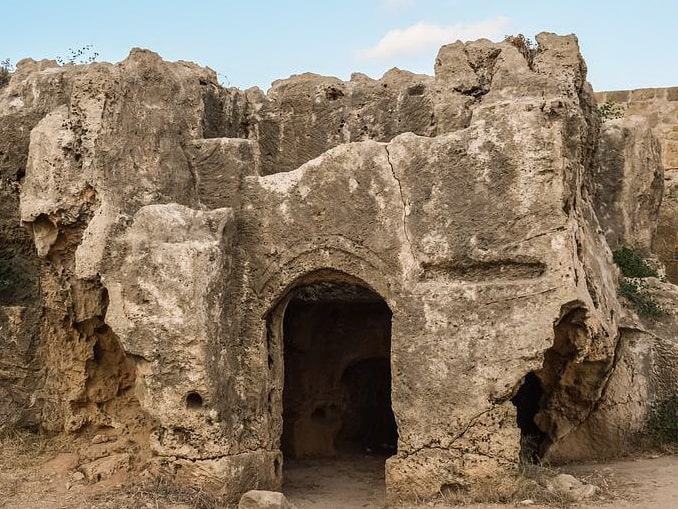 It beckons with its turquoise water and the beautiful beach of the Blue Lagoon in Akamas Park. Equally, we advise you to spend the day on walks in the park itself. One of those attractions of Cyprus that do not catch the eye of tourists.
Keep in mind very beautiful Avakas gorge near Paphos – in any case, people come to see it even from the east coast of the island
Mandatory to visit the ancient Roman villas with mosaics in Paphos. Definitely worth paying attention to the archaeological museum of Limassol, the ruins of the ancient cities of Kourion and Amathus.
Equally, one should not miss the opportunity to visit Cape Greco near Ayia Napa. See its most beautiful grottoes in limestone rocks, swim in the amazingly clear sea. Maybe go diving here – if the qualification allows?!
© Goodtimefortrip.com