Ascent of Mount Etna in Sicily 2024: how to get to the base, how hard is climbing to the top? What is the main volcano in Europe famous for, when was its last eruption? How much do organized trips to Mount Etna cost, what interesting towns are worth visiting nearby – found out good Time for Trip.
Etna is the highest active volcano in Europe. It is located on the island of Sicily in Italy, on its eastern coast. The distance from Catania to the southern slope of Etna is no more than 35 km. That's why organized excursions to this mountain usually start from this (quite) big Sicilian city.
The volcano's height is approximately 3,329 meters, and today anyone can climb Etna. However, this activity can't be considered entirely safe as Mount Etna is quite unpredictable and constantly spews lava, ash, and smoke.
Moreover, it does so from new locations constantly. Therefore, no tourist embarking on an ascent of Mount Etna can feel safe himself, and there are frequently reports of amateur climbers narrowly escaping harm on the Internet.
Despite this, climbing Etna is actively encouraged because it is one of the main attractions of Sicily and a significant source of tourism revenue. Many visitors who don't consider themselves mountaineers climb Etna using a cable car (up to 2,550 meters) and then a 4×4 vehicle.
By the way, if you didn't know, vineyards are cultivated near, and the soil on the eastern slope of volcano is particularly favorable for wine production. Local wines are considered unique and sophisticated products. So, we recommend bringing a bottle or two from Italy as a souvenir, preferably from I Vigneri di Salvo Foti, a wonderful local winery.
How to Hike Mount Etna
Reviews from people who have climbed Etna are mixed. Some say that the volcano looks better from afar and is much more photogenic from a distance. Others are happy to have conquered their natural fear, made it to the top, and gazed upon Sicily from a height of three kilometers.
Either way, when climbing Mount Etna, even in the summer, it's advisable to be prepared with warm clothing and comfortable footwear. The latter is particularly useful if you decide to forgo the 4×4 and hike up on your own.
As for the best times, ascents are practically conducted every year. However, for hiking Etna, it's better to visit Sicily in May or, for instance, in October when the summer heat has subsided.
You can and should take excursions to Etna even in the less crowded winter months. Very pleasant, sunny, and reasonably warm weather in Sicily offers March, not to mention April when the entire island comes to life with blossoms.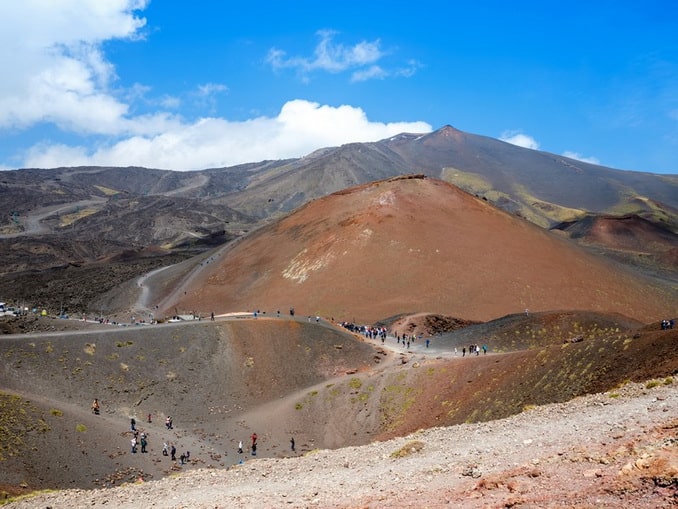 Visiting Sicily and not ascending Mount Etna is like travel to Rome and not seeing St. Peter's Square. However, the excitement here is even greater as volcanic eruptions have become quite common. For this reason, at any time, you can encounter people hoping to witness another lava eruption.
Note!
Some cautious tourists settle for admiring the famous cone from a distance, for example, from the ancient resort Taormina on the west coast of Sicily. Watching the snow-covered cone while sipping local wine made from grapes grown on volcanic soil—what could be better?!
For those who don't want to climb all the way to the top of Etna, you can explore the colorful Silvestri Craters. These craters, which formed as a result of the 1892 eruption, are located near the Rifugio Sapienza camp and are easily accessible.
Eruptions
There is a risk when climbing – Etna often spews lava unexpectedly. Villages on the slopes and at the base of the mountain literally live on a volcano. The tragic experience of Pompeii, Herculaneum, and Stabiae, which were destroyed due to the eruption of Mount Vesuvius, is taken very seriously here, not just as chapters in a book describing global catastrophes.
The most recent significant eruption of Etna occurred in May 2023, and it continued to emit smoke and ash into June. In February and March 2021, the volcano erupted for several weeks, spewing so much ash that Catania and nearby villages were covered in a black veil.
In December 2018, volcanic activity triggered a seismic event with a magnitude of 5, causing significant damage even in Catania and nearby towns, not to mention the small villages.
Tourists have also died while climbing Etna due to sudden cracks opening in the volcano's surface. To this day, the volcano regularly emits smoke like a smoker unable to kick the habit.
How to Get There
If you want to independently ascend Etna from the south, you should start by arriving at the base camp, Rifugio Giovanni Sapienza, located at an altitude of 1,900 meters on the southern slope of the mountain.
You can do this by taking a public bus that departs from Catania once a day at 8:15 AM from Piazza Papa Giovanni XXIII. The return trip departs at 4:30 PM.
Once you arrive, you can rent a vehicle or take advantage of the cable car services, which will transport you to an altitude of around 2.5 kilometers. Some people prefer to hike up Mount Etna, but this requires experience and skill.
In Taormina and Catania, even Palermo there are companies offer organized tours to the famous volcano.
What to Do Nearby
Closer to the volcano, you'll find Catania, which locals often poetically refer to as "Etna's daughter". The city has a history dating back almost four millennia, but not every traveler can truly appreciate its unique charm.
The town Syracuse, the birthplace of the famous Archimedes, boasts an impressive Archaeological Park. Promises a multitude of experiences exploring the authentic neighborhoods on the island of Ortigia. That is connected to Sicily by a bridge.
A visit to Taormina is highly recommended. The most famous seaside holiday destination in Sicily, it belongs to one of the best beach resorts in Italy. And at the same time, it also claims to be one of the most beautiful cities in the country!
© Goodtimefortrip.com