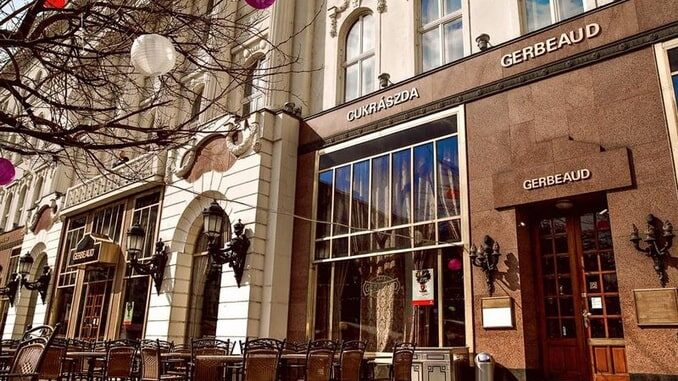 What dishes to try in Hungary, where to find them in Budapest? Ingredients, best recipes of the national cuisine, popular street foods, what to taste vegans? Which cafes and restaurants in Budapest to visit – in the overview of good Time for Trip.
During travels to unfamiliar countries, tourists always strive to try the national food. In the case of Hungary, getting acquainted with the local cuisine becomes a crucial element of the trip.
Not only because it's very original one, but for a more important reasons – it's also hearty. Therefore, dining at a restaurant or cafe in Budapest or any other Hungarian city will allow you to satisfy your hunger guaranteed. And stock up on the energy necessary for exploring a maximum number of attractions.
Of course, you should pace yourself. Have a rough idea of what a particular dish is made of and the standard portion sizes. After a full-scale meal with a lot of traditionally Hungarian dishes, it won't be easy to embark on sightseeing in Budapest with the same enthusiasm.
Because in Hungary, people love to eat high-calorie dishes made from meat and game, hearty and substantial soups, various stews. Even the desserts can easily derail your weight loss plan – so exercise self-control when ordering pies and other delicacies of the national cuisine!
Main Dishes to Try in Hungary
Soups play a central role in Hungarian cuisine. No meal here is considered complete without them, so we recommend following the local tradition and starting with a soup when dining in a restaurant.
Bográc
is a very hearty, original, and flavorful soup, the recipe of which was invented by Hungarian shepherds. These folks, due to their profession, rarely had the opportunity to eat, so they loaded themselves with maximum calories during each meal.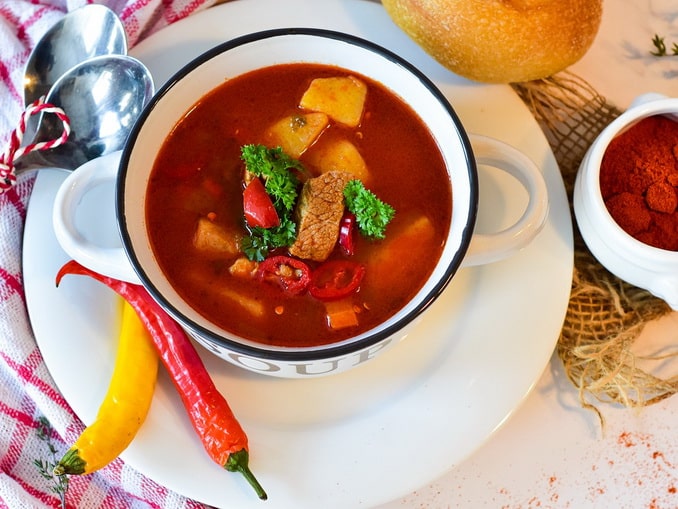 So if you plan to try bográc in Hungary, keep in mind that the dish includes meat and a variety of vegetables, including traditional sweet peppers, tomatoes, potatoes, carrots, and onions.
Bográc can be made with beef, and in some variations, smoked products or sausages are added for extra flavor.
Preparing Bográc is relatively simple – you don't need extensive culinary skills to make it. You can find this soup in almost any affordable café in Budapest, available with beef or smoked meats, for example, with pork ribs or sausages.
Simultaneously with cooking the soup in Hungary, it's customary to prepare csipetke, small pieces of pasta similar to dumplings. They are made exclusively from eggs and flour, and they are served hot.
Halászlé (Fisherman's Soup)
What can eat in Budapest those who prefer lighter dishes but aren't necessarily vegans? Those who don't plan to head back to the hotel immediately after dining. Instead – they want to continue exploring the city in the evening?
We recommend them trying Halászlé, a fish soup!
Originally prepared by Hungarian fishermen, it was simply called "fish soup with paprika." Not very imaginative, right? However, today Halászlé is a pride of the national cuisine, essentially "The Song of the Danube." Or perhaps of Lake Balaton?
Halászlé is made exclusively from freshwater fish, which makes sense since Hungary is quite far from the sea. The more varieties of fish are used, the richer and tastier the broth becomes. But carp and paprika are essential ingredients in the recipe.
Properly cooking Halászlé takes about 3-4 hours, and it's a process that can't be rushed. The dish is served in a pot, often with bread and sometimes with noodles.
You can enjoy delicious Halászlé in many Budapest restaurants, such as Csalánosi Csárda Óbuda Budapest, Hídfő u. 16.
Főzelék
This is an original Hungarian vegetable soup. It is suitable for strict vegans and those who, for any reason, want to enjoy a purely vegetable dish.
When preparing Főzelék, they use zucchini, spinach, eggplant, bell peppers, kohlrabi, lentils, and cabbage. All of this is sautéed and stewed, often thickened with flour for consistency and flavored with sour cream for taste.
Despite Főzelék being more of a vegetable stew than a soup, it is often served with Chipetke, making the meal quite hearty and satisfying tourists stomachs for a long time.
Gulyás
The main Hungarian meat dish is Gulyás, that falls somewhere between a stew and a soup. Originally a peasant's food cooked in cauldrons over an open fire and mainly consumed by shepherds, it has now become somewhat of a national symbol.
As a result, you can taste Gulyás in almost any restaurant or café in Budapest, and likely in any other Hungarian town. It's often sold in bread bowls at street food stands and has become a popular street food.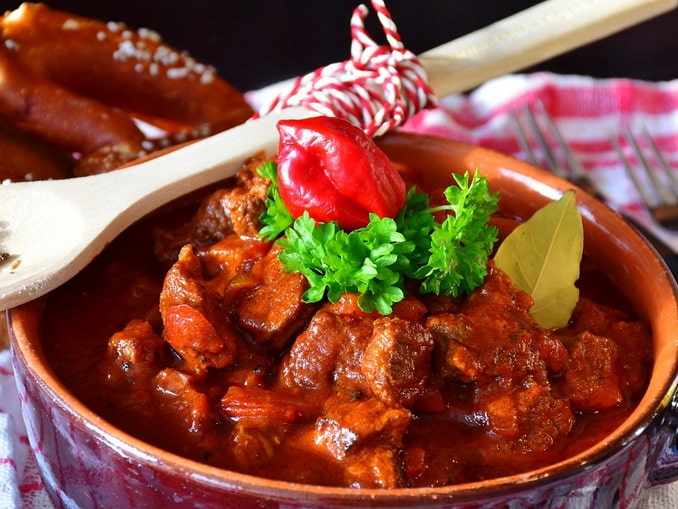 It's quite simple to prepare traditional Hungarian Gulyás. You just need to fry the meat and then stew it with vegetables and potatoes in lard. Key ingredients include paprika and caraway seeds, which give Hungarian Gulyás its unique flavor and spiciness.
This dish may not be suitable for those with sensitive stomachs, as it can be quite heavy food
By the way, if you travel to Budapest in September, be sure to visit the town of Szolnok, where the Goulash Festival takes place. With a massive turnout of curious visitors, this national dish is prepared right in the open air in huge cauldrons.
Obviously, there are plenty of eager tasters, but that's the charm of this festival – no one goes hungry, as there's plenty foods for everyone!
In Budapest, you can try delicious Gulyás for reasonable price at places like Klauzál Café & Restaurant, which offers live music also.
Paprikás csirke
A prominent representative of Hungarian cuisine is chicken Paprikás.
A quite simple dish, but when prepared correctly, it can create a gastronomic delight. It consists of meat, which is stewed in sour cream with onions and paprika. Traditionally, chicken meat is used, but today you can find versions with beef, lamb, or duck.
Traditionally, a large amount of paprika is added to Paprikás. So again, we do not recommend trying it for those with sensitive stomachs.
Paprikás is served with greens and vegetables. As a side dish, they use knedliki or traditional garnishes for meat dishes, Hungarian pasta products, tarhonya.
A natural addition to a meal with Paprikás is the famous Hungarian Tokaji wine.
You can try properly prepared paprikash, for example, at the not too expensive Paprika Vendéglő restaurant near Városliget. By the way, you can visit it for lunch or dinner right after set of swimming in the main thermal baths in Budapest, Széchenyi.
Libamáj
One of those dishes that you must try in Hungary! After all, Libamáj, tender and airy goose liver, is rightfully considered not just a delicacy but also an adornment of the national cuisine.
So if you hear that someone is planning to visit Budapest in December for the only reason and to taste Libamáj , don't be surprised.
The name of the dish comes from the combination of two Hungarian words: "liba" (goose) and "maj" (liver). The classic preparation process involves light undercooking so that the liver retains its natural pinkish hue. Libamáj is served both hot and cold.
So, in principle, you can bring this food from Hungary as a gift to your loved ones. Moreover, it's not difficult to buy Libamáj both at the Central Market or in various supermarkets in Budapest and the country.
Túrós csusza
If you consider yourself a gourmet and don't mind trying an unusual Hungarian dish, order Túrós csusza in a restaurant! However, you'll need first to find an establishment where they prepare it.
Despite the fact that this dish is originally from Hungary and is made from common ingredients, it's hard to find it in another country.
Túrós csusza consists of noodles served with cottage cheese, sour cream, and cracklings. Agree that this is quite an original combination, but nevertheless, this dish is one of the most popular in Hungary.
The noodles are boiled, transferred to a pan with fried cracklings, and topped with cottage cheese and sour cream. Interestingly, Túrós csusza can serve as both a main course and a dessert. In the latter case, powdered sugar is added on top or the noodles are simply sprinkled with sugar.
Unfortunately, we can't tell you exactly where in Budapest you can try authentic Túrós csusza. But we recommend looking for it in the menus of national cuisine restaurants.
Hungary has something to offer even to a tourist with a sweet tooth. To start with, we recommend trying…
Somlói galuska
is one of the most popular desserts in Hungary.
According to legend, the recipe for this cake was invented by a simple waiter in the mid-20th century. Despite its unassuming name, the dessert is a true pastry masterpiece.
Judge for yourself: three layers of sponge cake soaked in rum syrup, sprinkled with crushed walnuts, layered with rum-soaked raisins and custard cream. It is allowed to soak and become moist, then garnished with whipped cream, dusted with cocoa, and drizzled with chocolate.
The classic Somlói galuska is served in a rather unique way: in the form of small scoops taken from the cake with a spoon. To try this renowned dessert in Budapest, visit… any restaurant.
Rétes
Rétes is a festive roll, practically the Hungarian equivalent of Austrian strudel. Despite this, there is a legend in Hungary that French pastry chefs once sought the secrets of making Rétes.
Perhaps it's true, as French cuisine doesn't feature a wide variety of sweet dishes.
Rétes is made using a special type of flour. The filling for pastries can vary: nuts, raisins, and apples, cherries or plums, cottage cheese or poppy seeds, berry jams, or grated carrots. The finished delicacy is dusted with powdered sugar and served hot with tea or coffee.
You can try excellent Rétes in Budapest at Első Pesti Rétesház, not far from Liberty Square.
Krémes
Another popular Hungarian dessert is the Krémes cake. It is often compared to the famous Napoleon, but in reality, the Hungarian dessert has a different structure.
Krémes consists of two layers of flaky pastry with a thick layer of vanilla cream in between.
The cake is topped with powdered sugar and occasionally glazed with chocolate. It is served in square or triangular pieces.
You can try Krémes in many pastry shops in Budapest.
Doboš
While Rétes and Krémes have foreign counterparts, the Doboš is considered a true Hungarian heritage with undisputed origins. It's a torte made of 6 layers of sponge cake separated by chocolate cream. The dessert is topped with caramel glaze.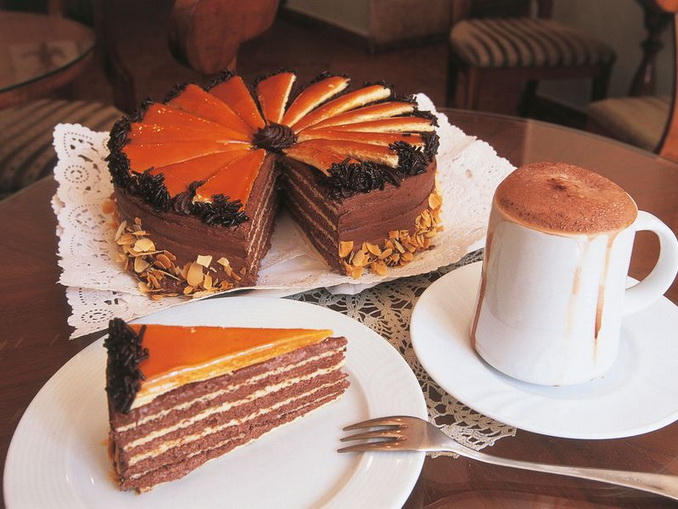 The torte was invented by Budapest confectioner József Doboš in 1885. Thanks to the special composition of the cream, it stayed fresh for a whole 10 days, making it easy to export to other countries.
Doboš also invented other culinary masterpieces, which earned him a place in history. If you visit Szentendre, a town near Budapest, you can even visit a museum dedicated to the celebrated confectioner.
You can often find Doboš and other Hungarian desserts offered in atmospheric cafes like Gerbeaud with almost museum-like interiors. It's a pricey and very atmospheric place that, according to recent reviews, has unfortunately lost some of its charm.
Well, we will continue our story with a description of traditional street food in Hungary. Because it is often the first thing tasted by tourists who have arrived in Budapest from the airport and intend to immediately satisfy their hunger after a long journey.
Fast food in Hungary
Like everywhere else in the world, Budapest and any other relatively large Hungarian city like to have a snack on the run. And who are especially ardent fans of this way to quickly satisfy hunger? Of course, travelers.
Who are always afraid of not having time to visit some prominent landmark or have very little time in between city tours. And the first thing they pay attention to is
Lángos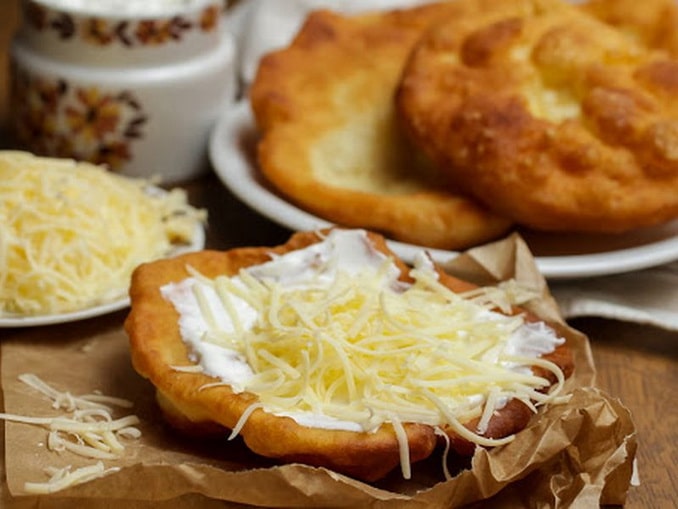 Perhaps this is the most popular Hungarian fast food. Although it is claimed that the Hungarians adopted this dish from the Turks, who in the Middle Ages made more than one attempt to enslave the European kingdom.
Lángos is sold literally everywhere in Budapest. Those who wish can try this popular street food in Hungary, both by buying it in street pavilions and at fairs.
Lángos is a large flatbread fried in boiling oil and provided with a filling. In the simplest version, it will be sour cream and cheeses, in more complex ones, ham and sausages, chicken, vegetables may also be present.
If desired, you will also find sweet Lángos, with chocolate paste and syrups, cream and berries.
Palacsinta
That is, pancakes are also incredibly popular in Hungary as a street food. However, they are served as a dessert in cafes and restaurants.
Especially well-known and considered a kind of haute cuisine dish Gundel palacsinta, which were invented by the Hungarian cook Karol Gundel. They are pancakes with nut paste under chocolate-rum topping and are still a specialty of the Gundel restaurant in Budapest.
Tourists can try other Palacsinta options in Hungary. In particular, not only sweet, stuffed with nuts and raisins, but also hearty: with meat, chicken, vegetable minced meat, melted cheese.
Kolbice
A much more original-looking dish. It is a bag of dough, where a variety of fried sausages are stuck in the manner of a bouquet.
The filling is filled with sauce. Depending on the cook's imagination, it can be supplemented with bacon or ham, cheese. Sometimes lettuce leaves, gift onions, cabbage are put in a bread cone.
Stalls selling Kolbice can be found many places in Budapest, as well as other Hungarian cities. Moreover, this traditional Hungarian dish is already being exported – similar street food can now be found in Austria and Slovakia, even Germany.
© Goodtimefortrip.com