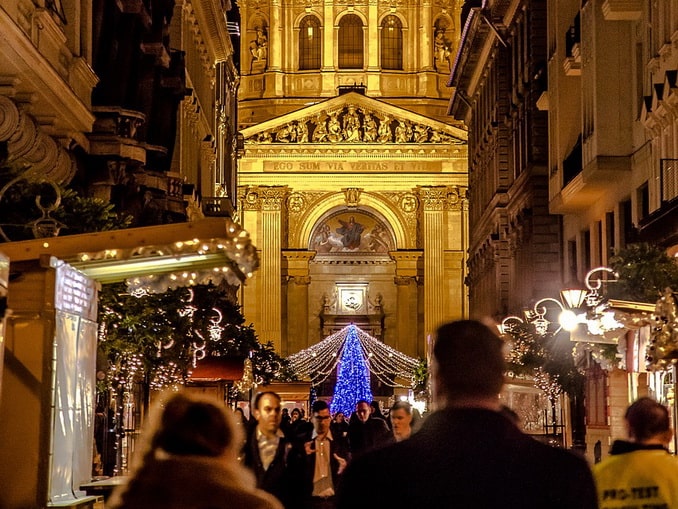 Budapest in December – is it worth going? Weather, how to dress, prices 2023 in hotels and on excursions. What to do in Budapest at Christmas and before the New Year, where you can go outside the city – in the review of good Time for Trip.
In modern Covid-19 reality, December has somehow ceased to be perceived as a pre-holiday time. Even if not completely, but having lost part of the aura associated with Christmas and the expectation of some kind of magic.
The usual first month of winter: cloudy and dank, – most potential tourists will say today. Exhausted by the reality of recent years and now not so often traveling abroad.
However, in some European capitals, the last month of the year still retains its amazing, centuries-old atmosphere. Hungary is no exception – December in Budapest, a huge but still very beautiful city, is filled with wonderful expectations.
Whatever happens in the world – closer to the New Year all problems should fade into the background – this is how Hungarians think. And therefore, the preparation for Christmas in Budapest, and throughout Hungary, is traditionally permeated with very good, kind, pre-holiday bustle. And the whole nation, together with tourists, plunges headlong into it, becoming part of some small miracle.
That is why we advise you to visit Hungary in December. To become a part of a truly memorable action, filled with joy, love, happiness. Learn to see the main thing and not pay attention to climatic imperfections.
Weather in Budapest in December
It will not give you excessive warmth. But usually not too frosty. It will be cool, where without it, but without extreme – a typical Central European winter. Not particularly respectful of snow, but disciplined not to let the trees bloom again.
The air temperature in Budapest, even in early December, typically does not exceed up to +4-6 ° C during daytime hours. Closer to night, the thermometers recede to zero. There are also periods of temperature increases up to +8-10 ° C… sometimes.
However, in December 2021, Budapest only once observed warming up to +12-13 °C. Right on the eve of the New Year!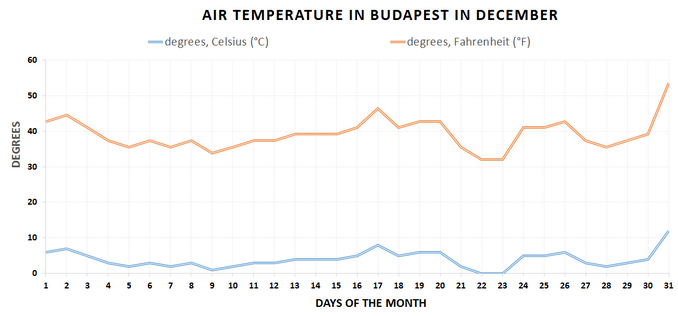 Usually, the air temperature ranges from +2-4 °C. Which on the one hand seems to shorten the duration of seeing main Budapest attractions. But on the other hand, helps to maintain tone with the help of hot sausages and large mugs of hot mulled wine.
Both the first and the second in Budapest on Christmas Eve are offered in abundance – fairs are open in almost every city square. The main one traditionally lives on Vorosmarty Square!
In addition to snacking right on the street, we recommend you sometimes make stops in shopping malls in Budapest. Or in cafes and restaurants!
For Hungarian cuisine is not only delicious, but also satisfying. It is not too rich in gastronomic delights, but it will easily warm up a frozen traveler.
Precipitation and Frost
It rains and snows infrequently in Budapest throughout December, but humidity is traditionally high. The ratio of cloudy and mostly clear days should please. Because, although there are few of the latter, they are not absent in principle.
So make no mistake – at least in early December, the local weather is quite generous on sunny days. And only closer to the New Year, as if tired, the sun is increasingly hiding behind clouds.
Usually! Because it is possible that during your trip everything will be exactly the opposite.
As for frosts, meteorologists register them almost exclusively at night. And even after sunset, a decrease in temperature to -1-2 degrees rarely occurs and for a short time.
But in December, fogs are frequent in Budapest – this is how the Danube shares with the atmosphere the heat accumulated over the summer and not given away in autumn. It looks literally fabulous: bridges and embankments are enveloped in a weightless and mysterious cape.
How to Dress
High humidity and low temperatures, even in the absence of frost, are a reason to carefully consider the choice of clothes. And go on a trip along the designated route, if not in a down jacket – in it you will sweat walking the streets and climbing slides – then in a comfortable and tight jacket.
A variety of hoodies, pullovers and sweaters can properly insulate you during a long stay on observation decks like the Fisherman's Bastion. Gloves, scarves and hats will warm you during a walk along the embankments of the Danube or a cruise on the river.
It is not always necessary to dress thoroughly for a water excursion. But if you want to sit on the upper deck during such a voyage, multi-layered clothes will not hurt – the breeze here cuts like a knife.
There is an opportunity not to freeze – Budapest has a well-developed format of culinary trips on boats. Pay a little more and enjoy a Hungarian lunch or dinner in the warm interior of the vessel. Not forgetting in admiration to poke with a fork at the landscapes floating outside the window…
Stuffing a suitcase with warm things, take with you some beach accessory. For even in the Hungarian capital, immersed in December fogs, anyone can find a place where to use bikinis and terry towels for their intended purpose. Yes, that's right – it's almost a crime not to personally try out the Szecheni Thermal Baths or any other ones.
Prices 2022
As it has probably already become clear, winter Budapest is best suited for a romantic trip. Don't have a solid bank account? It doesn't matter!
Since it is quite possible to find a hotel room for a price of about 45-55 € per night. Even if you decide to stay in the center!
Buda Butik Rooms, by BQA, located near the bank of the Danube and a few minutes' walk from the Chain Bridge, is an excellent option. And at least not the worst Budapest Art Nouveau Apartment in Buda! The 49 m2 apartment with its own kitchenette is located about 1 km from St. Stephen's Basilica.
Not far from the parliament building there are inexpensive and "very cozy" Riverbank Apartment At Parliament. The choice of economical but comfort-sensitive people will be the Budanest Apartments in Pest. Where for 40 € per day you will get at your disposal a modestly furnished, but equipped with everything you need apartment.
What to Do
Even if you don't go to The Nutcracker – and this ballet in Budapest is given regularly before Christmas and a little later – there is something to do in winter. Moreover, you will not be able to really freeze!
After all, since November several Christmas fairs have been starting their work in Budapest at once. The main one, as we said above, traditionally unfolds on Vorosmarty Square in Pest.
Mulled wine in original earthenware mugs, fragrant coffee, roasted chestnuts, sausages and sweets…. As well as other food, cooked right in front of you in a hurry, but no less delicious, will make your walks not particularly exhausting.
Naturally, it is worth walking along the streets adjacent to the Buda Fortress. Admire the royal palace, visit the Hungarian Art Gallery… And then to throw a coin into the Matthias Fountain – to certainly come back here.
Many people climb the hill on an old funicular. But we advise you to go upstairs on foot – at the same time you will warm up. Along the way, enjoying the views of the Danube…
The obligatory program of any traveler includes: the Fisherman's Bastion and the incredibly beautiful Matthias Church in Buda. As well as the parliament on the other side of the river and the Basilica of St. Stephen, the high-rise dominants of the old city of Pest. The observation gallery around the dome of the cathedral is one of the best observation points in the capital.
Baths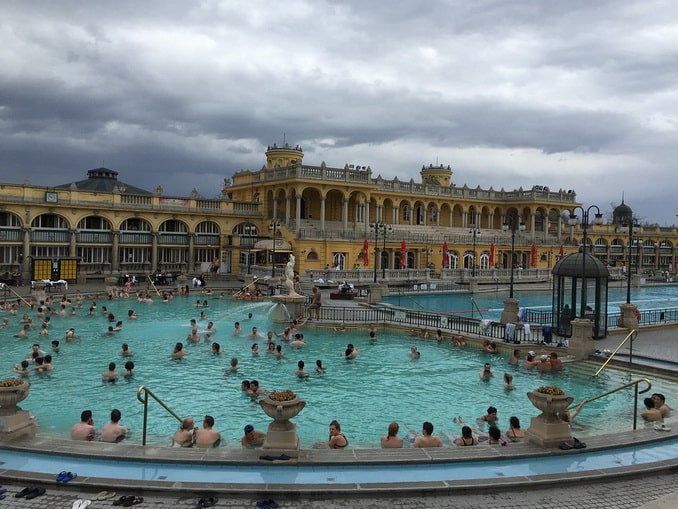 We also recommend visiting the main city park Varosliget and at least have a peek at the Vaidahunyad Castle. And connoisseurs of rare souvenirs will not fail to get to Falk Miksa Street. After all, there are a lot of antique shops and galleries located here. And in the famous Kieselbach Gallery auctions are regularly held.
Once again, remember about the possibility of visiting Budapest baths. Not necessarily the famous Szecheni in Varoshliget – the Gellert Baths, which are located near the hill of the same name, are also praised. We highly recommend also paying attention to Lukacs Baths, which is located near the Margit Island.
Where to Go
Lake Balaton is one of the most obvious places in Hungary, which every foreigner should visit even in winter. Moreover, it is located at a distance of only a two-hour trip from Budapest.
In December, Balaton, of course, does not enjoy the same summer demand. But it's also for the best – very rare tourists wander through the cozy streets of Kesthey and swim in Lake Heviz. If we are not talking about the last week before the New Year…
Should you go to Bükk National Park in winter? We don't think so – it is better to leave the ice-covered paths and snow-covered forests until summer or autumn.
But it is quite possible to see the Eger Fortress, taste local wine and stroll through the perfectly preserved ancient streets. After all, the town of Eger does not lose its charm even in the off-season.
Equally quiet and beautiful is the Baroque Gyor. Next to which is the famous, UNESCO-protected, Pannonhalma Archabbey.
© Goodtimefortrip.com