Istanbul in September: is it worth going and how to dress? Weather, water temperature, prices 2022 for hotels and excursions. What to see in Istanbul in early autumn, where you can go – in the review by good Time to Trip.
For some unknown reason – to us personally – many stubbornly refuse to consider September as the most important, if not the best component of the high tourist season. Although it would seem: the weather is often gorgeous, the sun is in abundance, and even the sea is sometimes warmed up to pleasant temperatures.
In September Istanbul is no exception to the rule – on the contrary, the "picture" seems to be painted from it. The only thing that can raise doubts among a potential vacationer is whether he should go somewhere further south in early autumn? To catch the elusive summer by the tail and swim – instead of exploring the sights?!
We tend to think that this is a promising and very interesting undertaking. But we refuse to understand – why can't it be made one of the points of an extensive entertainment program?
May be…
Let's say you can go to Istanbul in early September, and then move towards the resorts of the Aegean or the Mediterranean in general? After all, the distances and duration of a standard two-week vacation allow you to do this?
And you can easily go from Istanbul to relax in Bodrum or in Antalya
In Marmaris or Kemer, Alanya in general!
Dreams will come true – you just need to rent a car at an affordable price. And stop being nervous – driving in Turkey is no more difficult than in Europe.
We emphasize that most travelers are no longer interested in all of the above at the beginning of autumn. Because they return to working days and temporarily lose interest in distant countries and curious destinations. And this is an additional reason to think about the trip, isn't it?!
Weather in Istanbul in September
To describe it in one word – hot, sometimes even too much. In any case, by noon the air temperature easily reaches +30 °C. And sometimes it gets over this psychological boundary.
What matters is stability. Indeed, until the third decade of September, Istanbul observes weather that is not prone to fluctuations and, moreover, serious failures.
Because even at night the thermometers do not tend to fall below +20 °C. And during the day they keep the interval + 25-28 as if sewn on.
Note that we say this for a reason, but with "meaning". So that you do not forget to take sunscreen and other things that are equally useful in Turkey with you on a trip.
By the end of the month, we can expect cooling, and often spasmodic: today +25, and tomorrow – only +18 °C.
But, again, extreme is not expected. A tourist just needs to put on a jacket or sweater, going on an informative 5-hour tour of the old city.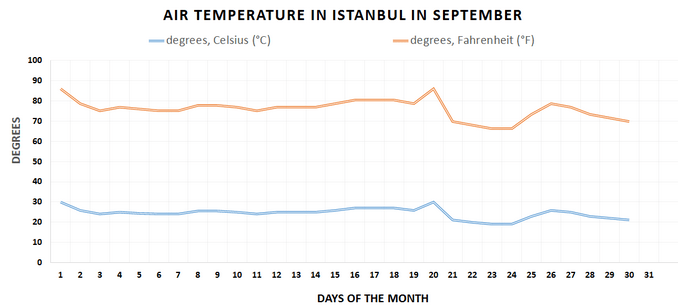 Rains here at the beginning of autumn are rare guests. According to statistics – and in this case it can be considered an exact science – for the entire month a maximum of 30-40 mm of precipitation falls. Moreover, rainy days are on the strength of 2-3 days.
It should be understood that the rest are certainly sunny? Of course not. But clear weather is still a priority!
Water temperature
The Bosphorus, Black and Marmara Seas near Istanbul are enouhg warm in September. In any case, they allow almost any citizen to swim.
The water temperature fluctuates from + 23-24 °C at first to + 20-21 closer to the end of the month – the Black Sea near Crimea can only dream of such values.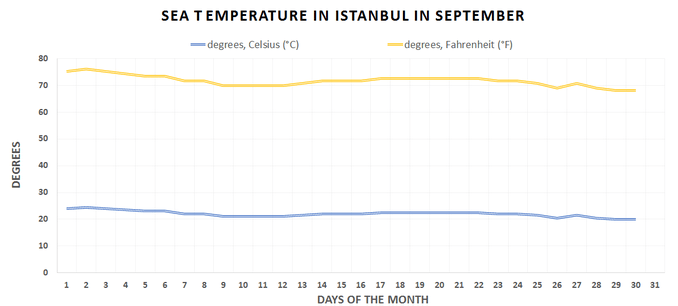 It is unlikely, of course, that you will try to swim in the Bosphorus – you don't want to get hit by a tanker! But you can go to the same Kilyos, a popular Black Sea resort nearby, completely. Yes, and the Princes' Islands – beckon!
How to dress
From the above, it is clear that there is no need to unnecessarily overload the suitcase with little things … unless you decide to put on a new outfit every day. But today, it's probably better to leave more empty space. To bring gifts from Turkey to relatives and friends – both original souvenirs and quite practical or just tasty things.
One way or another, a hooded windbreaker has a good chance of coming in handy in Istanbul at the end of September – not in the afternoon, but in the evening. If you are planning to travel to Cappadocia for example, a sweater or sweatshirt may come in handy.
Such clothes will almost certainly please you even during an evening walk along the Bosphorus – near the water, the wind seems to feed additional energy. And he gladly "cuts" bare tourist arms and legs.
Prices 2022
Ultra-early booking according to the innovative scheme "spring for autumn" promises, if not a lot, then still positive emotions. Since the chances of making a profitable deal are high, you only need to diligently monitor promotional offers.
Take Meserret Palace Hotel – Special Category for example. The very center, 4 stars, fashionable and expensive…
But sometimes they make a discount here: a room for two in early September can be rented for 90 € . It's not too expensive for this level and breakfast is included in the price!
Much more modest in terms of price (25 €) Hotel Orkide in the same Fatih area. But its rating in Booking (9.3) hints that you are unlikely to be disappointed if stay here.
Between Sirkeci Station ("Orient Express" by Agatha Christie, remember?) and Topkapi Palace, in the Sultanahmet, located Villa Sweet Hotel. The price tag is tolerable – 65 € per night… with breakfast!
Relatively inexpensive (75 €) Florenta Hotel, which is located at a distance of 600-700 meters from Gulhane Park and the Blue Mosque. "Very good" breakfasts, which, according to one of the reviews, it is quite possible to stretch until dinner, are included in the price!
Things to do
Now about the most interesting. Which lies not only in a rich program of events that allow you to see Istanbul in all its glory. But mainly in the freedom of hands – at the end of the excursion program, you may well move to rest on the sea!
It is worth taking three or four days to explore the ancient city – you will spend several hours on the Topkapi complex alone. But you need to pay more attention to Hagia Sophia and the Blue Mosque, the palaces of Dolmabahce and Beylerbeyi.
Who would not want to climb the Galata Tower, see the graceful Suleymaniye, admire the frescoes of the Hora monastery? Of course, and take a walk along the Bosphorus – if not to the Princes' Islands, then within the city. Again, the Rumeli Hisar fortress, which once guarded the strait from the Black Sea, is best viewed from the water!
As for the thermal baths in Yalova, they are visited at will. And in any case, you need to spend a day on this wellness event.
The same amount will be spent on a trip to Edirne with its wonderful mosque, the creation of the great Sinan. At least one more will take off if you want to personally see the ruins of Troy.
It makes sense to plan in September trip to Cappadocia . After all, it will not be much cooler there, and you can organize an exciting and rich program of events.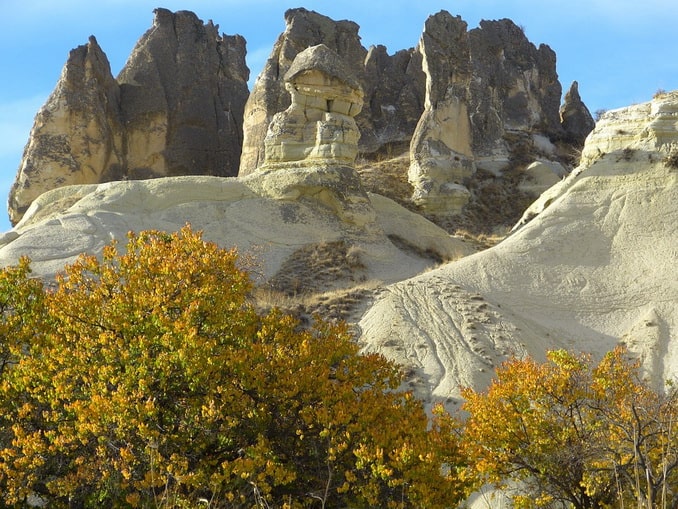 Beach holiday
As for the resorts, they are available in the immediate vicinity of Istanbul. We have already mentioned Kilyos – it is also worth mentioning the towns of Shile and Agva on the Black Sea coast of the Anatolian Peninsula.
The first is located just 70 km to the northeast and is connected to the metropolis of excellent quality by a highway. The second is located a little further away, and therefore sees fewer tourists.
There are also worthy places on the Marmara Sea. And if in Chynardzhik, Armutlu, Gemlik and Mudanya it is sometimes too busy, then Erdek is well suited for a relaxing family vacation.
After all, it is located at a sufficient distance – 260 km – from the metropolis. Virtually excluding crowds of vacationers!
Lost in Thrace – on the other side of the sea – the village of Sharkoy looks like an interesting option. After all, local beaches are never crowded!
If we consider popular resorts, then Kusadasi is located 550 km from the former Constantinople. And you can move to the beaches there, fed up with sightseeing, in 6 hours. This is by car – the plane is faster.
It is already about 700 km to Bodrum, and this is from 8 hours of driving on the highway. It is curious that to Antalya, the "queen" of all beach destinations in Turkey, about the same. And the heat with the advent of autumn there gradually begins to subside.
In short, the choice is not easy for you…
© Goodtimefortrip.com