Cappadocia in May: is it worth going and what to expect? Weather, how to dress, hotel prices and excursions 2023. What can you do in Cappadocia at the end of spring and what to see – in the article of good Time for Trip.
Most tourists go to rest in Turkey only in the summer. Having discovered on his own or believing so firmly after reading numerous articles and reviews on the Internet that only at this time a holiday promises to receive the best impressions.
But Cappadocia lives by different laws. For there is no sea here, and this region is not spoiled by smaller reservoirs!
Therefore, the local summer seriously threatens with heat stroke.
For those who, even in June, did not take enough sun protection items with them to Turkey. And at noon, without a panama hat and a decent supply of water, imprudently sets off to roam the valleys. Photographs "fairy chimneys". And themself – against their background.
To reduce the duration of such walks is a bad decision, because everybody comes here exactly for them.
There is only one thing left – to choose a more "correct" time for a visit. As far as we think you definitely shouldn't go to Cappadocia at the peak of the high season.
At first, that offer will cause surprise and even rejection. But having studied the question in detail, you begin to understand!
Indeed, in May, Cappadocia, it turns out, is even more beautiful then ever
Looking ahead, we note that from a climatic point of view it is even optimal. If this prudent, rational word is at all applicable to the area, stubbornly unwilling to become part of modern technogenic civilization.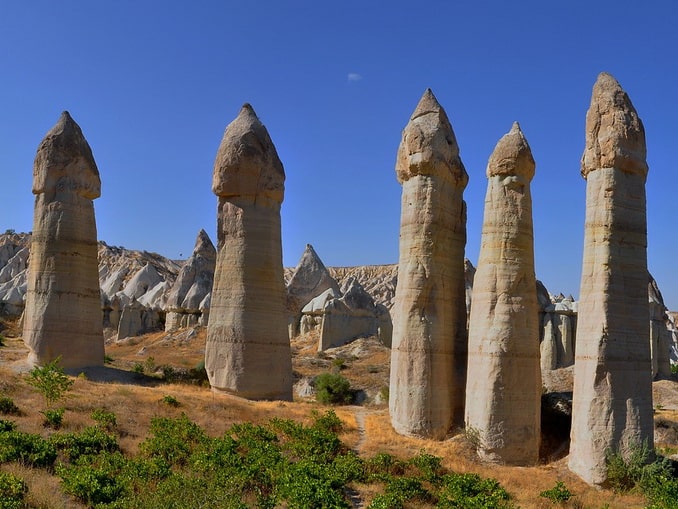 Important!
The local prices at the end of the spring also do not soar in the sky. And for a modest (for this region), 40-50 € per day you can rent good, albeit not very spacious apartments.
If you want not only breakfast but a view terrace on the roof for a reasonable price – choose something like Kookaburra Pension. Want to save more, but are not ready to sacrifice comfort?
Then pay attention to the Peace Stone House! It is not as chic in terms of interiors, but keeps prices low.
Equally, at sunset of spring, car rental offices moderate their appetites! After all, anyone will agree that 25-30 € per day for a car is a tolerant price. So right on arrival at Kayseri airport, you can get your own "wheels".
As for balloon flights, their cost at the end of spring approaches the summer one. However, perhaps you will have time to grab a discount!
Read Also
Weather in Cappadocia in May
You should not set yourself up for a meeting with an oasis, "a real ocean of greenery." Since there are frankly not enough large trees in this area, and it had never heard of real forests at all.
However, blooming wildflowers are in abundance here. And the feeling of something festive in the air, which is happening right in front of you, will not leave you during the whole trip.
Perhaps it is at the beginning of May that Cappadocia is at the peak of narcissism and a burst of energy. She just splatters with energy and charges everything around with it.
You will feel it too when you come around. First, meeting the dawn, as if washed by some heavenly waters. And then rising in a balloon to the transparent, weightless heights.
Intending to contemplate fresh and bright, as if wiped off the dust by someone's patient and skillful hand, natural landscapes. And in fact, becoming like a witness to the birth of the world.
If you book a tour in April, by the way, you can save some money. About 30-40 euro per person…
Air Temperature
In summer, the incredible sensations of flying will also visit you! But they will be imbued with anticipation of +30-, and sometimes even 40-degree heat coming long before noon.
The air temperature in Cappadocia in early May during the day often exceeds +20 ° C. Although there are also colder periods when the thermometer does not want to show more than + 14-16.
In the middle of the month, the atmosphere likes the range of + 24-28 ° C and even more
At its end the sun heats up the area to full-fledged "thirty".
It is colder at night: from +5-10 °C at first, to +15-20 °C further. Which, of course, should not force you to switch to night mode. Just convince them to take with them in their luggage not only a windbreaker, but also a sweater.
It is worth remembering a simple but often forgotten fact: it is much cooler at altitude than on the ground. And if you go on an air walk not warm enough, the impressions will be very blurred.
Moreover, the balls begin to come off the ground literally at dawn. And the collection of tourists to fill the baskets starts at 3 am at all!
It does not rain too often – on average no more than 4-5 days. Although purely statistically, May is the wettest month in Cappadocia.
The sun, however, is enough – it can be seen in the sky for at least 20 days. Well, if it turns out to be cloudy – don't be offended.
Maybe Interesting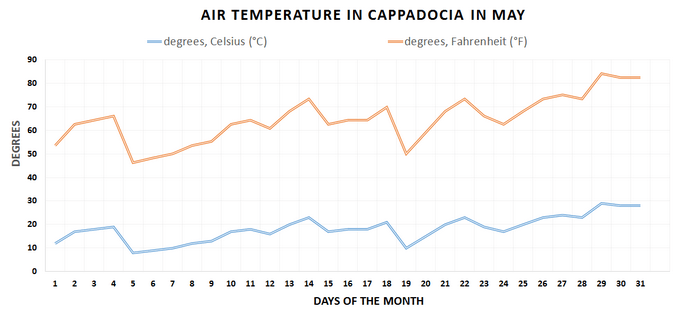 How to Dress
Just go for a walk in a jacket with a hood! Well, at least take it with you!
Of course, it's easier for auto travelers – put as much as you like in the trunk. And because the army of those who seriously plan to go to Turkey by car every year only grows.
Why not? The roads here are very good, the rules are not much different from European ones. Gasoline prices are noticeably lower: 1.2-1.3 € per liter.
And the weather in Cappadocia throughout May, as we said, exceptionally good. And it will allow you to get a lot of positive from trips alone – the landscapes floating outside the window are really unique.
Prices 2023
It is not too difficult to organize an independent trip to the most beautiful region of Turkey – you can get to Cappadocia from Berlin or Paris by a lot of routes. The only thing you have to seriously think about is how many days (and nights) will last such a journey?
However, no – you can still consider the question – why not look at the former Constantinople? So, at the same time?
After all, such a step looks not only exceptionally attractive, but also reasonable! Because in fact Istanbul deserves a visit at any time of the year.
Hotels in Goreme – and 90% of travelers make their base here – it is better to book in advance for May. Because today everyone are well aware of the late spring features of the Cappadocian climate. And rightly considering it to be exceptionally suitable, they go to watch the region in friendly crowds.
Therefore, in fact, by the end of spring, prices are rising here. Having realized it in winter, of course, you can grab a cave hotel praised by travelers like the Cappadocia Caves Hotel for 60 € per day.
Sometimes they hold actions there. With a special offer, you can book a room for 45-50!
Such prices for early booking, however, are not nonsense! For example, Royal Stone Houses, flaunting the "nine" rating, offers couples to relax for 5 days for 270 €.
For the promotion, for only 225 €, you will be able to subscribe to a room for 5 nights at Hanzade Suites. The usual price of which, by the way, is 1.5 times higher
Things to Do
In Cappadocia you should do at least three mandatory things:
It is allowed not to visit the museum in Goreme. For, judging by the reviews, it can be too crowded.
It is also allowed to skimp on the invitations of local guides and not buy anything in local shops selling plates and other souvenirs. Since their owners realized long ago that very few would compare price tags with Istanbul ones.
But seriously, everyone is free to draw up a program of events at their own discretion.
Someone will surely want to sit for hours. And watch the rocks change their color depending on the position of the sun.
Others will definitely climb into the caves. And they will stand as idols, looking at the ceiling frescoes hundreds of years old.
Well, everyone, without exception, at least a few hundred meters and pass through the valleys there. Just to marvel at mother nature's whimsical taste and let your imagination run wild.
However, what hundreds are there – the bill will obviously go to thousands of steps! After all, hiking trails are the main and most sought-after attraction of the region.
Moreover, in May you want to walk here a lot. And then meditate for a long time on viewpoints, waiting for the sun to get tired and go to sleep…
© Goodtimefortrip.com