Turkey in May – where to go in 2023? Weather, water temperature, prices in hotels and on excursions. How to dress, what to do in Turkey in early May and closer to summer – found out good Time for Trip.
Turkey is not yet the favorite foreign destination for most Europeans, and even more so for North Americans. Perhaps because it is still underestimated – few people know what attractions outside of Istanbul are available in this country. Equally, the beach resorts of Turkey are still not too popular..
We believe this is a misunderstanding!
After all, there are no less interesting places here than, say, in Greece. And the beaches are as beautiful as they are numerous!
If we talk about prices… to fully appreciate this important for any traveler aspect, come to Turkey in May. When it gets warm here, but even before the onset of the real high season!
Having made such a rather unusual step, you are unlikely to regret the time and money spent. Since a trip to Istanbul or Cappadocia in May, to Bodrum or Antalya is a simple and not too expensive way to diversify everyday reality. Helping life to score again with a key, and the immediate prospects will be painted in exceptionally pink tones.
Weather in Turkey in May
allows you not to limit yourself too much in entertainment. Of course, we will not claim that starting from May 1, it becomes warm and sunny throughout Turkey. And tourists already don't know where to find shade.
Not at all – in some areas, even on the coast of the Black and Aegean Seas, you will not even think of taking off your jacket. What can we say about the mountains – in the same Cappadocia, the weather in early May in the morning strongly asks to be insulated before going outside.
However, let's study the weather conditions in all popular tourist regions!
Istanbul
The main metropolis of Turkey attracts the attention of foreign tourists regardless of the month – no matter what time of year you go to Istanbul, you will stay in the black!
In May, the weather conditions of ex-Constantinople are such that it becomes simply unwise to postpone the visit. The weather just provokes a trip, promising day temperatures up to +20-22 °Cat first and +28-30 °C – on the threshold of summer.

In the first half of the month, after sunset, it becomes unseasonably cool on the streets and embankments. But closer to summer, you will wander the seaside boulevards and even go on a cruise along the Bosphorus in only shirts and thin jumpers.
Rains are rare in Istanbul in May. And if happen, they are not inclined to drizzle tediously for several hours – quickly wash the streets of dust, refresh the air and again – the sun is shining!
Cappadocia
The last spring month in this region of Turkey is considered a very warm time. Both literally and figuratively.
If at the beginning of May 2022 the air temperature in Cappadocia, for example, did not risk climbing above +18 °C, then by the middle the real heat came. And thermometers occupied the territory of about +26-28 °C.
At night there is a significant drop in temperatures, sometimes very sharp, up to + 4-6 degrees Celsius. But in most cases, even after sunset, it is quite warm in May Cappadocia – at least +12-16 °C.
At this time og the year foreigners arrive here en masse. Moreover, many are not directly, but in transit – after all, the distance from Cappadocia from Istanbul by highway is only about 700 km.
Pamukkale
It is not just possible to wander through the healing water in the local travertine pools, but it is also necessary! Moreover, it is best to do this procedure not at the very end of spring.
For at the junction with summer, air temperatures here can exceed +35 °C. Which is quite hard to bear in an area almost devoid of natural shade.
In addition, closer to the (official) start of the high season, it becomes simply crowded with tourists. Buses from the Turkish Riviera arrive in columns. And there are so many swimmers in the pools that an association with a fish tank involuntarily arises.
Marmara Sea
Resorts on its shores are relatively little known to travelers from Europe and America. Although there is no denying their potential – the same Erdek can be considered as a very interesting direction for family holidaymakers.
Why not: there are excellent beaches and a smooth entry into the sea, the season begins no later than the end of spring. The trip from Istanbul to Erdek by car will take only 3 hours.
Reviews on the Internet about a vacation there, however, are not enough. And that's why mostly only local, Turkish, tourists know about this place!
At the beginning of May on the local coast, however, it is quite cool. Only in the middle of the month and not before the air temperature reaches a stable +22-24 °C.
At the same time, you will not want to stay in the water for a long time – its temperature reaches a maximum of +19-20 degrees Celsius at the very end of spring.
But there are very few cloudy days. So it will turn out not only to get a tan, but also heat stroke – if you don't take certain precautions!
Izmir and Kusadasi
But these resorts in Turkey on the Aegean Sea in May promise a much more optimistic pastime. Already at the beginning of the month, the atmosphere here warms up to +27-29 °C. However, only during the day – at night it is noticeably colder, no more than +15-20 °C.
Naturally, with this approach, the water area doen't have a significant chance to warm up to comfortable values. So the sea temperature at the sunset of spring does not exceed +20-22 °C.
Not everyone likes the idea of swimming in such obviously cool water, and hotel pools help out gentle foreigners. Raise the mood and trips to various notable places – from here you can easily get to Ephesus or Pamukkale.
Bodrum
Even at the beginning of May, the weather in this Turkish resort is smooth and pleasant. However, it is not hot enough for long swims.
Total +23-25 °C thermometers during the day, +18-20 °C – at night. The water is initially warmed up to +20 °C. But by the time the calendar summer arrives, the water area sometimes warms up to +23 °C.
There will be no more than 2-3 rainy days in Bodrum for the whole of May. But not necessarily – sometimes the sky throughout the month without interruptions pleases with a deep blue color and the absence of clouds.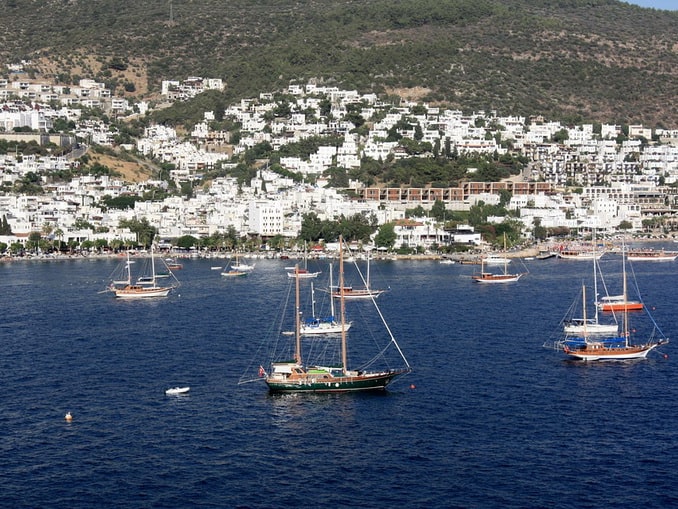 Judging by the reviews, swimming in the sea in Bodrum in May is better in the afternoon. Because it can be too cool in the morning to take a water bath.
However, heated pools at hotels guard the interests of vacationers!
The weather conditions in Marmaris and Fethiye are slightly different from those in Bodrum. Unless the atmosphere warms up by 2-3 degrees more.
Oludeniz, which has its own pond fenced off from the sea, a Blue Lagoon, is in an even more privileged position.
In the evenings, however, you will be glad if you find a thick jacket or windbreaker in your suitcase.
Antalya
We will tell you in detail about the traditional air temperatures in Antalya in May in a separate article, since we were lucky enough to rest there at the end of spring. In short, the disposition looks like this: almost complete absence of rains, the apparent gravitation of street thermometers to the level of +30 °C.
And the sea, of course, warms up to values that the regulars of seaside resorts, for example, on the North Sea, can only dream of.
Until the middle of May weather in Antalya isn't so hot. So, after the sunset, it's still worth throwing a jacket over your shoulders. But in the second half of the month and in the evenings you can walk in one T-shirt and shorts – the long-awaited summer warmth is spilled in the atmosphere.
Note that all of the above applies both to Antalya proper and to the resorts that gravitate towards it. That is, approximately the same weather is expected in Kemer and Belek, Side.
But in Alanya, perhaps the warmest place in Turkey, it will even be hot in May. So much so that people who don't tolerate sultry weather will be forced to abandon the trip here until about the middle of autumn.
Prices 2023
Despite the warmest climate, Antalya and its resorts are not the most expensive destinations in Turkey. Anyway, at this time of year!
Hotels are waiting for the onset of the high (read – summer) season. And therefore they set prices lower than in Marmaris, at the level or slightly cheaper than in Bodrum.
If you don't intend to lay on the beach whole day long, then choose something like the Sibel Hotel (about 70 € per day for two), located in a very green place a stone's throw from the huge Karaalioglu Park. From our point of view, this is an ideal place to stop if you arrive in the first half of May and devote most of your time to excursions and trips around the neighborhood.
Lovers of mainly beach holidays will be advised to stay in Side. Where, however, is the night even in an inexpensive (but good!) Side Village Hotel – All Inclusive will cost a lot of money – from 100-120 € per night.
Istanbul in May traditionally finds itself in the very center of attention of foreign travelers. As a result, in 2023 you will have to try to find a good hotel in the city center for less than 70-80 €.
For our part, we are ready to recommend a small and cozy HHK Hotel, that is stationed at a certain distance from Sultanahmet Square and the Topkapi residence. It occupies a mansion from the time of the Ottoman Empire. Some rooms overlook the Golden Horn Bay. And from the roof terrace, too!
From many points of view, the end of spring is also the best time to travel to Cappadocia. As a result, prices in hotels and on excursions, as well as hot air balloon flights, are growing dynamically. Often peaking before the onset of summer.
That is why we recommend booking rooms in such a high-quality and inexpensive facility as Stone House Cave Hotel. As well as in – if you can afford to settle not in a cave – Royal Stone Houses. One of the best budget hotels here!
© Goodtimefortrip.com