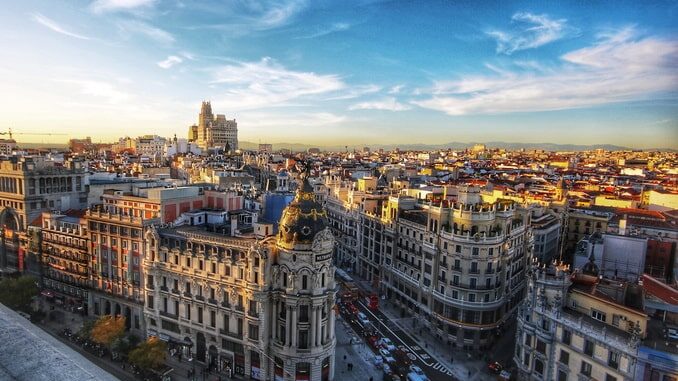 Where to go from Madrid for 1 day on your own or with a guided tour in 2023? Routes, distance, travel time. The most interesting places and cities near Madrid, which can be reached in 1 or 2 hours – in the review of good Time for Trip.
Madrid is known to be the capital of Spain. And in principle, one of the most interesting cities in this country. In terms of tourist popularity, it is noticeably inferior to Barcelona, but still remains an extremely popular destination.
Most travelers plan to make a trip to Madrid for just 2-3 days. Since this is usually enough to see the main attractions of the Spanish metropolis.
But if you think about a longer visit, for 4-5 days or even a week, you can create a noticeably more interesting program of events. And, among other things, you will have time to go to some places from Madrid.
At least for a day! Although someone will undoubtedly decide to spend more time.
Doubt where to start? That is, in theory, you know a couple of places near Madrid, but would like to expand your horizons and create a unique route? In our article, we will tell you what you should pay attention to when planning your trips!
Where to Go Near Madrid
We'll start probably not in the most original way. But this should not be surprising – some sights near the capital of Spain are so famous that they are mentioned in any guidebooks.
Moreover, today there are a considerable number of inexpensive sightseeing routes that allow you to get out of Madrid, first to Toledo, and then to Segovia, in just a day. Well, or vice versa.
But let's start! And put in the first place of the list
Escorial
The city is located 55 km northwest of Madrid, at the foot of the Sierra de Guadarrama mountain range. And it is famous due to the fact that it houses the "Eighth Wonder of the World" and the architectural miracle protected by UNESCO, Royal Monastery of San Lorenzo de El Escorial.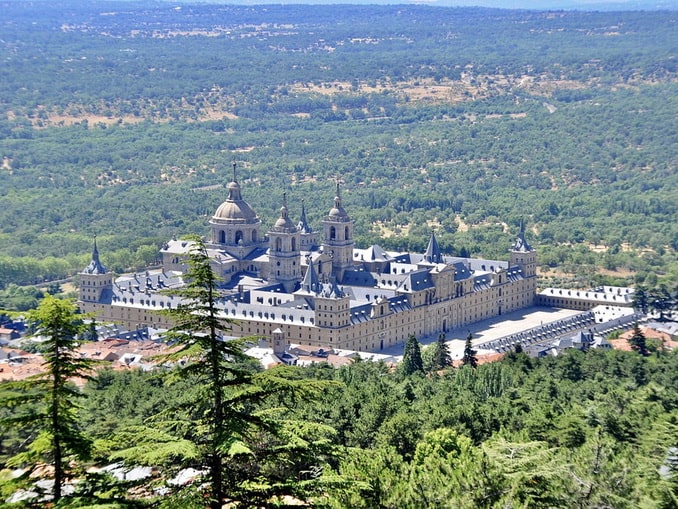 The complex was created at the end of the 16th century and it is a giant building, a rectangle measuring 207 by 161 meters. The palace-monastery was built from massive granite blocks and the task was completed in record time – in just 21 years.
Inside the Escorial there is a monastery of St. Lorenzo and a seminary, a Royal palace and a tomb, a library. Nearby are well-groomed gardens. In general, the complex is a universal structure, having comprehended the meaning of the creation of which you will better understand medieval Spain.
It is convenient to travel to Escorial from Madrid. So it regularly tops the list of the most visited places in Spain. You can get there by rail, from the Chamartín or Atocha stations. Or on buses No. 661, 664, departing from the Moncloa Interchange station.
Travel time in both cases is about an hour.
Aranjuez
An old small town in the vicinity of Madrid, which is loved by tourists for one, but noticeable reason. The name of which is the summer Royal Palace, surrounded by luxurious gardens with fountains and sculptures.
The palace was built at the end of the 16th century by the same architects that created Escorial: Juan Bautista Toledo and Juan de Herrera. But despite this, the complex in Aranjuez, which is still one of the official royal residences, is much more festive and adapted for a happy life.
Aranjuez is located at the same distance (about 45 km) from both Madrid and Toledo, at the confluence of the Tajo and Jarame rivers. You can get here by a regular commuter train that leaves from Atocha station at least once every half an hour.
But if you come to see Madrid in May, be sure to take a ride on an old train with a steam locomotive and guides in national costumes. The "Strawberry Train" runs in this direction only in May and June, departs from the capital in the morning and returns in the evening.
Alcala de Henares
Alcala de Henares is a large university city near Madrid, located just 30 km northeast. It's worth a trip, but many guidebooks ignore Alcala.
Although its historical center, built up with buildings of the 14th-16th centuries, is a unique architectural ensemble. And for this reason, back in 1998, it was included in the World Heritage List of mankind.
In Alcala de Henares was born Miguel Cervantes, who wrote the famous Don Quixote. Also here took place the first meeting of Columbus and the Castilian queen Isabela.
In Alcala de Henares, it is worth walking along the College Street, where the campus is located. As well look outside the residence of the archbishop and the more modern palace of Laredo, visit the house-museum of Cervantes.
Alcala can be reached from Madrid by commuter train from Chamartín Station. And on the way you will spend less than 30 minutes. And, therefore, you can devote most of the day to exploring the campus.
Manzanares el Real
A small town 55 km north of Madrid is famous for its well-preserved medieval Castillo de los Mendoza. In addition, this settlement is a kind of gateway to the Sierra de Guadarrama National Park. A very popular object among hikers.
Castillo de los Mendoza is an architectural monument of the 15th century, considered one of the finest original examples of Castilian fortification. Although the castle originally had defensive functions, it later turned into a fortified residential palace of the rich Mendoza family.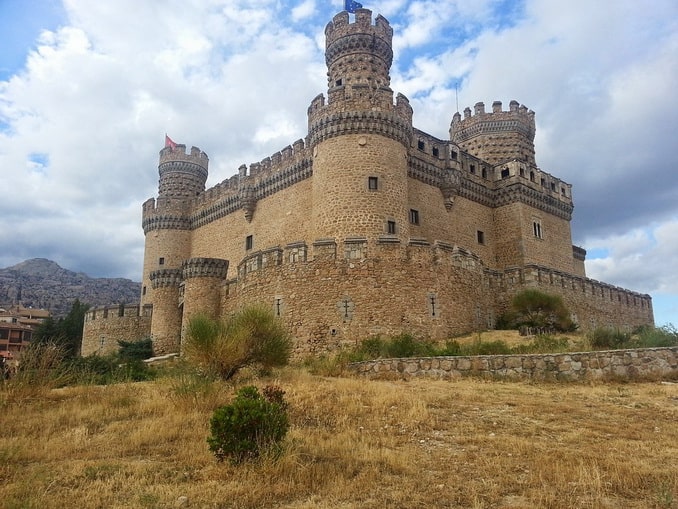 The castle interiors are well preserved, with tapestries and furniture from the 17th century on display in the rooms. By the way, you can get acquainted with the fortress trough theatrical tours!
The easiest way to get to Manzanares el Real is by car. Since a trip by public transport (train or bus) will require a change and will take from 1.5 to 2.5 hours.
Toledo
The old capital of Spain and once the bastion of the dark memory of the holy Inquisition, Toledo is one of the most popular destinations where tourists come from Madrid for a day or even 2.
Until the middle of the 16th century, Toledo was the religious center and residence of the king of Castile. This fact easily explains the abundance of impressive architectural monuments that invariably impress all tourists. And this is not only the royal fortress, Alcazar and Toledo Cathedral, but also a lot of Gothic churches.
In addition, it is in Toledo that you can get acquainted with the grandiose masterpieces of one of the great Spanish painters, El Greco. He was born in Greece, but lived for 35 years and died in Toledo. And his magnificent picture "Espolio" still adorns the altar of the local cathedral.
Toledo is located 50 km south of Madrid. And that's why the trip by fast train from Atocha station will last only 30 minutes!
Segovia
Another pretty Spanish city where you can travel from Madrid without spending more than a day is Segovia. It was founded more than two thousand years ago by the Celts. And this alone should inspire the traveler with due respect.
The presence of a giant and perfectly preserved Roman aqueduct makes Segovia an absolute must-see place. As this monumental ancient structure is unique and well-preserved: it consists of 167 granite arches, has 728.5 meters lenght and 28.5 meters height.
Also in Segovia there is a huge late Gothic cathedral and a castle of Castilian kings with original interiors. Near the city is located the summer palace of the Spanish Bourbons, La Granja de San Ildefonso. Which proudly bears the unofficial title of "Spanish Versailles".
You can get to Segovia from Madrid by fast express from the Chamartin station or by a regular suburban (Atocha) train. Depending on the type of travel, its duration will be from 30 minutes to 1.5 hours.
Avila
It is located about 105 km northwest of Madrid. And may well become the next stop on the traveler's itinerary after visiting Segovia.
The main attraction of Ávila, whose old center and church are protected by UNESCO, is the 11th century fortress wall with 87 towers and 7 gates. It is perfectly preserved and is considered to be the most beautiful in Europe.
Also in Avila, the birthplace of Saint Teresa, you can see churches and authentic old residential areas. The city is small, so tourists usually come here from Madrid for just 1 day.
You can get to Avila by direct train from Madrid's Principe Pio station, which is included in the capital metro system. Or on the bus leaving from Estación Sur.
In both cases, the trip will take about 1.5 hours.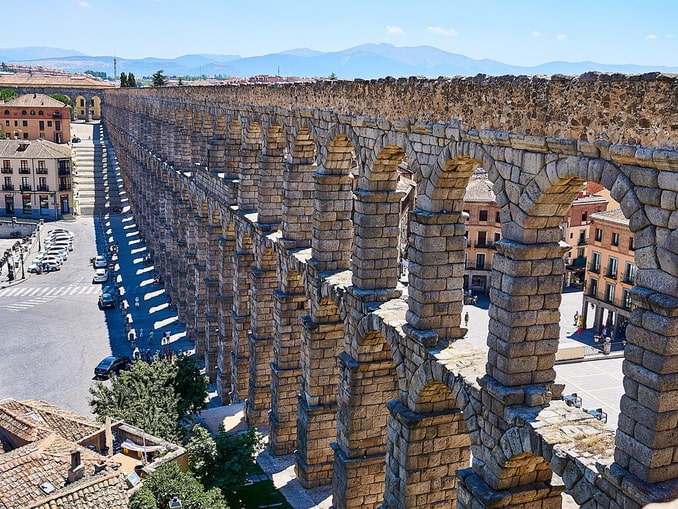 Valladolid
If time permits, right after exploring Segovia go to Valladolid! A largest city in Castile and Leon, whose history is closely connected with the formation of Spain as a state.
During the Middle Ages, Valladolid was the seat of the Castilian royal court. It was here that the author of Don Quixote, Miguel de Cervantes, lived and worked.
There are few attractions in Valladolid, but each of them deserves a visit. First of all, this is a cathedral dating back to the 16th century, and the Cervantes House Museum, where the first copy of Don Quixote is carefully stored.
We also recommend visiting in Valladolid the National Sculpture Museum, which occupies as many as three buildings: College of San Gregorio, Casa del Sol and Villena palaces. Inside is an impressive collection of medieval art.
The city is located almost 200 km from Madrid. But the AVE fast train covers this distance just in 1 hour.
Salamanca
Or the "Golden City" has long been part of the UNESCO World Heritage Site. So a tourist who loves architecture and history will definitely enjoy walking along the streets of Salamanca.
The center of attraction for all guests of the city is the Plaza Mayor, which is lined with baroque buildings along the perimeter. Also in Salamanca, you should see several interesting houses and two diverse cathedrals.
This is the ancient Old, built in a severe and laconic Romanesque style. And the New Cathedral, which is a fusion of late Gothic and early Baroque and is very beautiful both outside and inside.
Salamanca is the location of the oldest university in Spain, it was founded in the 13th century. The main building of the "Temple of Sciences" dates from the 16th century.
The distance from Madrid to Salamanca is about 215 km. You can get there by train from Chamartin station, or by taking a bus from Estación Sur station. Travel time – 2-2.5 hours.
Siguenza
This ancient town, 130 km northeast of Madrid, will catch your eye with a pronounced Spanish flavor. Many old buildings have been preserved here, but the local Plaza Mayor, the Cathedral in the Romanesque-Gothic style and the episcopal castle deserve special attention.
It is noteworthy that the latter operates today as a parador hotel. And if you wish, you can linger in Siguenza to fully soak up the charm of this city!
You can get to Siguenza from Madrid by bus number 034. Travel time usually doesn't exceed 2 hours.
© Goodtimefortrip.com