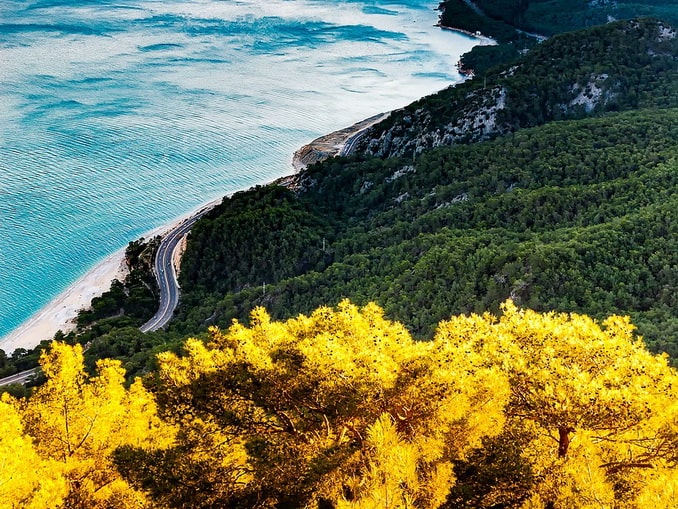 Turkey in November 2023 – is it worth going on vacations? Weather, sea temperature, is it possible to swim, are there many tourists in Bodrum and Antalya, Side, Istanbul and Cappadocia? Hotels and excursions prices, what to do in Turkey in the early November and close to winter – in the article of good Time for Trip.
In the off-season – and November undoubtedly belongs to this period – Turkey is the destination more for romantics than pragmatists. For those people who are in love with this Asian country and can easily refuse of swimming and sunbathing. Without tears replacing them with no less interesting and exciting things. Like walks, trips and excursions…
Sitting in the sun under the shade of any evergreens is also included in the list of indispensable activities. As well as admiring the sea, visually absolutely peaceful, as if resting after a busy summer. Be sure – this kind of passive rest will relax you better than a hammam.
And by the way – who told you that you can't swim in Turkey in November? In fact, in some places it's absolutely possible – true!
If your expectations aren't particularly high, of course. And you are able to dip in water warmed up to the values ​​that are regularly recorded in June somewhere in Viareggio, Italy.
Unfortunately, the Mediterranean Sea won't be so warm everywhere! Only in Antalya with surroundings and in Alanya weather in November allow you to take water baths.
But this opportunity alone, it seems to us, enough to make a positive decision about the trip.
However, let's outline all aspects in more detail.
Weather in Turkey in November
Naturally, it's different everywhere. Except, however, for one important and common positive feature for already all locations.
At least, at the beginning of the last autumn month here there is no reason to think about winter clothes.
Just go in November to Istanbul or south! Wherever you want, except perhaps in the highlands, the air will warm up to + 15-22 °C during the day. May be even higher!
This circumstance, multiplied by the high probability of sunny days in the first half of the month, makes the idea of ​​traveling not just suitable, but even chic. Moreover, – this was mentioned above – the sea near the coast of Turkey in early November doesn't cool down catastrophically.
Istanbul
One of the few Turkish cities that can boast of good weather at sunset of an autumn. In the early November in some years, the air temperatures here rise to +22-24 °C.
Usually, of course, it's cooler – up to +18 °C. But in the reviews you can find regular mentions like "I went in a T-shirt" and "tanned".
Surprisingly, the nights aren't much colder. For thermometers don't seem to want to unstick from their favorite values.
By the third decade of the month, you should expect a cooling down to +10-12 °C, sometimes up to +15 °C. That, with not the largest amount of precipitation and a small number of frankly rainy days, allows you to see in Istanbul a big number of sights.
It's hard to get bored, more likely that you won't have time to do everything planned. Because at this time you want to enjoy the sunshine and warmth for a long time, drinking tea with bagels on board the cruise yacht or the embankment rather than walking through the streets and squares!
Someone not too lazy can plan for a rich program of events outside the city. And this is understandable – you can go to many interesting places from Istanbul.
A day can be spent on the Princes' Islands or in Belgrade Forest. Approximately the same amount or a little more will be taken away by relatively close territorial directions like Edirne and Ephesus.
To travel to Cappadocia in November is better, of course, for a longer period. After all, only the autotrip to Goreme from Istanbul will take 6-8 hours.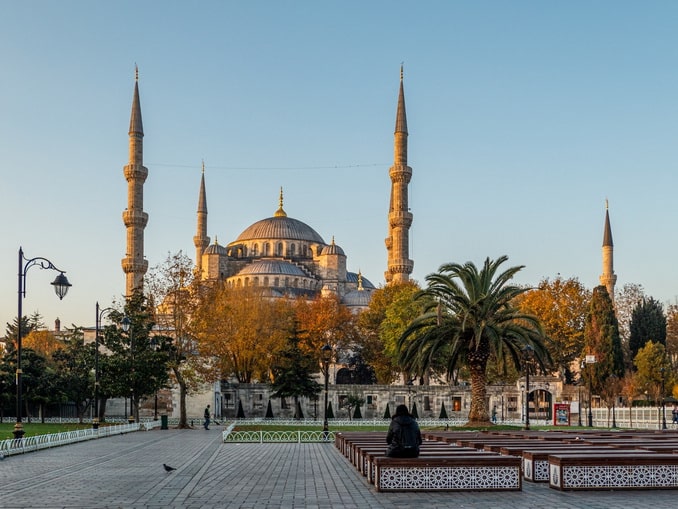 Can you Swim?
Note that similar weather conditions await those who decide to settle in November on the shores of the Marmara Sea. After all, at first it's theoretically possible to plunge here – the water is warmed up to + 20-21 °C!
Locals, of course, will consider you a crazy foreigner. But does it really matter?!
Then you can make another strong move. Like coming back for examining Istanbul or going to the sea, to Antalya or Side.
Where at this time late autumn is just beginning to come into its own. As were mentioned above, in November the weather in Antalya is warm and mild. But the beaches are mostly deserted.
Prices 2023
A visit to November Istanbul will cost you moderate money – at least in the case of independent travel. And you can save a lot on both hotels and entertainment – including sightseeing excursions!
In particular, a night stay in a good Constantinopolis Hotel will cost approximately 40-45 € for two. And its slightly more budgetary counterpart Hotel Orkide, located about a kilometer from the city center, takes only 25 € per night!
Kusadasi and Bodrum
Turkish resorts on the Aegean coast in early November promise a little more than the Istanbul region. Not even in the sense of swimming – sea is only a degree or two warmer – in the sense of light!
For, as in summer, in Bodrum and Marmaris, Oludeniz and – even more so – Kas, the weather in late autumn will delight you with a large number of clear days. Allowing to relax soul and recharge batteries before such a long and often very cold winter.
In November 2022, for example, the air temperature in Kusadasi stubbornly refused to rise above +18-19 °C. But in Bodrum, on the contrary, it regularly rose to +21 °С.
In Marmaris, during the first half of the month, the atmosphere warmed up to +22-24 °C
Rain is sometimes plentiful, especially in areas closed by mountains. But the number of rainy days is still small – a maximum of 4-5 per month.
You can plunge almost until the third decade of the month. Since the Aegean Sea off the coast of Turkey and in mid-November is sometimes warmed up to amazing + 21-23 °C.
Although there are very few tourists. After reading the reviews, you will understand that in October and later people aren't going to Marmaris and Bodrum very willingly.
What to Do
The main off-the-beach activities are available even in November. So, you can tour the coast on a boat and visit the Valley of the Butterflies. Go to Dalyan and Patara. Enjoy the pine scents and stunning views on the Lycian Way.
Great idea – to go for 1 day in Pamukkale. And not so good – to go on a trip to Cappadocia. Because you just don't want to leave the warm and clear turquoise sea for a long time.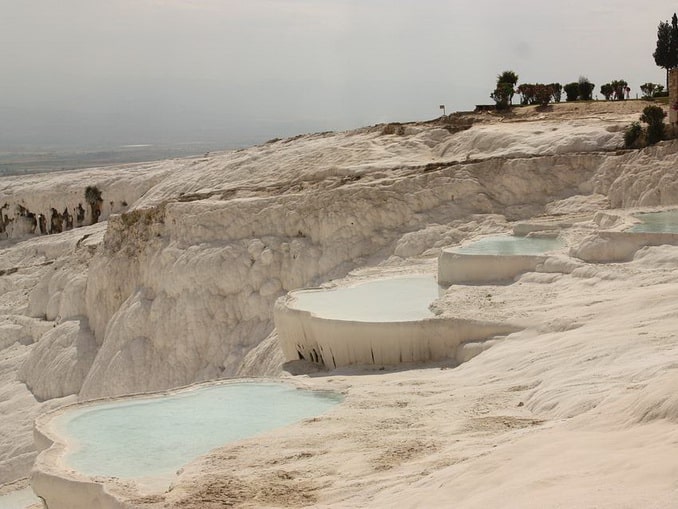 Prices in hotels in Bodrum at the end of autumn are very attractive. And for 40-45 € per night for two, you can rent a chic room. In such, for example, a rating hotel as White and Blue Bodrum.
You can walk to the beach from it in a minute or two, to the castle – a maximum of 5-7. The rooftop terrace offers incredible views of the Mediterranean Sea!
Antalya
Without a doubt, this resort and its neighboring Belek, Side are the main stars of the low holiday season. In fact, the only place in Turkey where you can safely sunbathe and swim in November.
In some years, by the way, not only at the beginning, but even at the end of the month. A great gift for the holidays, agree?!
Moreover, from the competitors you will have only restless Russian tourists. Well, or the Germans, who are also lovers of swimming in water heated to + 22-24 °C.
The air temperature in Antalya in November fluctuates in the range of + 20-24 °C, up to the middle of the month.
And then it slowly starts to drop. But respects certain limits: it will not be less than +18-20 °C!
Nights in the last month of autumn are much colder here – temperature will not be higher than +15-18 °C. So a pullover or sweatshirt won't hurt.
Precipitation doesn't get on your nerves too much. And the average 70 mm per month results in 2-3 heavy rains!
The rest of the time the resort observes sunny or slightly cloudy weather. Which is exceptionally fit for relaxation and even psychotherapy on a deserted beach. As well as for sightseeing Antalya and trips to their neighborhoods.
Things to Do
And of course excursions! In Demre, Myra and Kekova, to the ancient ruins of Phaselis, Olympos and Termesos. To Mount Tahtali and Chimera.
Equally, you can drive (if you hire a car) and further. After all, the distance from Antalya to Cappadocia is not so great that you would not want to think about a trip to the "Land of beautiful horses".
A room in the Ozmen Hotel, located in a quiet (!) place in the center of the old town, will cost 40 €. In Side you can rent a hotel half the price.
This is no joke – a night of accommodation at the Villa Gizem Special Class Hotel, which is located a couple of minutes from the coast, will cost only 20 €!
Kemer and Alanya
As for Kemer, it is somewhat colder and rainier there at the end of autumn – the mountains that close it from the west dictate their conditions. So taking sea baths may not be such a pleasant experience.
After all, getting out of the water at a temperature of + 23 ° C into the air, warmed up to only + 21 ° C, is not very pleasant.
In more south Alanya in early November, on the contrary, there is a high probability of warm and sunny weather. And little later too!
In 2022, for example, throughout the month during the day it was about + 20-24 °C. And at night, the thermometer did not plunge into depression, in all cases showing more than +15 ° C.
It will rain for a maximum of 3-4 days per month. And – as you can guess – the weather gets gloomier the closer it gets to December.
Cappadocia
And at the end of autumn this Turkish region is so beautiful, that it makes you forget about beach destinations. And even Istanbul.
Moreover, the weather in Cappadocia in November allows not to sit still. The air temperature (+15-20 °C) and the length of daylight hours in the first half of the month favor long walks in the valleys.
And the winds calm down so much that the time is considered especially favorable for ballooning. Naturally, climbing hundreds of meters will require careful isolation.
At night at the end of autumn it can be cold here on the ground – after sunset, the air temperature drops to + 4-7. °C.
One way or another, you will see the main attractions of Cappadocia in quite comfortable conditions. And certainly will not regret that you came here at such an unpopular (among tourists) time.
© Goodtimefortrip.com