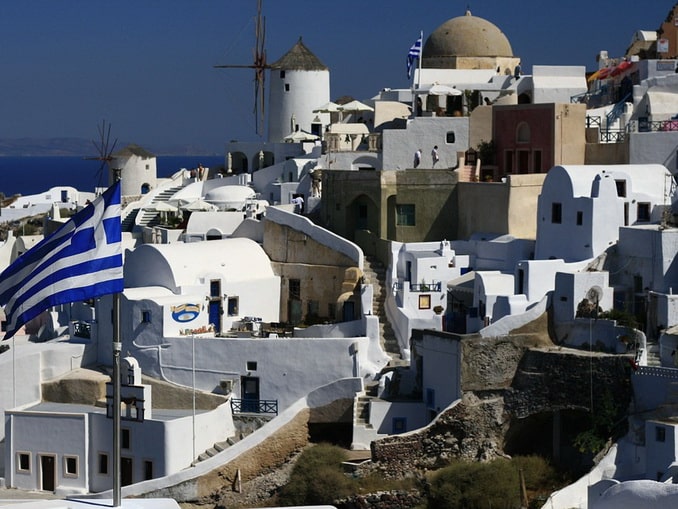 Greece in March: is it worth going, what resort or city to choose? Weather, air- and water temperature, how to dress, prices 2023 in hotels and on excursions. What to do in Greece in early March and later, where to go – in the review of good Time for Trip.
March doesn't seem to be the month, when you should aim for beach destinations – naturally, we mean Europe, not tropical islands like the Bahamas. Rather, in this period of the year you need to concentrate on work. Or, armed with sharpened skis, go somewhere in the Alps to catch the not yet completely passed winter.
This point of view is very common. Although, if you think about it, it very much resembles a formulaic and thoughtless approach. After all, in fact, tourists go to the sea not only to be sure to swim and sunbathe.
Once you accept such a point of view, the list of interesting destinations is expanded. And the idea of going in March to Greece no longer seems wild.
Even on the contrary – it looks quite logical! After all, the Athenian Acropolis and the sanctuary in Delphi, "soaring" Meteora rocks, Corinth and Mycenae, Napflio and Santorini exist as if nothing had happened. Unlike their summer versions, they look much more attractive – there are very few tourists there.
Is it not so warm in Greece in March that you want to walk around without a jacket? Really, this is a small fee for the opportunity to inspect the treasures of ancient Greece not in a crowd! And for, in principle, very little money.
Again, at the beginning of spring in Greece, you can get on skis. Even in March, they ride with might and main on the slopes of the famous Parnassus hill, which is located just 200 km from Athens. Moreover, you will not have to carry the necessary equipment with you – everything can be rented right on the spot.
Weather in Greece in March
It fully corresponds to the ideas of most travelers about an early and fairly warm spring. Not the tropics, of course, but from the point of view of the British and Scandinavians, as well as residents of the northern and central regions of the USA, everything is very decent.
Wherever you go – except perhaps in mountainous areas – you are unlikely to witness the frosts. After all, the daytime air temperature in Greece in early March will be in the range of +10-15 °C. In Thessaloniki it is colder, in Athens – warmer, in Crete in early spring street thermometers tend to +15-17 °C.
In Rhodes – and we spent an unforgettable 3 days there at the end of March – it doesn't seem to be too hot, but it's comfortable. During the day will be +16-18 °C, at night about +12-13 °C, rarely less.
Cold spells up to +8-12 degrees Celsius are short-term and usually last no more than a couple of days. Although, for example, in March 2022, the weather in Greece fluctuated for a long time before turning decisively towards summer.
In particular, at the beginning of the third decade of the month, even in Athens and further south, the air during the day warmed up to a maximum of +8 °C.
Nights are noticeably cooler. Usually the temperature drops no lower to +5-7 °C, but 2022 turned out to be an unfortunate exception. In some cases, the air temperature even at the finish of the month dropped to +2-5 °C.
It's curious that such weather stands in Greece until the end of March. And a walk in the fresh air, even on the threshold of April, can be invigorating.
In some years, there are also substantial warming up to +20-22 °C. And it is most correct to expect them on the islands! In the same Chania or Rhodes, the sun is much more willing to heat the atmosphere to values at which you already want to walk in T-shirts or dresses.
Before the trip, we advise you to study the current weather forecast on the website of the National Meteorological agency of Greece: emy.gr/emy/en. This helps you to correctly draw up the route of travel and avoid losing time due to rains.
Precipitation
The rains don't get on your nerves too much. However, their frequency will greatly depend on which place in Greece you are going to go in March.
In Crete, for example, during the first month of spring there are usually 5-6 days at most. In Thessaloniki March is one of the most cloudy months of the year. Athens is drier and sunnier. But Corfu, on the contrary, sometimes just bathes in heavenly moisture.
Best Places to Go
Where is the warmest in Greece in March? We would say that in the capital region – in Athens and nearby. Moreover, this area has a much drier and sunnier climate – you can walk around the city in just a light jacket.
The probability of precipitation decreases in comparison with the dank winter months. Rains come on average no more than 3-5 days per month, and they are rarely abundant.
Plus, it is traditionally not too windy. Which allows, if you do not walk in a shirt, then don't complain too much about the dankness and suffer from high humidity.
In Crete, it is slightly wetter in March – the precipitation rate is up to 70-80 mm. You also have a good chance of encountering increased dampness if you go to Thessaloniki or to the Halkidiki peninsula. And – especially – to Corfu.
But Rhodes, on the contrary, habitually flaunts more sunny, although quite windy weather. And most importantly, at the beginning of spring, people are already swimming here! In any case, we did it – tested personally!
Of course, with a sea temperature of about +17, this is a dubious activity from the point of view of pleasure. Not for everyone, but for many tourists!
How to Dress
It depends on how busy your trip will be. If you choose to go to Athens for a couple of days, you can limit yourself to a modest set of clothes. But an attempt to climb Olympus or visiting Meteora will require more substantial clothing.
Don't be afraid to seem ridiculous – experienced tourists don't hesitate to take woolen things even to April Cyprus! Because as soon as the local winds change direction and the sun disappears, it becomes really cold and uncomfortable
It's especially chilly near the water. Take this into account if you are going to walk a lot on the seashore..
Prices 2023
When choosing a place of residence, you should focus on the pricing range of 30-50 € per day. In which, if not the majority, then a significant number of apartments and hotels live. Alas, they are not always located in the very center.
In Athens, for example, we stayed in a spacious Cozy Studio apartment in the center. Despite the name, located about 1.5 km from the National Archaeological Museum. But they deserved our rave reviews with decent size (29 m2), cleanliness and availability of all necessary equipment.
If this flat turns out to be booked, try "knocking" at Athens City Themis13. Well, a very spacious apartment, not so long ago appeared on the Booking. But clearly attracting attention with a low price and a good rating.
In Rhodes, we will recommend personally tested St. George Studios. Authentic, well-located apartments, staying in which you can walk around the old town every day without strain. And you will not be puffing on the high cost – for a night in March you will pay about 45 €.
The studio has a cozy furnished courtyard, where it is so nice to sit in the evening with a glass of wine. But you will have to look for a parking place yourself. Exploring Rhodes by public transport and on foot is just inconvenient…
What to Do
The Parthenon, as well as the Acropolis as a whole, standing on a huge rock in the center of Athens, we will put in the first place, listing the main local attractions. Especially if you take into account that Greece is not crowded with foreigners at the end of March. And you will be able to find points where someone's heads will not get into the frame.
It is equally worth spending a few hours of valuable time to see the collection of the Archaeological Museum of the Acropolis. Located in a modern building next to the heart of Greek civilization.
The number of ancient artifacts stored there is amazing. Perhaps
this is the largest collection of its kind in the whole world. Which is not surprising, of course – where else would it be located?
What Else?
From Athens, you can quickly get to the ancient sanctuary of Delphi, placed on the southwestern slope of Mount Parnassus. Usually they only go there for a few hours.
But if you wish, you can stay for a couple of days to go skiing or snowboarding. We especially recommend Delphic Horizons, a huge flate with 4 bedrooms. And not because of its size – from the apartment terrace open amazing views!
Meteora Monasteries by car can be reached from the Greek capital in 5 hours. Sometimes even faster – the quality of the road allows that. From Thessaloniki the popular attraction can be reached in a maximum of 2.5 hours.
But in Thessaloniki at the beginning of spring you will probably get bored – there are frankly few sights in the second largest city of Greece.
To see Crete, it is better to fly directly to the island. Rent a car right at the airport and do a lot of sightseeing on the island.
There don't seem to be many of them. But for 3-5 days of constant trips there will be enough.
At the beginning of spring, it makes sense to pay a short visit to Crete. After all, high-speed ferries travel from Piraeus to Heraklion, covering 330 km of sea distance in just 7 hours.
And then go to Santorini. Whose epic sunsets in March are wonderfully good.
It is easiest to fly directly to the place and if you are going to visit Rhodes. In our opinion, in March it is quite worthy of a visit lasting 3-4 days!
© Goodtimefortrip.com