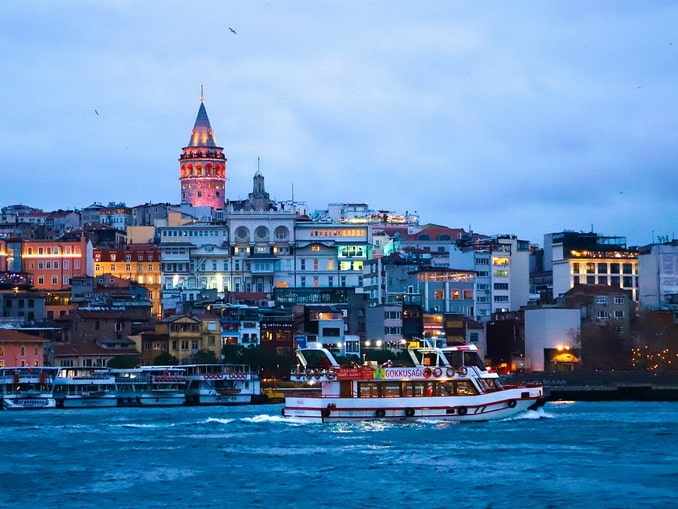 Turkey in March – is it worth visiting, where is it warmer? Weather, air and water temperature, prices 2023, how to dress, where is it possible to swim? What to do in Turkey in early March and later – in the article of good Time for Trip.
Most travelers who have vacationed in Turkey at least once in their lives have never been to this country outside of the beach season. As a last resort, they could consider the idea of a holiday there in May.
Well, or, for example, in October or the very beginning of November – if the tour costs a little. And they manage to break out of the work routine at least for a few days.
Is it fair? We're sure that this is not the case!!
And in this article we will try to convince you that even in March Turkey is perfect for traveling. Moreover, this month the Asian country has excellent chances to win your heart forever.
No, you probably won't have to swim. But also there will be no time to feel deprived due to the inaccessibility of the sea.
Especially if you profess an active lifestyle and are able to dig up enough information on the topic of what you can do in Istanbul in March. This is for example – in other regions of Turkey, not excluding the southern ones (peacefully dozing after winter), and in early spring there are plenty of opportunities for a boring pastime.
Why go far – in the same Cappadocia in March, the weather allows you not to refuse any of those entertainments that tourists love. And the prices for excursions, car rentals and even hotels directly entice, convincing not to be afraid and take a risk.
Weather in Turkey in March
Naturally, it does not adhere to any pattern of behavior and varies greatly depending on the region. It will be quite cool on the Black Sea coast of the country, Istanbul will give hope, in Bodrum you will feel the breath of the approaching spring. And in Antalya you will already be looking forward to its onset.
If you get there, of course!
We will try to convince you that it is worth trying. And let's start from the obvious direction. One of those we personally (and not so long ago) tested at the turn of winter and spring.
Istanbul
The main Turkish metropolis even at the beginning of March looks like a promising destination in terms of travel. First of all, due to the very small number of tourists. And only in the second – because of the weather.
Which is generally characterized by a capricious and fickle disposition, that may well disappoint a person who is convinced by the bright booklets.
Yes, the air temperature in Istanbul at the beginning of March in theory can reach +15 degrees Celsius. But it will be much more willing to try to freeze you – in 2022, for example, the beginning of March across Turkey turned out to be very cool. Moreover, and the end of the month didn't please with special warmth.
However, everything has its advantages. And the cool weather had the most positive effect on prices.
So, travelers didn't have to figure out how to save money. For even the hotels located in the Fatih area attracted extremely pretty
Prices
For example, Ada Hotel Istanbul – which is very good in our opinion – was ready to accommodate a couple of travelers for the amount of about 25 €/day. An "excellent breakfast" for two guests was included in this price, the distance to the Blue Mosque does not exceed 200 meters.
Recently underwent cosmetic repairs VERSECA HOTEL, therefore it's clean and cozy now. Naturally, and inexpensive! In addition, it has an excellent location – you can reach the main sights of Istanbul in 5-10 minutes.
Haven't had time to move away from the low-income winter yet, and therefore give big discounts on excursions local tour agencies, as well as single guides. It will also be possible to rent a car for a very modest price.
We emphasize that although the air is still cool, there is a lot of sunlight there trough the whole March, and rains are rare. Which, against the background of the usual freshness for the beginning of spring, charges with such energy and optimism that you want to go somewhere from Istanbul.
For example, to the thermal resort of Yalova, to soak in hot water. Or to to the Princes' Islands, which are practically deserted at this time of year.
Active citizens are building much more far-reaching plans. For example, they travel by car from Istanbul to Cappadocia. Or to the Turkish Riviera in general.
Which is easy to explain – there are enough interesting places near Antalya, that can grab you for a week or more. And the weather there at the beginning of spring is pretty warm!
Antalya
Another place in Turkey where you can relax in March. And it's better do closer to April than right after the winter.
At least because by this moment there should be more opportunities. And you, for example, will be able to spend some unforgettable days right on the seashore.
At the end of March in Antalya, you can count on an average daytime temperature of about +18-20 °C and a high probability of a clear day. That allows you to get into the habit of walking along the seashore and inhaling the life-giving air both in the morning and in the evening. As well as to organize an extensive entertainment program!
Moreover, the prices for excursions at this time are low compared to summer. And the number of tourists taking part in them is minimal.
The ruins of Perge and Side, the amphitheater of Aspendos, the abandoned ancient polises of Olympos and Phaselis, Termessos – all this should be paid close attention. We are not talking about climbing to the snow-covered top of Tahtali Mountain, and visiting a fire-breathing Chimera. As well as of trips to Demre and Mira, visiting Kekova Island.
Prices for apartments and hotels in Antalya in March are still near the bottom. That is, they are not even worth comparing with those that you will pay for a room in a conditional Brighton.
Alanya
At the warmest resort in Turkey at the very beginning of spring you can get a powerful charge of cheerfulness and optimism. Mainly due to the abundance of sunny days and the low probability of rain. The length of daylight is from 11.5 to 12.5 hours!
Is the wind strong? Like almost everywhere on the coast at this time of year, it feels itself like a master. Turning any attempts to swim into a test.
But, in principle, wind gusts are not so strong as to freeze clothed citizens!
Winter clothing is not required. But a windbreaker or a light jacket should be at hand, a thick sweater will also come in handy. Especially if you like to sit on the beach for a long time, mesmerized by watching the sea.
What can you visit in Alanya and its surroundings? It is better not to ask this question – it would be more appropriate to inquiry, what do you have enough time for during your vacation?
Again, almost anyone will want to go from Alanya to Cappadocia. Perhaps because even a bus covers a distance of 400 km in 6-7 hours!
Cappadocia
As mentioned above, getting to this region can be combined with visiting other interesting places in Turkey. Especially in March, when the sea and the beach are not yet able to fully capture the attention of vacationers.
Although a visit to Cappadocia in early spring will be a memorable event in itself. Yes, there're no reasons to expect that it will be warm outside. But on the other hand, it comes to frosts only in exceptional cases.
Which creates excellent conditions for sightseeing activities. And quite suitable for flying over Cappadocia in a balloon. After all, many people are coming here only for this?!
We agree that March in Cappadocia is more cloudy than sunny. But this is not so important – the main thing is that rains are rare here. And at this time they are never torrential.
So almost certainly you will have time to see many valleys of Cappadocia. And also visit the underground city, climb the Uchhisara fortress, buy an original Turkish souvenir in the pottery workshops of Avanos…
Prices for Cappadocian hotels in March will please economical travelers. Because even in the Vintage Cave House Hotel you can get a room for a modest 25-30 €.

Bodrum
In the absence of the opportunity to swim in the sea and sunbathe, the resort, which is extremely beloved by British, for example, vacationers, becomes not too interesting. And the reason for this lies on the surface – there aren't so many attractions in Bodrum.
Of course, you can explore the castle of St. Peter and wander through the ruins of the Mausoleum of Halicarnassus, climb "The Mill's hill" and go to the beach of Dalyan. But other than that there is simply nothing to do here.
Maybe the weather will help out? Yes, in March it is warmer in Bodrum than in Istanbul – the air temperature fluctuates in the range +15-22 °C. But obviously not so much that you want not just to sit by the sea, but also to swim in it.
We don't argue, those who run away from the hustle and bustle will be happy to spend a week on the Aegean coast of Turkey in March. Moreover, the program of excursions, if desired, can be expanded by trips to Ephesus or Pamukkale. To the key, but at the dawn of spring, still deserted sights of Turkey.
If you are going to Bodrum, we advise you to get to Oludeniz and its photogenic Blue Lagoon. To visit the Valley of Butterflies and – if the physical form allows – to walk a dozen kilometers along the Lycian trail. A wonderful treking route stretching, by the way, to the very Antalya!
Kas
The town of Kas, which is gradually gaining popularity, but has not yet become a haven for mass tourists, located between Fethiye and Antalya, few will want to visit in March. Since the main local attractions are the beaches.
Stage Kaputash, regularly claiming to be the most beautiful in Turkey. And the incredible length of Patara, where anyone can find solitude.
Bathing during this period will appeal to few people. Since the water in the Mediterranean Sea is warmed up to a maximum of +17-18 °C.
But prices for Kas hotels in early spring are quite low. And you can relax there for a completely ridiculous amount.
The air temperature is not much different from that set in Bodrum or Marmaris: during the day it reaches +16-18 °C at the beginning of the month. And around +20-24 – at its end.
© Goodtimefortrip.com