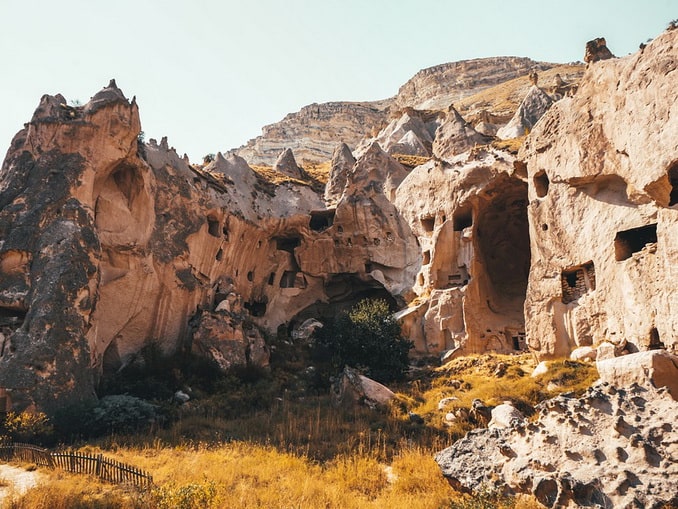 Cappadocia in November 2023 – is it worth visiting? Weather, whether balloons fly, what to wear, hotel and tours prices. What to do in Cappadocia in early November and close to the winter, how to get there from Istanbul or Antalya – in the review of good Time for Trip.
It has already been said more than once, therefore – we emphasize! Cappadocia today has become a year-round tourist destination.
In terms of popularity, this region has far surpassed other famous Turkish attractions like Pamukkale or Ephesus and has become completely self-sufficient – many people come here purposefully.
Not in order to unwind, bored at the resorts or after visiting Istanbul sights, but by making Cappadocia the main and often the only goal for their trip. And this makes sense!
After all, in winter Cappadocia is perhaps more beautiful than in summer. And in other seasons – for example, in the beginning and middle of autumn – it flaunts such colors that tourists literally don't have enough words to express their feelings. They prefer to just watch, frozen in admiration.
Are you still in doubt, wondering if you should visit Cappadocia in November? According to deep-rooted beliefs, the most rainy and cloudy month of the year?
In vain, many reviews claim that such a trip is definitely
Worth Considering!
Even more – subsequently it will not make you regret the choice. And regardless of the weather, will give unforgettable impressions!
In addition, the fee for this entertainment is reduced. Because best local hotels know the rules of the game very well and fight for clients.
Local landscapes at the end of autumn are much more deserted and mysterious. And touch the soul even more than in a sunny and more optimistic time.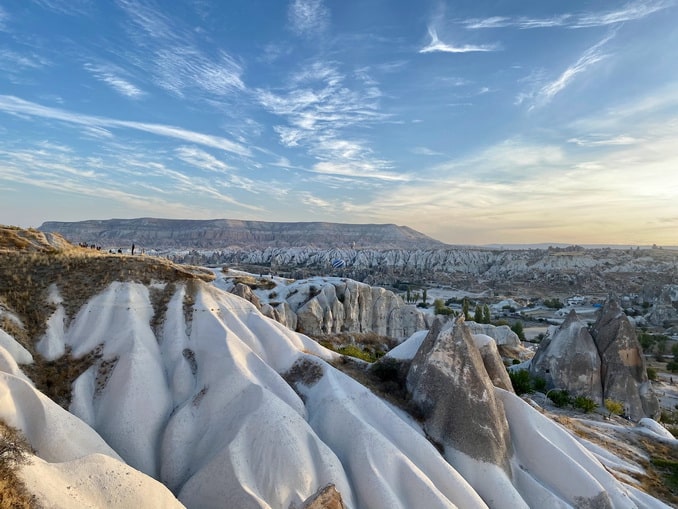 Weather in Cappadocia in November
Usually meteorologists promises instability. That is: one day will be warm and bright, and the next – cold and gloomy. And – which is very surprising – often such a forecast comes true!
With one amendment – cold at this time means the air temperature is not lower than + 5-7 °C. And that – at night!
In any case, November 2022 in Cappadocia turned out just like that. Not all, of course, its first half.
The air temperature during the day walked within + 15-20 °C, at night it dropped to +10 °C and less. At the same time, there was a lot of sun, precipitation practically didn't act on the nerves.
As well as the winds – the beginning of November in Cappadocia is statistically the calmest time of the year. That is, it's best suited for balloon flights.
Moreover, there are not very many tourists, and you have the opportunity to get a discount. In the air, by the way, or on the ground – prices for guided tours in the valleys fall significantly.
Further, from the middle to the end of the month, the weather deteriorates. Basically in the sense of temperatures – in the daytime becomes as earlier nights. And in the early morning it becomes no longer up to admiring the multicolored domes – often around 0 or even frosty.
Of course, a warm fur jacket and a cup of coffee on the rooftop terrace of your hotel in Göreme can reconcile you with reality.
But at least the first one you will have to put in the suitcase when packing. Even if you are going to go to Cappadocia after a beach holiday in Alanya in November.
You can see the current weather forecast in Cappadocia, for example, here – weather25.com/europe/turkey/cappadocia.
What to Wear
Gloves, hats, scarves and sweaters as an alternative should also be included. As well as comfortable and warm enough shoes. Which will allow you not to injure your foot and not get too cold when hiking in valleys and exploring cave churches.
Note that sometimes the local weather surprises in the form of snow-covered landscapes. Which, by the way, is also good!
Because the hills covered with a white veil are very beautiful. And they appear in a completely different, some kind of unreal, alien form.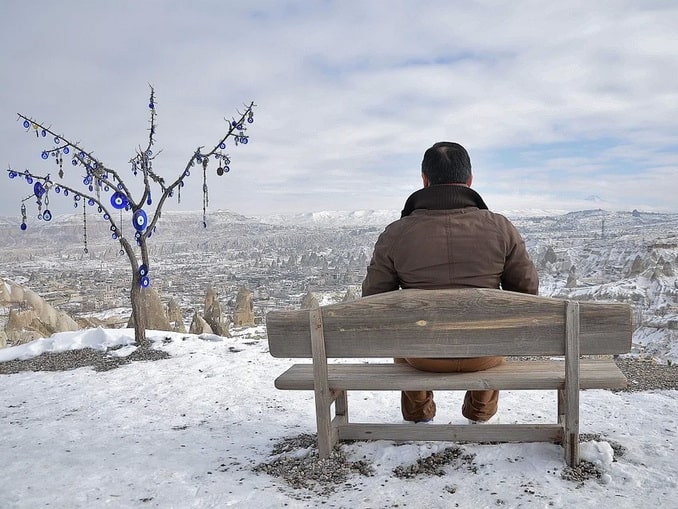 Prices 2023
November is a frank off-season for the designated region. Therefore, you can rely on a significant discount. Even in a very comfortable cave hotels, you can find a room for less than 50 € per night – by modern local standards, this is quite inexpensive.
Pay attention to Chelebi Cave House Hotel, whose 9.5 rating is quite justified. Given the modest price tag, the high quality of the rooms and the helpfulness of the staff.
The corresponding figure flaunts under the name of Hanzade Suites, a slightly more expensive hotel in the heart of Göreme. But the bus station is very close to it, and the views from the roof are excellent!
Approximately 35 € per day for two costs the room in the popular cave hotel Elite Cave Suites. The views from the terrace of which cause a surge of extremely positive emotions among the guests.
Of course, an interesting option, at least from the point of view of independent sightseeing in Cappadocia, is car rental. If you don't have one, or it stayed at home …
As for excursions, as well as flights, they become cheaper in late autumn. Sometimes significantly – the same "Red" or "Green" travel routes in the region are sold at a significant discount.
Are you still in doubt? Because you have had plans to visit November Istanbul and walk along the Bosphorus?
In vain – a visit to the former Constantinople, where it is convenient to combine with a visit to Cappadocia! Since getting from Istanbul to Göreme even by car or by bus will turn out relatively quickly – in 7-10 hours.
You will say that this is dangerous – bus accidents involving tourists in Turkey have become too common. But in this case, you will go on a regular bus. That has no reason to rush…
What to Do in Cappadocia in November
There are many possibilities. So much so that without developing a clear route of movement through Cappadocia in advance, you may well get "lost". And as a result, you will not have time to inspect something "obligatory".
Some tourists here are so calm that they don't even want to go anywhere. Just sit on the hill and soak up the aura of the place.
Well, maybe sometimes they wander along solitary paths without choosing a direction. Admiring the rocks of bizarre shape and color, the frescoes of the Byzantine period in the local cave churches.
But for others, a trip to Cappadocia on the threshold of winter is an occasion to show unprecedented activity. And see literally everything that guidebooks talk about.
Visit the stone mushroom groves in Pasabag and exercise your imagination on the rocks of the Derwent Valley. Find at least one local Love Valley (of 2). And see the Dark Church in the open-air museum in Goreme itself.
Will there be time for a walk through the Pigeon Valley to the Ukhchisar fortress? Or visiting churches in the remote Ihlara Valley?
Will you be able to go to Chavushin to compare the cities of the past with the modern ones? Wander through the labyrinths of Derinkuyu or neighboring Kaymakli – are they the only ones in the whole world?!
You will have to find the answers to these questions yourself, based on the possible duration of the vacation. Since it is difficult to see even a part of the above in a couple of days.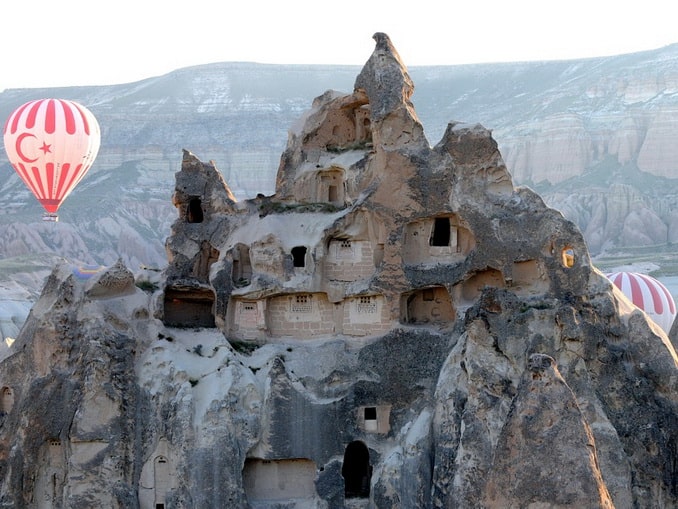 How to Get There
In this paragraph, we will only talk about how you can get to Cappadocia from the popular tourist places of Turkey.
There are several routes, depending on where you are going to start from. But, in principle, it will take 7 hours or more to travel by land (bus, car).
After all, the distance to Cappadocia from Istanbul is about 700 km. And from Alanya it's about 200 km less. But Bodrum, on the contrary, is too far away!!
Arriving in the region by plane in transit through Kayseri Airport will be faster, but also more expensive. Although if you regularly monitor air tickets sites, you will definitely stumble upon a sale from the local low-cost airline Pegasus.
© Goodtimefortrip.com