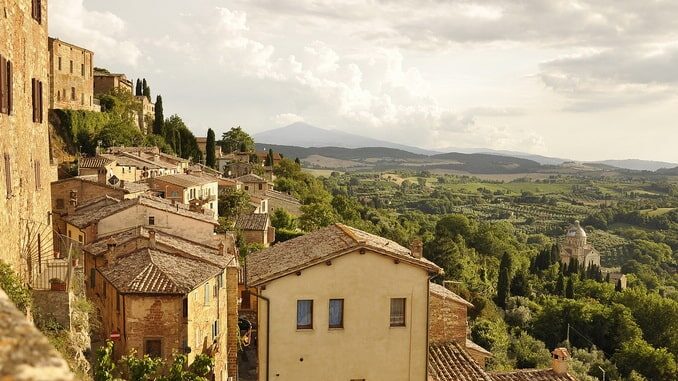 What to visit in Tuscany in 2023: main attractions and most interesting places. Route by car, distances, prices, where to stay for the night? Which cities of Tuscany are worth seeing, where you can spend your seaside holiday – in the material of good Time for Trip.
Tuscany is a region for aesthete tourists. That area in Italy, which is practically devoid of flaws, and is filled with sights – like the casket of an Indian rajah – with treasures.
It's customary to praise Tuscany, simultaneously admiring the delicate taste and extraordinary thinking of the travelers who visited it. And cherishing the thought that someday you too (again?) will wander through it.
Once again you'll see Pisa and for a long time will caress by look the Leaning Tower, thinking about how perfect imperfect things are. Then you'll get to Siena and stuck there for a long time, unable to move.
Or, maybe, you'll visit Lucca, which gave Italy and the world the sunny composer Giacomo Puccini? And will spend day or two on inspection of the main sights in Florence – it's a sin not to enter in the Uffizi?
All this time
pyramids of cypresses and fields of delicate green-yellow tones, that as if resting under an absolutely serene pale blue sky will surround you. And to sail past – will you go by car, train or bus – of the ochre colors ancient terracotta towns.
It's worth noting that Michelangelo and da Vinci were born and grew up here. And became a titan incomparable Raphael…
Only, we note, in order to see Tuscany and its attractions in all their glory, to fully immerse yourself in the reality and history of the birthplace of the Renaissance, you shouldn't hurry. On the contrary, first you need to spend time and develop a detailed travel route. Not too intricate, but at the same time allowing you to visit all the most interesting places in Tuscany.
It's not easy, there are plenty of sights here! Our version of a car trip around the most (subjectively) interesting region of Italy is set out below!
Most Interesting Towns in Tuscany
The option we offer to your attention for a trip around the region is designed for about a week. As in our opinion, it's impossible to see the most beautiful attractions of Tuscany in less time. As well – if you're going to travel in the hot summer season – it also be needed some time for beach vacationing – the number of brilliant seaside resorts in Tuscany is quite high.
Pisa
Let's start with this city. And not because there is a leaning Leaning Tower well-known to everyone from school – low-cost flights usually land at the local airport.
After you leave the plane and pass through passport control, we recommend don't immediately leave the terminal of the Galileo Galilei Airport! On the contrary – it's better right on the spot to rent a small car like Fiat Panda or Opel Corso. Both are the best choice from the point of view of parking.
Looking into the high tourist season, you need to book a vehicle in advance via the Internet, 2 months before the trip
After that, it's quite possible to proceed with the implementation of the first stage of the plan – by sightseeing Pisa. A town famous for its Leaning Tower. And having a number of other, extremely interesting places.
We especially recommend visiting the Romanesque Cathedral of Pisa, as well as Santa Maria della Spina, an elegant little church that you just want to take with you. After all, it looks like just the perfect jewelry box?! Too big, really…
The Baptistery on the Square of Miracles in Pisa, Piazza dei Miracoli, and Campo Santo, the land for which was specially removed from Calvary, are visited at will, if you have time left.
On a Note!
It's impossible to enter the ZTL zone of Pisa even by a rental car – they are fined, and funds from the card (which is required when signing the car rental contract) will be written off absolutely automatically.
With free parking in Pisa, it's often quite stressful, although you can find a place 1 kilometer from the center. Prices at paid parking lots range from 1 to 2.5 € per hour.
Where to Stay
Only those who are overflowing with the aura of the city will stay in Pisa for the night – however, this is actually every first one. We recommend Casa Betania on the outskirts of the city – it offers free private parking.
Noticeably more expensive is the family-run B&B Pisa Tower, which is a 15-minute walk from the main attractions. And quite moderately, considering the location, costs a room in La Terrazza Sui Miracoli, a guest house located literally on the Square of Miracles. In the latter case, you will have to look for parking outside of ZTL.
We're going to explore Tuscany further!
Lucca
After driving only 23 km along the toll road, you will arrive in another most interesting city in the region.
Lucca is less famous than Pisa, but just as beautiful. The epicenter of tourist interests should be the local cathedral with a campanile partially lined with travertine. Another town church, San Michele in Foro, is often mistaken for the main local temple due to the size and richness of the exterior decoration.
The calling card of Lucca is the Guinigi Tower with an oak grove at the very top. The fortification is only 44 meters high, but the views from it are wonderful – as in many other small towns in Italy, they don't want to build faceless skyscrapers here.
The famous native of Lucca is the composer Giacomo Puccini, his house has now been turned into a museum.
Despite its modest size, there are enough hotels in the town! From the pretentious 4-star Ilaria Hotel to Lydia Guest House Apartments, which are located one kilometer from the center of Lucca.
Florence
Actually it's impossible to say that you have visited Tuscany without seeing its main city. Moreover, the distance from Pisa to Florence is only 75 km and by car it can be overcome in a little over an hour.
The hotel should be chosen closer to the center and with a parking spot: although the capital of Tuscany is quite large, there is actually nowhere to park a car for free here.
To hope to see this city in just 1 day is literally ridiculous. As it's just difficult to visit everything important in Florence for 2 days. However, there is a chance that you will get tired quickly and want to move on.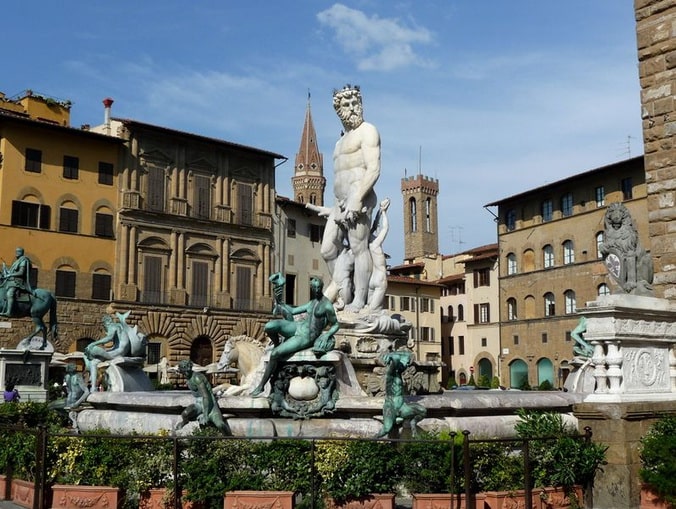 For the capital of Tuscany is almost always crowded with tourists – will you go to Florence in September or, for example, December. In view of this, locals don't care too much about high prices and quality of street food.
Where to Eat and Stay
Local gelato is almost everywhere ordinary. Pasta and pizza, as well as other dishes of original Italian cuisine in restaurants and cafes, are often no better than store-bought.
Although with the help of an erudite guide, you can easily fall in love with Florence. And this pleasure isn't so expensive – you will pay 30-50 € for a walk around the center.
If you are going to stay in Florence for the night, don't settle in the very center. Moreover, by driving there in a rented car (ZTL zone), you can easily lose an impressive amount from the rental office left on deposit.
So we recommend inexpensive Le Nove Muse Guesthouse that is in a 15-minute walk from the Piazza della Signoria. And, on the contrary, the very expensive c-hotels Ambasciatori near Florence Central Station, Santa Maria Novella.
San Gimignano
Visiting Tuscany, it's simply unwise not to enter in "The Town of 14 Towers". If UNESCO itself noticed this, then it is simply a sin for a tourist to ignore such a unique place. Moreover, San Gimignano is very conveniently located: it stands on a hill halfway from Florence to Siena.
The main disadvantage is that there are always a lot of tourists, especially organized ones, walking along the streets in a friendly, slender squad. A nice plus is that you can park the car for free a kilometer from the city walls.
We've revealed the main reasons for seeing San Gimignano in a separate article. Therefore, no need for repeating here…
Volterra
After twisting a little along the winding roads (about 40 km) and driving even further sideways from the Florence – Siena highway, you will get to Volterra. A charming sleepy town, peaceful as a lizard in the sun.
The guidebooks say something important about the city walls and gates. But you just walk through the streets and look at Tuscany from above. We guarantee that something similar to nirvana will visit you!
Siena
is an ancient and quite large city, which was once the capital of an entire trading republic, successfully competing with Florence. As a result, it was rich and therefore constantly filled with beautiful buildings.
Alas, a mass tourist today comes to visit Siena for only 1 day. In fact, this is a major mistake. But let the majority continue to do it!
At the same time the minority will come to Siena and will spend 2-3 days here. Or even a week?! In order to remember this time with warmth all your life. Because this is where the heart of Tuscany beats!
Montalcino
This town located 45 km south of Siena, is not spoiled by the attention of foreigners, but is famous for its Brunello wine. The best and most expensive alcohol beverage sold in Italy – price for a bottle of ambrosia in local stores is now started for at least 35-40 €.
However, in Montalcino you can find local wine and cheaper – for a container with Rosso di Montalcino they ask 12 €. And almost certainly – if you aren't a sommelier – you won't feel much difference.
An hour or two spent in Montalcino with a good reason can be considered as a Tuscan-style psychotherapy. Sitting on a stone wall heated by the sun, looking down from the hill at the green-blue fields that close in the distance with the sky, you will just feel yourself truly happy person.
Sorano
This is a little town in the south of Tuscany, nestled on a fragile tuff rock, almost unknown to the general public. Moreover, a similar place – Pitigliano – is well known to advanced European autotourists.
And this is an extra reason to spend a day in Sorano, fully feeling the unusual, sometimes even slightly gloomy aura of an ancient Etruscan settlement. You can stay in a kind of parador, Hotel Della Fortezza, located in an ancient stone house on the territory of the family fortress of the Roman Orsini family.
Feniglia
After you have completed the entire path indicated above, it makes sense to relax on the sea for a few days – you definitely deserve it! And, in order not to return to the beaches of Viareggio, the most popular and well-known seaside resort in Tuscany, you can move to the coast in the area of the huge sandy Feniglia beach.
It stretched for about 6 km of coast. Almost not equipped in terms of amenities (sun loungers, awnings, changing cabins and showers), but promising just a great, carefree pastime.
Next door to Feniglia, there is a paid camping, which we won't recommend – it's scolded by the Italians themselves.
Therefore, it's better to stay in the town Porto Ercole on Cape Argentario, or in Ancedonia. Although family hotels and apartments there and there are not particularly cheap. But you should definitely finish your trip to Tuscany on a high note!
© Goodtimefortrip.com