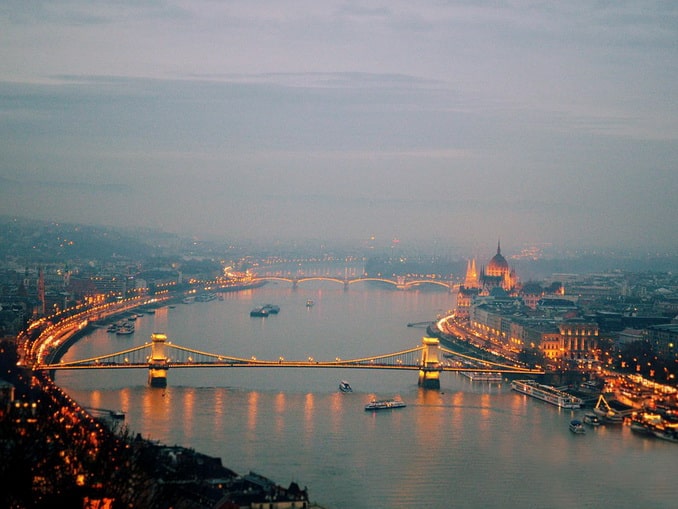 Budapest in February – is it worth visiting? Weather, air temperature, how to dress, prices 2023 in hotels and on excursions. What to do in Budapest at the end of winter, where to go – in an article of good Time for Trip.
February is not the month for which most people plan even the significant trips and travels abroad. Especially if they are not related to skiing.
This was considered quite recently – today such a statement are questioned by hundreds of thousands of people, if not millions. Thinking that following patterns is too boring.
And then is it worth to follow the established ideas? Especially if there is an opportunity to experience some new and fresh entertainment like soaking in thermal bath?
One of these non-standard moves is the idea of ​​visiting in February Budapest. A city relatively unfamiliar to the wide European and American traveler. But today, as if turning from Cinderella into a Princess.
After all, the main tourist centers of the Old World like Paris and London, Barcelona and Rome are already relatively traveled, becoming "a common place". But Budapest – not yet. And this status can suddenly turn it into a favorite.
Since Budapest has enough sights that are magnets for tourist attention. As well in the Hungarian capital there is a huge number of thermal baths. Which has already earned it the unofficial name of the "Spa Capital of the World".
Add here the rich opportunities for a variety of shopping. Very profitable – from the point of view of the citizens of Great Britain, so, probably, just gorgeous!
How, didn't you know? There are plenty of big shops and shopping centers in Budapest. But more importantly, there are also art and auction galleries!
Where you can buy a really original little thing as a keepsake or for decorating the interior.
There are enough interesting olaces in the vicinity of the Hungarian capital – from Budapest you can go for a day even to Vienna. Summer or winter, it doesn't matter. And in he case of a clear day, relax and stay there for a couple days more…
Weather in Budapest in February
For the most part, it resembles an April one somewhere in Norway. The same distinct tendency of thermometers in the daytime to climb above +10 °C can be traced. And at night – already forget about the frost.
Of course, this doesn't always work! But often in early February, the air temperature in Budapest not only sticks to the zero mark, but also stares at levels of + 10-12 °C.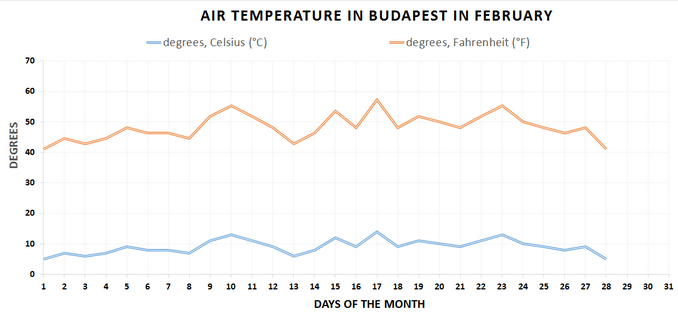 In such weather, it is nice to tour the beautiful streets. Yes, and a boat trip on the Danube will leave an exceptionally joyful experience.
Further – more. Or less – in 2021, in the middle of the month, temperatures made a week-long voyage into negative territory. Although they started the month as if they were already celebrating spring.
In the third decade of February, the weather in Budapest compensated for these frosts. Having driven the readings of thermometers up to + 15-18 °C.
And forcing the Hungarians themselves to remember that they actually live in a warm climate. Where grapes and other heat-loving crops ripen perfectly.
In 2022, by the way, there were no such shocks. And during the last two decades of the month, the atmosphere regularly warmed up to + 8-10 °C during the day.
Rains
In terms of precipitation, February in Budapest is not considered particularly wet. 40-50 mm per month, 3-4 relatively rainy days – an excellent indicator for the finale of winter.
Do not forget that the city stands on the full-flowing Danube. And, therefore, during periods of very fluctuating temperatures, it is shrouded in fogs. And the sun hardly peeps through the cloudy veil.
Humidity is also traditionally high. And it makes a frivolously dressed traveler feel chilly, even when the forecast promises a decent plus degree and no rain.
Keep this in mind if you are planning to take part in a boat trip along the Danube. And gear up more thoroughly than you should by seeing the predicted temperatures.
How to Dress
Based on the assumption that spring in Budapest hints at its arrival even in February, then there is no need for too warm clothes. A thick jacket with a hood, a pullover or sweatshirt, sneakers, boots – that's enough for you. Are you going on a walking tour of Buda or go somewhere out of town!
In the middle of the day, you may even want to undress partially by tying your jacket around your waist. And in our case, weight matters.
Moreover, the Hungarian capital is supposed to walk a lot. And to see Budapest properly, you also have to constantly go up and down.
Do not forget to bring swimwear with you, as well as thermal baths – perhaps the most famous attraction of the city! And make at least one visit to Széchenyi, Gellert or Lukács is a must!
Prices 2023
Surely you think that you can save money on a trip to Budapest in February? And indeed it is!
Although local hotels have not been too generous with discounts lately. It will be possible to rent a room in the center of Pest, having an amount of 45-50 € / day. Which is generally not cheap by European standards.
In terms of location and level of rooms, Nador Boutique- Best Location, By BQA is good, if not optimal. After all, it is located in a great location, just 300 meters from the Basilica of St. Stephen.
Definitely worth a closer look at the somewhat more expensive Elegant apartment with Buda Castle view on the other side of the river. About 55 € per day in an apartment of 77 m2? Yes, not for one – but four travelers? You rarely see an offer like this!
But it simply provokes the purchase of the cost of excursions in Budapest. After all, for only 10 € you can participate in a guided walk through the center. And for just over 20 €, take part in a fun bike ride around the main local attractions.
Things to Do
Most reviews emphasize that the capital of Hungary can be explored in its entirety in 2-3 days.
That is, during this time you can visit the Fortress with Royal Palace in Buda, key museums, the Fisherman's Bastion and the Church of St. Matthias.
Then bask in one of the popular baths, like those that clung to Gellert Hill. And climb on its top to enjoy the panorama.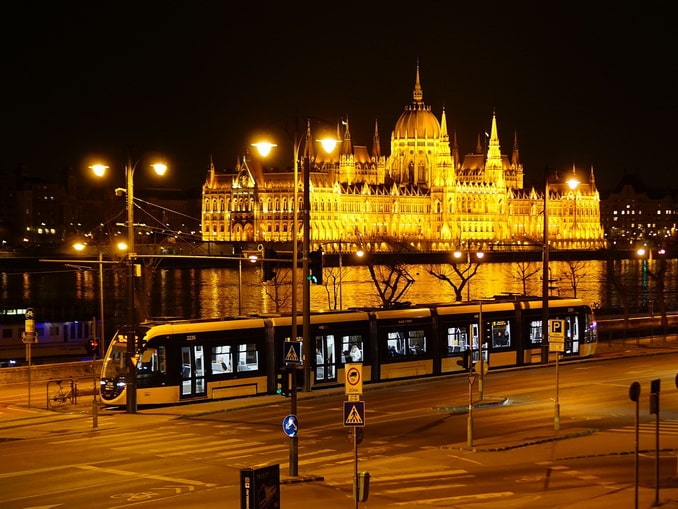 After that, there will still be time to explore Pest. Visit the pompous parliament building, the basilica of St. Stephen, on the bell tower of which there is another observation point.
Take a walk in the Varosliget park. Gaze at the popular Széchenyi baths and taste goulash at the famous café.
Will you have time to do some shopping on Vaci shopping street, explore the Central Market during a short visit? Or try to find something interesting and inexpensive in one of the huge shopping malls in Budapest?
Almost certainly – after all, you need to bring something from Hungary as a keepsake!
Where to Go
Let's not forget about the surroundings. Which definitely deserve a visit in February too!
Starting from the cozy town of Szentendre with its incredible houses and the museum-analogue of the Swedish Skansen. And far from ending with Visegrad, the town of Vac and Esztergom, where everyone go to see the huge Basilica of St. Adalbert.
Even in winter, you can start or continue treatment in Lake Heviz. Walk the streets of Keszthely on the banks of the Lake Balaton and get to the mighty Sümeg Castle. Make a trip to the beautiful Gyor, which usually reaches only every fifth traveler.
We recommend that you personally see the ancient Abbey of Pannonhalma. And if you manage to see Eger, famous for its thermal baths, wine and fortress.
Especially active tourists can go from Budapest to Vienna. Or maybe closer – according to the stories, the capital of Slovakia, Bratislava, is a blackly cozy and beautiful city.
© Goodtimefortrip.com