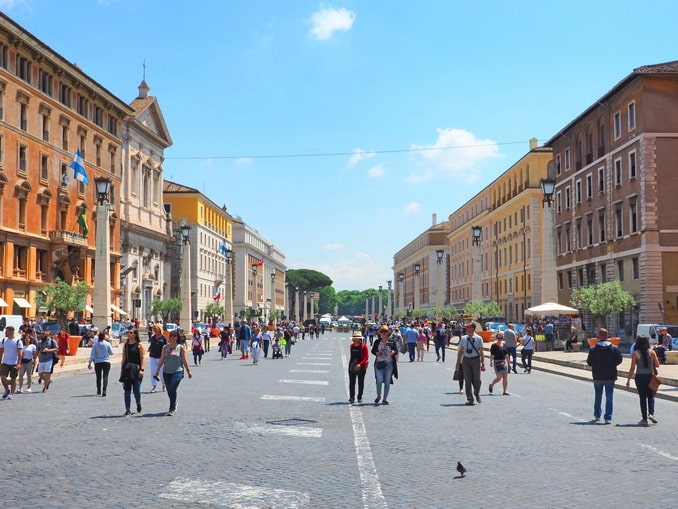 Rome in April – is it worth visiting? Weather, number of tourists, prices 2023 in hotels and excursions. What to do in Rome in the spring, where to go from the city and beyond – found out good Time for Trip.
If you are going to visit any country of the Old World with an excursion, and not a business visit, then April is perhaps the best time for this. It is no longer cold, not yet hot, with relatively modest prices in hotels and restaurants and a few tourists.
But what about Easter and the corresponding holidays, you ask? When every literally European considers it his duty to leave somewhere from his native home?
Yes, we agree that during this period, some popular cities in Europe look crowded. But if you have the opportunity to travel outside of peak dates (Easter will take place on April 9 in 2023), then we assure that you will not have to complain about the crowds and the lack of free space.
Again, for some, the abundance of tourists around is generally uncritical. And it's easy to verify this – it's enough to come to Rome in April and try to get into St. Peter's Square on a festive Sunday.
However, in our article we will still consider ordinary weekdays. When demand does not outstrip supply, and you will be able to implement the planned program of visiting Rome's top sightseeing places without regard to external circumstances.
And we will start traditionally, with what is
Weather in Rome in April
And it is worth a lot of praise. And even individual stories – those who have been to Rome in April, when all nature around is blooming and stretching towards the sun and summer, will, of course, come here again at the same time.
Just to feel and rejuvenate. At least with the soul, if not with the body …
Often, at the very beginning of the central month of spring, the air temperature in the "Eternal City" reaches the level of +20 °C. Although cautious travelers should still count on the maximum at +16-18 °C.
In April 2022, the weather in Rome, for example, swayed for a long time. And until the middle of the second decade, didn't want to warm up the atmosphere above +17 °C. Further, of course, there was a turning point in its mood, and the cherished mark was overcome.
True, this happened only during the day – after sunset in Rome, even in mid-April, it's cool – no higher than + 10-12 °C.
Read Also
Toward the end of the month, the sun begins to smile more and more regularly. And, finally, it ceases to save energy – in the final decade, daytime air temperatures reach + 22-24 °C.
Not every year, obviously. But usually the picture looks something like this – isn't this the good time to go to Rome?!
Humidity
The amount of precipitation is small – up to 30 mm per month. And the probability of a powerful spring downpour is quite moderate – typically 2-3 light rains happen during the whole of April.
Which seem to be designed to clean up the "Eternal City" a little after the winter. But they do not intend to seriously disrupt the excursion plans of tourists visiting the city.
The probability of a clear day fluctuated within 60-70%. What in translation into human language means – in April, Rome will appear before you all flooded with sunlight. And literally shrouded in aromas of rapidly blossoming nature.
 Actual Rome weather forecast – meteoam.it/ta/previsione/482/roma
How to Dress
It is unlikely that you should put winter or at least frankly warm clothes in your suitcase. For all occasions, an ordinary spring jacket should be enough. Just in case, duplicated with a cardigan and a sweatshirt.
But you should take special care of shoes. Because Rome, as you know, stands on 7 hills. And it is better to make long movements along it in comfortable sneakers and moccasins.
And there is no doubt that these movements will be long – the Roman spring excites the minds of mankind for centuries. Here you want to walk a lot and sit on stones, steps and walls for a long time.
Without trying to understand – it is hardly possible. Just trying to grab your piece of quiet happiness. Which, it turns out, does not even think of hiding especially!
Keep in Mind
Prices 2023
If you work hard and start booking no later than November, then for April dates you can find good and inexpensive rooms in Rome. At a price of 60-70 € per night (taxes not included) and – of course – not in the city center.
But then, that's happiness, not far from the Vatican. And the very cherished square, which we wrote about at the very beginning of the post!
Here we primarily mean the Vatican Suites Happy Holidays, which practically looks at the wall surrounding the "Pontifical City". This is the most budget option, because everyone else here with the same rating wants a lot more – from 100 €.
Not essential? Then feel free to check into the My Rooms guest house, from which you can walk slowly to the famous Bernini fountains in 5 minutes.
Quite good and slightly cheaper is MJ Roma San Pietro Guesthouse. In fresh reviews it's praised, someone do not hesitate to write that "everything was super."
An attempt to settle on the other side of the Tiber, closer to the Forum and the Trevi Fountain, all the more will not save money. Prepare the same hundred, and if you are late with the reservation, then already 120-130 €.
In terms of price-quality ratio, 1A Grace House seems to be the best option here. Where for this money you will briefly become the owner of a tiny, but separate studio. The metro station is nearby, key attractions can be reached on foot in 12-15 minutes.
Things to Do
And here they are, these very sights, and are the real purpose of a visit to April Rome for any traveler who likes antiquities. Because, in principle, he can afford to wander through the ruins and sit for a long time on the foundation of some ancient wall, undisturbed by anyone.
Of course, you have the right to make your own plan for visiting Rome, taking into account your own needs and experience. But just in case, we still list those places that make up the glory of the ancient city.
The desire to start a visit to the Italian capital with its Forum looks quite natural. And, perhaps, the Colosseum – if you have not seen the ancient amphitheater before from the inside.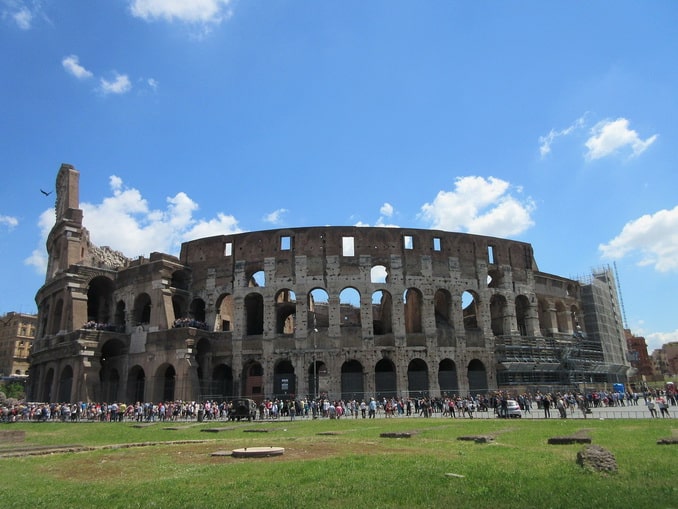 The desire to start a visit to the Italian capital with its Forum looks quite natural. And, perhaps, the Colosseum – if you have not seen the ancient amphitheater before from the inside.
Then we strongly advise you to take a closer look at the ruins of the palace of Emperor Augustus on the Palatine Hill – in April they will only open to visitors after a winter break. And then go inside the ruins of the "Golden House" of Nero, along with an erudite guide.
And to consolidate this course of the history of Ancient Rome with the beautifully preserved Trajan's Column and Caesar's Forum. Well, maybe even a visit to the Pantheon. A majestic pagan temple that did not lose its religious function even with the advent of Christianity.
Churches and…
Definitely should be given a day or two to the Roman churches. And not necessarily St. Peter's Cathedral, the main and largest Catholic church in the world.
But also surprisingly beautiful inside Santa Maria in Araceli on the Capitol Hill. And also Sant'Agnese in Agone in Piazza Navona, designed by one of the architectural geniuses of the Baroque era, Francesco Borromini.
A couple of the nicest churches are also sheltered by the largest square in the capital of Italy, Piazza del Popolo.
You should certainly throw a coin in the Trevi Fountain to come back here at least once. And admire the suburban villa of the Dukes d'Este in Tivoli – to experience the delight of such an organic fusion of nature and the creation of human hands.
Where to Go
It is unwise to neglect the opportunity to go somewhere from Rome in April. Until Italy was once again overwhelmed by real crowds of tourists.
In a certain proximity to the capital city, we recommend visiting the papal summer residence of Castel Gandolfo. Soak up the sea air on the coast at Lido di Ostia.
And pay a visit to either Vitterbo or Orvieto. And even both of these charming original towns.
Rail travel enthusiasts might take the chance to visit Florence. At least in order to see the masterpieces of the Uffizi and Pitti.
Well, for those who are able to stay in Italy for a few more days, we advise you to go to Venice. Which is connected to Rome by high-speed trains. And can become a real "pearl" of your spring trip!
© Goodtimefortrip.com
Unusual Experience