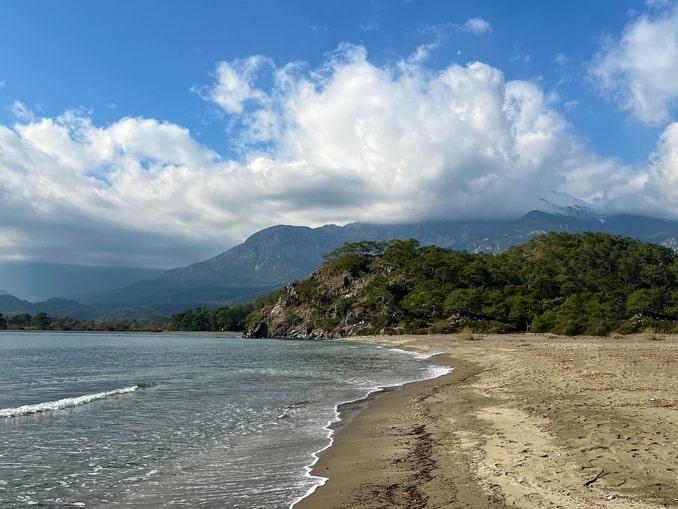 Antalya in January: is it worth visiting at the New Year and later? Weather, air temperature, prices 2023 in hotels and on excursions. What to do in Antalya in winter, where you can go – in the review by good Time for Trip.
Few people today have not heard about Antalya. A very popular resort in summer and in the first half of autumn, located in the very south of Turkey.
But out of season, according to all the rules, life here should stop. After all, tourists go home and it would never occur to anyone to catch the sun's rays on the beach.
However, is it so? Or this is just a common misconception?
We decided to explore what January is like in Antalya. In terms of weather, prices, available opportunities for fun…
And you know what turned out? That a trip to Antalya for the New Year and in general in the middle of winter is not such an stupid business!
On the contrary, potentially it's very interesting. Both in terms of the required amount of money, and the overall quality of the holiday.
After all, the list of interesting places that you can visit in Antalya and its environs includes several dozen points. And the distance to Istanbul from Cappadocia hints that you should decide on a full-scale trip.
#In the first month of the year – especially!
Weather in Antalya in January
Statistically, it does not promise a problem-free existence. After all, sunny days here immediately after the New Year are not in abundance. Yes, and the rains can seriously upset those who presumptuously did not take raincoats and umbrellas with them.
Yes, it's true – the central month of winter in Antalya is generous with rainfall. Which is inconvenient to compare with the high season – weather forecasters usually promise a real flood – up to 200 mm!
For reference: for the whole summer at the resort, more than 20-30 mm rarely falls!
So on some days it will pour almost like in Southeast Asia during the "monsoon season". True, not so hopeless!
Because in January Antalya sees clear days. Moreover, not in microscopic quantities, – more than the same winter Paris or London.
According to long-term observations, you have the right to count on at least 7-8 fine days per month. Which, due to the mildness of the winter weather in Antalya, encourage active recreational activities.
Naturally, not only at the resort itself, which you will explore in detail in a couple of days. And mainly outside the city: excursions to Demre, Mira and Kekova, Mount Tahtali, the ruins of Side and Aspendos (both – World Heritage Sites), even rafting in the Köprülü Canyon are in demand at any time of the year.
But many do not stop there. Inspired by the good weather and the almost complete absence of competitors, travelers enthusiastically travel from Antalya to Cappadocia. And not for a day – some for a week.
Air Temperature
In Antalya at the beginning of January and even its end, it fluctuates in the range of +10-17 degrees. At times, making attempts to please the townspeople and holidaymakers with something more – in 2022, for example, thermometers immediately after the New Year showed up to +20 in the afternoon.
Nights, however, are colder. And the closer to the end of the month, the more noticeable – so be sure to take warm clothes to Turkey.
For example, in 2022, the weather forecast at the end of January promised residents and guests of Antalya from +3 to +7. But by noon the atmosphere still warmed up to at least +10-12.
Water Temperature
It is clear that with such a weakly warmed air, few citizens will want to swim in the sea. Although the coastal area in Antalya continues to be quite warm even in the dead of winter, it does not cool below +17-18 degrees
Therefore, do not be surprised if you see citizens bathing when everyone around is at least wearing woolen sweaters. True, the majority of holidaymakers in Antalya in January do not need such feats. Because usually their hotels have heated pools. And if not, how great is the sadness?
After all, you will still saturate your lungs to the limit with fresh sea air. And walk the streets in pretty light jackets!
Not necessarily without a purpose: the local old town is beautiful and quite authentic. And, if you walk along it with a knowledgeable person, we assure you – you will get a lot of pleasure.
The traveler will also be amazed by the abundance of greenery – in winter you still expect less bright colors. As well as the number of large shopping centers – you are unlikely to leave Turkey without gifts for relatives and friends!
How to Dress
Frankly warm things in the wardrobe, however, may not be superfluous. And we're not talking about angora sweaters or sweatshirts – we're talking about real down jackets with hoods. And boots or boots with insulation and thick soles.
You do not know why you are wearing such clothes here? After all, a couple of paragraphs above, we argued that real cold weather is nonsense for New Year's Antalya?
And then, that a rare citizen who has a rest here independently limits himself to the limits of the resort!
So if you go to the ancient World and then look into Kekova, demi-season clothes should be enough. But in the case of walks in a more elevated area, as well as trips to the central part of the country, you should be more thoroughly insulated!
For example, almost 100 percent of tourists must definitely climb to the top of Mount Tahtala, which is 2,350 meters above sea level. Naturally, there will be snow. And, most likely, negative temperatures multiplied by an icy wind.
Or, as mentioned above, you generally aim for winter Cappadocia, that is, move to the central part of the Anatolian Peninsula. After all, there and at this time of the year you can fly on balloons – with a significant discount, by the way – look at the "fairy chimneys", climb cave churches.
Walk through the valleys, see the famous fortress in Uchisar, go down to any underground city …
In the latter case, warm clothing will be completely indispensable. For the winter in Cappadocia is much colder than on the coast. Probably even an order of magnitude when compared with the Turkish Riviera.
Some people will certainly want to visit Istanbul in January – such two-day trips from Antalya are practiced quite often. Indeed, in organizing such a voyage – by plane, bus or car – there is nothing complicated!
Note that the January weather on the banks of the Bosphorus resembles that in the south of Great Britain. That is, wandering there without a solid coat or jacket is contraindicated!
Prices 2023
The flow of those wishing to relax in Turkey, even in November, pretty much dries up, which has the most beneficial effect on prices. So you can rent a room, if not for a ridiculous, then just a very pleasant price.
Moreover, you do not have to explore the outskirts – you will be able to stop in the very center. For example, in the Adalya Port Hotel, looking directly at the harbor. The cost of living per day will be approximately 40 € for two – for such a location it is very cheap.
Accommodation in the family Urcu Hotel is not fundamentally more expensive. And you like it: small size, cozy and clean rooms…
It is located next to the "umbrella alley" and a couple of minutes from Hadrian's gate. "For those who go for a walk around Antalya – just a godsend," one of the reviews states. And it's hard to disagree with that!
Pay attention to the designer Castle Inn Boutique Hotel in Muratpaşa district. After all, here asks for only 45 € per night and service deserves a "nine" rating on Booking.
Things to Do
It is clear that a person who has arrived in Antalya is unlikely to sit on the seashore all day long and inhale healthy air. After all, most people try to use their vacation during the New Year holidays more productively. Moreover, in the Turkish resort and in the off-season there is something to do.
Starting from leisurely walks through the old city and shopping in local shopping centers. And by no means ending with sea cruises and visiting amazingly beautiful gorges in the vicinity of the Turkish resort.
Since nearby there is also Mount Chimera, blazing with fire, the ruins of the ancient Greek cities of Olympos, Phaselis, the mysterious and well-preserved Termessos. At the indicated time, the seasons are almost deserted and therefore especially beautiful.
Even in winter, a lover of ancient beauty will be attracted by the ruins of Perge. And you will almost certainly want to go see the giant amphitheater in Aspendos.
You will not regret if visit Demre and the church of St. Nicholas, ancient Myra. Or get to the island of Kekova, near which the ruins of the sunken ancient city of Dolichiste peep through the water. It's easy to do – the Mediterranean Sea does not think to freeze.
Fans of ecotourism may want to walk a dozen or two kilometers along the Lycian Way. Breathe in the air saturated with the aromas of pine needles and iodine, the healing properties of which are legendary.
We mentioned Cappadocia and Istanbul above. Although it is not too easy to go to the last one from Antalya.
But it is necessary! It's just a sin not to seize the moment – in January there are frankly few tourists on the banks of the Bosphorus.
© Goodtimefortrip.com