Antalya – Istanbul – how to get on your own or with a tour? By plane, bus or car: distance, travel time, ticket and gasoline prices 2023. What is the best time to visit Istanbul, where to stay, what to do – in the review of good Time for Trip.
Antalya and its surrounding independent resorts like Kemer, Belek and Side are becoming more and more popular seaside holiday destinations for Europeans and Americans every new year. Relatively inexpensive, saturated, possessing virtually all the qualities that allow you to call even a short vacation a success!
Here, in the south of Turkey, people go swimming and sunbathing with pleasure. As well as walking in the mountains a lot and exploring the ruins with a thousand-year history.
And usually they are not disappointed – even in November, the weather in Antalya is called gorgeous by many. Subsequently, with pleasure repeat this kind of trip.
Today there is a new interesting trend. Since only the beach and water activities were not enough for active citizens, they began to design complex routes.
Which consist of both a calm and relaxing, mostly beach part, and a rich excursion program!
Moreover, it is not difficult to combine the indicated pieces into a beautiful and – moreover – original puzzle. After all, for example, even a completely inexperienced tourist can get to Istanbul from Antalya without unpleasant surprises.
He just needs to decide. Make a short search on the Internet and outline a program of action.
Which, obviously, can even be designed for a week – there are enough interesting sights in Istanbul and next to it!
Duration of a Trip from Antalya to Istanbul
Most holidaymakers, however, plan to make a short trip. Usually calculated for only 2 – rarely 3 – days.
Since it has been experimentally established that during this period of time anyone can get acquainted with the Topkapi Palace, the Blue Mosque and Hagia Sophia. And also make a boat trip along the Bosphorus.
There are also sightseeing tours that allow you to quickly move from Antalya to Istanbul. And then come back in less than 24 hours.
But their cost is quite high – from 200 € per person. And the format itself, which is very exhausting for travelers, attracts not so many who want to risk (health).
Travel Time
The distance between Istanbul and Antalya is approximately 685 km by highway. Of course, if you choose the shortest route that runs through the central regions of the country.
The quality of the road is very good. The landscape outside the window will change as you move from south to north.
In the final stretch, it will be easy to concentrate solely on driving. But at first, the surrounding landscapes threaten to distract you in every possible way. For the wooded gorges adjoining famous resort from the north are very beautiful and extremely photogenic.
Travel time by car is 9-10 hours. Depending on how many people will be driving. And how often do you have to stop to rest and warm up.
Due to the rather large distance between cities, you will have to make at least one check-in at the gas station. Yes, and a stop for lunch, too, somehow needs to be taken into account. Because planning to have a snack on the go during the vacation, somehow wrong.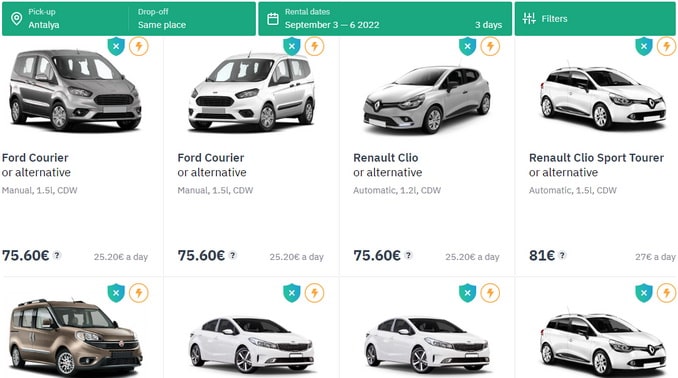 How to Get by Plane
Yes, it is very easy! Plus, frankly inexpensive.
After all, the ticket Antalya – Istanbul costs from 21 € per person. If you agree to an economy option on board the budget carrier Pegasus.
Luggage (up to 15 kg) is included in the price. As well as hand luggage, in which you can take up to 8 kg.
You should not count on much with this kind of movement! After all, both the comfort in the plane and the level of service leave much to be desired.
Close attention should be paid to the packaging of fragile items – you would like to bring valuable souvenirs from Turkey, right? Since the employees of the Turkish budget airline do not stand on ceremony with the suitcases of passengers.
The flight itself to the capital's Sabiha Gokcen Airport (located on the Asian side of Istanbul) takes an hour and a quarter.
Antalya Airport can be reached from the city center by public transport: bus number 600 or the AntRay light rail. From the popular beach areas of Lara and Konyaalti, there is another route – No. 800.
All ways to get from the airport by public transport are described here – antalya-airport.aero/../buses-and-mass-transport.
By Bus
The direction we are analyzing is becoming more and more popular among tourists, and therefore the competition among carriers is high! Moreover, today you can not be afraid of misunderstanding or buying a ticket for a much larger money.
After all, you can book a place, including online – for a specific date!
For example, the international operator Flixbus will help you cover the distance between Antalya and Istanbul for a modest 20+ €.
Yes, the journey will take from 12 to 13 hours. But there are no restrictions on the weight of the transported luggage, only in size – up to 180 cm in the sum of three dimensions.
Drinks are provided free of charge along the way, as is Wi-Fi.
By the way! Many tourists prefer to travel by bus at night. Since at this time the heat subsides, and the roads become much less busy.
By car
Today it's an unpopular way to travel around Turkey. Which is understandable – why do you need to strain for almost 10 hours if you can just take a nap in the bus seat?
True, accidents with buses due to the fault of the driver in Turkey are not uncommon. The corresponding statistics for 2021, if not depressing, then annoying – for sure.
One way or another, in Antalya you can easily rent a car. And even without leaving a mandatory deposit and with an acceptable mileage limit.
Spacious Ford Courier, for example, will cost only 25-27 € per day. If you are going to rest in Antalya in September and later, of course.
When renting, it is worth considering an expensive nuance – you need to return the vehicle in the same city where took it. For otherwise, you will be rolled out a rather large bill "for delivery."
Average car fuel prices in Turkey in the summer of 2022 reach 1.25-1.3 € per liter.
Best Time to Go
It is generally accepted that at the peak of the season, that is, in the middle and end of summer, people who are strong not only in spirit but also in body go to the Turkish Riviera. After all, air temperatures there often exceed +40 degrees Celsius.
Despite the mocking blue sky, the humidity is also high. And not everyone can withstand such a combination.
However, in Istanbul during this period it is not much better. If we take into account that you will not have to lie on the shore under a sunny awning, but wander along the hot streets, then the choice of summer time should be recognized as completely unsuitable for a visit.
It is much more reasonable to go on such a trip to Antalya in May. When the weather still does not think to surprise vacationers with temperature records. And the precipitation is not too significant.
Or in the middle of autumn – in early October, Istanbul looks like an almost ideal destination for sightseeing tourism. And at its end, if you judge sensibly, too!
Where to Stay
Best of all – in the Sultanahmet quarter. Moreover, the local hotels are large in number and not all require exorbitant money for accommodation. Especially if you book a room 2-3 month before the visit.
Let's mention the inexpensive Hotel Peninsula, from the terrace of which you can see the Bosphorus and Topkapi. And can walk to the main attractions in a maximum of 5 minutes. At a relaxed pace!
Take a look and at its even more well-located counterpart, the Merial Hotel Sultanahmet. Whose relative shortcomings, such as an absent view from the windows and rather cramped rooms, cannot overshadow the main.
Namely: the friendliness and professionalism of the staff, regular cleaning and excellent breakfasts … in the panoramic restaurant of the neighboring hotel!
© Goodtimefortrip.com