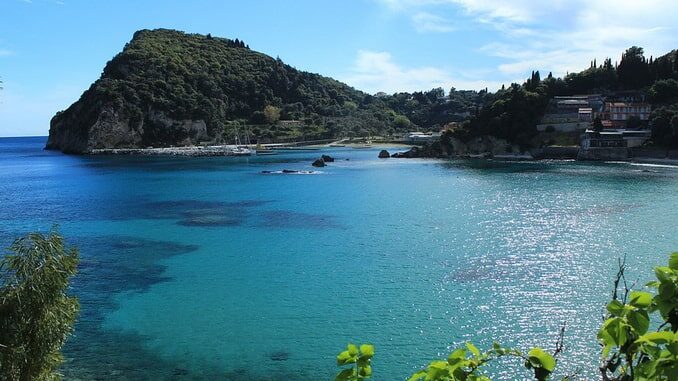 Corfu in September 2023: is it worth going on seaside vacation? Weather, sea temperature, prices in hotels and on excursions, which beach to choose? What to do in Corfu in early September and closer to October, where to visit – studied
Corfu obviously isn't the most popular among tourists Greek island. Moreover, if you compare it with Crete and Rhodes, Mykonos or Santorini, you will have to recognize it as a little-known.
However, those travelers who once discovered Corfu for themselves are happy to come here again. Therefore, even in September, beach holidays in Corfu are extremely popular.
And they aren't the only ones – in this piece of land you can always combine swimming and sunbathing with a number of other pleasant and memorable activities. Because on board this "ship" in the Ionian Sea, a special atmosphere has developed.
Exceptionally well suitable for forgetting yourself. And then re-emerge into reality – refreshed and full of strength.
Note that there aren't so many entertainments and attractions in Corfu – especially during the period when tourists consider the season coming over and leave the shores of the hospitable island. But even a week's vacationing here, as already mentioned above, energizes.
Weather in Corfu in September
For at least a couple of weeks at the beginning of the first month of autumn, there is practically nothing to remind you of the arrival of a colder season. The inhabitants of the countries located just to the north of Greece would be happy if they had such a summer.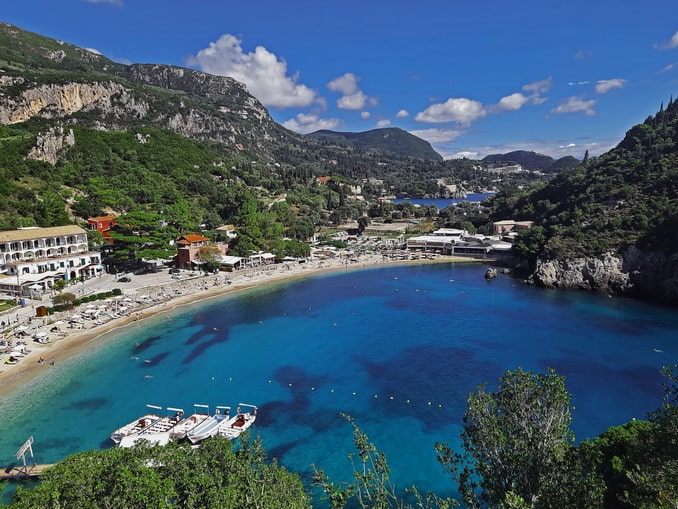 In early September the air temperature in Corfu sometimes reaches the range of +30-32 °C during the day. Although it prefers to live in +24-28 °C area. At night, the air cools down to +20-24 °C.
Sunny days are definitely in the majority, but cloudy ones also happen. And they can also be used usefully – so as not to overheat, storming the main local hill, Mount Pantokrator. Or, for example, to explore the best beaches of Corfu: the same incredibly picturesque Porto Timoni.
Sometimes it rains in Corfu at the beginning of fall – usually not too strong and lasting no longer than 3-4 hours. The average monthly precipitation rate in comparison with summer, however, is quite high – about 50 mm.
Starting from the third decade of September, the heat in Corfu recedes. And the air temperatures, as if coming to their senses fall down.
Street thermometers stoically and regularly show +20-22 °C even during the day. Below (to +16-18 °C) they fall only in the dark – the time for real coolness has not yet come here.
It's a real velvet fall! Giving an opportunity to preserve warm summer impressions without stress until the next season. And in a calm atmosphere, prepare for the cold by taking out relatively warm clothes from the wardrobe!
Sea Temperature
You can swim in Corfu all September long! Getting out of the water only when necessary or when you get bored of doing it.
At the beginning of the month, the coastal water area is warmed up to an impressive +26-27 °C. Allowing you not to think about the optimal time for bathing even the smallest holiday-makers!
With the gradual onset of autumn, the sea temperature gradually decreases. But not so much that you indignantly rejected the offer to take a sea bath.
Towards the end of September, morning and late evening swims in Corfu become the lot of strong-willed people. Because with such exercises, you can really freeze. And coming out of the water, want to immediately wrap yourself in a towel.
However, the sea in Corfu, even at the end of September, cools down only to +21-22 °C, practically comparing with the temperature of the atmosphere. And this means that from 12 to 16 o'clock in the afternoon you can still swim without fear of catching a cold.
What to Take with You
Due to the abundance of sunny days in Corfu at the beginning of autumn, we recommend taking with you to the seashore a sufficient amount of light clothing made of natural fabrics. Don't forget at home a pair or two of sunglasses, wide-brimmed hats, your favorite sunscreen, which won't cause an allergic reaction.
Water shoes will also come in handy – there are both sandy and pebble beaches on the island!
For lovers of walking late in the evening and trekking in remote from civilization areas, we advise you to put a pair of hoodies or hoodies in your suitcase. As well as a windbreaker – resting in Corfu in September, you may well find 3-4 rainy days.
Of course, some things you can buy right here. But it's still not worth counting on a large variety – there aren't so many large shops in the island. And the prices are probably slightly higher than in your homeland, because this is a resort!
Prices 2023
Don't shock those who have previously vacationed at seaside in Europe. That is, in principle, himagine the price level in hotels in such popular resorts as, for example, the Italian Viareggio.
Because in Corfu you can book a hotel near the beach for less money!
We advise budget travelers first take a look at Sidari on the north coast of Corfu. As here in September you can find a room or even an apartment for two for only 50-60 € per day.
Pay attention, for example, to Feeloxenia Corfu Harris Apartments, which are praised for their excellent location near the coast and the hospitality of the hosts – "you come as a client, you leave as a friend". There are free parking and a green area around, kitchen utensils in the rooms.
For family travelers, we would recommend to the Agios Georgios beach, which occupies a huge stretch of sandy coast in the west of Corfu. After all, nature itself has created here just perfect conditions for children's recreation.
It makes sense to stay close to the sandy beach of Arillas. Although due to the relative inaccessibility, we wouldn't recommend it to vacationers with young kids.
One way or another, but you should keep in mind that numbers in local hotels for September often run out before the onset of summer – beaches in Corfu are never empty in the beginning of autumn.
If possible, try to stay in inexpensive, but located at a distance of about half a kilometer from the shore Dimitra Studios. A guest house with not the most modern renovation in the rooms, but a very quiet location.
An excellent solution to the issue of accommodation for family vacationers will be a stop in the town of Glyfada. Having not only a beautiful sandy beach, but also a big aquapark, which is open in September.
Renting a not too chic, but spacious room or a separate apartment with a kitchen for 3-4 people will cost 70-120 € per day. And, of course, the further from the center of the town you stop, the less you will pay.
Ermones Mare apartments look like a good and inexpensive place to stay near the beach. As they are located in the relative wilderness, but close to the beach.
The extra bonuses here are: stunning views from the windows, silence and peace… as well as a bus stop nearby – write in the reviews happy guests.
What to Do in Corfu in September
Not every first vacationer intends to travel a lot around the island. Since often the duration of a holiday in Corfu is usually limited to 7-10 days, and therefore maximum attention is paid to beaches and swimming.
However, if you're going to explore the local attractions, you won't have to travel a lot. After all, most of them are located in the capital of Corfu and nearby.
Beautiful houses of European architecture, two Venetian fortresses and several museums – you won't get bored in this city! Also, you'll be able to visit two monasteries in the islands Vlacherna and Pontikonisi. And take a longer cruise for a day to Paxos and Antipaxos.
Lovers of architecture and history should definitely visit the suburban Achilleon Palace, the summer residence of the famous Austro-Hungarian Empress Elizabeth (Sissi). Who was the first, but far from the last crowned person who was able to appreciate the beauty of a holiday on a Greek island.
For lovers of natural landscapes, we recommend sitting on the "Kaiser's Throne", a rock that rises near Glyfada. And, of course, to see a real island's miracle – Porto Timoni beachesnear the village Afionas.
© Goodtimefortrip.com