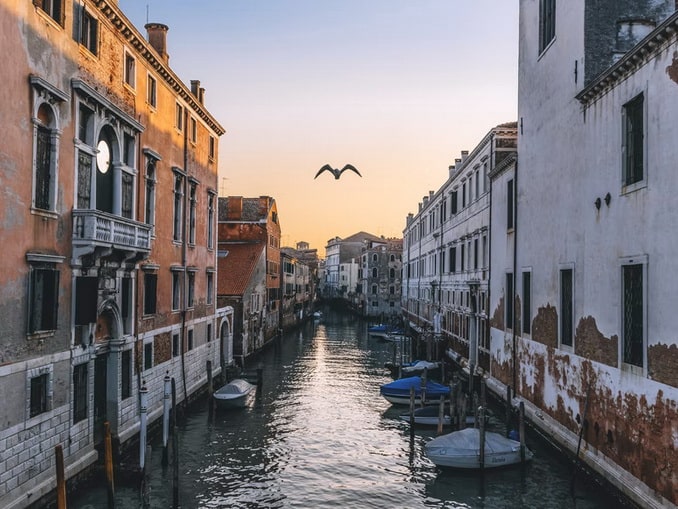 Venice in December 2023 – is it worth visiting? Weather, air temperature, what to wear, prices 2022. What to do in Venice at Christmas or New Year's Eve, main attractions, where to go outside the city? And also – where it is better to stay in Venice in the early winter – found out good Time for Trip.
It is believed that Venice is a year-round popular destination. Partly it is true. But there is no reason to compare the popularity of the "City of Canals" in winter with its summer version.
Although a trip to Venice in December and, in particular, at Christmas is justified. Yes, the weather there will not be too warm – it's true. But on the other hand, you won't encounter the most unpleasant reality of today, an incredible number of tourists.
Don't forget and about the romantic component of such a memorable trip. Timid dawns, rays of the sun breaking through a veil of sometimes dense fog, ghostly as if unreal gondolas gliding along the hazy surface of the canals…
This is good and even wonderful – you say. But what about the practical moments?
How often does it rain in Venice in December?
What are the day and night air temperatures?
How warm do you need to wear to celebrate Christmas in Venice?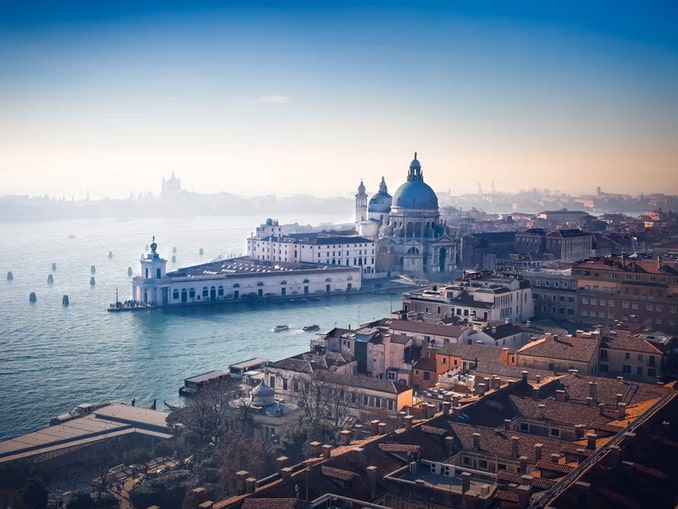 What is the approximate level of hotels and apartments prices? And how to plan the time correctly in order to see everything but not overwork?
We've got it all figured out. And ready to share the obtained information!
Weather in Venice in December
Actually it's quite good! And sometimes so much, that you are left to be amazed: why do people go to Venice in November with enthusiasm, and completely forget about it in December?
That's true – severe frosts are not recorded here. As a result Venetian canals don't even think of freezing!
And there is more sunshine compared to November! As to the air temperature in Venice, awaiting Christmas, – during the day it consolidates around not the saddest +5-+8 degrees Celsius.
Sometimes it is higher – up to +12 °C.
But in 2022, at the end of December, Venice saw the standard +7-8 °C on thermometers!
It can be colder at night – temperatures sometimes drop to zero. Usually, however, they try not to make such sudden movements: +3-5 °C after sunset are much more common.
The rains seem to have poured out all their sadness at the end of autumn, allowing the last month of the year to maintain a certain dryness. And charge everyone around with optimism – a city tour in this period will really bring pleasure.
The fact is that when the sun shines in Venice, it is not so important whether it is summer or winter. A feeling of celebration and expectation of something good still settles in the soul. Which, of course, has already happened – after all, you (again) came to "La Serenissima"!
There are Christmas paraphernalia everywhere, looking very cute and natural against the backdrop of centuries-old walls: all these candles in the windows and wreaths with bells on the doors.
But you will not see the fir-trees on streets in Venice on the eve of Christmas. As it is not customary to put them outside the hotel foyers
Need to Know
In that time of the year it isn't necessary to take rubber boots with you – floods in Venice through December are nonsense. You can also leave at home your umbrella. But really winter jackets plus warm sweaters and woolen socks are worth taking for all travelers.
Also, not all of local hotels and apartments are so generous to heat the rooms to acceptable temperatures. And it's not even +20 °C – dank dampness outside makes the most frost-resistant tourists freeze.
By the way, let's talk about hotels.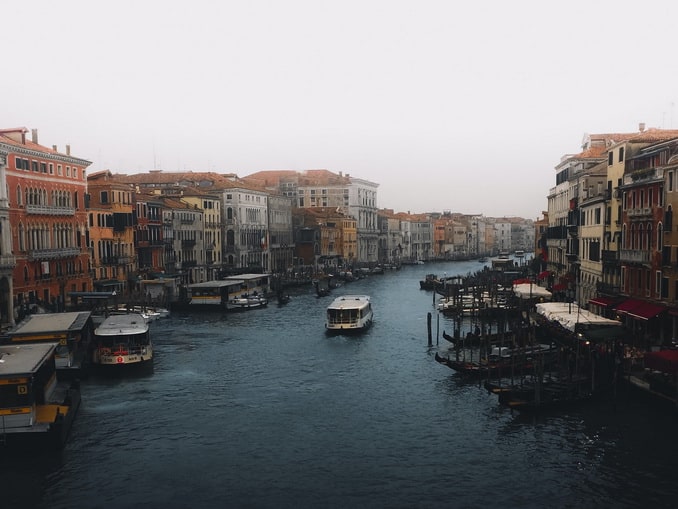 Where to Stay
In Venice, the number of private apartments for rent has been growing in recent years. Everything seems to be logical: indigenous people leave for the continent, and their housing begins to bring rather big daily money.
From the point of view of a tourist, the local apartments are an incredible boon. Usually newly renovated, well furnished!
At the same time, they are based in the very center of the city – 5-10 minutes from the church of Frari or Arsenal. As well – much cheaper than 4-star hotels as well. Usually there are several restaurants or cafes nearby where you will test traditional Italian cuisine.
And, by the way, allowing a whole family with one or more children to freely accommodate!
Prices 2023
We always recommend plan trip on your own. Moreover, it is relatively easy to get to Venice from anywhere in Europe by train or car.
Affordable parking is located in Mestre and nearby. Also you can place your 4-wheeled friend in one of the extensive car parks in Tronchetto.
Note that entry to Venice for both autotourists and all other travelers has become paid from 2022.
And you have to pay for visiting it from 10 € on days with a large influx of people to 3 – when there are very few of them
As for prices for hotels and apartments, the minimum ones for decent options for Christmas dates starts from 70-80 € per night. In case of early booking – six months or more before the trip – and excluding city taxes.
Meanwhile, they are not microscopic: 3.5-5 euros per day will have to be paid to each traveler, depending on how many stars (3-5) the hotel has!
Inexpensive and cozy Eurostars Residenza Cannaregio in Cannaregio. It is located at a decent distance from the train station and Piazza San Marco. But lovers of walking a lot will find their charm in this.
Quite acceptable prices in Palazzo Cendon Piano Antico, which is housed in a 15th-century building. It is pretty small – there are only 6 rooms – but all of them overlooking the Cannaregio Canal.
The train station and Piazzale Roma, where intercity buses arrive (there is also expensive parking for cars) – are 5-7 minutes walk. Depending on how big your suitcase is!
Locanda Poste Vecie in San Polo also has an excellent location. No wonder, windows of some rooms overlook the Grand Canal. And you can walk to the Rialto Bridge in a few minutes!
What to Do in Venice in December
There are enough guides on the Web, describing in detail what exactly you should see in Venice in 1-2 days or more. Naturally, they are designed for any time of the year and are more than applicable in December.
Since the gondolas also float at this time. And people crowd at the foot of the Campanilla, striving to climb to the very top.
However, the main attractions of the "City of Canals" should still be mentioned. Moreover, they are not particularly numerous!
In general, you should definitely visit Piazza San Marco and the Doge's Palace. Pay attention to Santa Maria della Salute and take an hour to see the beautiful style of the Basilica of Santa Maria Maggiore.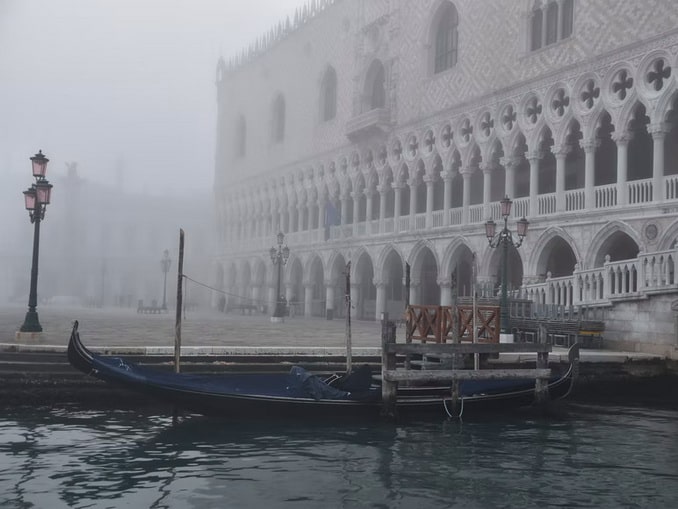 Most reviews definitely advise visiting Santa Maria Gloriosa dei Frari. As well as viewing the collections of the Accademia Gallery and the nearby Peggy Guggenheim Collection!
Few people – and in vain – spend money and time visiting the Scuola San Roco. Although it is all, from walls to ceiling, painted with the brush of the incomparable Tintoretto.
Outside of the central squares, the streets in Venice are fortunately quite sparse – at least not long before New Year's Eve.
And you just have to manage your time correctly in order to have time to get the maximum pleasure. After seeing the most interesting and, perhaps, even forking out for an individual tour.
There is nothing to say about a trip to Murano and Burano – these islands should be visited even in inclement weather. Enthusiasts, of course, will reach the island of Torcello. Just keep in mind that in December the sun in Venice sets very early – at 4 pm.
If time permits, it is worth getting to Verona. Don't you feel like visiting Juliet's house, even if it's not real? To see a well-preserved castle, Scaligerian arches and an ancient Roman arena there? Really big!
Much closer to Venice are Treviso and Vicenza, cozy cities with their own "zest". In the first one you should see turbulent mountain rivers and several ancient churches. In the second – a lot of palaces built by the great Antonio Palladio.
Experienced travelers will not limit themselves to the Veneto region. After all, a fast train will cover half a thousand kilometers to Rome in just 3.5 hours.
Also you can get to Milan in just 2.5. Is it worth denying yourself a visit to the capital of world fashion? And of famous sales – they traditionally start at the very beginning of January!
© Goodtimefortrip.com