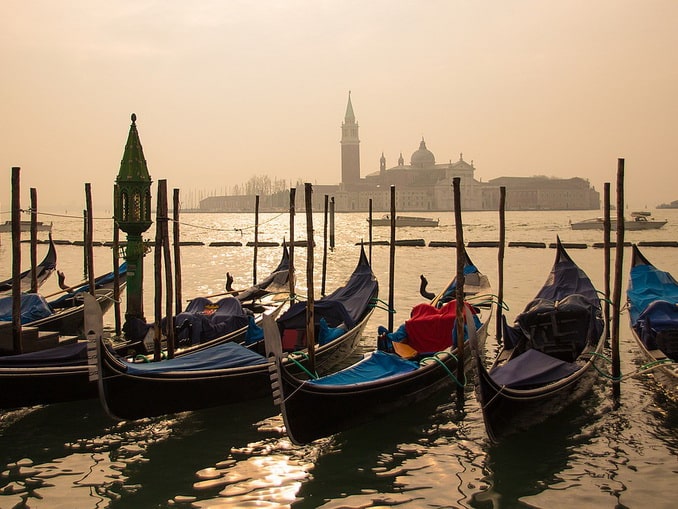 Venice in November – is it worth going? Weather, air temperature, how to dress, prices 2023. What to do in Venice at the end of autumn, where to go outside – in the good Time for Trip article.
November, in principle, is not the best month for traveling around Europe. Few places are truly warm, but many are damp. And the intensity and volume of precipitation is sometimes so great, that it jeopardizes long walks in the open air.
However, in some cases, such features of the weather, if they matter, are not decisive. Since the demand for some European cities is so great in many other aspects, that tourists go there even off-season.
Well, Venice in November, judging by the reviews, is not the best place to spend time. It is rainy, cold, the lagoon overflows its banks, and you must definitely stomp through the streets and squares in rubber boots so as not to get your feet wet. Everywhere there is a forest of umbrellas and multi-colored raincoats, and the mood falls nowhere lower.
But, as it turned out, such predictions do not come true in 100 percent of cases. At least in the first half of the month!
Sometimes
weather in Venice in early November can give a rare pleasure: in some years this time turned out to be warm and very sunny. The sky with rare fluffy clouds, a lot of light, incredibly clear air and excellent visibility…
And if the light was hidden behind the clouds, then from this the surroundings begin to be perceived in a completely fantastic light. Palaces and canals, bridges and squares, streets, as if in a Leonardo works, are painted with soft pastel colors, slightly illuminated as if from nowhere – a parallel reality, nothing else.
Once you see this live, and the question of whether it is worth getting to Venice in late autumn is unlikely to be on the agenda in the future. And upon arrival, you will only have to rejoice that the long-term statistical calculations of meteorologists could not shake the mood. As well as the intention to thoroughly turn around in 3-4 days with excursions, visits to palaces, museums and even theaters.
In general, we recommend that you rely on the fact that it will rain. But to believe that their intensity will not interfere with walks and gondola cruises along the canals. Quite the opposite: the washed pavements and frankly a small number of tourists make it possible to literally enjoy the "City of Canals".
Rarely weather disasters also happen – about once a decade in mid-November in Venice occurs a severe flood. In 2019, for example, it was so full-flowing, that the authorities wept out loud about the "unprecedented damage."
And news agencies did not get tired of broadcasting attempts by individuals to dive right in the middle of St. Mark's Square. However, it turned out to make money on tourists: disposable plastic boots went flying at 8-12 € per pair.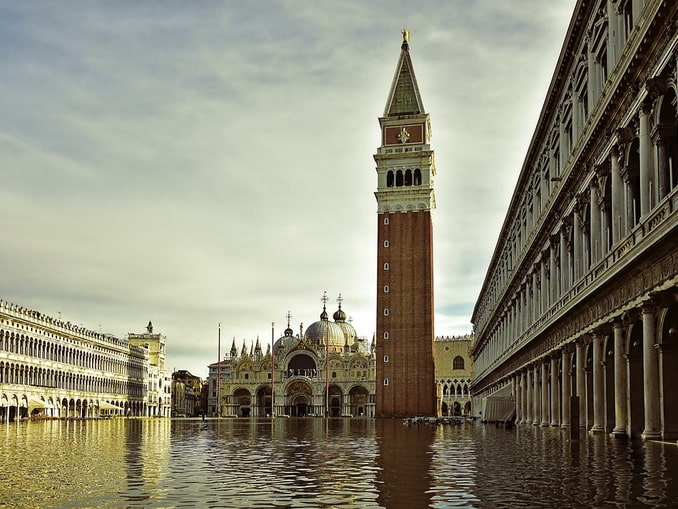 Weather in Venice in November
The sun appears in the sky infrequently, and the rains feel themself masters of the situation. At this time, "Big Water" comes to the city, the canals overflow and step on the streets and squares. Water level rises frequently, tourist brethren and a few local habitually dress in multi-colored raincoats and rubber boots.
At the same time, the rain is not hopeless, and the weather is unstable. It has been raining since morning, it can clear up by morning. And the evening will suddenly give a sunset that will forever be imprinted in the memory.
It's chilly – you can't take it away – Venice in November is not the driest place on the planet. However, as in any other month of the year.
And if you have chosen a hotel or apartment in the "City of Canals" itself, and not, say, in Mestre, you can get bored at night without heating and warm socks.
Note that during the day you need to dress as if rain is expected. Because the gusts of wind from the lagoon are sometimes very unpleasant and harsh.
And if you are going to ride a vaporetto not only along the Grand Canal, but also along the Giudecca, not to mention the study trip to Murano and Burano, at least stock up on a windbreaker and a warm sweater.
How to Dress
As a maximum, you can dress in a demi-season jacket. You can always take it off and hang it on your hips?!
The air temperature in early November is expected to be around +12-14 degrees Celsius. If you are lucky, at times the atmosphere will warm up to +17 °C. And it is pretty clear, that when it is warm and sunny, Venice looks especially captivating.
Both from above the bell tower of the church of San Giorgio Maggiore (there is an elevator – no queue), conceived and embodied by the great Palladio, and at the canal level.
Toward the end of the month it becomes colder, quite like in winter: + 2-+7 °C. Chilly at night, chilly in the morning, still tolerable during the day…
Prices 2023
If you are not buying a package tour, but feel experienced enough to organize a trip on your own, you should think about choosing accommodation no later than mid-August. For by the fall, the vast majority of really interesting options will be booked.
Since November 1 in Italy is an official holiday (All Saints Day). And on the 4th, the country celebrates the Day of National Unity and the Armed Forces. Today the last is not included in the list of state ones, but Italians like to arrange a short vacation for themselves at this time.
Standard price in hotels, however, much lower than in summer. And for 70-100 € per day you can stay close to the main hiking trails.
For those who wake up in September and later, we recommend that you pay attention to:
The Hotel Mezzo Pozzo in the Cannaregio area is only 10 minutes walk from the station. The reviews praise the cleanliness and exelent location. Prices are good too – 70 euros per night is quite bearable.
The budget Ca' Lucia apartments are ideally located in the heart of the San Polo district. Not exactly central, but incredibly well located.
A great option is the Ca' Santo Spirito B&B in Dorsoduro. Lovely, picturesque and very quiet area of ​​Venice. It is incredibly pleasant to walk here both during the day and in the evenings.
In general, seek and find! Just do it EARLY!
Things to Do
Despite the high probability of rain, even in November you want to walk around Venice! Moreover, walking away from the main tourist places looks like a particularly pleasant thing.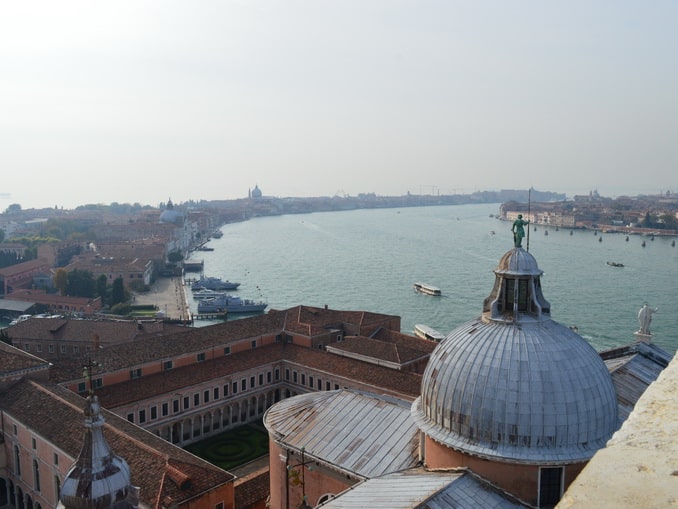 In the aforementioned Dorsoduro, through quiet and deserted Giudecca, or crowded San Polo – the famous Frari, adorned with the best works of Titian, is definitely worth a personal visit.
We invite you to walk along the island of Murano, which looks relaxed and even deserted at the end of autumn. If you dare to go a little further than the main channel, of course.
Murano is attracted by its casual appearance (there are many shabby buildings) and the antiquity that is clearly conspicuous. Then you should stop by Burano, whose inhabitants seem to be most concerned with painting the facades of their houses.
In elegant, however, colors – even on an overcast day, the buildings look festive and pretty cheer up. There are constant canals and incredibly cozy humpbacked bridges. As well as Burano's own leaning tower – the bell tower of the Church of San Martino.
Excursions
Walking with a guide, of course, is more productive. Since locals can tell a lot of interesting things about the traditions and customs of visiting celebrities, the same Casanova's escape from the Doge's Palace. And in general about the brilliant history of Venice.
In San Marco, adjacent squares and streets, there are many tourists even in November. Of those who want to ride a gondola, queues are formed at all! Around the hubbub, vaporetto in the morning and evening are crowded.
From boats filled only with Chinese tourists, in pre-pandemic times, one could probably make up a whole fleet. But the gondoliers were happy – even in November everything is in order with their income.
Where to Go
Is it worth it to go to the vicinity of Venice in autumn? We definitely vote yes!
Indeed, at a distance of a half-hour train ride there is such an interesting town as Treviso. Very cute and even original – despite the nickname "Little Venice".
In an hour and a half you can reach and than see main Verona's attractions. This is a must do thing – Shakespeare's Romeo and Juliet lived there. After all, the local ancient Roman amphitheater, for example, will yield in size and safety only to the Roman Colosseum.
We strongly advise you to take the time to visit Padua and – especially – Vicenza. The city, where such a great architectural talent as Antonio Palladio fully unfolded.
© Goodtimefortrip.com