Barcelona in May – is it worth visiting? Weather, water temperature, how to dress, prices 2023. What to do in Barcelona in early May and late Spring, where you can go in the vicinity – found out good Time for Trip.
Barcelona is an immensely popular tourist destination. Now, not only in the summer and maybe in September, here, in Catalonia, in every sense of the word deserves the epithet "golden". Let's be honest, and in many other months of the year it gets too crowded here. And at the beginning of May in Barcelona it becomes simply impossible to pass!
You can probably guess why the Catalan capital is so popular on the threshold of summer? That is, in fact, even before the onset of the high season?
But would you still like more certainty, for example, regarding the weather forecast? Or, for example, do you need reliable information that will allow you to decide for yourself that in May you can even swim in Barcelona, not just sunbathe on the beautiful local beaches?
We are ready to provide you with all this in our material. Along the way, and especially in detail, we also examined the question of what you can do in Barcelona in May!
We also took a white look at the prices. And not only in hotels and apartments – it is already clear that they are high. But also the actual size of the tourist tax in 2023, average prices in cafes and restaurants, the cost of excursions around the city and the surrounding area, as well as the cost of renting a car.
Weather in Barcelona in May
Excelente – this is how the Catalans themselves will undoubtedly characterize it. And unbiased tourists should definitely join such an assessment!
How else can you call so balanced weather? Well suited for walking tours of the city and suburbs, as well as for long gatherings on the seashore?
At the start of May, the air temperature in Barcelona easily reaches +17-20 °C. And by the middle of the month, there is reason to expect an increase to +26-28 °C.
At night, it is not much colder – from +14 at first to +22 °C – at the end!
Therefore, probably, sweaters and warm hoodies are unlikely to stay in suitcases all the time. And if you won't limit yourself exclusively to walking around Barcelona and its top sights but, for example, go to the mountains – trips to Montserrat are considered mandatory entertainment here – then don't forget a windbreaker and really comfortable shoes.
The winds, however, at this time of year, even on the heights, do not bother much. And therefore there is no reason to worry about hypothermia.
Events do not develop in this way every year – in 2021, for example, the atmosphere at the end of spring fundamentally didn't want to warm up above +20-22 °C. But May 2022 in Barcelona turned out to be great – with each new day the sun only added degrees.
Temperature dips happen. But, firstly, they last 2-3 days at most. And the second – there is no need to wait for arctic cold – usually everything is limited by lowering temperatures to +14-15 degrees Celsius.
Sun and Rain
There are enough sunny days, although cloudy ones are by no means excluded. The chance of rain isn't too great: according to statistics, it goes no more than 3-5 times a month.
Note, that you are unlikely to burn out. But a light spring tan, coupled with a good mood, is guaranteed.
As briefly mentioned above, it makes sense to think about swimming. Especially if you come from those regions where, even at the peak of summer, outdoor water baths are invigorating to the point of goosebumps.
Water Temperature
The Mediterranean Sea near Barcelona at the very beginning of May warms up to +17-19 °C. Thus, Labor Day can already be marked by an attempt to swim in open water.
You won't have many competitors and followers at first. And upon returning to the shore, get ready to receive a portion of puzzled, or even admiring glances!
Closer to the middle of the month, the sea at this latitude warms up to +21-22 °C. And bathing in the middle of the day causes extremely positive emotions – it's nice to cool off a little after a busy tour of the old town?!
After that, it takes a long time to lie on the sand of one of the city's beaches, listen to the lapping of the surf, look at the water and the sunset, turning over impressions in memory. And then treat yourself to a bottle of sangria, eat a slice of pizza, return to your cozy hotel on a warm velvet night through the busy evening city…
Prices 2023
Literally any tourist today can organize a trip to Barcelona on their own. Since everything from air tickets to apartments can be booked via the Internet.
A hotel or apartment of an acceptable, but not premium level, will cost 120-150 € per day for two (excluding city tax). Alas, not in the very center, but actually excellent in terms of price-quality ratio. If you book 3-4 months in advance, you can find even cheaper ones.
A pleasant exception in terms of price (125 €/night) is the Pensión Casa Blanca, within walking distance from the old town. Having, however, a significant disadvantage – the money, if you want to cancel the booking for any reason, will not be refunded to you.
As an alternative, we recommend inexpensive and well-equipped Apartamentos City Beach in the San Marti area.
Very cheap by local standards, but are located relatively far from the main attractions Apartamentos DV. However, there is a metro station just 300 meters away from them, so you are unlikely to encounter transport problems.
The tourist tax from April 1st 2023 will increase to:
€ 6.25 per night for 5-star hotels
€ 4.45 for 4-star hotels
€ 5 for housing for tourist use
€ 2,75 for other accomodations.
per adult (over 17) tourist.
More information see here – bcn-online.com/tourist-tax-in-barcelona/.
Tours
It's no secret that the Catalan capital is not a cheap city in principle. And therefore it is permissible to pay 40-50 € for an interesting story about him in principle.
Although, of course, it is not necessary to count on the extraordinary for this money – just one ticket to Sagrada Familia in the company with an audio guide will cost more than 30 €.
A convenient solution to the problem for those who don't want to spend money on an individual tour looks like buying a subscription for a Hop-on Hop-off Bus Tour.
Participation costs only 30 €. And for this money you'll be able to ride around the city on an open-top bus all day. That looks like a real gift, considering what the weather is like in Barcelona during the whole of May!
Meal
A dish in a cafe or an inexpensive restaurant (pasta or paella) will cost 10-12 €, at least the same amount you will pay for pizza. A bottle of wine costs from 8 €, and a cup of coffee – at least 2.5-3 €.
A hearty dinner for two in a cozy restaurant from those where tourist feet rarely wander, will ruin for 35-40 €. And this is even if you decide not to be posh and limit yourself to a couple of glasses of relatively inexpensive sangria.
Those who are not sorry to part with 5-8 € will be able to buy a hamburger or a sandwich of solid size. And about 10 € is a modest meal in one of the local fast food restaurants.
What to Do
Once again – do not expect that Barcelona at the end of spring is visited by a rare tourist – there will be a lot of idle people nearby at any time. However, these crowds are nothing compared to the summer ones. Therefore, take advantage of the moment and have time to see the maximum possible!
Obviously, a visit to the Sagrada Familia, a grandiose but unfinished masterpiece by Antonio Gaudi, you won't be able to exclude from the list of mandatory events. After all, this cathedral is absolutely beyond time and space! No wonder Gaudi liked to repeat that his customer was in no hurry.
The inspection of the Sagrada Familia, its huge volumes full of hidden symbols, is impressive in itself. But if you splurge on a guided tour, you can learn a lot of interesting things!
For sure, in May you will not escape a walk along the Passech de Gracia Boulevard – who doesn't want to see the famous Casa Mila and Casa Baglio, notable examples of the famous Catalan architectural style, at least from the outside? The entrance inside is recommended to anyone who doesn't consider 30 € too high a price for a close acquaintance with a truly impressive work of art.
Probably any tourist who visited Barcelona walked along La Rambla. But not everyone visits La Boqueria Market – after all, it is extremely noisy and crowded here at any time of the year.
The Gothic Quarter
is also deservedly popular. It looks especially original and authentic at dusk and at night. And you expect that suddenly medieval guards with halberds or respectable townspeople in velvet doublets and frill collars, ladies in taffeta dresses will appear from the arch.
In the center of the oldest district of the city there is also the Cathedral of the Holy Cross and Saint Eulalia, a grandiose and delicate Gothic miracle.
The Gothic quarter is adjacent to the port, where the Barcelona Aquarium is located – the largest in Europe! Compared to the summer months in May, there are relatively few visitors here, and you will be able to get inside almost without a queue.
Park Guell is another popular tourist attraction in Barcelona. And during the flowering of nature, in a necklace of fresh, just-opened leaves, this creation of Antonio Gaudi is especially charming. Queues at the ticket offices are permanent.
Montjuic and Tibidabo
Any tourist wants to see and hear the famous musical Magic fountain in front of the National Museum of Catalonia. The music starts playing when it gets dark. The view of illuminated water jets beating to the classical chords of Mozart and Beethoven, Chopin and Tchaikovsky is, without exaggeration, fascinating.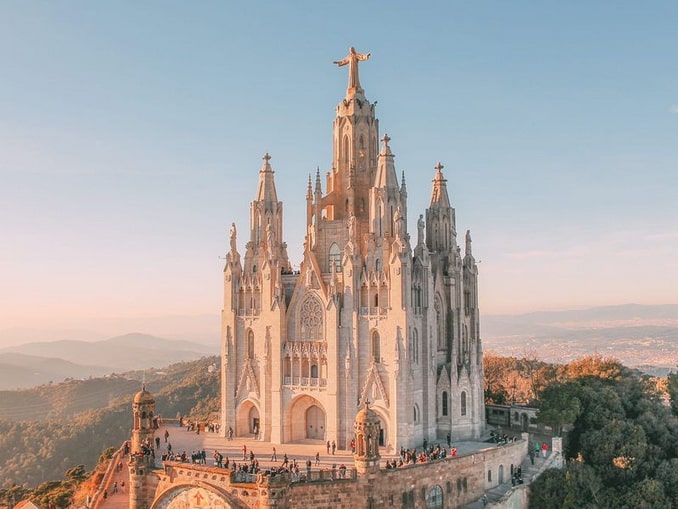 Climb the Tibidabo Hill as well, go to the Church of the Heart of Christ. And then stand on the observation deck, which offers a stunning view of the city.
Where to Go
Of the mandatory activities, we will single out the most important in a disciplined manner – visit to the Montserrat Monastery in the mountains of the same name. After all, there is the main shrine of the region – Black Madonna – La Moreneta or "The little dark-skinned one" – as the Catalans themselves affectionately call her.
It is extremely easy to get to the monastery on your own: trains depart from Piazza di Spagna once an hour, then you just need to use the cable car.
But there are a lot of other interesting places near Barcelona. So if you have time, make a route designed for 3-4 days. Or even for a week – on the threshold of summer, you can easily get stuck in one of the resort towns on the Costa Brava!
© Goodtimefortrip.com